News
USA Wrestling
Women
College
USAW
This week's Women's College schedule, listed by day, with national rankings noted
by Gary Abbott, USA Wrestling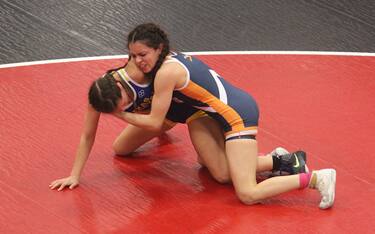 Action photo courtesy of Midland Athletics.
It seems like a light schedule for college women this week, as a number of schools are already focusing on preparation for either NAIA conference meets or NCWWC regionals (for NCAA schools) which begin next weekend.
There will be a big tournament hosted on Saturday at NAIA No. 12 Midland, the Lady Warrior Open, which will feature numerous ranked teams and individuals.
A number of NCAA ranked teams will see action. No. 2 King goes to No. 14 Limestone on Saturday. No. 9 Gannon hosts No. 10 Adrian and Ferrum, also on Saturday.
A ranked dual meet in the NAIA this week is No. 10 Baker at No. 11 Missouri Valley on Thursday.
There have been a few more dual meets added in for schools seeking tune-ups prior to the postseason.
This week's schedule, broken out by day
Monday, Feb. 8 –NCAA No. 3 Emmanuel 33, NCAA No. 8 Presbyterian 13
Wednesday, Feb. 10 – Central Methodist at CC No. 3 Indian Hills CC
Thursday, Feb. 11 – NAIA No. 8 Indiana Tech at Lourdes
Thursday, Feb. 11 – Trine at Lourdes
Thursday, Feb. 11 – NAIA No. 10 Baker at NAIA No. 11 Missouri Valley (Heart Duals)
Thursday, Feb. 11 – Westminster at Fontebonne
Saturday, Feb. 13 – Gannon Invitational (NCAA No. 9 Gannon with Ferrum and NCAA No. 10 Adrian)
Saturday, Feb. 13 – NCAA No. 2 King at NCAA No. 14 Limestone
Saturday, Feb. 13 – Lady Warrior Open held at NAIA No. 12 Midland
Programs without published schedules
: Menlo, Providence, Southern Oregon, Warner Pacific, Augsburg, Delaware Valley, East Stroudsburg, Emmanuel, Lakeland, Lock Haven, Pacific, Univ of the Ozarks, Westminster, Big Bend, Grays Harbor, Nassau, Southwestern Oregon CC, Springfield Tech, Umpqua CC
Note
: Any programs which have schedule information not in this story is asked to send their full season schedule to Gary Abbott at gabbott@usawrestling.org