News
USA Wrestling
High School & Youth
Women
USAW
M2 Magicians win Boys National division; BullTrained beats SEM to win girls division at Ultimate Club Duals
by Gary Abbott, USA Wrestling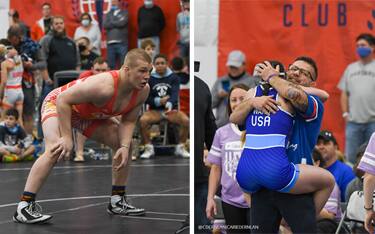 Nick Feldman of M2 Magicians ready to compete; BullTrained coach Sammie Henson hugs Ava Ward after a big win at Ultimate Club Duals. Photos by Carie Dernlan.
STATE COLLEGE, Pa. – Many of the nation's best boys and girls wrestlers came to State College, Pa. this weekend representing many of the nation's strongest club programs, to compete in the freestyle wrestling at the Ultimate Club Duals on Saturday and Sunday.
In both the boys and the girls divisions, nationally-ranked wrestlers battled during dual meets, with some of the results certain to change the national rankings moving forward. The dual meets featured athletes from the youth divisions through Junior age, showing the depth of the club in developing talent at all age levels.
Both the Boys National division champions and the Girls division champions were clubs developed by Senior World Champions.
In the Boys National Division, the champion team in the Gold Pool (Places 1-8) were the M2 Magicians, which edged Team Shutt 43-39 in the championship bout. The M2 Training Center, based in Pennsylvania, is led by 2018 World champion David Taylor, a 2020 Olympian.
The M2 Magicians were dominant among the lighter weights, winning six straight bonus point wins from Melvin Miller (40 kg), Dale Corbin (43 kg), Bo Bassett (45 kg), Landon Bainey (48 kg), Dalton Perry (51 kg) and Mason Gibson (54 kg).
Team Shutt answered with wins in seven of the last 10 bouts in the higher weights, with four straight from Cooper Flynn (57 kg), Brock Herman (60 kg), Benjamin Alanis (63 kg) and Hunter Noland (68 kg), all tech. falls except a decision by Herman.
Ultimately, the 129 kg match gave the M2 Magicians the win, when No. 1 ranked nationally Nicholas Feldman beat Logan Shepard, 8-0. Feldman is heading to Ohio State.
Taking third was the Sebolt Wrestling Academy, beating JK Squad 49-30. Fifth went to Poway Elite, a 43-41 winner over Blairstown Wrestling. Seventh was secured by the Wyoming Valley RTC, who beat the Virginia Team Predators, 49-35.
The girls division champions were the BullTrained, which defeated Wyoming Seminary 41-37 in the championship match. Bull Trained is based in Missouri, and ran by 1998 World champion Sammie Henson, a 2000 Olympic silver medalist.
BullTrained had a strong start in the lighter weights, winning seven of the first nine matches. A big win came at 48 kg, when nationally ranked No. 9 Ava Ward of BullTrained scored a 10-0 technical fall over No. 5 ranked Belle Foard of SEM.
Wyoming Seminary won six of the last eight matches, with a number of nationally ranked athletes securing wins. At 75 kg, Lillian Freitas of SEM, ranked No. 3 at 152 pounds, beat Rose Cassioppi, ranked No. 5 at 152 pounds, by a 15-9 margin.
BullTrained held on to win in the last weight class 105 kg, which featured a pair of nationally ranked wrestlers both wrestling up in weight. Kiera Ganey of BullTrained, ranked No. 13 at 180 pounds, defeated Lily El-Masri of SEM, ranked No. 10 at 180 pounds, by a 5-4 margin.
Placing third was the Misfits Mighty Marshmallows, a 41-37 winner over the Doughgirls. Fifth went to the Hammer Chicks, who beat the Misfits Gummy Bears, 56-17. Coming in seventh was PWC Athena 1, with a 51-27 win over Wrestle Like A Girl 1.
In the boys draw, an upset of significance came at 63 kg, when No. 9 nationally ranked Benjamin Alanis of Team Shutt stopped No. 2 ranked Shane Van Ness of the Blairstown WC in a 16-5 technical fall. Alanis is heading to Northern Colorado, while Van Ness is heading to Penn State.
The Outstanding Wrestlers in the boys division were nationally ranked No. 1 Drake Ayala of Team Sebolt at 57 kg and No. 9 ranked Benjamin Alanis of Team Shutt at 63 kg. The Outstanding Wrestlers in the girls division were No. 9 nationally ranked Ava Ward of BullTrained at 48 kg and No. 3 ranked Lillian Freitas of Wyoming Seminary at 75 kg.
A special award, Light Your Torch Award, was given to the wrestler in each division with the most high amplitude throws for the tournament. The winners were No. 5 ranked Mason Gibson of M2 Magicians among the boys and No. 9 ranked Lexia Schechterly of the Misfits Mighty Marshmallows among the girls.
In the American division, which was geared for wrestlers with a bit less experience, the Arsenal Wrestling Club won a nine-team round robin, with the Lions Den WC placing second.
ULTIMATE CLUB DUALS
At State College, Pa., April 17-18

Boys National Gold Pool (Places 1-8)
1st Place – M2 Magicians 43, Team Shutt 39
34 kg – Hudson Chittum (Shutt) pin Brayden Sigle (M2), 1:15
36 kg – Nico DeSalvo (M2) dec. Case Bell (Shutt), 3-2
38 kg – Nathan Rioux (Shutt) tech. fall Keegan Bassett (M2), 12-2
40 kg – Melvin Miller (M2) tech. fall Eric Casula (Shutt) 11-0
43 kg – Dale Corbin (M2) tech. fall Isaac Ekhahl (Shutt), 10-0
45 kg – Bo Bassett (M2) tech. fall Stockton Allen (Shutt), 10-0
48 kg – Landon Bainey (M2) tech fall Darren Florance (Shutt), 10-0
51 kg – Dalton Perry (M2) tech fall Caleb Thoennes (Shutt), 14-4
54 kg – Mason Gibson (M2) pin Kael Lauridsen (Shutt), 3:18
57 kg – Cooper Flynn (Shutt) tech. fall Luke Simcox (M2) 12-2
60 kg – Brock Herman (Shutt) dec. Tyler Kasak (M2), 4-1
63 kg – Benjamin Alanis (Shutt) tech. fall Jude Swisher (M2), 13-3
66 kg – Hunter Noland (Shutt) tech. fall Matthew Sarbo (M2), 12-2
69 kg - Levi Haines (M2) dec. Michael Kilic (Shutt), 3-2
73 kg – RJ Weston (Shutt) dec. Erik Gibson (M2), 6-3
77 kg – Logan Messer (Shutt) dec. Lance Urbas (M2), 10-1
83 kg – Trey Kibe (M2) dec. Brody Conley (Shutt), 12-11
89 kg – Zayne Lehman (Shutt) inj dft. Christian Carroll (M2), 0:04
129 kg – Nicholas Feldman (M2) dec. Logan Shepard (Shutt), 8-0
3rd Place –Sebolt Wrestling Academy 49, JK Squad 30
34 kg – Turner Ross (Sebolt) dec. Christopher Swann (JK), 9-3
36 kg – Rush Jennett (Sebolt0 dec. Shamus Regan (JK), 4-3
38 kg – Mac Crosson (Sebolt) tech. fall Mac Johnson, (JK), 14-1
40 kg – Haakon Peterson (Sebolt) pin Tye Johnson, 3:26
43 kg – Liam Davis (JK) dec. Michael Olson (Sebolt), 8-3
45 kg – Dru Ayala (Sebolt) tech. fall Dominic DiGiacomo (JK), 13-2
48 kg – Noah Nininger (JK) dec. Jake Knight (Sebolt), 11-7
51 kg – Nathanael Jesuroga (Sebolt) dec. Drew Gorman (JK), 6-0
54 kg – Jacob Silka (JK) dec. Mckinley Robbins (Sebolt), 12-6
57 kg – Drake Ayala (Sebolt) tech fall Tristan Corbin (JK), 10-0
60 kg – Hunter Mason (JK) tech. fall Ryder Block (Sebolt), 18-7
63 kg – Joel Jesuroga (Sebolt) dec. David Panone (JK), 5-0
66 kg – Caleb Rathjen (Sebolt) tech. fall Nolan Gessler (JK), 12-0
69 kg – Jack Gaukel (Sebolt) tech. fall Joseph Sealey (JK), 13-3
73 kg – Gunner Cramblett (JK) dec. Carson Martinson (Sebolt), 6-1
77 kg – Tyler Lillard (JK) tech. fall Carson Babcock (Sebolt), 12-0
85 kg – Griffin Gammell (Sebolt) gec. Camden McDanel (JK) 8-3
89 kg – Ben Kueter (Sebolt) dec. Carter Neves (JK), 12-3
129 kg –Ashton Davis (JK) dec. Bradley Hill (Sebolt), 8-7

5th place – Poway Elite 43, Blairstown Wrestling 41
7th place – Wyoming Valley RTC 49, Va Team Predator 35
Semifinals
M2 Magicians 41, Sebolt Wrestling Academy 40
Team Shutt 56, JK Squad 22
Quarterfinals
M2 Magicians 61, Wyoming Valley RTC 18
Sebolt Wrestling Academy 52, Poway Elite 28
JK Squad 47, Va, Team Predator 34
Team Shutt 48, Blairstown Wrestling 33
Consolation Semifinals
Poway Elite 47, Wyoming Valley RTC 34
Blairstown Wrestling 45, VA Team Predator 36

Boys National Silver Pool (Places 9-16)
9th Place – MWC Wrestling Academy 53, Doughboy Red 30
11th Place – M2 Black 40, Capital Wrestling Club 33
13th Place – M2 Gold 58, VHW 27
15th Place – Bull Trained 55, M2Blue 30
Boys National Bronze Pool (Places 17-24)
17th Place – Gitomer 46, Malvern Prep 39
19th Place – Qwest 1 56, Aviators 28
21st Place – Beca Gold 44, Lost Boys Wrestling 33
23rd Place – Northampton Area WC 49, USAW Maine 34
Boys National Copper Pool (Place 25-32)
25th Place – Tech Squad 46, Bad Karma 34
27th Place – Qwst 2 43, Alchemy 33
29th Place – Doughboy Blue 54, Team Delaware 32
31st Place – Spartan Combat 50, Virginia Team Predator 2 32
Boys National Pool A
1 M2 Magicians
2 Capital Wrestling Club
3 Aviators
4 Alchemy
Boys National Pool B
1 Team Shutt
2 BullTrained
3 Lost Boys Wrestling Club
4 Quest 2
Boys National Pool C
1 Sebolt Wrestling Academy
2 M2 Gold
3 Malvern Prep
4 Tech Squad
Boys National Pool D
1 Wyoming Valley RTC Blue
2 MWC Wrestling Academy
3 Gitomer
4 Doughboy Blue

Boys National Pool E
1 Poway Elite
2 M2 Black
3 Beca Gold
4 Virginia Team Predator #2
Boys National Pool F
1 Blairstown Wrestling Club
2 Doughboy Red
3 Quest 1
4 Bad Karma

Boys National Pool G
1 Va Team Predator (NAT)
2 M2 Blue
3 Northampton Area WC
4 Spartan Combat
Boys National Pool H
1 JK Squad
2 VHW
3 USAW Maine
4 Team Delaware
Girls Division

Gold (1st Place) – Bull Trained 41, Wyoming Seminary 37
25 kg – Piper Fry (Bull) pin Jullianna LaSavage (SEM), 0:56
27 kg – Brynn Engel (SEM) pin Piper Waver (Bull), 2:52
30 kg – Cupcake Antillon (Bull) by forfeit
33 kg – Khloe Kenny (Bull) dec. Emma Grimes (SEM), 6-4
36 kg – Camryn Gresham (Bull) by forfeit
39 kg – KyLeeSmith (Bull) pin Cordy Zalota (SWM), 2:26
41 kg – Ava Guilmette (SEM) by forfeit
44 kg – Jayden Keller (Bull) tech. fall Hannah Lawrence (SEM), 1:05
48 kg – Ava Ward (Bull) tech. fall Belle Foard (SEM), 10-0
52 kg – Abby Duke (SEM) tech. fall Lilly Brower (Bull), 10-0
55 kg – Corinne NcNulty (SEM) dec. Aireaana Gavere (Bull), 2-1
58 kg – Carina Giangeruso (SEM) pin Marissa Rumsey (Bull), 1:59
61 kg – Alina Antillon (Bull) by forfeit
65 kg – Kendall Bostelman (SEM) pin Suravieve Robertson (Bull), 1:03
70 kg – Piper Staniford (SEM) by forfeit
75 kg – Lilian Freitas (SEM) dec. Rose Cassioppi (Bull), 15-9
105 kg – Kiara Ganey (Bull) dec. Lily El Masri (SEM), 5-4
Silver (3rd Place) – Misfits Mighty Marshmallows 41, Doughgirls 37
25 kg – Mia Emilio (MMM) by forfeit
25 kg – no bout
27 kg – Riley Karwowski (MMM) pin Pepper Matthews (Dough), 1:32
30 kg – Jane Rodrigues (MMM) pin Selena Batres (Dough), 1:52
33 kg – Lily Runez (Dough) tech fall Natalie Andrade (MMM), 1:52
36 kg – Talea Guntrum (MMM) pin Elise Gilfoil (Dough) 0:36
39 kg – Kyla Batres (Dough) tech fall Aislin Kenner (MMM), 10-0
41 kg – Abigail Story (MMM) by forfeit
44 kg – Julia Horger (MMM) tech fall Sara McLaughlin (Dough), 12-1
48 kg – Liz Donovan (Dough) pin Victoria Carbonaro (MMM), 3:37
52 kg – Daniella Nugent (Dough) by forfeit
55 kg – Jaclyn Dehney (Dough) dec. Alyssa Mahan (MMM), 4-2
58 kg – Sophia Matthews (Dough) pin Trinity Robinson (MMM), 1:57
61 kg – Ashley Dehney (Dough) dec. Kayla Husti-Luca (MMM), 8-3
65 kg – Charlotte Gilfoil (MMM) pin Tayla Rildsley (Dough), 1:51
70 kg – Emily Gervais (Dough) tech fall Andrea Wilmoth (MMM), 10-0
75 kg – Jacklyn Smith (Dough) dec. Jael Miller (MMM), 6-4
79 lg – Eryn Hubble (MMM) tech. fall Zoe Waters (Dough), 10-0
105 kg – no match
Bronze (5th Place) – Hammer Chicks 56, Misfits Gummy Bears 17
Copper (7th Place) – PWC Athena 1 51, Wrestle Like A Girl 1 27
Pewter (9th Place) – Misfits Starburst 49, Lancaster Alliance Women's Wrestling 37
11th Place – Level Up 48, Bad Karma Renegades 30
13th Place – Wrestle Like A Girl 2 48, PWC Athena 2 2

Girls Pool A
Wrestle Like A Girl 1 52, Bad Karma Renegades 31
Misfits Starburst 50, PWC Athena 2 28
Doughgirls 44, Hammer Chicks 35
Wyoming Seminary (W) 55, Wrestle Like A Girl 1 21
Bad Karma Renegades 43. PWC Athena 2 26
Doughgirls59, Misfits Starburst 22
Wyoming Seminary (W) 60, PWC Athena 2 12
Doughgirls 65, Bad Karma Renegades 16
Hammer Chicks 57, Misfits Starburst 19
Wyoming Seminary (W) 50, Doughgirls 26
Wrestle Like A Girl 1 65, PWC Athena 2 19
Hammer Chicks 54, Bad Karma Renegades 16
Wyoming Seminary (W) 42, Hammer Chicks 39
Doughgirls 48, Wrestle Like A Girl 1 28
Misfits Starburst 44 Bad Karma Renegades 36
Wyoming Seminary (W) 48, Misfits Starburst 22
Hammer Chicks 61, Wrestle Like A Girl 1 28
Doughgirls 62, PWC Athena 2 5
Wyoming Seminary (W) 55, Bad Karma Renegades 27
Wrestle Like A Girl 1 48, Misfits Starburst 31
Hammer Chicks 64, PWC Athena 2 11
Pool A places
1 Wyoming Seminary (W)
2 Doughgirls
3 Hammer Chicks
4 Wrestle Like A Girl 1
5 Misfits Starburst
6 Bad Karma Renegades
7 PWC Athena 2

Girls Pool B
Misfits Mighty Marshmallows 70, Lancaster Alliance Women's Wrestling 17
Misfits Gummy Bears 41, Wrestle Like A Girl 2 33
BullTrained 53, PWC Athena (W) 1 24
Misfits Mighty Marshmallows 59, Level Up 25
Lancaster Alliance Women's Wrestling 37, Wrestle Like A Girl 2 31
Misfits Gummy Bears 38. PWC Athena (W) 1 37
Level Up 39, Wrestle Like A Girl 2 33
PWC Athena (W) 1 48, Lancaster Alliance Women's Wrestling 29
BullTrained 59, Misfits Gummy Bears 19
PWC Athena (W) 1 57, Level Up 17
Misfits Mighty Marshmallows 66, Wrestle Like A Girl 2 18
BullTrained 58, Lancaster Alliance Women's Wrestling 20
BullTrained 63, Level Up 11
Misfits Mighty Marshmallows 54, PWC Athena (W) 1 29
Misfits Gummy Bears 32, Lancaster Alliance Women's Wrestling 28
Misfits Gummy Bears 36, Level Up 33
BullTrained 43. Misfits Mighty Marshmallows 34
PWC Athena (W) 1 53, Wrestle Like A Girl 2 28
Lancaster Alliance Women's Wrestling 47, Level Up 28
Misfits Mighty Marshmallows 65, Misfits Gummy Bears 19
BullTrained 63, Wrestle Like A Girl 2 8
Girls Pool B Places
1 BullTrained
2 Misfits Mighty Marshmallows
3 Misfits Gummy Bears
4 PWC Athena (W) 1
5 Lancaster Alliance Women's Wrestling
6 Level Up
7 Wrestle Like A Girl 2
Boys American Division Results
Wyoming Valley RTC White 47, Kraken 22
Arsenal Wrestling Club 40, Lions Den Wrestling Club 39
BTWC 50, Ground Up USA 17
Easton Gold Medal 55, Gunston WC 24
Kraken 40, Beca Black 17
Arsenal Wrestling Club 55 Wyoming Valley RTC White 30
Lions Den Wrestling Club 45, BTWC 31
Easton Gold Medal 57, Ground Up USA 17
Arsenal Wrestling Club 66, Beca Black 5
BTWC 39, Wyoming Valley RTC White 34
Lions Den Wrestling Club 54, Easton Gold Medal 26
Gunston Wrestling Club 34, Ground Up USA 28
BTWC 40, Beca Black 26
Arsenal Wrestling Club 45, Kraken 20
Wyoming Valley RTC White 42, Easton Gold Medal 30
Lions Den Wrestling Club 69, Gunston WC 11
Easton Gold Medal 59, Beca Black 17
BTWC 51, Kraken 20
Wyoming Valley RTC White 50, Gunston WC 27
Lions Den Wrestling Club 68, Ground Up USA 7
Gunston WC 36, Beca Black 20
Easton Gold Medal 49, Kraken 19
Arsenal Wrestling Club 33, BTWC 23
Wyoming Valley RTC White 43, Ground Up USA 15
Beca Black 34, Ground Up USA 15
Kraken 40, Gunston WC 16
Arsenal Wrestling Club 37, Easton Gold Medal 35
Lions Den Wrestling Club 51, Wyoming Valley RTC White 30
Lions Den Wrestling Club 69, Beca Black 7
Kracken 49, Ground Up USA 8
Arsenal Wrestling Club 50, Gunsston WC 15
BTWC 36. Easton Gold Medal 31
Boys American Division Placements
1 Arsenal Wrestling Club
2 Lion's Den Wrestling Club
3 BTWC
4 Wyoming Valley RTC White
5 Easton Gold Medal
6 Kraken
7 Gunston Wrestling Club
8 Beca Black
9 Ground Up USA