News
USA Wrestling
International
College
High School & Youth
USAW
Olympic wrestler Ben Askren heads to the boxing ring against Jake Paul on April 17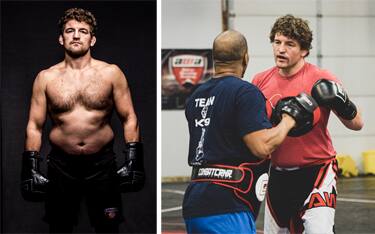 Ben Askren boxing photos by Ryan Loco.
It all started with wrestling.
That's one way to look at the headline event in boxing on April 17 at Mercedes-Benz Stadium in Atlanta, when two-time NCAA Champion and Olympic wrestler Ben Askren takes the next step in his professional career, taking on another former wrestler turned boxer, Internet star Jake Paul in
Triller Fight Club's
first pay per view event of the year.
And while it's been a while since Askren took to a mat in front of a large crowd (an exhibition against Jordan Burroughs as part of the Beat the Streets Gala in 2018 at The Theater at Madison Square Garden), he has stayed plenty active in the sport. He is running his own successful wrestling programs in and around the state of Wisconsin, and is a popular opinion-leader within the sport. This matchup won't be in an Octagon of any sort; it will be in a ring front and center at the home of the Super Bowl, before a global audience projected to be in the millions.
Will it be any different for the Olympian, NCAA Champion and former Bellator and ONE Welterweight Champion?
"I've been on big stages before, and I'm going up against a guy with only two fights and a lot of hype, so I'm not concerned about the show, I welcome it," Askren said after a press conference for Triller Fight Club in Las Vegas in late March. "I have taken punches, wrestled with the best in the world, been in the Octagon, I know what it's like to be with the best, let's see what he has."
For those not that familiar, Askren has known success at every turn of his professional and amateur career. He was a 2008 U.S. Olympic team member and Pan American champion in freestyle wrestling, a two-time NCAA Division I national champion (four-time finalist), and two-time Big 12 Conference champion (four-time finalist) for the University of Missouri Tigers. He was the second wrestler to secure multiple Dan Hodge Trophies. He then went on to qualify and compete in the 2008 Summer Olympics for Team USA in Beijing, China.
Ben then made the professional switch to MMA, winning the Bellator welterweight title in 2010, before going on to become a champion with the ONE CHAMPIONSHIP. He moved on to the UFC, where he retired from pro MMA in 2019. He has spent a good part of his time since then developing his business in Wisconsin and recently accepted the challenge from Jake Paul to make his boxing debut.
His opponent, the entrepreneur, YouTube star turned professional fighter continues to draw the attention of millions round the world, especially since his quick knockout of former NBA Slam Dunk Champion Nate Robinson during Triller's inaugural boxing event (as the undercard to Roy Jones and Mike Tyson) last November. That fight drew record numbers of pay per views, as Paul, a high school wrestler growing up in Ohio, continued to prove that "Celebrity Boxing" is serious stuff, not a stunt.
"Hey, the guy is accomplished as a wrestler and in MMA and I respect that, but this is my livelihood now, it's not some exhibition, and I know the difference between boxing and wrestling, I love wrestling from when I was young," Paul added. "Getting punched in the face is a little different and that's what Ben is going to find out."
Askren, in his usual self-deprecating and low key manor, has played along with the hype and started to build a voice for his millions of followers, to the point where many of the betting lines (yes there will be betting) have him as a close favorite, something which surprised the social world in the past few weeks.
There has also been talk of million dollar wagers between Snoop Dogg (who is cofounder of Triller Fight Club) with the UFC's Dana White putting even more bluster behind the buzz.
"Jake's always got a lot to say and he knows how to play to this audience," Askren added. "I know what I'm doing, I have a great team that has been training me, I love learning and then applying all the skills I have worked at for years, not weeks, to this new opportunity, and most importantly, when all the hype ramps up, my disciplines in wrestling keep me focused, and that focus and all my experience will come through."
So, while it won't be on a mat, wrestling fans should have some fun watching one of their own in the ring on June 17th, against an opponent who is also no stranger to a singlet. Hype and action are things that fans like, and Ben Askren is all about both.
If you want to check it out, take a look:
How to Watch Jake Paul vs. Ben Askren