News
USA Wrestling
College
International
USAW
Long-time Rutgers assistant coach John Leonardis named Executive Director of Scarlet Knights WC
by Scarlet Knights Wrestling Club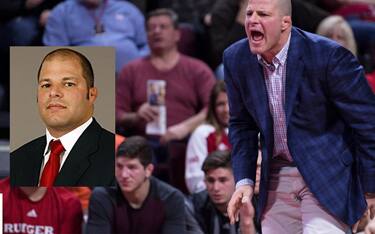 John Leonardis images courtesy of Rutgers Athletics.
Another major development has been set for The Scarlet Knights Wrestling Club (SKWC) with the announcement that long time Rutgers University Wrestling Coach John Leonardis will become SKWC's full-time Executive Director starting in May 2021. John will be responsible for the day-to-day operations of the SKWC which includes the mentoring programs, social events, fund raising, and managing the Resident Athlete program.
Rutgers University Wrestling Coach Scott Goodale stated "John Leonardis and I started coaching at Rutgers together and as the SKWC mission and complexity has grown we could not have a better choice than my friend and long-time partner to bring SKWC and Rutgers Wrestling to another level."
SKWC Co-Presidents Tom Perrotti and Josh Gross noted, "Many of the building blocks are coming together quickly with Coach Leonardis becoming the SKWC's leader and Myles Martin coming aboard. John was at the SKWC from day one and his background as a 14-year coach of Rutgers, as a Division I competitor in college, and as a leader of young men off the mat, made him the clear choice to be our first Executive Director."
Coach John Leonardis has spent the last 14 years as an assistant coach for Rutgers University, and has been instrumental in developing the Scarlet Knights into a premiere Division I NCAA wrestling program. Prior to 2006, Rutgers produced one All American in 24 years. During Coach Leonardis' tenure the Scarlet Knights produced 15 NCAA All Americans, including Rutgers' first two NCAA Champions, in 2019. Over the past eight consecutive seasons, Rutgers has produced at least one All American. During this time, from 2016-20 Rutgers had two All Americans and in the 2020-2021 season, the Scarlet Knights had a record three All Americans including two 4th place finishers. Over the past three NCAA National Tournaments, Rutgers has finished 11th, 9th and 13th in the team standings.
During his tenure, Coach Leonardis has coached four of the top 10 all-time winningest wrestlers Rutgers and seven wrestlers who achieved the milestone of 100 career wins or more. Coach Leonardis mentored 11 Academic All Americans and numerous All Big Ten Academic selections. Coach Leonardis has been involved with the SKWC Inc. since its formal inception in 2010. He was on the Board of Trustees and served as the first board secretary.
Before coming to Rutgers, John Leonardis was a three year varsity wrestling letter winner at Lehigh before graduating in 1997. He was an EIWA Champion in 1996 in the 190-pound weight class. The Sea Girt, N.J., native played football and wrestled for Blair Academy in Blairstown, N.J.
Editor's Note:
As a high school coach, Leonardis has impressive achievements. For six years (2000-06), he compiled a .720 winning percentage as the head coach at Peddie School in Hightstown, N.J. Leonardis-coached teams placed in the top-five of the National Prep Championships five times. He coached 32 National Prep Place winners, three Prep National champions (Kevin Fox in 2003, Dan White in 2005 and 2006 and Cary Aldrich in 2006) and four Junior National All-Americans. He was also active as a national team coach for New Jersey USA Wrestling.
Coach Leonardis resides in Sea Girt, NJ with his wife Cate and children, Luke and Olivia.
About the SKWC
The mission of the SKWC is to support Rutgers University's wrestling program and enhance the ability of fans to experience an elite level of wrestling and entertainment.
Please support the SKWC at:
Scarlet Knights WC donation page