News
USA Wrestling
International
College
USAW
Arujau, Nickal, Moore among rising talents to reach men's freestyle finals at U.S. Olympic Team Trials
by Andy Elder, Special to TheMat.com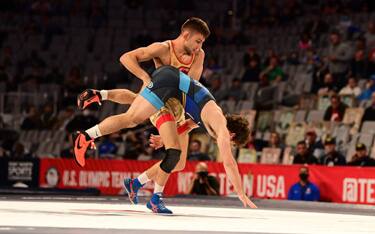 Vito Arujau takes down Daton Fix at 57 kg at the U.S. Olympic Team Trials. Photo by Tony Rotundo, Wrestlers Are Warriors.
FORT WORTH, Texas - 21-year-old Cornell star Vitali Arujau (TMWC/Spartan Combat Regional Training Center), the No. 3 seed at 57 kg freestyle, won the Challenge Tournament at the U.S. Olympic Team Trials, part of a wave of rising talent in men's freestyle on display on Friday.
Arujau, a 2019 Junior World silver medalist, edged Nathan Tomasello (TMWC) in the semifinals and then won a rollicking 7-5 decision over Daton Fix (TMWC/Cowboy Regional Training Center) in the final.
He'll meet 2017 World silver medalist Thomas Gilman (TMWC/NLWC) in the final. Gilman won a pair of shutouts to get there: 11-0 over Zane Richards (TMWC/Illinois Regional Training Center) and 10-0 over Joe Colon (TMWC/Cyclone Regional Training Center).
Among a slew of anticipated finals matches, two will involve men's freestyle wrestlers from the same college team.
A pair of former Penn State Nittany Lion national champions will meet in the men's freestyle 86 kg finals. Top-seeded David Taylor, a 2018 World Champion who won two NCAA titles, will take on sixth-seeded Bo Nickal, a 2018 U23 World Champion and three-time NCAA champion.
Taylor (Titan Mercury Wrestling Club/Nittany Lion Wrestling Club) won a controlled, tactical 4-0 decision over third-seeded Gabe Dean (TMWC/Spartan Combat Regional Training Center).
Nickal (TMWC/NLWC) was locked in a tense 5-5 tie with Zahid Valencia (Sunkist Kids Wrestling Club) with under a minute to go. Valencia looked like he was about to score on a slide by single, but Nickal reached back, caught Valencia's chin and tripped him to his back for the deciding points in what would be become a 12-5 win.
And, at 97 kg freestyle, No. 1 seed Kollin Moore (TMWC/Ohio Regional Training Center) will meet Kyle Snyder, the 2016 Olympic gold medalist, two-time World champion and four-time World medalist.
Moore won 6-2 in the semifinals before rolling up a 10-0 win over Michael Macchiavello (TMWC/Wolfpack Wrestling Club).
Joey McKenna, the No. 5 seed at 65 kg freestyle, will meet Jordan Oliver (SKWC), in the final. McKenna took out No. 1 seed Zain Retherford (TMWC/NLWC), 8-5 in the semifinals. Oliver won a 4-4 criteria decision over Cornell two-time NCAA champion Yianni Diakomiohalis.
Two-time World Champion Kyle Dake will face off with Jordan Burroughs in the 74 kg freestyle final. Burroughs is a four-time World Champion, 2012 Olympic champion and two-time bronze medal winner. Burroughs held the edge over Dake in previous battles, prior to Dake moving up to 79 kg, where he won his World titles in 2018 and 2019.
At 125 kg freestyle, No. 1 seed Nick Gwiazdowski will take on No. 2 seed Gable Steveson. Neither Gwiazdowski nor Steveson have allowed a point in the tournament so far. Gwiazdowski boasts two World bronze medals, while Steveson, fresh off his NCAA title for Minnesota, won three age-group World titles.
U.S. OLYMPIC TEAM TRIALS – WRESTLING

At Fort Worth, Texas, April 2, 2021


Final X Championship Series pairings
57 kg - Thomas Gilman (TMWC/ NLWC) vs. Vitali Arujau (TMWC/ Spartan Combat)
65 kg - Joseph McKenna (TMWC/ PENN RTC) vs. Jordan Oliver (Sunkist Kids Wrestling Club)
74 kg - Jordan Burroughs (Nebraska WTC/Sunkist Kids) vs. Kyle Dake (TMWC/ Spartan Combat)
86 kg - David Taylor (TMWC/ NLWC) vs. Bo Nickal (TMWC/ NLWC)
97 kg - Kyle Snyder (Nittany Lion WC/TMWC) vs. Kollin Moore (TMWC/ Ohio RTC)
125 kg- Nick Gwiazdowski (TMWC/ Wolfpack WC) vs. Gable Steveson (Gopher Wrestling Club)


Championship Tournament finals (2 weight classes)
74 kg - Kyle Dake (TMWC/ Spartan Combat) tech. fall Jason Nolf (TMWC/ NLWC), 11-0
97 kg - Kollin Moore (TMWC/ Ohio RTC) tech. fall Michael Macchiavello (TMWC/ Wolfpack WC), 10-0
Challenge Tournament semifinals (all six weights)
57 KG
Thomas Gilman (TMWC/ NLWC) tech. fall Joe Colon (TMWC/ Cyclone RTC), 10-0
Vitali Arujau (TMWC/ Spartan Combat) dec. Daton Fix (TMWC/ Cowboy RTC), 7-5
65 KG
Joseph McKenna (TMWC/ PENN RTC) dec. Zain Retherford (TMWC/ NLWC), 8-5
Jordan Oliver (Sunkist Kids Wrestling Club) dec. Yianni Diakomihalis (TMWC/ Spartan Combat), 4-4
74 KG
Jason Nolf (TMWC/ NLWC) tech. fall David Carr (Cyclone Regional Training Center)10-0
Kyle Dake (TMWC/ Spartan Combat) tech. fall Evan Wick (TMWC) 10-0
86 KG
David Taylor (TMWC/ NLWC) dec. Gabe Dean (TMWC/ Spartan Combat), 4-0
Bo Nickal (TMWC/ NLWC) dec. Zahid Valencia (Sunkist Kids Wrestling Club), 12-5
97 KG
Kollin Moore (TMWC/ Ohio RTC) dec. Ty Walz (TMWC/ SERTC), 6-2
Michael Macchiavello (TMWC/ Wolfpack WC) dec. Hayden Zillmer (Gopher Wrestling Club) Dec 2-2
125 KG
Nick Gwiazdowski (TMWC/ Wolfpack WC) dec. Dominique Bradley (Sunkist Kids Wrestling Club), 6-0
Gable Steveson (Gopher Wrestling Club) tech. fall Daniel Kerkvliet (TMWC/ NLWC), 11-0