News
USA Wrestling
International
College
USAW
Young talent Amos stuns Greco-Roman field to reach finals at U.S. Olympic Team Trials
by Andy Elder, Special to TheMat.com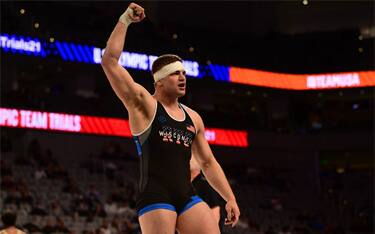 Braxton Amos of the Wisconsin RTC celebrates his success at 97 kg at the U.S. Olympic Team Trials, Photo by Tony Rotundo, Wrestlers Are Warriors.
FORT WORTH, Texas - 19-year-old Braxton Amos (Wisconsin Regional Training Center), the No. 6 seed at 97 kg Greco-Roman, reached the Championship Series at the U.S. Olympic Team Trials – Wrestling on Friday night, part of the youth movement which was the theme of the night in all styles.
Amos, the only wrestler to have qualified in two disciplines, took out No. 2 seed Lucas Sheridan (Army WCAP), 8-6, in the semfinals at 97 kg, then bested No. 4 seed Nicholas Boykin (SKWC) 8-2 in the final. Amos, who graduated high school in West Virginia last year, has competed in the international styles all season, prior to joining the team at the University of Wisconsin next year.
Awaiting Amos in the final will be G'Angelo Hancock, a three-time Senior World Team Member, two-time U23 World Team Member, 2019 Pan Am Silver Medalist and 2019 Grand Prix of Hungary Champion.
"It didn't hit me until about halfway through the day that I'm here, competing at the Olympic Trials and that I actually have a shot at making a run. It's been a wild two weeks with Last Chance Qualifier before this. It's been a lot of fun and I have at least two more tomorrow," Amos said.
"Nobody outside of my camp had me getting this far. I've beat three of the top-five guys at the weight so far. I just after go after [G'Angelo Hancock] tomorrow. There's a reason he's sitting out. He's the best guy at the weight right now, but at one point, he was the 19-year-old coming through to shock everyone."
Another young star in the finals is Arizona State freshman All-American Cohlton Schultz of the Sunkist Kids at 285 pounds. Schultz, a Cadet World champion and Junior World finalist, came in as No. 2 seed, defeated Jacob Mitchell (Army WCAP) in his Challenge Tournament finals.
His opponent is No. 1 seed Adam Coon (NYAC), a 2018 World silver medalist, who advanced with a pin over West Cathcart in his semifinal, 4-3.
2012 Olympian Ellis Coleman (Army WCAP) will meet Army teammate Alejandro Sancho in the 67 kg Greco-Roman final. Coleman stopped the remarkable run of No. 11 seed Benji Peak (SKWC) in the finals, 7-3.
Ironically, it was Sancho who replaced an injured Coleman at the 2020 Pan American Olympic Qualifier in Canada last year, and went on the qualify the USA for the Olympics at this weight class.
At 60 kg Greco-Roman, former Stanford standout Ryan Mango (Army WCAP) won the challenge tournament. He got by Sam Jones (NYAC) in the semifinals and shut out Leslie Fuenffinger (Army WCAP), 3-0, in the challenge final.


U.S. OLYMPIC TEAM TRIALS - WRESTLING

at Fort Worth, Texas
Final X Championship Series pairings on Saturday
60 kg - Ildar Hafizov (ARMY WCAP) vs. Ellis Coleman (ARMY WCAP)
67 kg - Alejandro Sancho (U.S. Army WCAP) vs. Ryan Mango (ARMY WCAP)
77 kg - Peyton Walsh (All-Marine Wrestling Team) vs. Jesse Porter (New York Athletic Club)
87 kg - Joe Rau (Titan Mercury) vs. John Stefanowicz (All-Marine Wrestling Team)
97 kg - G'Angelo Hancock (Sunkist Kids) vs. Braxton Amos (Wisconsin RTC)
130 kg - Adam Coon (NYAC/CKWC) vs. Cohlton Schultz (Sunkist Kids Wrestling Club)
Championship Tournament finals (4 weight classes)
60 kg - Ryan Mango (ARMY WCAP) dec. Leslie Fuenffinger (ARMY WCAP), 3-0
67 kg - Ellis Coleman (ARMY WCAP) dec. Benjamin Peak (Sunkist Kids Wrestling Club), 7-3
87 kg - John Stefanowicz (All-Marine Wrestling Team) dec. Patrick Martinez (New York Athletic Club), 1-1
97 kg - Braxton Amos (Wisconsin RTC) dec. Nicholas Boykin (Sunkist Kids Wrestling Club), 8-2


Challenge Tournament semifinals (all six weights)
60 KG
Leslie Fuenffinger (ARMY WCAP) dec. Dalton Roberts (ARMY WCAP) 5-2
Ryan Mango (ARMY WCAP) dec. Sam Jones (NYAC - Brunson UVRTC) 4-1
67 KG
Ellis Coleman (ARMY WCAP) tech. fall Xavier Johnson (All-Marine Wrestling Team), 8-0
Benjamin Peak (Sunkist Kids Wrestling Club) tech. fall Raymond Bunker (All-Marine Wrestling Team), 9-0
77 KG
Peyton Walsh (All-Marine Wrestling Team) dec. Jacob Fisher (Curby-3-Style), 4-1
Jesse Porter (New York Athletic Club) dec. Patrick Smith (Minnesota Storm), 5-3
87 KG
John Stefanowicz (All-Marine Wrestling Team) dec. Alan Vera (New York Athletic Club), 6-3
Patrick Martinez (New York Athletic Club) tech. fall Jonathan Anderson (West Point Wrestling Club), 8-0
97 KG
Nicholas Boykin (Sunkist Kids Wrestling Club) dec. Daniel Miller (All-Marine Wrestling Team), 7-5
Braxton Amos (Wisconsin RTC) dec. Lucas Sheridan (ARMY WCAP), 8-6
130 KG
Adam Coon (NYAC/CKWC) pin West Cathcart (NYAC-IllinoisRTC), 1:23
Cohlton Schultz (Sunkist Kids Wrestling Club) dec. Jacob Mitchell (ARMY (WCAP), 4-3