Yianni Diakomihalis named USA Wrestling Athlete of the Week
by Gary Abbott, USA Wrestling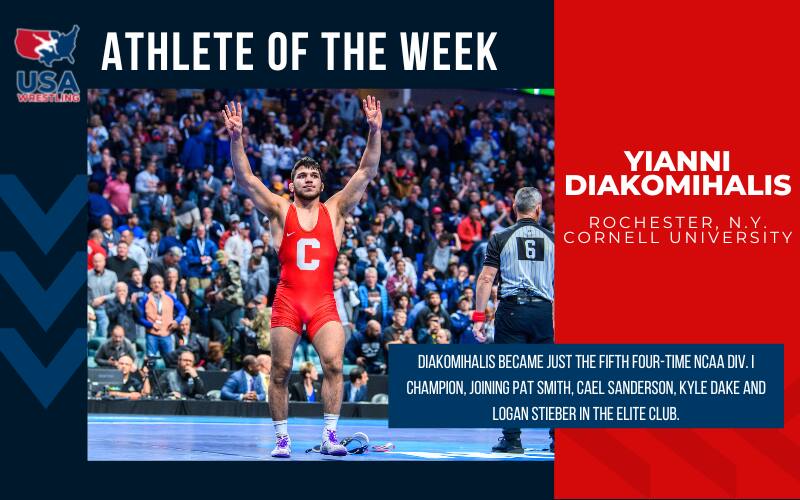 Image of Yianni Diakomihalis of Cornell celebrating his fourth NCAA title by Tony Rotundo, Wrestlers Are Warriors.
Yianni Diakomihalis
(Rochester, N.Y./Cornell University) has been selected as
USA Wrestling Athlete of the Week
on March 21.
Diakomihalis won the 149-pound title at the 2023 NCAA Div. I Wrestling Championships in Tulsa, Okla., March 16-18. He won his fourth career NCAA Div. I title, with his other gold-medals coming in 2018, 2019 and 2022.
Diakomihalis became the fifth four-time NCAA Div. I champion, following Pat Smith of Oklahoma State (1990, 1991, 1992, 1994), Cael Sanderson of Iowa State (1999, 2000, 2001, 2002), Kyle Dake of Cornell (2010, 2011, 2012, 2013) and Logan Stieber of Ohio State (2012, 2013, 2014, 2015). Cornell also became the first university to have two four-time NCAA Div. I champions.
Seeded No. 1, Diakomihalis opened with a 6-1 decision over past NCAA All-American Dom Demas of Cal Poly. In the second round, he pinned Jackson Arrington of NC State in 2:11. His quarterfinals match was a tight 8-7 victory over No. 8 seed Max Murin of Iowa, a 2020 All-American. In the semifinals, he defeated No. 12 seed Shayne Van Ness of Penn State. Diakomihalis defeated No. 2 seed and 2021 NCAA runner-up Sammy Sasso of Ohio State, 4-2 in the finals.
Diakomihalis was a 2022 World silver medalist in men's freestyle, and was also a member of the 2021 Senior World Team. He won U17 World gold medals in 2015 and 2016. Diakomihalis was a four-time New York state champion for Hilton High School.
To nominate a wrestler for this honor please send the athlete's name, wrestling program, weekly accomplishments and career accolades to USA Wrestling Director of Communications Gary Abbott at gabbott@usawrestling.org