News
USA Wrestling
College
Women
Athlete of Week
USAW
Lexie Basham named USA Wrestling Athlete of the Week
by Gary Abbott, USA Wrestling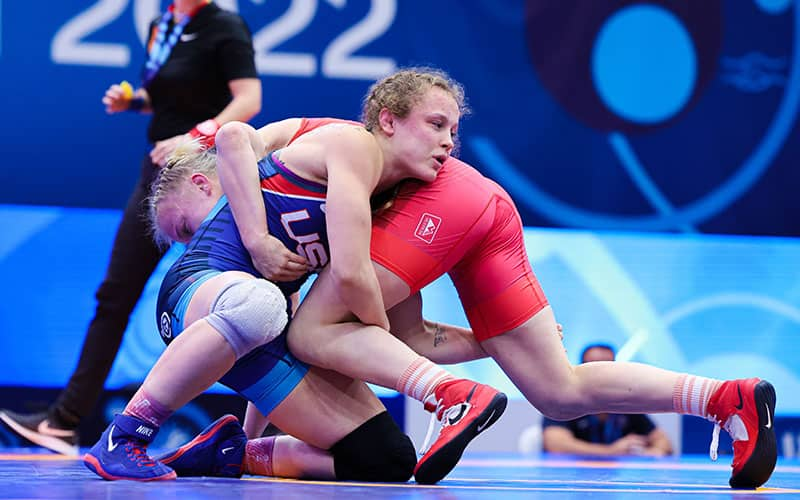 Lexie Basham (USA) competing in the 2022 U23 World Championships. Photo by Kostadin Andonov, United World Wrestling.Lexie Basham
(Roanoke, Texas/Texas Wesleyan University) has been selected as USA Wrestling Athlete of the Week on November 22, 2022.
Basham won the 130 pound-title at the Missouri Valley Open, the largest women's college wrestling tournament of all time with just shy of 500 entries.
In the finals, Basham, ranked No. 1 in the NAIA, defeated Cameron Guerin of McKendree, ranked No. 1 in the NCAA, by a 3-1 margin. Basham is a returning NAIA national champion, while Guerin is a two-time returning NCWWC national champion (for NCAA schools).
To reach the finals, Basham scored two pins and two technical falls in her first four matches. In the semifinals, she defeated NJCAA No. 1 Victoria Baez-Dillone of Umpqua CC, 5-3.
Basham is ranked No. 2 on the Senior National Team, after placing second in the 2022 Final X at 59 kg. She placed fifth in the 2022 U23 World Championships.
Each week USA Wrestling will select an Athlete of the Week based upon performance within wrestling for that week. The selection committee will consider any level of wrestling from youth programs through the senior level.
To nominate a wrestler for this honor please send the athlete's name, wrestling program, weekly accomplishments and career accolades to USA Wrestling Director of Communications Gary Abbott at gabbott@usawrestling.org