USA Wrestling hires Dixon as Safe Sport and Compliance Manager, Immel as Senior Manager of Communications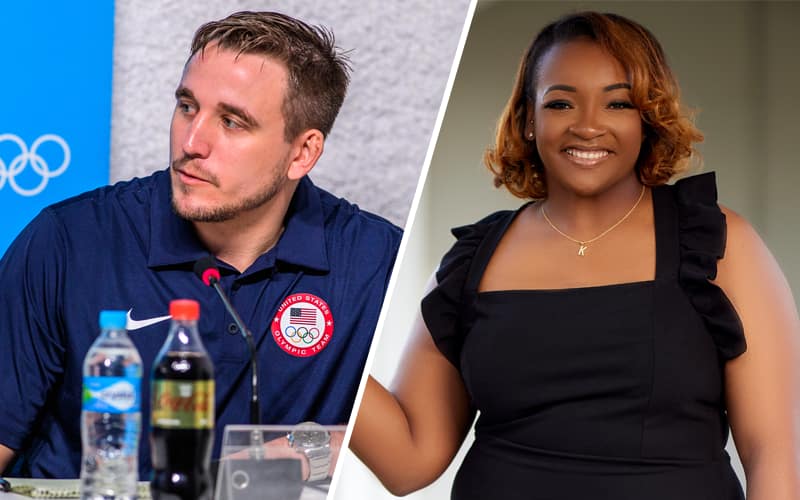 Photo: Richard Immel (left) and Kenya Dixon (right) are new additions to the USA Wrestling National Staff.

USA Wrestling is pleased to add two talented professionals to its national staff, with the addition of
Kenya Dixon
of Baton Rouge, La., as its new Manager of Safe Sport and Compliance and
Richard Immel
of Minneapolis, Minn., to the new position of Senior Manager of Communications. Both started on the national staff in their new positions in mid-March.
"USA Wrestling got better the day Kenya and Richard joined the team," said Rich Bender, USA Wrestling Executive Director. "They have both made significant contributions to the organization in their short time on staff. We are fortunate to bring on such talented individuals to our team and look forward to the future with them on board."
Dixon brings experience in legal and compliance matters to her position with USA Wrestling, as well as a strong background in sports and business leadership. Last year, she received her Juris Doctorate from the Southern University Law Center in Baton Rouge, La.
Most recently, Dixon served nearly one year as Legal Intern for Kroenke Sports & Entertainment based in Denver, Colo. While there, she provided support and service to its legal department and managed a variety of legal and compliance projects for this major sports organization, which operates professional sports teams in basketball (NBA), ice hockey (NHL) and soccer (MLS). She conducted research in areas including trademark, indemnification, antitrust, consumer data privacy, COVID-19 policies, and implicit bias training. Additionally, Dixon assisted in the creation of a consumer data collection policy for the company. She also reviewed, drafted, and managed contractual and operational agreements between the company and other entities.
Dixon's compliance experience resides in her more than four years working as Quality Performance Specialist for Amerihealth Caritas Louisiana of Baton Rouge. Among her duties were drafting and preparing regulatory/statutory reports and managing documents and policies for the organization. She also developed and managed a Medical Record Review catalog process to ensure statutory compliance which also included implementing an improved audit tool for reviewing medical records and communicating results to stakeholders. Dixon also cross-trained several departments to abide by industry policies and procedures to assist in the company's compliance efforts.
While attending Southern, she served as a teaching assistant for first year law students. In this role, Dixon aided students in understanding complex doctrinal concepts related to contracts, legal writing and torts while also serving as a resource of how to matriculate through law school.
While pursuing her legal degree, Dixon served as Vice President of Sports for the Sports & Entertainment Legal Association. In this role, she was tasked with planning, coordinating, implementing, and supervising activities related to bridging the gap between the legal profession and the sports industry. Such activities included assisting with the annual Sports Agent Bootcamp, Sports & Entertainment Symposium and several competition teams.
Dixon received a Bachelor of Arts, Criminal Justice with a minor in Psychology from Florida A&M University in 2016. She also received a Master of Public Administration with a concentration in Human Resource Management in 2018 from Valdosta State University. She was on the Dean's list as both an undergraduate and graduate student, as well as a scholarship varsity basketball athlete at both Florida A&M and Valdosta State where she also served as the captain of the basketball team at both universities. She was a representative for the Student-Athlete Advisory Committee during her tenure at Florida A&M.
In Dixon's free time she enjoys thrifting and traveling. While trying new foods is high on her favorite things to do list, creole food will always hold a special place in this Louisiana native's heart. Three interesting facts about Dixon are: she played the alto saxophone growing up, she does not enjoy consuming baked goods, and she broke her pinkie finger playing kickball in elementary school.
"As a former athlete, sports have always held a special place in my heart, and I have always had a knack for compliance, so when the opportunity arose for me to marry the two, I took advantage," Dixon said. "Although my competitive career has come to an end, I find great pleasure ensuring athletes are able to compete safely, and when a situation arises, they are comfortable confiding in me because I can understand their perspective. USA Wrestling and Safe Sport are growing, and this Louisiana girl is excited to be included on the journey."
Immel joins USA Wrestling after most recently serving as Head of Product Marketing for FloSports, where he was a respected marketing department leader for customer growth and market insights.
Immel joined the FloSports staff in February 2021 as a Manager, Digital Marketing, before being promoted to the position of Senior Manager, Digital Marketing in July 2022. In these roles, Immel managed the team responsible for subscriber acquisition and retention while increasing consumer engagement across multiple sport verticals at FloSports. As Senior Manager, he influenced cross-departmental alignment and established workflows to improve efficiency and bottom-line performance.
Previously, he served almost two years as a Manager, Marketing for NBC Universal, SportsEngine, Inc. Among his responsibilities were managing digital marketing campaign strategies, the development of creative assets and the execution of campaigns. He also spent a year as Digital Marketing Strategist for Purdue Federal Credit Union.
Immel returns to USA Wrestling after a previous stint in the Communications Department lasting over five years from 2013-2018. Immel started at USA Wrestling in January 2013 as its Coordinator of Broadcasting, Social Media and Grassroots Marketing, working on a variety of Communications projects while managing social media strategy and content. He was part of the Communications team responsible for the successful 2013 Keep Olympic Wrestling effort, when wrestling retained its place on the Olympic program. After two years, he was promoted to Manager of Communications in 2016, with additional responsibility within the Communications team. While serving as USA Wrestling Communications Manager, he was also a USOPC Press Officer for the 2016 Olympic Games in Rio de Janeiro, Brazil.
Immel has been honored by the National Wrestling Media Association as 2020 Photographer of the Year and 2014 New Media Specialist of the Year. In 2020, he received a GEMstone Award at NBC Universal. He also was honored twice by the FloSports Ignite Awards, with an Own It Core Value Award in 2021 and a One Team, One Dream Core Value Award in 2022.
He received a Bachelor of Arts in Journalism from the University of Oklahoma in 2012, and a Master of Business Administration with a Marketing emphasis from the University of Colorado, Colorado Springs in 2018. He was a member of the varsity wresting and rugby teams at Oklahoma and was a three-time Oklahoma state champion at Midwest City (OK) High School.
"No matter where my career has taken me, my heart has always been with the wrestling community," Immel said. "I'm grateful for the opportunity to return to USA Wrestling and build upon its rock-solid foundation of success. My goal is to bring a fresh perspective and long-term approach to our communications, marketing and strategic activities while helping lead the organization as it strives to achieve its mission and serve its membership."