News
USA Wrestling
High School & Youth
Women
USAW
Schunke, Bragg among double champions at USA Wrestling Northern Plains Regional
by Richard Immel, USA Wrestling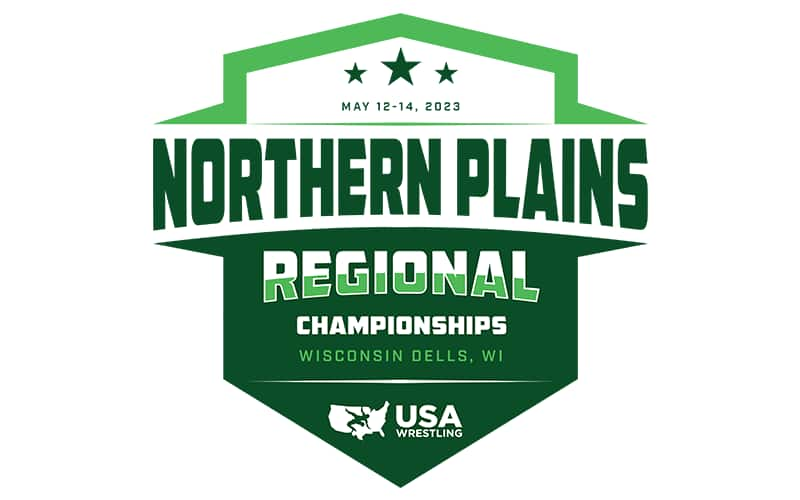 WISCONSIN DELLS, Wis. – The USA Wrestling Regionals series continued with the Northern Plains Regional Championships being held at Woodside Wisconsin Dells Center in Wisconsin Dells, Wis.
There were five double champions in the Junior boys division, athletes who won both the freestyle and Greco-Roman styles: Elijah Hyet of Iowa (100), Cole Welte of Nebraska (106), Alex Braun of Minnesota (145), Cole Han-Lindemyer of Minnesota (182) and Navarro Schunke of South Dakota (285).
Nine competitors in the 16U boys division doubled up on gold medals: Vincent DeMarco of Illinois (88), Allen Woo of Illinois (94), Liam Collins of Minnesota (100), Dawson Youngblut of Iowa (120), Davis Parrow of Minnesota (132), Jaxon Miller of Iowa (152), Luke Hoag of Minnesota (170), William Ward of North Dakota (182) and Garett Kawczynski of Wisconsin (220).
The Junior girls had four athletes win first place in both freestyle and Greco-Roman tournaments: Gigi Bragg of Michigan (117), Caitlyn Kelley of Wisconsin (122), Allyssa Johnson of North Dakota (138) and Alexandra Hofrichter of Wisconsin (164).
Three competitors brought home double titles in the 16U girls division: Mackenzie Carder of Ohio (112), Cassandra Gonzales of Minnesota (138) and Tiani Lemieux of Wisconsin (152).
The top six boys and top six girls in each weight class in the Junior and 16U divisions have qualified for their state teams for the 2023 USMC Junior and 16U Nationals in Fargo, N.D.
There were also tournaments held in both freestyle and Greco-Roman at the 14U, 12U, 10U and 8U divisions for both boys and girls. Results for each weight class can be found below, with complete brackets available at Trackwrestling.com.
USA Wrestling Northern Plains Regional Championships
At Woodside Wisconsin Dells Center, Wisconsin Dells, Wis., May 12-14
Junior Boys Freestyle Results
100 pounds
1st Place - Elijah Hyet of IA
2nd Place - Jaxsen Vestal of IA
3rd Place - Samuel Sikorsky of IL
Round 1
Jaxsen Vestal (IA) received a bye () (Bye)
Elijah Hyet (IA) won by tech fall over Samuel Sikorsky (IL) (TF 12-2)
Round 2
Elijah Hyet (IA) received a bye () (Bye)
Jaxsen Vestal (IA) won by tech fall over Samuel Sikorsky (IL) (TF 10-0)
Round 3
Samuel Sikorsky (IL) received a bye () (Bye)
Elijah Hyet (IA) won by tech fall over Jaxsen Vestal (IA) (TF 16-5)
106 pounds
1st Place - Cole Welte of NE
2nd Place - Grayson Kongkaeow of IL
3rd Place - Taye Jordan of IA
4th Place - Ethan Dimos of OH
5th Place - Kendall Booker of MN
6th Place - William Mattert of WI
1st Place Match
Cole Welte (NE) won by tech fall over Grayson Kongkaeow (IL) (TF 16-6)
3rd Place Match
Taye Jordan (IA) won by fall over Ethan Dimos (OH) (Fall 3:00)
5th Place Match
Kendall Booker (MN) won by fall over William Mattert (WI) (Fall 0:13)
113 pounds
1st Place - Dru Ayala of IA
2nd Place - Jacob Fitzpatrick of MN
3rd Place - Connor Fiser of IA
4th Place - Logan Schwanz of MN
5th Place - Lawson Eller of MN
6th Place - Cole Gentsch of IL
1st Place Match
Dru Ayala (IA) won by tech fall over Jacob Fitzpatrick (MN) (TF 17-6)
3rd Place Match
Connor Fiser (IA) won by fall over Logan Schwanz (MN) (Fall 0:19)
5th Place Match
Lawson Eller (MN) won by fall over Cole Gentsch (IL) (Fall 2:20)
120 pounds
1st Place - Carson Doolittle of IA
2nd Place - Liam Neitzel of WI
3rd Place - Blake Beissel of MN
4th Place - Luke Koenen of MN
5th Place - Lincoln Flayter of WI
6th Place - Griffin Rial of CO
1st Place Match
Carson Doolittle (IA) won by decision over Liam Neitzel (WI) (Dec 15-10)
3rd Place Match
Blake Beissel (MN) won by tech fall over Luke Koenen (MN) (TF 10-0)
5th Place Match
Lincoln Flayter (WI) won by fall over Griffin Rial (CO) (Fall 5:08)
126 pounds
1st Place - Benjamin Bast of WI
2nd Place - Ostin Blanchard of WI
3rd Place - Joshua Vazquez of IL
4th Place - Theodore Flores of IL
5th Place - Benjamin DeForest of ND
6th Place - Charles Vanier of MN
1st Place Match
Benjamin Bast (WI) won by fall over Ostin Blanchard (WI) (Fall 1:30)
3rd Place Match
Joshua Vazquez (IL) won by decision over Theodore Flores (IL) (Dec 13-4)
5th Place Match
Benjamin DeForest (ND) won by decision over Charles Vanier (MN) (Dec 20-15)
132 pounds
1st Place - Logan Swensen of MN
2nd Place - Massey Odiotti of IL
3rd Place - Zachary Parisi of IL
4th Place - Collin McDowell of WI
5th Place - Jack Bainbridge of MN
6th Place - Olin Walker of IL
1st Place Match
Logan Swensen (MN) won by tech fall over Massey Odiotti (IL) (TF 10-0)
3rd Place Match
Zachary Parisi (IL) won by decision over Collin McDowell (WI) (Dec 13-11)
5th Place Match
Jack Bainbridge (MN) won by decision over Olin Walker (IL) (Dec 24-24)
138 pounds
1st Place - Rhett Koenig of WI
2nd Place - William Baysingar of IL
3rd Place - Jack Nelson of MN
4th Place - Hunter Hollingsworth of OK
5th Place - Ayson Rice of SD
6th Place - Dylan Louwagie of MN
1st Place Match
Rhett Koenig (WI) won by decision over William Baysingar (IL) (Dec 4-3)
3rd Place Match
Jack Nelson (MN) won by tech fall over Hunter Hollingsworth (OK) (TF 14-1)
5th Place Match
Ayson Rice (SD) won by tech fall over Dylan Louwagie (MN) (TF 10-0)
145 pounds
1st Place - Alex Braun of MN
2nd Place - Corbin Ramos of WI
3rd Place - McKinley Robbins of IA
4th Place - Noah Manuel Tapia of IL
5th Place - Jayden Haueter of MN
6th Place - Nolan Ambrose of MN
1st Place Match
Alex Braun (MN) won by decision over Corbin Ramos (WI) (Dec 12-10)
3rd Place Match
McKinley Robbins (IA) won by decision over Noah Manuel Tapia (IL) (Dec 12-5)
5th Place Match
Jayden Haueter (MN) won by injury default over Nolan Ambrose (MN) (Inj. 0:00)
152 pounds
1st Place - Leandro Araujo of ND
2nd Place - Matthew Randolph of MN
3rd Place - David Mayora of IL
4th Place - Brett Skaug of WI
5th Place - Tj Schierl of WI
6th Place - Joseph Kennedy of MN
1st Place Match
Leandro (lj) Araujo (ND) won by tech fall over Matthew Randolph (MN) (TF 15-4)
3rd Place Match
David Mayora (IL) won by decision over Brett Skaug (WI) (Dec 9-7)
5th Place Match
Tj Schierl (WI) won by tech fall over Joseph Kennedy (MN) (TF 10-0)
160 pounds
1st Place - Brent Slade of IA
2nd Place - Colton Bornholdt of MN
3rd Place - Griffin Lundeen of MN
4th Place - Charles Petit of MN
5th Place - Tristan Steldt of WI
6th Place - Grant Kress of IA
1st Place Match
Brent Slade (IA) won by tech fall over Colton Bornholdt (MN) (TF 10-0)
3rd Place Match
Griffin Lundeen (MN) won by decision over Charles Petit (MN) (Dec 13-11)
5th Place Match
Tristan Steldt (WI) won by fall over Grant Kress (IA) (Fall 5:06)
170 pounds
1st Place - Talon McCollom of OK
2nd Place - Noah Torgerson of MN
3rd Place - Travis Smith of MN
4th Place - Jacob Fistler of IA
5th Place - Henry Reilly of NE
6th Place - Tyler Martinez of IL
1st Place Match
Talon McCollom (OK) won by fall over Noah Torgerson (MN) (Fall 0:42)
3rd Place Match
Travis Smith (MN) won by fall over Jacob Fistler (IA) (Fall 1:28)
5th Place Match
Henry Reilly (NE) won by tech fall over Tyler Martinez (IL) (TF 15-4)
182 pounds
1st Place - Cole Han-Lindemyer of MN
2nd Place - Marco Christiansen of MN
3rd Place - Marcell Booth of MN
4th Place - Jackson Van Kley of IA
5th Place - Amare Overton of IL
6th Place - Maximus Hanson of MN
1st Place Match
Cole Han-Lindemyer (MN) won by tech fall over Marco Christiansen (MN) (TF 10-0)
3rd Place Match
Marcell Booth (MN) won by tech fall over Jackson Van Kley (IA) (TF 14-4)
5th Place Match
Amare Overton (IL) won by decision over Maximus Hanson (MN) (Dec 23-16)
195 pounds
1st Place - Quinlan Morgan of MN
2nd Place - Ryder Depies of WI
3rd Place - Quinn Herbert of IL
4th Place - Cole Matulenko of IL
5th Place - Ben Kienbaum of WI
6th Place - Luke Statz of WI
1st Place Match
Quinlan Morgan (MN) won by fall over Ryder Depies (WI) (Fall 4:44)
3rd Place Match
Quinn Herbert (IL) won by fall over Cole Matulenko (IL) (Fall 2:12)
5th Place Match
Ben Kienbaum (WI) won by injury default over Luke Statz (WI) (Inj. 0:00)
220 pounds
1st Place - Nick Nosler of IL
2nd Place - Noah Wenzel of IL
3rd Place - Jared Thiry of IA
4th Place - Cy Kruse of MN
5th Place - Jesus Gonzalez of WI
6th Place - Ian Larrabee of MN
1st Place Match
Nick Nosler (IL) won by tech fall over Noah Wenzel (IL) (TF 10-0)
3rd Place Match
Jared Thiry (IA) won by decision over Cy Kruse (MN) (Dec 7-4)
5th Place Match
Jesus Gonzalez (WI) won by fall over Ian Larrabee (MN) (Fall 1:09)
285 pounds
1st Place - Navarro Schunke of SD
2nd Place - Soren Herzog of MN
3rd Place - Jackson Barnhart of IL
4th Place - Wyatt Schmitt of IL
5th Place - Caleb Vancura of MN
6th Place - Kyler Hall of IA
1st Place Match
Navarro Schunke (SD) won by tech fall over Soren Herzog (MN) (TF 22-12)
3rd Place Match
Jackson Barnhart (IL) won by decision over Wyatt Schmitt (IL) (Dec 4-3)
5th Place Match
Caleb Vancura (MN) won by fall over Kyler Hall (IA) (Fall 1:49)
Junior Boys Greco-Roman Results
100 pounds
1st Place - Elijah Hyet of IA
2nd Place - Jaxsen Vestal of IA
Round 1
Elijah Hyet (IA) won by tech fall over Jaxsen Vestal (IA) (TF 15-6)
Round 2
Elijah Hyet (IA) won by tech fall over Jaxsen Vestal (IA) (TF 11-0)
106 pounds
1st Place - Cole Welte of NE
2nd Place - Grayson Kongkaeow of IL
3rd Place - Taye Jordan of IA
4th Place - Colin Bosak of IL
5th Place - Bella Heaney of MN
Round 1
Grayson Kongkaeow (IL) won by tech fall over Colin Bosak (IL) (TF 12-4)
Taye Jordan (IA) won by tech fall over Bella Heaney (MN) (TF 8-0)
Round 2
Cole Welte (NE) won by tech fall over Bella Heaney (MN) (TF 8-0)
Grayson Kongkaeow (IL) won by tech fall over Taye Jordan (IA) (TF 14-4)
Round 3
Cole Welte (NE) won by tech fall over Taye Jordan (IA) (TF 9-0)
Colin Bosak (IL) won by tech fall over Bella Heaney (MN) (TF 10-0)
Round 4
Cole Welte (NE) won by tech fall over Colin Bosak (IL) (TF 8-0)
Grayson Kongkaeow (IL) won by tech fall over Bella Heaney (MN) (TF 10-0)
Round 5
Cole Welte (NE) won by tech fall over Grayson Kongkaeow (IL) (TF 8-0)
Taye Jordan (IA) won by tech fall over Colin Bosak (IL) (TF 17-9)
113 pounds
1st Place - Connor Fiser of IA
2nd Place - Lawson Eller of MN
3rd Place - Logan Schwanz of MN
4th Place - Cole Gentsch of IL
5th Place - Jimmy Whitaker of IL
6th Place - Landon Walker of SD
1st Place Match
Connor Fiser (IA) won by tech fall over Lawson Eller (MN) (TF 11-2)
3rd Place Match
Logan Schwanz (MN) won by tech fall over Cole Gentsch (IL) (TF 11-2)
5th Place Match
Jimmy Whitaker (IL) won by fall over Landon Walker (SD) (Fall 2:25)
120 pounds
1st Place - Liam Neitzel of WI
2nd Place - Warren Soik of WI
3rd Place - Blake Beissel of MN
4th Place - Griffin Rial of CO
5th Place - Tommy Tourdot of IL
6th Place - Kalani Khiev of IL
1st Place Match
Liam Neitzel (WI) won by tech fall over Warren Soik (WI) (TF 11-1)
3rd Place Match
Blake Beissel (MN) won by tech fall over Griffin Rial (CO) (TF 9-1)
5th Place Match
Tommy Tourdot (IL) won by fall over Kalani Khiev (IL) (Fall 0:33)
126 pounds
1st Place - Joshua Vazquez of IL
2nd Place - Theodore Flores of IL
3rd Place - Anthony Isek of CO
4th Place - Joel Muehlenbeck of IL
5th Place - Easton Cooper of WI
6th Place - Drake Gosda of WI
1st Place Match
Joshua Vazquez (IL) won by decision over Theodore Flores (IL) (Dec 4-3)
3rd Place Match
Anthony Isek (CO) won by tech fall over Joel Muehlenbeck (IL) (TF 8-0)
5th Place Match
Easton Cooper (WI) won by tech fall over Drake Gosda (WI) (TF 8-0)
132 pounds
1st Place - Amryn Nutter of WI
2nd Place - Massey Odiotti of IL
3rd Place - Liam Anderson of MN
4th Place - Tyler Weidman of IL
5th Place - Zachary Parisi of IL
6th Place - Tyson Zvonar of IL
1st Place Match
Amryn Nutter (WI) won by decision over Massey Odiotti (IL) (Dec 15-10)
3rd Place Match
Liam Anderson (MN) won by tech fall over Tyler Weidman (IL) (TF 10-0)
5th Place Match
Zachary Parisi (IL) won by tech fall over Tyson Zvonar (IL) (TF 10-1)
138 pounds
1st Place - Ayson Rice of SD
2nd Place - Maksym Chubenko of OH
3rd Place - Dmytro Chubenko of OH
4th Place - Rhett Koenig of WI
5th Place - Jack Nelson of MN
6th Place - Benjamin Hansen of IA
1st Place Match
Ayson Rice (SD) won by decision over Maksym Chubenko (OH) (Dec 11-11)
3rd Place Match
Dmytro Chubenko (OH) won by decision over Rhett Koenig (WI) (Dec 3-1)
5th Place Match
Jack Nelson (MN) won by tech fall over Benjamin Hansen (IA) (TF 10-2)
145 pounds
1st Place - Alex Braun of MN
2nd Place - Noah Manuel Tapia of IL
3rd Place - Maddox Khalimsky of IL
4th Place - Corbin Ramos of WI
5th Place - Jayden Haueter of MN
6th Place - Easton Biladeau of IA
1st Place Match
Alex Braun (MN) won by decision over Noah Manuel Tapia (IL) (Dec 13-10)
3rd Place Match
Maddox Khalimsky (IL) won by fall over Corbin Ramos (WI) (Fall 3:18)
5th Place Match
Jayden Haueter (MN) won by tech fall over Easton Biladeau (IA) (TF 10-0)
152 pounds
1st Place - Gunnar Hamre of WI
2nd Place - Matthew Randolph of MN
3rd Place - Tj Schierl of WI
4th Place - Conlan Carlson of MN
5th Place - Lane Fink of MN
6th Place - Addan Schmidt of MN
1st Place Match
Gunnar Hamre (WI) won by tech fall over Matthew Randolph (MN) (TF 8-0)
3rd Place Match
Tj Schierl (WI) won by fall over Conlan Carlson (MN) (Fall 0:52)
5th Place Match
Lane Fink (MN) won by fall over Addan Schmidt (MN) (Fall 1:58)
160 pounds
1st Place - Ashton Miess of WI
2nd Place - Griffin Lundeen of MN
3rd Place - Brent Slade of IA
4th Place - Colin Young of IL
5th Place - Waylon Cressell of ND
6th Place - Lincoln Fink of MN
1st Place Match
Ashton Miess (WI) won by tech fall over Griffin Lundeen (MN) (TF 9-0)
3rd Place Match
Brent Slade (IA) won by decision over Colin Young (IL) (Dec 8-1)
5th Place Match
Waylon Cressell (ND) won by decision over Lincoln Fink (MN) (Dec 13-10)
170 pounds
1st Place - Noah Torgerson of MN
2nd Place - Sean Kolkebeck of IL
3rd Place - Henry Reilly of NE
4th Place - Gabriel Orosco of IL
5th Place - Connor Kelly of IL
6th Place - Sawyer Carr of ND
1st Place Match
Noah Torgerson (MN) won by tech fall over Sean Kolkebeck (IL) (TF 8-0)
3rd Place Match
Henry Reilly (NE) won by tech fall over Gabriel Orosco (IL) (TF 14-6)
5th Place Match
Connor Kelly (IL) won by fall over Sawyer Carr (ND) (Fall 0:37)
182 pounds
1st Place - Cole Han-Lindemyer of MN
2nd Place - Marco Christiansen of MN
3rd Place - Aidan Squier of CT
4th Place - Leo Siekmann of MN
5th Place - Maximus Hanson of MN
6th Place - Jackson Van Kley of IA
1st Place Match
Cole Han-Lindemyer (MN) won by tech fall over Marco Christiansen (MN) (TF 11-1)
3rd Place Match
Aidan Squier (CT) won by tech fall over Leo Siekmann (MN) (TF 8-0)
5th Place Match
Maximus Hanson (MN) won by forfeit over Jackson Van Kley (IA) (FF)
195 pounds
Guaranteed Places
1st Place - Espyn Sweers of WI
2nd Place - Ryder Depies of WI
3rd Place - Evan Grazzini of IL
4th Place - Cole Matulenko of IL
5th Place - Karlondo Duboise of IL
6th Place - Wyatt Mulder of MN
1st Place Match
Espyn Sweers (WI) won by fall over Ryder Depies (WI) (Fall 2:05)
3rd Place Match
Evan Grazzini (IL) won by tech fall over Cole Matulenko (IL) (TF 10-2)
5th Place Match
Karlondo Duboise (IL) won by injury default over Wyatt Mulder (MN) (Inj. 0:00)
220 pounds
1st Place - Brennan Carey of MO
2nd Place - Jared Thiry of IA
3rd Place - Noah Wenzel of IL
4th Place - Joseph Lewis of IA
5th Place - Kaiden Morris of IL
6th Place - Lamar Bradley of IL
1st Place Match
Brennan Carey (MO) won by decision over Jared Thiry (IA) (Dec 7-4)
3rd Place Match
Noah Wenzel (IL) won by tech fall over Joseph Lewis (IA) (TF 11-1)
5th Place Match
Kaiden Morris (IL) won by injury default over Lamar Bradley (IL) (Inj. 0:00)
285 pounds
1st Place - Navarro Schunke of SD
2nd Place - Soren Herzog of MN
3rd Place - Wyatt Schmitt of IL
4th Place - Jackson Barnhart of IL
5th Place - Jackson Ingram of MN
6th Place - Jesse Saavedra of IL
1st Place Match
Navarro Schunke (SD) won by tech fall over Soren Herzog (MN) (TF 9-0)
3rd Place Match
Wyatt Schmitt (IL) won by decision over Jackson Barnhart (IL) (Dec 3-1)
5th Place Match
Jackson Ingram (MN) won by fall over Jesse Saavedra (IL) (Fall 0:38)
Junior Girls Freestyle Results
100 pounds
1st Place - Zoey Haney of MO
2nd Place - Layla Phillips of IA
3rd Place - Brooke Corrigan of WI
4th Place - Kirsten Cortez of IN
5th Place - Kaelie Mabie-Wangerin of WI
Round 1
Kirsten Cortez (IN) won by fall over Kaelie Mabie-Wangerin (WI) (Fall 0:14)
Layla Phillips (IA) won by fall over Brooke Corrigan (WI) (Fall 4:06)
Round 2
Zoey Haney (MO) won by decision over Layla Phillips (IA) (Dec 14-13)
Brooke Corrigan (WI) won by tech fall over Kirsten Cortez (IN) (TF 10-0)
Round 3
Zoey Haney (MO) won by fall over Brooke Corrigan (WI) (Fall 3:00)
Layla Phillips (IA) won by fall over Kaelie Mabie-Wangerin (WI) (Fall 0:29)
Round 4
Zoey Haney (MO) won by tech fall over Kaelie Mabie-Wangerin (WI) (TF 10-0)
Layla Phillips (IA) won by fall over Kirsten Cortez (IN) (Fall 0:30)
Round 5
Zoey Haney (MO) won by tech fall over Kirsten Cortez (IN) (TF 10-0)
Brooke Corrigan (WI) won by tech fall over Kaelie Mabie-Wangerin (WI) (TF 10-0)
106 pounds
1st Place - Harlee Hiller of IL
2nd Place - Olivia Sackor of MN
3rd Place - Madison Haney of MO
4th Place - Anna Kos of MN
5th Place - Allison Hunter of WI
6th Place - Danielle Turner of IL
1st Place Match
Harlee Hiller (IL) won by tech fall over Olivia Sackor (MN) (TF 10-0)
3rd Place Match
Madison Haney (MO) won by fall over Anna Kos (MN) (Fall 0:44)
5th Place Match
Allison Hunter (WI) won by fall over Danielle Turner (IL) (Fall 0:25)
112 pounds
1st Place - Angela Bianchi of WI
2nd Place - Angelina Carpintero of IL
3rd Place - Annika Cottam of IL
4th Place - Emma Schlismann of IL
5th Place - Jazleen Fong-Baake of WI
6th Place - Vivian Vasquez of IL
1st Place Match
Angela Bianchi (WI) won by tech fall over Angelina Carpintero (IL) (TF 10-0)
3rd Place Match
Annika Cottam (IL) won by tech fall over Emma Schlismann (IL) (TF 10-0)
5th Place Match
Jazleen Fong-Baake (WI) won by decision over Vivian Vasquez (IL) (Dec 20-16)
117 pounds
1st Place - Gigi Bragg of MI
2nd Place - Aubrie Pehrson of NE
3rd Place - Ayane Jasinski of IL
4th Place - Bree Swenson of IA
5th Place - Victoria Macias of IL
6th Place - Aliana Rauter of WI
1st Place Match
Gigi Bragg (MI) won by tech fall over Aubrie Pehrson (NE) (TF 10-0)
3rd Place Match
Ayane Jasinski (IL) won by fall over Bree Swenson (IA) (Fall 1:56)
5th Place Match
Victoria Macias (IL) won by tech fall over Aliana Rauter (WI) (TF 10-0)
122 pounds
1st Place - Caitlyn Kelley of WI
2nd Place - Alexis Pehrson of NE
3rd Place - Jalynn Goodale of IA
4th Place - Natalie Klavetter of WI
5th Place - Margaret Gillmore of WI
6th Place - Josie Barham of IL
1st Place Match
Caitlyn Kelley (WI) won by tech fall over Alexis Pehrson (NE) (TF 10-0)
3rd Place Match
Jalynn Goodale (IA) won by fall over Natalie Klavetter (WI) (Fall 1:21)
5th Place Match
Margaret Gillmore (WI) won by fall over Josie Barham (IL) (Fall 1:32)
127 pounds
1st Place - Madilyn Peach of WI
2nd Place - Ava Babbs of IL
3rd Place - Makenna Hanke of WI
4th Place - Bella Bolek of WI
5th Place - Elyse Engebretson of IA
6th Place - Jaedyn Stites of IA
1st Place Match
Madilyn Peach (WI) won by tech fall over Ava Babbs (IL) (TF 12-2)
3rd Place Match
Makenna Hanke (WI) won by fall over Bella Bolek (WI) (Fall 4:57)
5th Place Match
Elyse Engebretson (IA) won by forfeit over Jaedyn Stites (IA) (FF)
132 pounds
1st Place - Kylie Rule of WI
2nd Place - Lilliana Banks of WI
3rd Place - Brooke Schuenemann of WI
4th Place - Kylee Shoop of IA
Round 1
Kylie Rule (WI) won by tech fall over Kylee Shoop (IA) (TF 10-0)
Lilliana Banks (WI) won by tech fall over Brooke Schuenemann (WI) (TF 12-2)
Round 2
Lilliana Banks (WI) won by tech fall over Kylee Shoop (IA) (TF 10-0)
Kylie Rule (WI) won by tech fall over Brooke Schuenemann (WI) (TF 10-0)
Round 3
Brooke Schuenemann (WI) won by fall over Kylee Shoop (IA) (Fall 1:48)
Kylie Rule (WI) won by tech fall over Lilliana Banks (WI) (TF 10-0)
138 pounds
1st Place - Allyssa Johnson of ND
2nd Place - Cassandra Gonzales of MN
3rd Place - Emma Gruenhagen of WI
4th Place - Brianna Bynum of IL
5th Place - Tori Bahr of MN
Round 1
Emma Gruenhagen (WI) won by fall over Tori Bahr (MN) (Fall 0:36)
Allyssa Johnson (ND) won by fall over Brianna Bynum (IL) (Fall 3:26)
Round 2
Allyssa Johnson (ND) won by fall over Cassandra Gonzales (MN) (Fall 3:27)
Emma Gruenhagen (WI) won by tech fall over Brianna Bynum (IL) (TF 13-2)
Round 3
Cassandra Gonzales (MN) won by tech fall over Brianna Bynum (IL) (TF 10-0)
Allyssa Johnson (ND) won by injury default over Tori Bahr (MN) (Inj. 0:00)
Round 4
Cassandra Gonzales (MN) won by injury default over Tori Bahr (MN) (Inj. 0:00)
Allyssa Johnson (ND) won by fall over Emma Gruenhagen (WI) (Fall 1:44)
Round 5
Cassandra Gonzales (MN) won by fall over Emma Gruenhagen (WI) (Fall 2:17)
Brianna Bynum (IL) won by injury default over Tori Bahr (MN) (Inj. 0:00)
144 pounds
1st Place - Jenna Secord of NE
2nd Place - Kelsey Cruz of MN
3rd Place - Randi Nicholson of IA
4th Place - TaHonesty Donnell of WI
Round 1
Randi Nicholson (IA) won by forfeit over TaHonesty Donnell (WI) (FF)
Jenna Secord (NE) won by fall over Kelsey Cruz (MN) (Fall 3:39)
Round 2
Jenna Secord (NE) received a bye () (Bye)
Kelsey Cruz (MN) won by decision over Randi Nicholson (IA) (Dec 10-2)
Round 3
Kelsey Cruz (MN) received a bye () (Bye)
Jenna Secord (NE) won by tech fall over Randi Nicholson (IA) (TF 12-1)
152 pounds
1st Place - Skylar Slade of IA
2nd Place - Mahri Manz of IA
3rd Place - Kara Kuge of WI
4th Place - Jocelyn Gutierrez of IL
5th Place - Natalie Maceau of WI
6th Place - Jada Hall of IL
1st Place Match
Skylar Slade (IA) won by tech fall over Mahri Manz (IA) (TF 10-0)
3rd Place Match
Kara Kuge (WI) won by tech fall over Jocelyn Gutierrez (IL) (TF 11-0)
5th Place Match
Natalie Maceau (WI) won by fall over Jada Hall (IL) (Fall 5:29)
164 pounds
1st Place - Alexandra Hofrichter of WI
2nd Place - Sophia Bassino of WI
3rd Place - Erika Brokovich of IA
4th Place - Ryann Reeves of IL
5th Place - Vallorie Williams of IL
6th Place - Kyleigh James of IA
1st Place Match
Alexandra Hofrichter (WI) won by fall over Sophia Bassino (WI) (Fall 2:15)
3rd Place Match
Erika Brokovich (IA) won by fall over Ryann Reeves (IL) (Fall 0:59)
5th Place Match
Vallorie Williams (IL) won by injury default over Kyleigh James (IA) (Inj. 0:01)
180 pounds
1st Place - Bella Porcelli of IA
2nd Place - Izzy Strickert of IA
3rd Place - Faith Barrett of IL
4th Place - Wonderful Naw of IL
5th Place - Kalie Davis of WI
6th Place - Hannah Sjostrom of ND
1st Place Match
Bella Porcelli (IA) won by fall over Izzy Strickert (IA) (Fall 0:11)
3rd Place Match
Faith Barrett (IL) won by fall over Wonderful Naw (IL) (Fall 2:14)
5th Place Match
Kalie Davis (WI) won by injury default over Hannah Sjostrom (ND) (Inj. 0:00)
225 pounds
1st Place - Savannah Sistad of IA
2nd Place - Phoenix Molina of IL
3rd Place - Jessica Komolafe of IL
4th Place - Melanie Martinez of IA
5th Place - Addyson Barrett of IL
Round 1
Phoenix Molina (IL) won by fall over Melanie Martinez (IA) (Fall 1:28)
Savannah Sistad (IA) won by fall over Addyson Barrett (IL) (Fall 0:49)
Round 2
Savannah Sistad (IA) won by fall over Jessica Komolafe (IL) (Fall 0:50)
Melanie Martinez (IA) won by fall over Addyson Barrett (IL) (Fall 0:30)
Round 3
Jessica Komolafe (IL) won by fall over Addyson Barrett (IL) (Fall 1:09)
Savannah Sistad (IA) won by fall over Phoenix Molina (IL) (Fall 2:57)
Round 4
Phoenix Molina (IL) won by fall over Jessica Komolafe (IL) (Fall 1:31)
Savannah Sistad (IA) won by fall over Melanie Martinez (IA) (Fall 0:30)
Round 5
Jessica Komolafe (IL) won by fall over Melanie Martinez (IA) (Fall 0:36)
Phoenix Molina (IL) won by fall over Addyson Barrett (IL) (Fall 0:58)
Junior Girls Greco-Roman Results
106-112 pounds
1st Place - Cailyn Whittier of WI
2nd Place - Allison Hunter of WI
3rd Place - Jazleen Fong-Baake of WI
4th Place - McKenzie Simonson of WI
Round 1
Allison Hunter (WI) won by fall over McKenzie Simonson (WI) (Fall 0:38)
Cailyn Whittier (WI) won by fall over Jazleen Fong-Baake (WI) (Fall 2:03)
Round 2
Cailyn Whittier (WI) won by tech fall over Allison Hunter (WI) (TF 8-0)
Jazleen Fong-Baake (WI) won by fall over McKenzie Simonson (WI) (Fall 1:28)
Round 3
Allison Hunter (WI) won by fall over Jazleen Fong-Baake (WI) (Fall 0:55)
Cailyn Whittier (WI) won by fall over McKenzie Simonson (WI) (Fall 0:52)
117 pounds
1st Place - Gigi Bragg of MI
2nd Place - Aubrie Pehrson of NE
3rd Place - Ayane Jasinski of IL
Round 1
Gigi Bragg (MI) won by 3 caution rule over Aubrie Pehrson (NE) (3 Cau.)
Ayane Jasinski (IL) received a bye () (Bye)
Round 2
Gigi Bragg (MI) won by fall over Ayane Jasinski (IL) (Fall 5:43)
Aubrie Pehrson (NE) received a bye () (Bye)
Round 3
Gigi Bragg (MI) received a bye () (Bye)
Aubrie Pehrson (NE) won by fall over Ayane Jasinski (IL) (Fall 3:18)
122 pounds
1st Place - Caitlyn Kelley of WI
2nd Place - Natalie Klavetter of WI
3rd Place - Alexis Pehrson of NE
4th Place - Mackenzie Armagost of MN
5th Place - Gisele Gallegos of MN
Round 1
Natalie Klavetter (WI) won by fall over Gisele Gallegos (MN) (Fall 0:53)
Alexis Pehrson (NE) won by tech fall over Mackenzie Armagost (MN) (TF 9-0)
Round 2
Caitlyn Kelley (WI) won by fall over Alexis Pehrson (NE) (Fall 0:25)
Natalie Klavetter (WI) won by tech fall over Mackenzie Armagost (MN) (TF 8-0)
Round 3
Caitlyn Kelley (WI) won by tech fall over Mackenzie Armagost (MN) (TF 8-0)
Alexis Pehrson (NE) won by fall over Gisele Gallegos (MN) (Fall 4:53)
Round 4
Caitlyn Kelley (WI) won by fall over Gisele Gallegos (MN) (Fall 0:23)
Natalie Klavetter (WI) won by fall over Alexis Pehrson (NE) (Fall 2:42)
Round 5
Caitlyn Kelley (WI) won by fall over Natalie Klavetter (WI) (Fall 1:13)
Mackenzie Armagost (MN) won by tech fall over Gisele Gallegos (MN) (TF 10-0)
138-144 pounds
1st Place - Allyssa Johnson of ND
2nd Place - Cassandra Gonzales of MN
3rd Place - Kelsey Cruz of MN
4th Place - Tori Bahr of MN
Round 1
Cassandra Gonzales (MN) won by decision over Kelsey Cruz (MN) (Dec 7-5)
Allyssa Johnson (ND) won by forfeit over Tori Bahr (MN) (FF)
Round 2
Cassandra Gonzales (MN) won by forfeit over Tori Bahr (MN) (FF)
Allyssa Johnson (ND) won by fall over Kelsey Cruz (MN) (Fall 0:19)
Round 3
Allyssa Johnson (ND) won by tech fall over Cassandra Gonzales (MN) (TF 11-2)
Kelsey Cruz (MN) won by forfeit over Tori Bahr (MN) (FF)
152-164 pounds
1st Place - Alexandra Hofrichter of WI
2nd Place - Skylar Slade of IA
3rd Place - Esperanza Calvillo of MN
4th Place - Jocelyn Gutierrez of IL
Round 1
Skylar Slade (IA) won by tech fall over Esperanza Calvillo (MN) (TF 8-0)
Alexandra Hofrichter (WI) won by fall over Jocelyn Gutierrez (IL) (Fall 0:12)
Round 2
Skylar Slade (IA) won by fall over Jocelyn Gutierrez (IL) (Fall 0:39)
Alexandra Hofrichter (WI) won by fall over Esperanza Calvillo (MN) (Fall 0:16)
Round 3
Alexandra Hofrichter (WI) won by fall over Skylar Slade (IA) (Fall 1:00)
Esperanza Calvillo (MN) won by forfeit over Jocelyn Gutierrez (IL) (FF)
16U Boys Freestyle Results
88 pounds
1st Place - Vincent DeMarco of IL
2nd Place - Landon Thoennes of MN
3rd Place - Bryson Busler of WI
4th Place - Niko Odiotti of IL
5th Place - Trace Rial of IA
6th Place - Zander Manz of IA
1st Place Match
Vincent DeMarco (IL) won by decision over Landon Thoennes (MN) (Dec 12-8)
3rd Place Match
Bryson Busler (WI) won by decision over Niko Odiotti (IL) (Dec 11-5)
5th Place Match
Trace Rial (IA) won by decision over Zander Manz (IA) (Dec 7-6)
94 pounds
1st Place - Allen Woo of IL
2nd Place - Nico DeSalvo of IA
3rd Place - Easton Enyeart of IA
4th Place - Kaiden Belinsky of IA
5th Place - Logan Conover of IL
6th Place - Dominic Pasquale of IL
1st Place Match
Allen Woo (IL) won by decision over Nico DeSalvo (IA) (Dec 11-5)
3rd Place Match
Easton Enyeart (IA) won by tech fall over Kaiden Belinsky (IA) (TF 10-0)
5th Place Match
Logan Conover (IL) won by decision over Dominic Pasquale (IL) (Dec 7-4)
100 pounds
1st Place - Liam Collins of MN
2nd Place - Aiden Hahn of MO
3rd Place - Isaac Wignall of IA
4th Place - Landen Bogard of WI
5th Place - Kaleb Pratt of IL
6th Place - Teghan Moore of WI
1st Place Match
Liam Collins (MN) won by fall over Aiden Hahn (MO) (Fall 0:32)
3rd Place Match
Isaac Wignall (IA) won by tech fall over Landen Bogard (WI) (TF 10-0)
5th Place Match
Kaleb Pratt (IL) won by tech fall over Teghan Moore (WI) (TF 13-2)
106 pounds
1st Place - Joel Friederichs of MN
2nd Place - Jamiel Castleberry of IL
3rd Place - Nicholas Garcia of IL
4th Place - Zaiyahn Ornelas of NE
5th Place - Justin Williamson of IN
6th Place - Owen LaRose of MN
1st Place Match
Joel Friederichs (MN) won by fall over Jamiel Castleberry (IL) (Fall 2:57)
3rd Place Match
Nicholas Garcia (IL) won by decision over Zaiyahn Ornelas (NE) (Dec 8-3)
5th Place Match
Justin Williamson (IN) won by decision over Owen LaRose (MN) (Dec 6-3)
113 pounds
1st Place - Carter Pearson of IA
2nd Place - Bruno Cassioppi of IL
3rd Place - Titan Friederichs of MN
4th Place - Nicolas Enzminger of ND
5th Place - Rocco Cassioppi of IL
6th Place - Demetrios Carrera of IL
1st Place Match
Carter Pearson (IA) won by tech fall over Bruno Cassioppi (IL) (TF 10-0)
3rd Place Match
Titan Friederichs (MN) won by tech fall over Nicolas Enzminger (ND) (TF 11-0)
5th Place Match
Rocco Cassioppi (IL) won by decision over Demetrios Carrera (IL) (Dec 4-4)
120 pounds
1st Place - Dawson Youngblut of IA
2nd Place - Dale Corbin of WI
3rd Place - Chase Mills of MN
4th Place - Carter Katherman of MN
5th Place - Tyler Turzinski of MN
6th Place - Trey Beissel of MN
1st Place Match
Dawson Youngblut (IA) won by decision over Dale Corbin (WI) (Dec 2-1)
3rd Place Match
Chase Mills (MN) won by tech fall over Carter Katherman (MN) (TF 10-0)
5th Place Match
Tyler Turzinski (MN) won by decision over Trey Beissel (MN) (Dec 6-2)
126 pounds
1st Place - Maximus Riggins of IA
2nd Place - Zytavius Williams of MN
3rd Place - Isaiah Jones of OK
4th Place - Deven Casey of IL
5th Place - Presley Johnson of MO
6th Place - Jackson Refsnider of MN
1st Place Match
Maximus Riggins (IA) won by tech fall over Zytavius Williams (MN) (TF 12-2)
3rd Place Match
Isaiah Jones (OK) won by decision over Deven Casey (IL) (Dec 6-2)
5th Place Match
Presley Johnson (MO) won by tech fall over Jackson Refsnider (MN) (TF 10-0)
132 pounds
1st Place - Davis Parrow of MN
2nd Place - Connor Peterson of MN
3rd Place - Declan Koch of WI
4th Place - Carson Weber of IL
5th Place - Cade Aaberg of WI
6th Place - Ethan Immel of WI
1st Place Match
Davis Parrow (MN) won by decision over Connor Peterson (MN) (Dec 9-4)
3rd Place Match
Declan Koch (WI) won by decision over Carson Weber (IL) (Dec 8-5)
5th Place Match
Cade Aaberg (WI) won by tech fall over Ethan Immel (WI) (TF 12-2)
138 pounds
1st Place - Jackson Tucker of MO
2nd Place - Donavon Allen of IL
3rd Place - Jacob Herm of WI
4th Place - Mason Petersen of NE
5th Place - Justis Jesuroga of IA
6th Place - Easton Dircks of MN
1st Place Match
Jackson Tucker (MO) won by tech fall over Donavon Allen (IL) (TF 11-0)
3rd Place Match
Jacob Herm (WI) won by fall over Mason Petersen (NE) (Fall 2:00)
5th Place Match
Justis Jesuroga (IA) won by injury default over Easton Dircks (MN) (Inj. 0:00)
145 pounds
1st Place - Daniel Heiser of WI
2nd Place - Cooper Rowe of MN
3rd Place - Kyler Walters of MN
4th Place - Colton Weiler of WI
5th Place - Gabriel Metzler of WI
6th Place - Jd Minder-Broeckaert of WI
1st Place Match
Daniel Heiser (WI) won by decision over Cooper Rowe (MN) (Dec 12-6)
3rd Place Match
Kyler Walters (MN) won by decision over Colton Weiler (WI) (Dec 10-8)
5th Place Match
Gabriel Metzler (WI) won by tech fall over Jd Minder-Broeckaert (WI) (TF 13-2)
152 pounds
1st Place - Jaxon Miller of IA
2nd Place - Jimmy Mastny of IL
3rd Place - Jarrett Wadsen of MN
4th Place - Keaton Moeller of IA
5th Place - Brody Kelly of IL
6th Place - Noah Gonzalez of MO
1st Place Match
Jaxon Miller (IA) won by fall over Jimmy Mastny (IL) (Fall 1:39)
3rd Place Match
Jarrett Wadsen (MN) won by decision over Keaton Moeller (IA) (Dec 9-0)
5th Place Match
Brody Kelly (IL) won by decision over Noah Gonzalez (MO) (Dec 13-11)
160 pounds
1st Place - Eli Leonard of WI
2nd Place - Bradley Rodriguez-Little of MN
3rd Place - Luke Hayden of MO
4th Place - Jackson Barron of MN
5th Place - Ayden Miner of MN
6th Place - Elijah Terrell of WI
1st Place Match
Eli Leonard (WI) won by decision over Bradley Rodriguez-Little (MN) (Dec 8-6)
3rd Place Match
Luke Hayden (MO) won by decision over Jackson Barron (MN) (Dec 8-6)
5th Place Match
Ayden Miner (MN) won by tech fall over Elijah Terrell (WI) (TF 20-9)
170 pounds
1st Place - Luke Hoag of MN
2nd Place - Eli Larson of IL
3rd Place - Ethan Swenson of MN
4th Place - Isaac Clauson of IL
5th Place - Elijah Schunke of SD
6th Place - Roman Villalobos of IL
1st Place Match
Luke Hoag (MN) won by tech fall over Eli Larson (IL) (TF 10-0)
3rd Place Match
Ethan Swenson (MN) won by tech fall over Isaac Clauson (IL) (TF 10-0)
5th Place Match
Elijah Schunke (SD) won by fall over Roman Villalobos (IL) (Fall 3:38)
182 pounds
1st Place - William Ward of ND
2nd Place - Hunter Eastin of IL
3rd Place - Jackson Rotterman of MO
4th Place - Breyson Kelley of WI
5th Place - Max Morgan of MN
6th Place - Henry Rydwelski of IL
1st Place Match
William Ward (ND) won by decision over Hunter Eastin (IL) (Dec 7-4)
3rd Place Match
Jackson Rotterman (MO) won by fall over Breyson Kelley (WI) (Fall 1:40)
5th Place Match
Max Morgan (MN) won by fall over Henry Rydwelski (IL) (Fall 3:21)
195 pounds
1st Place - Dreshaun Ross of IA
2nd Place - Evan McGuire of MN
3rd Place - Tyson Martin of WI
4th Place - Jacob Duitsman of MN
5th Place - Cole Dunlavy of SD
6th Place - Ben Schultz of MN
1st Place Match
Dreshaun Ross (IA) won by tech fall over Evan McGuire (MN) (TF 10-0)
3rd Place Match
Tyson Martin (WI) won by tech fall over Jacob Duitsman (MN) (TF 12-2)
5th Place Match
Cole Dunlavy (SD) won by forfeit over Ben Schultz (MN) (FF)
220 pounds
1st Place - Garett Kawczynski of WI
2nd Place - Caleb Kurtti of MN
3rd Place - Joseph Favia of IL
4th Place - Makhi Rodgers of WI
5th Place - Cael Leisgang of WI
6th Place - Nehemiah Lendobeja of WI
1st Place Match
Garett Kawczynski (WI) won by tech fall over Caleb Kurtti (MN) (TF 10-0)
3rd Place Match
Joseph Favia (IL) won by tech fall over Makhi Rodgers (WI) (TF 10-0)
5th Place Match
Cael Leisgang (WI) won by decision over Nehemiah Lendobeja (WI) (Dec 4-1)
285 pounds
1st Place - Cooper Martinson of IA
2nd Place - Hayden Skillings of MN
3rd Place - Micah Hach of SD
4th Place - Vincent Halliday of MN
5th Place - Jack Bauer of MN
6th Place - Eric Stouder of ND
1st Place Match
Cooper Martinson (IA) won by fall over Hayden Skillings (MN) (Fall 2:29)
3rd Place Match
Micah Hach (SD) won by fall over Vincent Halliday (MN) (Fall 1:43)
5th Place Match
Jack Bauer (MN) won by decision over Eric Stouder (ND) (Dec 6-0)
16U Boys Greco-Roman Results
88 pounds
1st Place - Vincent DeMarco of IL
2nd Place - Landon Thoennes of MN
3rd Place - Bryson Busler of WI
4th Place - Niko Odiotti of IL
5th Place - Rocco Mikolyzk of MN
6th Place - Trace Rial of IA
1st Place Match
Vincent DeMarco (IL) won by tech fall over Landon Thoennes (MN) (TF 8-0)
3rd Place Match
Bryson Busler (WI) won by decision over Niko Odiotti (IL) (Dec 11-10)
5th Place Match
Rocco Mikolyzk (MN) won by tech fall over Trace Rial (IA) (TF 9-0)
94 pounds
1st Place - Allen Woo of IL
2nd Place - Kaiden Belinsky of IA
3rd Place - Griffin Magee of ND
4th Place - Easton Enyeart of IA
5th Place - Dominic Pasquale of IL
6th Place - Quentin Williams of IL
1st Place Match
Allen Woo (IL) won by tech fall over Kaiden Belinsky (IA) (TF 11-3)
3rd Place Match
Griffin Magee (ND) won by decision over Easton Enyeart (IA) (Dec 20-13)
5th Place Match
Dominic Pasquale (IL) won by tech fall over Quentin Williams (IL) (TF 12-4)
100 pounds
1st Place - Liam Collins of MN
2nd Place - Teghan Moore of WI
3rd Place - Kaleb Pratt of IL
4th Place - Kristian DeClercq of IL
5th Place - Eli Schultz of MN
6th Place - Rocco Macellaio of IL
1st Place Match
Liam Collins (MN) won by tech fall over Teghan Moore (WI) (TF 8-0)
3rd Place Match
Kaleb Pratt (IL) won by tech fall over Kristian DeClercq (IL) (TF 8-0)
5th Place Match
Eli Schultz (MN) won by tech fall over Rocco Macellaio (IL) (TF 9-0)
106 pounds
1st Place - Zaiyahn Ornelas of NE
2nd Place - Joel Friederichs of MN
3rd Place - Nicholas Marchese of IL
4th Place - Israel Garcia of IA
5th Place - Saitaro Kong of MN
6th Place - Jamiel Castleberry of IL
1st Place Match
Zaiyahn Ornelas (NE) won by fall over Joel Friederichs (MN) (Fall 3:12)
3rd Place Match
Nicholas Marchese (IL) won by tech fall over Israel Garcia (IA) (TF 8-0)
5th Place Match
Saitaro Kong (MN) won by forfeit over Jamiel Castleberry (IL) (FF)
113 pounds
1st Place - Titan Friederichs of MN
2nd Place - Rocco Cassioppi of IL
3rd Place - Bruno Cassioppi of IL
4th Place - Carter Kendrick of SD
5th Place - Nicolas Enzminger of ND
6th Place - William Christopher of WI
1st Place Match
Titan Friederichs (MN) won by tech fall over Rocco Cassioppi (IL) (TF 14-6)
3rd Place Match
Bruno Cassioppi (IL) won by tech fall over Carter Kendrick (SD) (TF 10-0)
5th Place Match
Nicolas Enzminger (ND) won by decision over William Christopher (WI) (Dec 14-9)
120 pounds
1st Place - Dawson Youngblut of IA
2nd Place - Dale Corbin of WI
3rd Place - Trey Beissel of MN
4th Place - Joey Enzminger of ND
5th Place - Carter Katherman of MN
6th Place - Chase Mills of MN
1st Place Match
Dawson Youngblut (IA) won by decision over Dale Corbin (WI) (Dec 5-3)
3rd Place Match
Trey Beissel (MN) won by tech fall over Joey Enzminger (ND) (TF 10-1)
5th Place Match
Carter Katherman (MN) won by injury default over Chase Mills (MN) (Inj. 0:00)
126 pounds
1st Place - Isaiah Jones of OK
2nd Place - Maximus Riggins of IA
3rd Place - Deven Casey of IL
4th Place - Gavin Jackson of MN
5th Place - Christian Jelle of MN
6th Place - Jackson Refsnider of MN
1st Place Match
Isaiah Jones (OK) won by decision over Maximus Riggins (IA) (Dec 11-9)
3rd Place Match
Deven Casey (IL) won by tech fall over Gavin Jackson (MN) (TF 8-0)
5th Place Match
Christian Jelle (MN) won by tech fall over Jackson Refsnider (MN) (TF 8-0)
132 pounds
1st Place - Davis Parrow of MN
2nd Place - Connor Peterson of MN
3rd Place - Chancellor Mathews of CO
4th Place - Carson Weber of IL
5th Place - Xavier Villalobos of IL
6th Place - Jordan Schmidt of IA
1st Place Match
Davis Parrow (MN) won by decision over Connor Peterson (MN) (Dec 8-7)
3rd Place Match
Chancellor Mathews (CO) won by decision over Carson Weber (IL) (Dec 3-1)
5th Place Match
Xavier Villalobos (IL) won by fall over Jordan Schmidt (IA) (Fall 3:27)
138 pounds
1st Place - Mason Petersen of NE
2nd Place - Brayden Swanson of IL
3rd Place - Mason Breeggemann of MN
4th Place - Brandon Green of IL
5th Place - Dj Wince of CO
6th Place - Justis Jesuroga of IA
1st Place Match
Mason Petersen (NE) won by tech fall over Brayden Swanson (IL) (TF 8-0)
3rd Place Match
Mason Breeggemann (MN) won by tech fall over Brandon Green (IL) (TF 8-0)
5th Place Match
Dj Wince (CO) won by tech fall over Justis Jesuroga (IA) (TF 8-0)
145 pounds
1st Place - Cooper Rowe of MN
2nd Place - Austin West of MN
3rd Place - Callen Kirchner of IL
4th Place - Hudson Ikens of IL
5th Place - Boden White of IA
6th Place - Ty`Quavion Smart of IL
1st Place Match
Cooper Rowe (MN) won by tech fall over Austin West (MN) (TF 9-0)
3rd Place Match
Callen Kirchner (IL) won by tech fall over Hudson Ikens (IL) (TF 12-4)
5th Place Match
Boden White (IA) won by tech fall over Ty`Quavion Smart (IL) (TF 9-1)
152 pounds
1st Place - Jaxon Miller of IA
2nd Place - Jarrett Wadsen of MN
3rd Place - Jimmy Mastny of IL
4th Place - Cole Bartlein of WI
5th Place - Keaton Moeller of IA
6th Place - Michael Gillette of MN
1st Place Match
Jaxon Miller (IA) won by tech fall over Jarrett Wadsen (MN) (TF 10-1)
3rd Place Match
Jimmy Mastny (IL) won by tech fall over Cole Bartlein (WI) (TF 8-0)
5th Place Match
Keaton Moeller (IA) won by tech fall over Michael Gillette (MN) (TF 11-0)
160 pounds
1st Place - Bradley Rodriguez-Little of MN
2nd Place - Danil Kostetskyi of WI
3rd Place - Landen Grow of WI
4th Place - Jonah Chavez of IL
5th Place - Michael Grazzini of IL
6th Place - Evan Bartholomaus of MN
1st Place Match
Bradley Rodriguez-Little (MN) won by tech fall over Danil Kostetskyi (WI) (TF 10-2)
3rd Place Match
Landen Grow (WI) won by tech fall over Jonah Chavez (IL) (TF 10-1)
5th Place Match
Michael Grazzini (IL) won by forfeit over Evan Bartholomaus (MN) (FF)
170 pounds
1st Place - Luke Hoag of MN
2nd Place - Ethan Swenson of MN
3rd Place - Nolan Kielcheski of WI
4th Place - Aidan Rowells of IL
5th Place - Elijah Schunke of SD
6th Place - Ryder Zdanczewicz of WI
1st Place Match
Luke Hoag (MN) won by tech fall over Ethan Swenson (MN) (TF 10-0)
3rd Place Match
Nolan Kielcheski (WI) won by tech fall over Aidan Rowells (IL) (TF 8-0)
5th Place Match
Elijah Schunke (SD) won by decision over Ryder Zdanczewicz (WI) (Dec 9-8)
182 pounds
1st Place - William Ward of ND
2nd Place - Hunter Eastin of IL
3rd Place - Breyson Kelley of WI
4th Place - Henry Rydwelski of IL
5th Place - Max Morgan of MN
6th Place - Jackson Rotterman of MO
1st Place Match
William Ward (ND) won by decision over Hunter Eastin (IL) (Dec 9-5)
3rd Place Match
Breyson Kelley (WI) won by tech fall over Henry Rydwelski (IL) (TF 8-0)
5th Place Match
Max Morgan (MN) won by forfeit over Jackson Rotterman (MO) (FF)
195 pounds
1st Place - Ben Schultz of MN
2nd Place - Jacob Duitsman of MN
3rd Place - Cole Dunlavy of SD
4th Place - Simon Schulte of IL
5th Place - Eli Roiko of MN
6th Place - Samson Smith of WI
1st Place Match
Ben Schultz (MN) won by tech fall over Jacob Duitsman (MN) (TF 10-0)
3rd Place Match
Cole Dunlavy (SD) won by fall over Simon Schulte (IL) (Fall 2:28)
5th Place Match
Eli Roiko (MN) won by fall over Samson Smith (WI) (Fall 0:52)
220 pounds
1st Place - Garett Kawczynski of WI
2nd Place - Caleb Kurtti of MN
3rd Place - Cael Leisgang of WI
4th Place - Nehemiah Lendobeja of WI
5th Place - Joseph Monge of IA
6th Place - Beminjam Helminski of WI
1st Place Match
Garett Kawczynski (WI) won by tech fall over Caleb Kurtti (MN) (TF 8-0)
3rd Place Match
Cael Leisgang (WI) won by disqualification over Nehemiah Lendobeja (WI) (DQ)
5th Place Match
Joseph Monge (IA) won by fall over Beminjam Helminski (WI) (Fall 1:40)
285 pounds
1st Place - Micah Hach of SD
2nd Place - Cooper Martinson of IA
3rd Place - Hayden Skillings of MN
4th Place - Clayton Danielson of MN
5th Place - Vincent Halliday of MN
6th Place - Jt Kelso of IA
1st Place Match
Micah Hach (SD) won by fall over Cooper Martinson (IA) (Fall 2:45)
3rd Place Match
Hayden Skillings (MN) won by tech fall over Clayton Danielson (MN) (TF 9-0)
5th Place Match
Vincent Halliday (MN) won by decision over Jt Kelso (IA) (Dec 9-3)
16U Girls Freestyle Results
94 pounds
1st Place - Gracie Pattison of IL
2nd Place - Cheyenne Moore of ND
Round 1
Gracie Pattison (IL) won by tech fall over Cheyenne Moore (ND) (TF 14-3)
Round 2
Gracie Pattison (IL) won by tech fall over Cheyenne Moore (ND) (TF 13-2)
100 pounds
1st Place - Bianca Eide of MN
2nd Place - Katelyn Bell of IL
3rd Place - Riley Kongkaeow of IL
4th Place - Anna White of ND
5th Place - Violet Diaz of IA
Round 1
Riley Kongkaeow (IL) won by forfeit over Violet Diaz (IA) (FF)
Bianca Eide (MN) won by fall over Katelyn Bell (IL) (Fall 0:41)
Round 2
Katelyn Bell (IL) won by fall over Anna White (ND) (Fall 1:53)
Bianca Eide (MN) won by forfeit over Violet Diaz (IA) (FF)
Round 3
Bianca Eide (MN) won by tech fall over Anna White (ND) (TF 10-0)
Katelyn Bell (IL) won by fall over Riley Kongkaeow (IL) (Fall 2:20)
Round 4
Riley Kongkaeow (IL) won by fall over Anna White (ND) (Fall 3:41)
Katelyn Bell (IL) won by forfeit over Violet Diaz (IA) (FF)
Round 5
Anna White (ND) won by forfeit over Violet Diaz (IA) (FF)
Bianca Eide (MN) won by forfeit over Riley Kongkaeow (IL) (FF)
106 pounds
1st Place - Taylor Whiting of WI
2nd Place - Cailyn Whittier of WI
3rd Place - Abigail Gindele of MN
4th Place - McKenzie Simonson of WI
5th Place - Chloe Wong of IL
Round 1
Cailyn Whittier (WI) won by fall over Abigail Gindele (MN) (Fall 0:29)
McKenzie Simonson (WI) won by fall over Chloe Wong (IL) (Fall 1:18)
Round 2
Taylor Whiting (WI) won by tech fall over Chloe Wong (IL) (TF 10-0)
Abigail Gindele (MN) won by fall over McKenzie Simonson (WI) (Fall 1:44)
Round 3
Taylor Whiting (WI) won by tech fall over McKenzie Simonson (WI) (TF 10-0)
Cailyn Whittier (WI) won by fall over Chloe Wong (IL) (Fall 1:15)
Round 4
Taylor Whiting (WI) won by tech fall over Cailyn Whittier (WI) (TF 10-0)
Abigail Gindele (MN) won by fall over Chloe Wong (IL) (Fall 0:22)
Round 5
Taylor Whiting (WI) won by fall over Abigail Gindele (MN) (Fall 1:11)
Cailyn Whittier (WI) won by tech fall over McKenzie Simonson (WI) (TF 11-0)
112 pounds
1st Place - Mackenzie Carder of OH
2nd Place - Amiya Leverance of WI
3rd Place - Madalynne Gosda of WI
4th Place - Jazleen Fong-Baake of WI
Round 1
Madalynne Gosda (WI) won by fall over Jazleen Fong-Baake (WI) (Fall 2:52)
Mackenzie Carder (OH) won by fall over Amiya Leverance (WI) (Fall 0:32)
Round 2
Amiya Leverance (WI) won by tech fall over Madalynne Gosda (WI) (TF 12-2)
Mackenzie Carder (OH) won by tech fall over Jazleen Fong-Baake (WI) (TF 10-0)
Round 3
Mackenzie Carder (OH) won by fall over Madalynne Gosda (WI) (Fall 0:21)
Amiya Leverance (WI) won by fall over Jazleen Fong-Baake (WI) (Fall 1:06)
117 pounds
1st Place - Emjay Neumann of WI
2nd Place - Kamdyn Saulter of MN
3rd Place - Mary Prescott of WI
4th Place - Gianna Arzer of IL
5th Place - Cammyla Macias of IL
6th Place - My`Shawnna Tinsley of OH
1st Place Match
Emjay Neumann (WI) won by fall over Kamdyn Saulter (MN) (Fall 0:20)
3rd Place Match
Mary Prescott (WI) won by fall over Gianna Arzer (IL) (Fall 1:51)
5th Place Match
Cammyla Macias (IL) won by forfeit over My`Shawnna Tinsley (OH) (FF)
122 pounds
1st Place - Regina Stoeser of SD
2nd Place - Camille Schult of IA
3rd Place - Avaeh Smith of IA
4th Place - Sophia Ball of IL
5th Place - Grace Laird of IL
6th Place - Sabina Charlebois of IL
1st Place Match
Regina Stoeser (SD) won by tech fall over Camille Schult (IA) (TF 10-0)
3rd Place Match
Avaeh Smith (IA) won by decision over Sophia Ball (IL) (Dec 7-6)
5th Place Match
Grace Laird (IL) won by forfeit over Sabina Charlebois (IL) (FF)
127 pounds
1st Place - Peyton Hellmann of SD
2nd Place - Dealya Collins of WI
3rd Place - Britney Rueb of SD
4th Place - Addisen Olson of WI
5th Place - Amelia Poplawski of WI
6th Place - Claudia Heeney of IL
1st Place Match
Peyton Hellmann (SD) won by decision over Dealya Collins (WI) (Dec 12-5)
3rd Place Match
Britney Rueb (SD) won by decision over Addisen Olson (WI) (Dec 8-2)
5th Place Match
Amelia Poplawski (WI) won by forfeit over Claudia Heeney (IL) (FF)
132 pounds
1st Place - Hayden Bratland of IA
2nd Place - Abigail Ji of IL
3rd Place - Emerson Gregg of IA
4th Place - Mariaha Benedict of IA
5th Place - Soraya Walikonis of IL
Round 1
Emerson Gregg (IA) won by decision over Mariaha Benedict (IA) (Dec 6-6)
Hayden Bratland (IA) won by tech fall over Abigail Ji (IL) (TF 13-0)
Round 2
Hayden Bratland (IA) won by tech fall over Soraya Walikonis (IL) (TF 10-0)
Abigail Ji (IL) won by fall over Emerson Gregg (IA) (Fall 3:45)
Round 3
Abigail Ji (IL) won by fall over Soraya Walikonis (IL) (Fall 1:06)
Hayden Bratland (IA) won by tech fall over Mariaha Benedict (IA) (TF 10-0)
Round 4
Mariaha Benedict (IA) won by tech fall over Soraya Walikonis (IL) (TF 10-0)
Hayden Bratland (IA) won by fall over Emerson Gregg (IA) (Fall 2:35)
Round 5
Emerson Gregg (IA) won by fall over Soraya Walikonis (IL) (Fall 2:47)
Abigail Ji (IL) won by fall over Mariaha Benedict (IA) (Fall 3:05)
138 pounds
1st Place - Cassandra Gonzales of MN
2nd Place - Chloe Sanders of IA
3rd Place - Sydney Turner of WI
4th Place - McKenzie Tollefson of IA
5th Place - Rochelle Ross of OH
6th Place - Charlotte Allen of WI
1st Place Match
Cassandra Gonzales (MN) won by decision over Chloe Sanders (IA) (Dec 6-2)
3rd Place Match
Sydney Turner (WI) won by fall over McKenzie Tollefson (IA) (Fall 0:49)
5th Place Match
Rochelle Ross (OH) won by injury default over Charlotte Allen (WI) (Inj. 0:00)
144 pounds
1st Place - Chloe LaRue of WI
2nd Place - Olivia Hofrichter of WI
3rd Place - Emersyn Miller of WI
4th Place - Liriana Rakoci of IL
5th Place - Gianna Scheiblein of IL
Round 1
Chloe LaRue (WI) won by fall over Olivia Hofrichter (WI) (Fall 2:54)
Emersyn Miller (WI) won by fall over Gianna Scheiblein (IL) (Fall 0:49)
Round 2
Emersyn Miller (WI) won by fall over Liriana Rakoci (IL) (Fall 2:32)
Olivia Hofrichter (WI) won by fall over Gianna Scheiblein (IL) (Fall 0:20)
Round 3
Liriana Rakoci (IL) won by fall over Gianna Scheiblein (IL) (Fall 0:43)
Chloe LaRue (WI) won by fall over Emersyn Miller (WI) (Fall 1:21)
Round 4
Chloe LaRue (WI) won by fall over Liriana Rakoci (IL) (Fall 0:38)
Olivia Hofrichter (WI) won by fall over Emersyn Miller (WI) (Fall 1:16)
Round 5
Olivia Hofrichter (WI) won by tech fall over Liriana Rakoci (IL) (TF 11-0)
Chloe LaRue (WI) won by fall over Gianna Scheiblein (IL) (Fall 0:20)
152 pounds
1st Place - Tiani Lemieux of WI
2nd Place - Dempsey Atkinson of IL
3rd Place - Jillian Giller of IL
4th Place - Anna Vasey of IL
Round 1
Jillian Giller (IL) won by fall over Anna Vasey (IL) (Fall 1:21)
Tiani Lemieux (WI) won by tech fall over Dempsey Atkinson (IL) (TF 12-0)
Round 2
Dempsey Atkinson (IL) won by fall over Jillian Giller (IL) (Fall 2:24)
Tiani Lemieux (WI) won by fall over Anna Vasey (IL) (Fall 1:08)
Round 3
Tiani Lemieux (WI) won by tech fall over Jillian Giller (IL) (TF 10-0)
Dempsey Atkinson (IL) won by tech fall over Anna Vasey (IL) (TF 10-0)
164 pounds
1st Place - Alyzabeth Hiler of MN
2nd Place - Kimura Segerson-Hutter of WI
3rd Place - Esperanza Calvillo of MN
4th Place - Kiley Georgel of WI
5th Place - Katherine Nicole Murillo of OH
6th Place - Jessica Stover of IL
1st Place Match
Alyzabeth Hiler (MN) won by fall over Kimura Segerson-Hutter (WI) (Fall 2:00)
3rd Place Match
Esperanza Calvillo (MN) won by decision over Kiley Georgel (WI) (Dec 8-4)
5th Place Match
Katherine Nicole Murillo (OH) won by forfeit over Jessica Stover (IL) (FF)
180 pounds
1st Place - Brooke Huffman of WI
2nd Place - Kayla Craig of WI
3rd Place - Alison Jakovich of IL
Round 1
Kayla Craig (WI) won by fall over Alison Jakovich (IL) (Fall 1:51)
Brooke Huffman (WI) received a bye () (Bye)
Round 2
Alison Jakovich (IL) received a bye () (Bye)
Brooke Huffman (WI) won by fall over Kayla Craig (WI) (Fall 0:51)
Round 3
Brooke Huffman (WI) won by fall over Alison Jakovich (IL) (Fall 0:00)
Kayla Craig (WI) received a bye () (Bye)
200 pounds
1st Place - Cambree Anderson of ND
16U Girls Greco-Roman Results
94 pounds
1st Place - Cheyenne Moore of ND
112 pounds
1st Place - Mackenzie Carder of OH
2nd Place - Jazleen Fong-Baake of WI
Round 1
Mackenzie Carder (OH) won by fall over Jazleen Fong-Baake (WI) (Fall 0:37)
Round 2
Mackenzie Carder (OH) won by fall over Jazleen Fong-Baake (WI) (Fall 1:13)
117 pounds
1st Place - Kamdyn Saulter of MN
2nd Place - Mary Prescott of WI
3rd Place - My`Shawnna Tinsley of OH
4th Place - Maddison Wickham of IL
Round 1
Kamdyn Saulter (MN) won by fall over Mary Prescott (WI) (Fall 0:58)
My`Shawnna Tinsley (OH) won by fall over Maddison Wickham (IL) (Fall 1:52)
Round 2
Kamdyn Saulter (MN) won by fall over Maddison Wickham (IL) (Fall 0:30)
Mary Prescott (WI) won by fall over My`Shawnna Tinsley (OH) (Fall 3:36)
Round 3
Kamdyn Saulter (MN) won by tech fall over My`Shawnna Tinsley (OH) (TF 8-0)
Mary Prescott (WI) won by tech fall over Maddison Wickham (IL) (TF 8-0)
122 pounds
1st Place - Camille Schult of IA
2nd Place - Hanah Schuster of MN
Round 1
Camille Schult (IA) won by tech fall over Hanah Schuster (MN) (TF 10-0)
Round 2
Camille Schult (IA) won by tech fall over Hanah Schuster (MN) (TF 11-1)
132-138 pounds
1st Place - Cassandra Gonzales of MN
2nd Place - Avery Losiewicz of WI
3rd Place - Rochelle Ross of OH
Round 1
Avery Losiewicz (WI) received a bye () (Bye)
Cassandra Gonzales (MN) won by tech fall over Rochelle Ross (OH) (TF 8-0)
Round 2
Cassandra Gonzales (MN) received a bye () (Bye)
Avery Losiewicz (WI) won by tech fall over Rochelle Ross (OH) (TF 8-0)
Round 3
Rochelle Ross (OH) received a bye () (Bye)
Cassandra Gonzales (MN) won by tech fall over Avery Losiewicz (WI) (TF 10-0)
152-164 pounds
1st Place - Tiani Lemieux of WI
2nd Place - Alyzabeth Hiler of MN
3rd Place - Kimura Segerson-Hutter of WI
4th Place - Esperanza Calvillo of MN
5th Place - Katherine Nicole Murillo of OH
Round 1
Kimura Segerson-Hutter (WI) won by tech fall over Esperanza Calvillo (MN) (TF 9-0)
Alyzabeth Hiler (MN) won by fall over Katherine Nicole Murillo (OH) (Fall 0:39)
Round 2
Tiani Lemieux (WI) won by fall over Alyzabeth Hiler (MN) (Fall 0:26)
Kimura Segerson-Hutter (WI) won by tech fall over Katherine Nicole Murillo (OH) (TF 8-0)
Round 3
Tiani Lemieux (WI) won by tech fall over Katherine Nicole Murillo (OH) (TF 8-0)
Alyzabeth Hiler (MN) won by tech fall over Esperanza Calvillo (MN) (TF 8-0)
Round 4
Tiani Lemieux (WI) won by fall over Esperanza Calvillo (MN) (Fall 0:35)
Alyzabeth Hiler (MN) won by fall over Kimura Segerson-Hutter (WI) (Fall 0:41)
Round 5
Tiani Lemieux (WI) won by tech fall over Kimura Segerson-Hutter (WI) (TF 9-0)
Esperanza Calvillo (MN) won by tech fall over Katherine Nicole Murillo (OH) (TF 10-2)
14U Boys Freestyle Results
71 pounds
1st Place - Johnathan Thompson of IA
2nd Place - Eldon Roth of WI
3rd Place - Dominic DeMarco of IL
4th Place - Knox Ayala of IA
5th Place - Parker Wingen of SD
6th Place - Aden Spinelli of IL
1st Place Match
Johnathan Thompson (IA) won by tech fall over Eldon Roth (WI) (TF 12-2)
3rd Place Match
Dominic DeMarco (IL) won by decision over Knox Ayala (IA) (Dec 10-5)
5th Place Match
Parker Wingen (SD) won by fall over Aden Spinelli (IL) (Fall 2:37)
77 pounds
1st Place - Ty Martin of IA
2nd Place - Hogan Rice of IL
3rd Place - Michael McNamara of IL
4th Place - Treyden Diduch of IL
5th Place - Ryan Fuenffinger of MN
6th Place - McCoy Marthaler of MN
1st Place Match
Ty Martin (IA) won by decision over Hogan Rice (IL) (Dec 9-9)
3rd Place Match
Michael McNamara (IL) won by decision over Treyden Diduch (IL) (Dec 10-6)
5th Place Match
Ryan Fuenffinger (MN) won by decision over McCoy Marthaler (MN) (Dec 6-4)
83 pounds
1st Place - Cruz Gannon of IA
2nd Place - Erik Klichurov of IL
3rd Place - Damien Yeoman of IA
4th Place - Brodey Lewis of WI
5th Place - Gavin Hoeft of MN
6th Place - Cam Whitehead of IL
1st Place Match
Cruz Gannon (IA) won by decision over Erik Klichurov (IL) (Dec 10-3)
3rd Place Match
Damien Yeoman (IA) won by decision over Brodey Lewis (WI) (Dec 9-6)
5th Place Match
Gavin Hoeft (MN) won by fall over Cam Whitehead (IL) (Fall 0:59)
87 pounds
1st Place - Tanner Stone of IL
2nd Place - Kyle Menuez of CO
3rd Place - Cayden Engel of NE
4th Place - Braylon Schell of SD
5th Place - Beckett Edstrom of MN
6th Place - Christian Corcoran of IL
1st Place Match
Tanner Stone (IL) won by tech fall over Kyle Menuez (CO) (TF 16-4)
3rd Place Match
Cayden Engel (NE) won by tech fall over Braylon Schell (SD) (TF 18-7)
5th Place Match
Beckett Edstrom (MN) won by fall over Christian Corcoran (IL) (Fall 1:42)
92 pounds
1st Place - Braeden Hamill of WI
2nd Place - Nikolas Duarte of IL
3rd Place - Kolten Bollig of WI
4th Place - Karson Wuebker of IA
5th Place - Lincoln Swick of WI
6th Place - Colton Schultz of IL
1st Place Match
Braeden Hamill (WI) won by tech fall over Nikolas Duarte (IL) (TF 15-2)
3rd Place Match
Kolten Bollig (WI) won by tech fall over Karson Wuebker (IA) (TF 14-3)
5th Place Match
Lincoln Swick (WI) won by tech fall over Colton Schultz (IL) (TF 12-1)
97 pounds
1st Place - Zahn Beal of WI
2nd Place - Adrian Mincey of MN
3rd Place - Cooper Mathews of CO
4th Place - Rex Ayshford of MN
5th Place - Daniel Myint of IL
6th Place - Jaimon Mogard of IA
1st Place Match
Zahn Beal (WI) won by tech fall over Adrian Mincey (MN) (TF 10-0)
3rd Place Match
Cooper Mathews (CO) won by tech fall over Rex Ayshford (MN) (TF 10-0)
5th Place Match
Daniel Myint (IL) won by fall over Jaimon Mogard (IA) (Fall 1:00)
102 pounds
1st Place - Martez Sheard of WI
2nd Place - Kayden Eller of MN
3rd Place - Hendrix Schwab of IA
4th Place - Zeke Ranvek of MN
5th Place - Logan Refsnider of MN
6th Place - Aidan McClure of IL
1st Place Match
Martez Sheard (WI) won by tech fall over Kayden Eller (MN) (TF 19-9)
3rd Place Match
Hendrix Schwab (IA) won by tech fall over Zeke Ranvek (MN) (TF 10-0)
5th Place Match
Logan Refsnider (MN) won by decision over Aidan McClure (IL) (Dec 9-3)
106 pounds
1st Place - Mathew Prine of IA
2nd Place - Devin Ehler of IL
3rd Place - Alexander Shvartsman of IL
4th Place - Anthony Brown of IL
5th Place - Dominic Olson of NE
6th Place - Isaac Foster of WI
1st Place Match
Mathew Prine (IA) won by fall over Devin Ehler (IL) (Fall 1:04)
3rd Place Match
Alexander Shvartsman (IL) won by decision over Anthony Brown (IL) (Dec 14-5)
5th Place Match
Dominic Olson (NE) won by fall over Isaac Foster (WI) (Fall 1:17)
110 pounds
1st Place - Benjamin Nadig of IL
2nd Place - Adante Washington of IL
3rd Place - Shane Stream of IL
4th Place - Brock Claypool of IL
5th Place - Maxum Rodgers of NE
6th Place - Matthew Laird of IL
1st Place Match
Benjamin Nadig (IL) won by fall over Adante Washington (IL) (Fall 2:36)
3rd Place Match
Shane Stream (IL) won by fall over Brock Claypool (IL) (Fall 2:00)
5th Place Match
Maxum Rodgers (NE) won by decision over Matthew Laird (IL) (Dec 8-1)
114 pounds
1st Place - Lincoln Robideau of MN
2nd Place - Alexander Penzkover of WI
3rd Place - Tyler Paulson of WI
4th Place - John Hanrahan of IL
5th Place - Brett Johnson of IA
6th Place - Miklo Hernandez of MN
1st Place Match
Lincoln Robideau (MN) won by tech fall over Alexander Penzkover (WI) (TF 10-0)
3rd Place Match
Tyler Paulson (WI) won by tech fall over John Hanrahan (IL) (TF 12-0)
5th Place Match
Brett Johnson (IA) won by fall over Miklo Hernandez (MN) (Fall 3:58)
119 pounds
1st Place - Aiden Arnett of IL
2nd Place - Hayden Hutt of IA
3rd Place - Forrest Uhing of NE
4th Place - Mason Moscho of MN
5th Place - Carter Ridgeway of WI
6th Place - Finley Hilyar of MN
1st Place Match
Aiden Arnett (IL) won by tech fall over Hayden Hutt (IA) (TF 16-6)
3rd Place Match
Forrest Uhing (NE) won by decision over Mason Moscho (MN) (Dec 9-2)
5th Place Match
Carter Ridgeway (WI) won by fall over Finley Hilyar (MN) (Fall 1:45)
125 pounds
1st Place - Thomas Banas of IL
2nd Place - Collin Hamm of WI
3rd Place - Christian Bass of WI
4th Place - Jacob Lootans Jr. of WI
5th Place - Samuel Cushman of IL
6th Place - Mykell Rodgers of WI
1st Place Match
Thomas Banas (IL) won by tech fall over Collin Hamm (WI) (TF 10-0)
3rd Place Match
Christian Bass (WI) won by decision over Jacob Lootans Jr. (WI) (Dec 10-6)
5th Place Match
Samuel Cushman (IL) won by fall over Mykell Rodgers (WI) (Fall 1:30)
130 pounds
1st Place - Ethan Sonne of IL
2nd Place - Davian Hall of IL
3rd Place - Kadin Martin of MN
4th Place - Braden Shoemaker of SD
5th Place - Easton Kammerud of WI
6th Place - Brannick Alexander of IL
1st Place Match
Ethan Sonne (IL) won by tech fall over Davian Hall (IL) (TF 10-0)
3rd Place Match
Kadin Martin (MN) won by tech fall over Braden Shoemaker (SD) (TF 10-0)
5th Place Match
Easton Kammerud (WI) won by forfeit over Brannick Alexander (IL) (FF)
136 pounds
1st Place - Tomm Heiser of WI
2nd Place - Maddox Slater of ND
3rd Place - Owen Schacht of WI
4th Place - Zane Engels of MN
5th Place - William Fullhart of IA
6th Place - Destan Skelly of MN
1st Place Match
Tomm Heiser (WI) won by decision over Maddox Slater (ND) (Dec 16-9)
3rd Place Match
Owen Schacht (WI) won by fall over Zane Engels (MN) (Fall 0:44)
5th Place Match
William Fullhart (IA) won by decision over Destan Skelly (MN) (Dec 18-14)
149 pounds
1st Place - Parker Casey of IA
2nd Place - Elias Reed of WI
3rd Place - Radic Dvorak of IL
4th Place - Tate Sailer of ND
5th Place - Henrik Sperlazza of MN
6th Place - Sawyer Ellis of WI
1st Place Match
Parker Casey (IA) won by tech fall over Elias Reed (WI) (TF 10-0)
3rd Place Match
Radic Dvorak (IL) won by decision over Tate Sailer (ND) (Dec 19-15)
5th Place Match
Henrik Sperlazza (MN) won by decision over Sawyer Ellis (WI) (Dec 10-5)
165 pounds
1st Place - Isaac Barrientos of IL
2nd Place - Corey Robinson of IL
3rd Place - Gavin Glaser of WI
4th Place - Lincoln Marr of MN
5th Place - Noah Stout of IL
6th Place - Gregory Varela of CA
1st Place Match
Isaac Barrientos (IL) won by tech fall over Corey Robinson (IL) (TF 11-0)
3rd Place Match
Gavin Glaser (WI) won by decision over Lincoln Marr (MN) (Dec 12-9)
5th Place Match
Noah Stout (IL) won by decision over Gregory Varela (CA) (Dec 6-2)
187 pounds
1st Place - Owen Johnson of MN
2nd Place - Jacksyn Windham of IL
3rd Place - Zeke Lehrke of WI
4th Place - Tucker Miller of MO
5th Place - Jack Praska of ND
6th Place - Fernando Anaya of IL
1st Place Match
Owen Johnson (MN) won by tech fall over Jacksyn Windham (IL) (TF 10-0)
3rd Place Match
Zeke Lehrke (WI) won by fall over Tucker Miller (MO) (Fall 0:32)
5th Place Match
Jack Praska (ND) won by injury default over Fernando Anaya (IL) (Inj. 0:00)
250 pounds
1st Place - Andrew Olson of MN
2nd Place - Shane Falasca of IL
3rd Place - Zavian Turner of IL
4th Place - Darrell Bibbs of IL
Round 1
Andrew Olson (MN) won by tech fall over Darrell Bibbs (IL) (TF 12-1)
Shane Falasca (IL) won by tech fall over Zavian Turner (IL) (TF 10-0)
Round 2
Andrew Olson (MN) won by tech fall over Zavian Turner (IL) (TF 10-0)
Shane Falasca (IL) won by tech fall over Darrell Bibbs (IL) (TF 10-0)
Round 3
Andrew Olson (MN) won by tech fall over Shane Falasca (IL) (TF 11-0)
Zavian Turner (IL) won by tech fall over Darrell Bibbs (IL) (TF 13-2)
14U Boys Greco-Roman Results
71 pounds
1st Place - Dominic DeMarco of IL
2nd Place - Eldon Roth of WI
3rd Place - Parker Wingen of SD
4th Place - Kevin Bisonaya of IL
5th Place - Kamari Tate of IL
6th Place - Aden Spinelli of IL
1st Place Match
Dominic DeMarco (IL) won by decision over Eldon Roth (WI) (Dec 8-6)
3rd Place Match
Parker Wingen (SD) won by fall over Kevin Bisonaya (IL) (Fall 0:59)
5th Place Match
Kamari Tate (IL) won by tech fall over Aden Spinelli (IL) (TF 9-1)
77 pounds
1st Place - Hogan Rice of IL
2nd Place - Lucas Medina of IL
3rd Place - Ty Martin of IA
4th Place - McCoy Marthaler of MN
5th Place - Ryan Fuenffinger of MN
6th Place - Peter Alexander Schutz of MN
1st Place Match
Hogan Rice (IL) won by fall over Lucas Medina (IL) (Fall 2:37)
3rd Place Match
Ty Martin (IA) won by tech fall over McCoy Marthaler (MN) (TF 8-0)
5th Place Match
Ryan Fuenffinger (MN) won by tech fall over Peter Alexander Schutz (MN) (TF 8-0)
83 pounds
1st Place - Ace Schweitzer of NE
2nd Place - Damien Yeoman of IA
3rd Place - Gavin Hoeft of MN
4th Place - Landon Near of IL
5th Place - Miles Aase of MN
6th Place - Mason Bruber of NE
1st Place Match
Ace Schweitzer (NE) won by fall over Damien Yeoman (IA) (Fall 1:20)
3rd Place Match
Gavin Hoeft (MN) won by fall over Landon Near (IL) (Fall 1:23)
5th Place Match
Miles Aase (MN) won by fall over Mason Bruber (NE) (Fall 2:55)
87 pounds
1st Place - Cayden Engel of NE
2nd Place - Kyle Menuez of CO
3rd Place - Beckett Edstrom of MN
4th Place - Carter Booze of NE
5th Place - Nathanial Sanders of IN
6th Place - Carson Davis of MN
1st Place Match
Cayden Engel (NE) won by fall over Kyle Menuez (CO) (Fall 1:32)
3rd Place Match
Beckett Edstrom (MN) won by fall over Carter Booze (NE) (Fall 0:38)
5th Place Match
Nathanial Sanders (IN) won by tech fall over Carson Davis (MN) (TF 14-6)
92 pounds
1st Place - Braeden Hamill of WI
2nd Place - Lincoln Swick of WI
3rd Place - Colton Schultz of IL
4th Place - Kash Koopmans of IA
5th Place - Jackson Marlett of IL
6th Place - Vannak Khiev of IL
1st Place Match
Braeden Hamill (WI) won by tech fall over Lincoln Swick (WI) (TF 9-0)
3rd Place Match
Colton Schultz (IL) won by tech fall over Kash Koopmans (IA) (TF 10-0)
5th Place Match
Jackson Marlett (IL) won by fall over Vannak Khiev (IL) (Fall 1:51)
97 pounds
1st Place - Daniel Myint of IL
2nd Place - Rex Ayshford of MN
3rd Place - Cooper Mathews of CO
4th Place - Kyler Thier of MN
5th Place - Kayden Egeberg of ND
6th Place - Bryer Caves of WI
1st Place Match
Daniel Myint (IL) won by fall over Rex Ayshford (MN) (Fall 0:51)
3rd Place Match
Cooper Mathews (CO) won by fall over Kyler Thier (MN) (Fall 1:23)
5th Place Match
Kayden Egeberg (ND) won by tech fall over Bryer Caves (WI) (TF 16-7)
102 pounds
1st Place - Martez Sheard of WI
2nd Place - Hendrix Schwab of IA
3rd Place - Kayden Eller of MN
4th Place - Aidan McClure of IL
5th Place - Logan Refsnider of MN
6th Place - Jase Jones of IA
1st Place Match
Martez Sheard (WI) won by decision over Hendrix Schwab (IA) (Dec 10-8)
3rd Place Match
Kayden Eller (MN) won by tech fall over Aidan McClure (IL) (TF 8-0)
5th Place Match
Logan Refsnider (MN) won by fall over Jase Jones (IA) (Fall 0:23)
106 pounds
1st Place - Dominic Olson of NE
2nd Place - Anthony Brown of IL
3rd Place - Mathew Prine of IA
4th Place - Devin Ehler of IL
5th Place - Todd Gurney of WI
6th Place - Alexander Shvartsman of IL
1st Place Match
Dominic Olson (NE) won by fall over Anthony Brown (IL) (Fall 1:03)
3rd Place Match
Mathew Prine (IA) won by fall over Devin Ehler (IL) (Fall 1:22)
5th Place Match
Todd Gurney (WI) won by tech fall over Alexander Shvartsman (IL) (TF 8-0)
110 pounds
1st Place - Maxum Rodgers of NE
2nd Place - Benjamin Nadig of IL
3rd Place - Alex Gau of MN
4th Place - Brock Claypool of IL
5th Place - Kain Ornelas of NE
6th Place - Ryker Schingeck of WI
1st Place Match
Maxum Rodgers (NE) won by injury default over Benjamin Nadig (IL) (Inj. 0:37)
3rd Place Match
Alex Gau (MN) won by decision over Brock Claypool (IL) (Dec 8-2)
5th Place Match
Kain Ornelas (NE) won by decision over Ryker Schingeck (WI) (Dec 15-14)
114 pounds
1st Place - Tyler Paulson of WI
2nd Place - Alexander Penzkover of WI
3rd Place - John Hanrahan of IL
4th Place - Preston Harms of MN
5th Place - Brett Johnson of IA
6th Place - Jace Saulter of MN
1st Place Match
Tyler Paulson (WI) won by tech fall over Alexander Penzkover (WI) (TF 8-0)
3rd Place Match
John Hanrahan (IL) won by tech fall over Preston Harms (MN) (TF 8-0)
5th Place Match
Brett Johnson (IA) won by decision over Jace Saulter (MN) (Dec 7-0)
119 pounds
1st Place - Aiden Arnett of IL
2nd Place - Carter Ridgeway of WI
3rd Place - Hayden Hutt of IA
4th Place - Jayden Veal of IL
5th Place - Forrest Uhing of NE
6th Place - Treyden Wright of MN
1st Place Match
Aiden Arnett (IL) won by tech fall over Carter Ridgeway (WI) (TF 8-0)
3rd Place Match
Hayden Hutt (IA) won by fall over Jayden Veal (IL) (Fall 0:45)
5th Place Match
Forrest Uhing (NE) won by injury default over Treyden Wright (MN) (Inj. 0:00)
125 pounds
1st Place - Collin Hamm of WI
2nd Place - Jacob Lootans Jr. of WI
3rd Place - Forester Lofton of MN
4th Place - Hayden Payne of IL
5th Place - Christopher Navarro of IL
Round 1
Jacob Lootans Jr. (WI) won by tech fall over Hayden Payne (IL) (TF 10-0)
Forester Lofton (MN) won by tech fall over Christopher Navarro (IL) (TF 9-0)
Round 2
Collin Hamm (WI) won by tech fall over Christopher Navarro (IL) (TF 8-0)
Jacob Lootans Jr. (WI) won by tech fall over Forester Lofton (MN) (TF 8-0)
Round 3
Collin Hamm (WI) won by tech fall over Forester Lofton (MN) (TF 10-1)
Hayden Payne (IL) won by fall over Christopher Navarro (IL) (Fall 1:24)
Round 4
Collin Hamm (WI) won by tech fall over Hayden Payne (IL) (TF 10-2)
Jacob Lootans Jr. (WI) won by fall over Christopher Navarro (IL) (Fall 0:24)
Round 5
Collin Hamm (WI) won by disqualification over Jacob Lootans Jr. (WI) (DQ)
Forester Lofton (MN) won by tech fall over Hayden Payne (IL) (TF 9-0)
130 pounds
1st Place - Davian Hall of IL
2nd Place - Easton Kammerud of WI
3rd Place - Kadin Martin of MN
4th Place - Braden Shoemaker of SD
5th Place - Trent Watson of IL
Round 1
Davian Hall (IL) won by tech fall over Trent Watson (IL) (TF 15-7)
Kadin Martin (MN) won by tech fall over Braden Shoemaker (SD) (TF 8-0)
Round 2
Easton Kammerud (WI) won by tech fall over Kadin Martin (MN) (TF 12-4)
Davian Hall (IL) won by tech fall over Braden Shoemaker (SD) (TF 8-0)
Round 3
Easton Kammerud (WI) won by tech fall over Braden Shoemaker (SD) (TF 9-0)
Kadin Martin (MN) won by fall over Trent Watson (IL) (Fall 1:50)
Round 4
Easton Kammerud (WI) won by fall over Trent Watson (IL) (Fall 1:34)
Davian Hall (IL) won by decision over Kadin Martin (MN) (Dec 18-14)
Round 5
Davian Hall (IL) won by tech fall over Easton Kammerud (WI) (TF 9-0)
Braden Shoemaker (SD) won by fall over Trent Watson (IL) (Fall 2:52)
136 pounds
1st Place - Owen Schacht of WI
2nd Place - Zane Engels of MN
3rd Place - Chase Krantz of IL
4th Place - Devin Johnson of WI
5th Place - Maddox Slater of ND
6th Place - Destan Skelly of MN
1st Place Match
Owen Schacht (WI) won by tech fall over Zane Engels (MN) (TF 18-9)
3rd Place Match
Chase Krantz (IL) won by fall over Devin Johnson (WI) (Fall 0:51)
5th Place Match
Maddox Slater (ND) won by tech fall over Destan Skelly (MN) (TF 16-7)
149 pounds
1st Place - Parker Casey of IA
2nd Place - Radic Dvorak of IL
3rd Place - Tate Sailer of ND
4th Place - Grady Nicklay of WI
5th Place - Parker Judge of MN
6th Place - Warren Wang of CA
1st Place Match
Parker Casey (IA) won by tech fall over Radic Dvorak (IL) (TF 11-2)
3rd Place Match
Tate Sailer (ND) won by fall over Grady Nicklay (WI) (Fall 0:14)
5th Place Match
Parker Judge (MN) won by tech fall over Warren Wang (CA) (TF 9-0)
165 pounds
1st Place - Isaac Barrientos of IL
2nd Place - Lincoln Marr of MN
3rd Place - Corey Robinson of IL
4th Place - Gregory Varela of CA
5th Place - Braxton Coey of MN
6th Place - Andrew Miller of IL
1st Place Match
Isaac Barrientos (IL) won by fall over Lincoln Marr (MN) (Fall 0:18)
3rd Place Match
Corey Robinson (IL) won by tech fall over Gregory Varela (CA) (TF 8-0)
5th Place Match
Braxton Coey (MN) won by fall over Andrew Miller (IL) (Fall 0:13)
187 pounds
1st Place - Owen Johnson of MN
2nd Place - Zeke Lehrke of WI
3rd Place - Jack Praska of ND
4th Place - Tucker Miller of MO
5th Place - Jacksyn Windham of IL
Round 1
Jack Praska (ND) won by forfeit over Jacksyn Windham (IL) (FF)
Zeke Lehrke (WI) won by tech fall over Tucker Miller (MO) (TF 8-0)
Round 2
Owen Johnson (MN) won by tech fall over Tucker Miller (MO) (TF 8-0)
Zeke Lehrke (WI) won by fall over Jack Praska (ND) (Fall 0:39)
Round 3
Owen Johnson (MN) won by tech fall over Zeke Lehrke (WI) (TF 8-0)
Tucker Miller (MO) won by tech fall over Jacksyn Windham (IL) (TF 10-0)
Round 4
Owen Johnson (MN) won by tech fall over Jacksyn Windham (IL) (TF 8-0)
Jack Praska (ND) won by fall over Tucker Miller (MO) (Fall 2:25)
Round 5
Owen Johnson (MN) won by tech fall over Jack Praska (ND) (TF 9-0)
Zeke Lehrke (WI) won by fall over Jacksyn Windham (IL) (Fall 0:41)
250 pounds
1st Place - Andrew Olson of MN
2nd Place - Darrell Bibbs of IL
Round 1
Andrew Olson (MN) won by fall over Darrell Bibbs (IL) (Fall 0:22)
Round 2
Andrew Olson (MN) won by tech fall over Darrell Bibbs (IL) (TF 8-0)
14U Girls Freestyle Results
79 pounds
1st Place - Piper Phillips of IA
92-97 pounds
1st Place - Saya Hongmoungkhoune of IL
2nd Place - Morgan Johnson of WI
3rd Place - Cora Stewart of WI
4th Place - Genevieve Dykstra of IL
Round 1
Morgan Johnson (WI) won by tech fall over Genevieve Dykstra (IL) (TF 10-0)
Saya Hongmoungkhoune (IL) won by decision over Cora Stewart (WI) (Dec 11-10)
Round 2
Morgan Johnson (WI) won by decision over Cora Stewart (WI) (Dec 9-6)
Saya Hongmoungkhoune (IL) won by tech fall over Genevieve Dykstra (IL) (TF 10-0)
Round 3
Saya Hongmoungkhoune (IL) won by decision over Morgan Johnson (WI) (Dec 6-4)
Cora Stewart (WI) won by tech fall over Genevieve Dykstra (IL) (TF 10-0)
101 pounds
1st Place - Amelia Nidelea-Polanin of IL
2nd Place - Ava Schultz of MN
3rd Place - Evie Sova of WI
Round 1
Amelia Nidelea-Polanin (IL) won by tech fall over Ava Schultz (MN) (TF 10-0)
Evie Sova (WI) received a bye () (Bye)
Round 2
Ava Schultz (MN) received a bye () (Bye)
Amelia Nidelea-Polanin (IL) won by tech fall over Evie Sova (WI) (TF 10-0)
Round 3
Ava Schultz (MN) won by tech fall over Evie Sova (WI) (TF 10-0)
Amelia Nidelea-Polanin (IL) received a bye () (Bye)
105 pounds
1st Place - Erica Irvine of IA
2nd Place - Alicia Kenfack of ND
Round 1
Alicia Kenfack (ND) won by decision over Erica Irvine (IA) (Dec 8-5)
Round 2
Erica Irvine (IA) won by decision over Alicia Kenfack (ND) (Dec 4-2)
Round 3
Erica Irvine (IA) won by decision over Alicia Kenfack (ND) (Dec 6-4)
110 pounds
1st Place - Elaine Hay of WI
2nd Place - Amelia Walk of IA
3rd Place - Penelope Juarez of WI
Round 1
Elaine Hay (WI) received a bye () (Bye)
Amelia Walk (IA) won by decision over Penelope Juarez (WI) (Dec 8-8)
Round 2
Elaine Hay (WI) won by tech fall over Amelia Walk (IA) (TF 10-0)
Penelope Juarez (WI) received a bye () (Bye)
Round 3
Elaine Hay (WI) won by tech fall over Penelope Juarez (WI) (TF 10-0)
Amelia Walk (IA) received a bye () (Bye)
119 pounds
1st Place - Julia Araujo of ND
2nd Place - Ariella Dobin of IL
Round 1
Julia Araujo (ND) won by tech fall over Ariella Dobin (IL) (TF 10-0)
Round 2
Julia Araujo (ND) won by fall over Ariella Dobin (IL) (Fall 1:09)
127 pounds
1st Place - Erika Sleznikow of WI
2nd Place - Makaya Gotchie of MN
Round 1
Erika Sleznikow (WI) won by decision over Makaya Gotchie (MN) (Dec 9-4)
Round 2
Makaya Gotchie (MN) won by decision over Erika Sleznikow (WI) (Dec 9-9)
Round 3
Erika Sleznikow (WI) won by decision over Makaya Gotchie (MN) (Dec 12-10)
136 pounds
1st Place - KyLee Tibbs of OH
2nd Place - Andrea Quinones of MN
3rd Place - Caroline Christopher of WI
4th Place - Alexia Glover of IL
5th Place - Damiyah Williams of IA
6th Place - Jaqueline Soon of IL
1st Place Match
KyLee Tibbs (OH) won by tech fall over Andrea Quinones (MN) (TF 10-0)
3rd Place Match
Caroline Christopher (WI) won by fall over Alexia Glover (IL) (Fall 2:56)
5th Place Match
Damiyah Williams (IA) won by fall over Jaqueline Soon (IL) (Fall 0:36)
145 pounds
1st Place - Aliah Fischer of MN
2nd Place - Eve Skrocki of IA
3rd Place - Allison Garbacz of IL
4th Place - Amelia Soltis of WI
5th Place - Isabella Giza of WI
Round 1
Aliah Fischer (MN) won by fall over Allison Garbacz (IL) (Fall 1:29)
Amelia Soltis (WI) won by tech fall over Isabella Giza (WI) (TF 12-0)
Round 2
Eve Skrocki (IA) won by fall over Amelia Soltis (WI) (Fall 1:04)
Allison Garbacz (IL) won by fall over Isabella Giza (WI) (Fall 1:34)
Round 3
Eve Skrocki (IA) won by fall over Isabella Giza (WI) (Fall 0:27)
Aliah Fischer (MN) won by tech fall over Amelia Soltis (WI) (TF 11-1)
Round 4
Aliah Fischer (MN) won by fall over Eve Skrocki (IA) (Fall 3:23)
Allison Garbacz (IL) won by tech fall over Amelia Soltis (WI) (TF 10-0)
Round 5
Eve Skrocki (IA) won by fall over Allison Garbacz (IL) (Fall 2:00)
Aliah Fischer (MN) won by tech fall over Isabella Giza (WI) (TF 10-0)
185 pounds
1st Place - Caoimhe Mitchell of IL
2nd Place - Lily Krueger of WI
3rd Place - Evie Stine of WI
4th Place - Bryn Schmidt of WI
5th Place - Alicia Ramirez of OH
Round 1
Lily Krueger (WI) won by fall over Alicia Ramirez (OH) (Fall 0:34)
Bryn Schmidt (WI) won by fall over Caoimhe Mitchell (IL) (Fall 3:30)
Round 2
Caoimhe Mitchell (IL) won by fall over Evie Stine (WI) (Fall 0:44)
Bryn Schmidt (WI) won by decision over Alicia Ramirez (OH) (Dec 8-5)
Round 3
Evie Stine (WI) won by decision over Bryn Schmidt (WI) (Dec 5-5)
Caoimhe Mitchell (IL) won by fall over Lily Krueger (WI) (Fall 1:23)
Round 4
Evie Stine (WI) won by fall over Lily Krueger (WI) (Fall 1:57)
Caoimhe Mitchell (IL) won by fall over Alicia Ramirez (OH) (Fall 0:39)
Round 5
Alicia Ramirez (OH) won by fall over Evie Stine (WI) (Fall 0:09)
Lily Krueger (WI) won by tech fall over Bryn Schmidt (WI) (TF 12-2)
14U Girls Greco-Roman Results
92-97 pounds
1st Place - Ava Schultz of MN
2nd Place - Genevieve Dykstra of IL
Round 1
Ava Schultz (MN) won by tech fall over Genevieve Dykstra (IL) (TF 8-0)
Round 2
Ava Schultz (MN) won by tech fall over Genevieve Dykstra (IL) (TF 10-0)
105 pounds
1st Place - Erica Irvine of IA
2nd Place - Alicia Kenfack of ND
Round 1
Erica Irvine (IA) won by fall over Alicia Kenfack (ND) (Fall 3:35)
Round 2
Alicia Kenfack (ND) won by decision over Erica Irvine (IA) (Dec 4-3)
Round 3
Erica Irvine (IA) won by decision over Alicia Kenfack (ND) (Dec 5-2)
119-127 pounds
1st Place - Julia Araujo of ND
2nd Place - Erika Sleznikow of WI
Round 1
Julia Araujo (ND) won by tech fall over Erika Sleznikow (WI) (TF 8-0)
Round 2
Julia Araujo (ND) won by tech fall over Erika Sleznikow (WI) (TF 8-0)
136-145 pounds
1st Place - Aliah Fischer of MN
2nd Place - KyLee Tibbs of OH
3rd Place - Eve Skrocki of IA
4th Place - Amelia Soltis of WI
5th Place - Alexia Glover of IL
Round 1
Aliah Fischer (MN) won by fall over Alexia Glover (IL) (Fall 0:57)
KyLee Tibbs (OH) won by tech fall over Amelia Soltis (WI) (TF 9-1)
Round 2
Eve Skrocki (IA) won by fall over Amelia Soltis (WI) (Fall 0:59)
KyLee Tibbs (OH) won by tech fall over Alexia Glover (IL) (TF 9-0)
Round 3
KyLee Tibbs (OH) won by decision over Eve Skrocki (IA) (Dec 9-8)
Aliah Fischer (MN) won by fall over Amelia Soltis (WI) (Fall 1:27)
Round 4
Aliah Fischer (MN) won by fall over Eve Skrocki (IA) (Fall 2:30)
Amelia Soltis (WI) won by fall over Alexia Glover (IL) (Fall 3:18)
Round 5
Eve Skrocki (IA) won by fall over Alexia Glover (IL) (Fall 0:39)
Aliah Fischer (MN) won by tech fall over KyLee Tibbs (OH) (TF 13-4)
185 pounds
1st Place - Evie Stine of WI
2nd Place - Alicia Ramirez of OH
Round 1
Evie Stine (WI) won by fall over Alicia Ramirez (OH) (Fall 0:14)
Round 2
Evie Stine (WI) won by fall over Alicia Ramirez (OH) (Fall 0:54)
12U Boys Freestyle Results
63 pounds
1st Place - Beckett Moyer of IA
2nd Place - Giovonni Nix of IL
3rd Place - Kamden Gallus of MN
4th Place - Isaac Benedict of IA
5th Place - Reed Akkerman of WI
6th Place - Elizabeth Carlson of MN
1st Place Match
Beckett Moyer (IA) won by fall over Giovonni Nix (IL) (Fall 1:47)
3rd Place Match
Kamden Gallus (MN) won by tech fall over Isaac Benedict (IA) (TF 10-0)
5th Place Match
Reed Akkerman (WI) won by tech fall over Elizabeth Carlson (MN) (TF 10-0)
67 pounds
1st Place - Lucas Allison of NE
2nd Place - Freyda Nelson of MN
3rd Place - Colton Steingraber of WI
4th Place - Kyzer Eller of MN
Round 1
Lucas Allison (NE) won by decision over Freyda Nelson (MN) (Dec 12-3)
Colton Steingraber (WI) won by tech fall over Kyzer Eller (MN) (TF 11-0)
Round 2
Freyda Nelson (MN) won by tech fall over Kyzer Eller (MN) (TF 12-2)
Lucas Allison (NE) won by tech fall over Colton Steingraber (WI) (TF 12-1)
Round 3
Freyda Nelson (MN) won by tech fall over Colton Steingraber (WI) (TF 16-5)
Lucas Allison (NE) won by tech fall over Kyzer Eller (MN) (TF 10-0)
70 pounds
1st Place - Colton Hamill of WI
2nd Place - Brycen Kothenbeutel of MN
3rd Place - Teddy Millard of IL
Round 1
Colton Hamill (WI) received a bye () (Bye)
Brycen Kothenbeutel (MN) won by tech fall over Teddy Millard (IL) (TF 12-2)
Round 2
Colton Hamill (WI) won by tech fall over Teddy Millard (IL) (TF 10-0)
Brycen Kothenbeutel (MN) received a bye () (Bye)
Round 3
Colton Hamill (WI) won by tech fall over Brycen Kothenbeutel (MN) (TF 10-0)
Teddy Millard (IL) received a bye () (Bye)
74 pounds
1st Place - Elijah Nadig of IL
2nd Place - Kamdyn Goulet of ND
3rd Place - Rett Huerta of MN
4th Place - Ivan Larsen of MN
5th Place - Sam Smith of IA
6th Place - Colby Even of SD
1st Place Match
Elijah Nadig (IL) won by tech fall over Kamdyn Goulet (ND) (TF 10-0)
3rd Place Match
Rett Huerta (MN) won by tech fall over Ivan Larsen (MN) (TF 10-0)
5th Place Match
Sam Smith (IA) won by tech fall over Colby Even (SD) (TF 12-2)
78 pounds
1st Place - Kai McDonald of IA
2nd Place - Zeke Mikolyzk of MN
3rd Place - Cael Vander Broek of SD
4th Place - Colin Weber of WI
5th Place - Hunter Houle of MN
6th Place - Jonah Aadland of SD
1st Place Match
Kai McDonald (IA) won by tech fall over Zeke Mikolyzk (MN) (TF 10-0)
3rd Place Match
Cael Vander Broek (SD) won by fall over Colin Weber (WI) (Fall 2:27)
5th Place Match
Hunter Houle (MN) won by tech fall over Jonah Aadland (SD) (TF 10-0)
82 pounds
1st Place - Chase Lawrence of MN
2nd Place - Hunter Erdmann of WI
3rd Place - Bo Link of IA
4th Place - Reece Vendegna of WI
5th Place - Joshua Sanders of IN
6th Place - Tj Richardson of MN
1st Place Match
Chase Lawrence (MN) won by tech fall over Hunter Erdmann (WI) (TF 10-0)
3rd Place Match
Bo Link (IA) won by tech fall over Reece Vendegna (WI) (TF 10-0)
5th Place Match
Joshua Sanders (IN) won by tech fall over Tj Richardson (MN) (TF 16-5)
86 pounds
1st Place - Declan Dahl of MN
2nd Place - Sam Dagel of MN
3rd Place - Maddux Rabczak of IL
4th Place - Adonis Washington of IL
5th Place - Randy Justesen of IA
6th Place - Everett Dorshorst of WI
1st Place Match
Declan Dahl (MN) won by decision over Sam Dagel (MN) (Dec 4-3)
3rd Place Match
Maddux Rabczak (IL) won by tech fall over Adonis Washington (IL) (TF 10-0)
5th Place Match
Randy Justesen (IA) won by tech fall over Everett Dorshorst (WI) (TF 10-0)
92 pounds
1st Place - Levi Halbert of NE
2nd Place - Anthony Schoeller of MN
3rd Place - Bentley Holmes of NE
4th Place - Caleb Cushman of IL
5th Place - Parker Madison of MN
Round 1
Levi Halbert (NE) won by fall over Anthony Schoeller (MN) (Fall 2:29)
Bentley Holmes (NE) won by fall over Parker Madison (MN) (Fall 1:40)
Round 2
Caleb Cushman (IL) won by fall over Parker Madison (MN) (Fall 2:37)
Anthony Schoeller (MN) won by decision over Bentley Holmes (NE) (Dec 12-9)
Round 3
Bentley Holmes (NE) won by fall over Caleb Cushman (IL) (Fall 1:15)
Levi Halbert (NE) won by tech fall over Parker Madison (MN) (TF 10-0)
Round 4
Levi Halbert (NE) won by tech fall over Caleb Cushman (IL) (TF 10-0)
Anthony Schoeller (MN) won by fall over Parker Madison (MN) (Fall 0:17)
Round 5
Anthony Schoeller (MN) won by fall over Caleb Cushman (IL) (Fall 0:47)
Levi Halbert (NE) won by fall over Bentley Holmes (NE) (Fall 0:13)
98 pounds
1st Place - Jeremiah Hayes of IL
2nd Place - Jacob Penzkover of WI
3rd Place - Jaxon Petersen of NE
4th Place - Jack Metzler of WI
Round 1
Jaxon Petersen (NE) won by fall over Jack Metzler (WI) (Fall 0:45)
Jeremiah Hayes (IL) won by fall over Jacob Penzkover (WI) (Fall 3:54)
Round 2
Jacob Penzkover (WI) won by fall over Jack Metzler (WI) (Fall 0:43)
Jeremiah Hayes (IL) won by decision over Jaxon Petersen (NE) (Dec 13-6)
Round 3
Jeremiah Hayes (IL) won by fall over Jack Metzler (WI) (Fall 0:37)
Jacob Penzkover (WI) won by tech fall over Jaxon Petersen (NE) (TF 10-0)
108 pounds
1st Place - Maximus Pearch of IL
2nd Place - Reid Nicklay of WI
3rd Place - Cody Vancura of MN
Round 1
Reid Nicklay (WI) received a bye () (Bye)
Maximus Pearch (IL) won by tech fall over Cody Vancura (MN) (TF 11-0)
Round 2
Maximus Pearch (IL) won by decision over Reid Nicklay (WI) (Dec 15-8)
Cody Vancura (MN) received a bye () (Bye)
Round 3
Reid Nicklay (WI) won by injury default over Cody Vancura (MN) (Inj. 0:00)
Maximus Pearch (IL) received a bye () (Bye)
117 pounds
1st Place - Jason Heiser of WI
2nd Place - Owen Floral of IL
3rd Place - Michael Alexander of MN
4th Place - Logan Gonzalez of IL
Round 1
Jason Heiser (WI) won by tech fall over Logan Gonzalez (IL) (TF 10-0)
Owen Floral (IL) won by fall over Michael Alexander (MN) (Fall 1:33)
Round 2
Jason Heiser (WI) won by fall over Owen Floral (IL) (Fall 2:39)
Michael Alexander (MN) won by fall over Logan Gonzalez (IL) (Fall 0:14)
Round 3
Jason Heiser (WI) won by fall over Michael Alexander (MN) (Fall 0:39)
Owen Floral (IL) won by fall over Logan Gonzalez (IL) (Fall 0:33)
135 pounds
1st Place - Tucker Mosbach of IL
2nd Place - David Pointer Jr of IL
Round 1
Tucker Mosbach (IL) won by decision over David Pointer Jr (IL) (Dec 16-8)
Round 2
Tucker Mosbach (IL) won by tech fall over David Pointer Jr (IL) (TF 10-0)
160 pounds
1st Place - Bobby McNutt of MN
2nd Place - Logan Noto of WI
3rd Place - Pablo Juarez of WI
Round 1
Bobby McNutt (MN) won by fall over Pablo Juarez (WI) (Fall 0:15)
Logan Noto (WI) received a bye () (Bye)
Round 2
Bobby McNutt (MN) received a bye () (Bye)
Logan Noto (WI) won by fall over Pablo Juarez (WI) (Fall 0:57)
Round 3
Bobby McNutt (MN) won by tech fall over Logan Noto (WI) (TF 12-1)
Pablo Juarez (WI) received a bye () (Bye)
12U Boys Greco-Roman Results
63 pounds
1st Place - Giovonni Nix of IL
2nd Place - Beckett Moyer of IA
3rd Place - Reed Akkerman of WI
4th Place - Kamden Gallus of MN
5th Place - Crosby Smith of WI
6th Place - Tristan Allison of NE
1st Place Match
Giovonni Nix (IL) won by decision over Beckett Moyer (IA) (Dec 11-10)
3rd Place Match
Reed Akkerman (WI) won by decision over Kamden Gallus (MN) (Dec 11-9)
5th Place Match
Crosby Smith (WI) won by fall over Tristan Allison (NE) (Fall 0:36)
67 pounds
1st Place - Lucas Allison of NE
2nd Place - Freyda Nelson of MN
3rd Place - Colton Steingraber of WI
4th Place - Kyzer Eller of MN
Round 1
Lucas Allison (NE) won by tech fall over Kyzer Eller (MN) (TF 8-0)
Freyda Nelson (MN) won by decision over Colton Steingraber (WI) (Dec 12-10)
Round 2
Lucas Allison (NE) won by fall over Colton Steingraber (WI) (Fall 1:23)
Freyda Nelson (MN) won by tech fall over Kyzer Eller (MN) (TF 11-0)
Round 3
Lucas Allison (NE) won by tech fall over Freyda Nelson (MN) (TF 9-0)
Colton Steingraber (WI) won by tech fall over Kyzer Eller (MN) (TF 11-0)
70 pounds
1st Place - Colton Hamill of WI
2nd Place - Brycen Kothenbeutel of MN
3rd Place - Payten Jagodzinski of WI
4th Place - Teddy Millard of IL
Round 1
Colton Hamill (WI) won by tech fall over Teddy Millard (IL) (TF 8-0)
Brycen Kothenbeutel (MN) won by tech fall over Payten Jagodzinski (WI) (TF 10-1)
Round 2
Colton Hamill (WI) won by tech fall over Payten Jagodzinski (WI) (TF 8-0)
Brycen Kothenbeutel (MN) won by decision over Teddy Millard (IL) (Dec 10-4)
Round 3
Colton Hamill (WI) won by tech fall over Brycen Kothenbeutel (MN) (TF 8-0)
Payten Jagodzinski (WI) won by tech fall over Teddy Millard (IL) (TF 14-6)
74 pounds
1st Place - Elijah Nadig of IL
2nd Place - Kamdyn Goulet of ND
3rd Place - Rett Huerta of MN
4th Place - Ivan Larsen of MN
5th Place - Carson Piontek of WI
6th Place - Maximus Aye of IL
1st Place Match
Elijah Nadig (IL) won by fall over Kamdyn Goulet (ND) (Fall 1:30)
3rd Place Match
Rett Huerta (MN) won by tech fall over Ivan Larsen (MN) (TF 8-0)
5th Place Match
Carson Piontek (WI) won by decision over Maximus Aye (IL) (Dec 11-4)
78 pounds
1st Place - Cael Vander Broek of SD
2nd Place - Zeke Mikolyzk of MN
3rd Place - Colin Weber of WI
4th Place - Hunter Houle of MN
5th Place - Kaden Joustra of IL
6th Place - Layton Ringstmeyer of SD
1st Place Match
Cael Vander Broek (SD) won by tech fall over Zeke Mikolyzk (MN) (TF 8-0)
3rd Place Match
Colin Weber (WI) won by tech fall over Hunter Houle (MN) (TF 8-0)
5th Place Match
Kaden Joustra (IL) won by fall over Layton Ringstmeyer (SD) (Fall 1:32)
82 pounds
1st Place - Hunter Erdmann of WI
2nd Place - Bo Link of IA
3rd Place - Reece Vendegna of WI
4th Place - Tj Richardson of MN
5th Place - Henry Metzler of WI
6th Place - Graham Lofton of MN
1st Place Match
Hunter Erdmann (WI) won by tech fall over Bo Link (IA) (TF 8-0)
3rd Place Match
Reece Vendegna (WI) won by fall over Tj Richardson (MN) (Fall 0:23)
5th Place Match
Henry Metzler (WI) won by tech fall over Graham Lofton (MN) (TF 10-1)
86 pounds
1st Place - Sam Dagel of MN
2nd Place - Declan Dahl of MN
3rd Place - Arthur Araujo of ND
4th Place - Hayden Bessette of MN
5th Place - Jack Jenkins of ND
6th Place - Bodyn Molitor of MN
1st Place Match
Sam Dagel (MN) won by decision over Declan Dahl (MN) (Dec 10-3)
3rd Place Match
Arthur Araujo (ND) won by tech fall over Hayden Bessette (MN) (TF 8-0)
5th Place Match
Jack Jenkins (ND) won by fall over Bodyn Molitor (MN) (Fall 3:06)
92 pounds
1st Place - Levi Halbert of NE
2nd Place - Bentley Holmes of NE
3rd Place - Caleb Cushman of IL
4th Place - Parker Madison of MN
Round 1
Levi Halbert (NE) won by tech fall over Caleb Cushman (IL) (TF 10-0)
Bentley Holmes (NE) won by fall over Parker Madison (MN) (Fall 0:53)
Round 2
Levi Halbert (NE) won by tech fall over Parker Madison (MN) (TF 8-0)
Bentley Holmes (NE) won by tech fall over Caleb Cushman (IL) (TF 11-1)
Round 3
Levi Halbert (NE) won by tech fall over Bentley Holmes (NE) (TF 11-3)
Caleb Cushman (IL) won by fall over Parker Madison (MN) (Fall 1:07)
98 pounds
1st Place - Jacob Penzkover of WI
2nd Place - Jeremiah Hayes of IL
3rd Place - Jaxon Petersen of NE
Round 1
Jaxon Petersen (NE) received a bye () (Bye)
Jacob Penzkover (WI) won by tech fall over Jeremiah Hayes (IL) (TF 12-2)
Round 2
Jacob Penzkover (WI) won by tech fall over Jaxon Petersen (NE) (TF 14-4)
Jeremiah Hayes (IL) received a bye () (Bye)
Round 3
Jeremiah Hayes (IL) won by decision over Jaxon Petersen (NE) (Dec 20-13)
Jacob Penzkover (WI) received a bye () (Bye)
108 pounds
1st Place - Reid Nicklay of WI
2nd Place - Maximus Pearch of IL
3rd Place - Dino Klikas of IL
Round 1
Reid Nicklay (WI) won by fall over Maximus Pearch (IL) (Fall 3:04)
Dino Klikas (IL) received a bye () (Bye)
Round 2
Reid Nicklay (WI) received a bye () (Bye)
Maximus Pearch (IL) won by tech fall over Dino Klikas (IL) (TF 9-0)
Round 3
Reid Nicklay (WI) won by fall over Dino Klikas (IL) (Fall 0:46)
Maximus Pearch (IL) received a bye () (Bye)
117 pounds
1st Place - Michael Alexander of MN
2nd Place - Logan Gonzalez of IL
Round 1
Michael Alexander (MN) won by tech fall over Logan Gonzalez (IL) (TF 10-0)
Round 2
Michael Alexander (MN) won by tech fall over Logan Gonzalez (IL) (TF 10-0)
135 pounds
1st Place - Tucker Mosbach of IL
2nd Place - David Pointer Jr of IL
Round 1
Tucker Mosbach (IL) won by fall over David Pointer Jr (IL) (Fall 2:12)
Round 2
Tucker Mosbach (IL) won by fall over David Pointer Jr (IL) (Fall 1:55)
160 pounds
1st Place - Bobby McNutt of MN
12U Girls Freestyle Results
65-70 pounds
1st Place - Payten Jagodzinski of WI
2nd Place - Crosby Smith of WI
Round 1
Payten Jagodzinski (WI) won by fall over Crosby Smith (WI) (Fall 0:38)
Round 2
Payten Jagodzinski (WI) won by fall over Crosby Smith (WI) (Fall 1:20)
75-85 pounds
1st Place - Brinley Mlsna of WI
2nd Place - Kali DeClercq of IL
3rd Place - Annabelle Mueller of IL
Round 1
Brinley Mlsna (WI) won by decision over Annabelle Mueller (IL) (Dec 17-10)
Kali DeClercq (IL) received a bye () (Bye)
Round 2
Brinley Mlsna (WI) received a bye () (Bye)
Kali DeClercq (IL) won by fall over Annabelle Mueller (IL) (Fall 2:00)
Round 3
Brinley Mlsna (WI) won by tech fall over Kali DeClercq (IL) (TF 13-3)
Annabelle Mueller (IL) received a bye () (Bye)
95-100 pounds
1st Place - Hailey Goth of MN
2nd Place - Ariana Schacht of WI
3rd Place - Olivia Hay of WI
4th Place - Cora Jordan of IL
Round 1
Hailey Goth (MN) won by tech fall over Olivia Hay (WI) (TF 10-0)
Ariana Schacht (WI) won by fall over Cora Jordan (IL) (Fall 1:06)
Round 2
Hailey Goth (MN) won by fall over Ariana Schacht (WI) (Fall 1:50)
Olivia Hay (WI) won by decision over Cora Jordan (IL) (Dec 8-3)
Round 3
Hailey Goth (MN) won by fall over Cora Jordan (IL) (Fall 1:33)
Ariana Schacht (WI) won by fall over Olivia Hay (WI) (Fall 1:09)
110 pounds
1st Place - Ember Zupanc of WI
2nd Place - Mercedes Carrasco of IL
3rd Place - Scelia Maneze of ND
Round 1
Scelia Maneze (ND) received a bye () (Bye)
Ember Zupanc (WI) won by tech fall over Mercedes Carrasco (IL) (TF 11-0)
Round 2
Ember Zupanc (WI) received a bye () (Bye)
Mercedes Carrasco (IL) won by fall over Scelia Maneze (ND) (Fall 3:14)
Round 3
Mercedes Carrasco (IL) received a bye () (Bye)
Ember Zupanc (WI) won by fall over Scelia Maneze (ND) (Fall 1:59)
145 pounds
1st Place - Piper Sandell of IL
2nd Place - Kylie Williams of WI
3rd Place - Sophia Hilliard of ND
Round 1
Sophia Hilliard (ND) received a bye () (Bye)
Piper Sandell (IL) won by fall over Kylie Williams (WI) (Fall 3:13)
Round 2
Kylie Williams (WI) received a bye () (Bye)
Piper Sandell (IL) won by decision over Sophia Hilliard (ND) (Dec 9-4)
Round 3
Piper Sandell (IL) received a bye () (Bye)
Kylie Williams (WI) won by decision over Sophia Hilliard (ND) (Dec 4-0)
12U Girls Greco-Roman Results
95-100 pounds
1st Place - Ariana Schacht of WI
2nd Place - Hailey Goth of MN
Round 1
Ariana Schacht (WI) won by fall over Hailey Goth (MN) (Fall 1:56)
Round 2
Ariana Schacht (WI) won by decision over Hailey Goth (MN) (Dec 4-4)
10U Boys Freestyle Results
49-53 pounds
1st Place - Wiley Derby of MN
2nd Place - John Reimer of WI
3rd Place - Kinsley Kothenbeutel of MN
4th Place - Darek Flores of IL
5th Place - Vince Larsen of MN
Round 1
Wiley Derby (MN) won by tech fall over Kinsley Kothenbeutel (MN) (TF 12-2)
John Reimer (WI) won by tech fall over Darek Flores (IL) (TF 14-3)
Round 2
John Reimer (WI) won by fall over Vince Larsen (MN) (Fall 0:28)
Wiley Derby (MN) won by tech fall over Darek Flores (IL) (TF 10-0)
Round 3
Darek Flores (IL) won by tech fall over Vince Larsen (MN) (TF 10-0)
John Reimer (WI) won by tech fall over Kinsley Kothenbeutel (MN) (TF 10-0)
Round 4
Kinsley Kothenbeutel (MN) won by tech fall over Vince Larsen (MN) (TF 10-0)
Wiley Derby (MN) won by tech fall over John Reimer (WI) (TF 18-7)
Round 5
Wiley Derby (MN) won by tech fall over Vince Larsen (MN) (TF 15-2)
Kinsley Kothenbeutel (MN) won by fall over Darek Flores (IL) (Fall 2:53)
56 pounds
1st Place - Spencer Mattson of MN
2nd Place - Waylon Norris of MN
3rd Place - Leah Hatfield of IA
4th Place - Ripley Smith of WI
5th Place - Rolf Olsen of WI
Round 1
Spencer Mattson (MN) won by fall over Waylon Norris (MN) (Fall 0:31)
Ripley Smith (WI) won by tech fall over Rolf Olsen (WI) (TF 16-5)
Round 2
Leah Hatfield (IA) won by decision over Rolf Olsen (WI) (Dec 10-2)
Spencer Mattson (MN) won by tech fall over Ripley Smith (WI) (TF 10-0)
Round 3
Leah Hatfield (IA) won by decision over Ripley Smith (WI) (Dec 11-8)
Waylon Norris (MN) won by tech fall over Rolf Olsen (WI) (TF 10-0)
Round 4
Waylon Norris (MN) won by tech fall over Leah Hatfield (IA) (TF 10-0)
Spencer Mattson (MN) won by fall over Rolf Olsen (WI) (Fall 0:54)
Round 5
Spencer Mattson (MN) won by fall over Leah Hatfield (IA) (Fall 0:42)
Waylon Norris (MN) won by decision over Ripley Smith (WI) (Dec 12-8)
59 pounds
1st Place - Adam Husk Jr. of WI
2nd Place - Jack Lange of IA
3rd Place - Kaiel Coleman of IL
4th Place - Kinnick Smit of SD
5th Place - Arthur Nelson of MN
Round 1
Jack Lange (IA) won by tech fall over Kaiel Coleman (IL) (TF 10-0)
Kinnick Smit (SD) won by tech fall over Arthur Nelson (MN) (TF 10-0)
Round 2
Adam Husk Jr. (WI) won by fall over Arthur Nelson (MN) (Fall 0:23)
Kaiel Coleman (IL) won by fall over Kinnick Smit (SD) (Fall 1:04)
Round 3
Adam Husk Jr. (WI) won by tech fall over Kinnick Smit (SD) (TF 10-0)
Jack Lange (IA) won by tech fall over Arthur Nelson (MN) (TF 10-0)
Round 4
Adam Husk Jr. (WI) won by tech fall over Jack Lange (IA) (TF 11-0)
Kaiel Coleman (IL) won by tech fall over Arthur Nelson (MN) (TF 15-2)
Round 5
Adam Husk Jr. (WI) won by fall over Kaiel Coleman (IL) (Fall 0:49)
Jack Lange (IA) won by fall over Kinnick Smit (SD) (Fall 0:24)
63 pounds
1st Place - Ian Weber of WI
2nd Place - Gabriel Jasso of MN
3rd Place - Easton Schut of MN
4th Place - Theodore Moyer of IL
5th Place - Coy Nielsen of NE
6th Place - Jaxsyn Walk of IA
1st Place Match
Ian Weber (WI) won by fall over Gabriel Jasso (MN) (Fall 1:53)
3rd Place Match
Easton Schut (MN) won by tech fall over Theodore Moyer (IL) (TF 10-0)
5th Place Match
Coy Nielsen (NE) won by tech fall over Jaxsyn Walk (IA) (TF 10-0)
67 pounds
1st Place - Brady Stewart of WI
2nd Place - Braxton Irvine of IA
3rd Place - Logan Winchell of IL
4th Place - Bennett Davis of MN
5th Place - Ryder Mitchell of WI
6th Place - Oscar Pederson of MN
1st Place Match
Brady Stewart (WI) won by tech fall over Braxton Irvine (IA) (TF 10-0)
3rd Place Match
Logan Winchell (IL) won by decision over Bennett Davis (MN) (Dec 11-6)
5th Place Match
Ryder Mitchell (WI) won by fall over Oscar Pederson (MN) (Fall 1:16)
71 pounds
1st Place - Iaromir Zhukovskii of IL
2nd Place - Dylan Ingalls of SD
3rd Place - Sebastian Gonzales of MN
4th Place - Damoni Ford of IL
5th Place - Kaileb Lambers of IL
6th Place - Timur Suyunov of IL
1st Place Match
Iaromir Zhukovskii (IL) won by tech fall over Dylan Ingalls (SD) (TF 11-0)
3rd Place Match
Sebastian Gonzales (MN) won by fall over Damoni Ford (IL) (Fall 0:37)
5th Place Match
Kaileb Lambers (IL) won by forfeit over Timur Suyunov (IL) (FF)
77 pounds
1st Place - Jayce Leclaire of WI
2nd Place - Dominick Jackson of MN
3rd Place - Landon Piontek of WI
4th Place - Gideon Ayers of IL
5th Place - Logan Oakes of IA
6th Place - Bryson Wilkinson of IL
1st Place Match
Jayce Leclaire (WI) won by decision over Dominick Jackson (MN) (Dec 10-10)
3rd Place Match
Landon Piontek (WI) won by tech fall over Gideon Ayers (IL) (TF 13-3)
5th Place Match
Logan Oakes (IA) won by tech fall over Bryson Wilkinson (IL) (TF 17-6)
84 pounds
1st Place - Jace Evers of MN
2nd Place - Coleman McNutt of MN
3rd Place - Maxwell Robertson of IL
4th Place - Blake Mosbach of IL
Round 1
Coleman McNutt (MN) won by fall over Maxwell Robertson (IL) (Fall 0:12)
Jace Evers (MN) won by tech fall over Blake Mosbach (IL) (TF 10-0)
Round 2
Coleman McNutt (MN) won by tech fall over Blake Mosbach (IL) (TF 10-0)
Jace Evers (MN) won by tech fall over Maxwell Robertson (IL) (TF 14-2)
Round 3
Jace Evers (MN) won by tech fall over Coleman McNutt (MN) (TF 10-0)
Maxwell Robertson (IL) won by tech fall over Blake Mosbach (IL) (TF 14-4)
93 pounds
1st Place - Dominic Englese of IL
2nd Place - Gavin Olenek of IL
3rd Place - DaMarkus Borman of IA
4th Place - Zion Mogard of IA
5th Place - Kaesen Miller of MN
Round 1
Zion Mogard (IA) won by tech fall over Kaesen Miller (MN) (TF 13-2)
Dominic Englese (IL) won by fall over Gavin Olenek (IL) (Fall 1:06)
Round 2
Gavin Olenek (IL) won by fall over DaMarkus Borman (IA) (Fall 3:06)
Dominic Englese (IL) won by fall over Kaesen Miller (MN) (Fall 0:11)
Round 3
Dominic Englese (IL) won by tech fall over DaMarkus Borman (IA) (TF 10-0)
Gavin Olenek (IL) won by tech fall over Zion Mogard (IA) (TF 10-0)
Round 4
DaMarkus Borman (IA) won by tech fall over Zion Mogard (IA) (TF 10-0)
Gavin Olenek (IL) won by tech fall over Kaesen Miller (MN) (TF 12-2)
Round 5
DaMarkus Borman (IA) won by tech fall over Kaesen Miller (MN) (TF 13-2)
Dominic Englese (IL) won by fall over Zion Mogard (IA) (Fall 1:55)
105 pounds
1st Place - Francesca Yurs of IL
120 pounds
1st Place - Lachlan Robideau of MN
2nd Place - Cash Carter of MN
3rd Place - Steele Thornton of ND
4th Place - Jett Meidl of MN
Round 1
Cash Carter (MN) won by tech fall over Jett Meidl (MN) (TF 10-0)
Lachlan Robideau (MN) won by tech fall over Steele Thornton (ND) (TF 10-0)
Round 2
Lachlan Robideau (MN) won by fall over Jett Meidl (MN) (Fall 2:25)
Cash Carter (MN) won by fall over Steele Thornton (ND) (Fall 1:16)
Round 3
Steele Thornton (ND) won by tech fall over Jett Meidl (MN) (TF 11-0)
Lachlan Robideau (MN) won by fall over Cash Carter (MN) (Fall 0:31)
10U Boys Greco-Roman Results
53 pounds
1st Place - John Reimer of WI
2nd Place - Darek Flores of IL
3rd Place - Vince Larsen of MN
Round 1
Darek Flores (IL) won by fall over Vince Larsen (MN) (Fall 1:35)
John Reimer (WI) received a bye () (Bye)
Round 2
Vince Larsen (MN) received a bye () (Bye)
John Reimer (WI) won by tech fall over Darek Flores (IL) (TF 13-5)
Round 3
John Reimer (WI) won by tech fall over Vince Larsen (MN) (TF 13-4)
Darek Flores (IL) received a bye () (Bye)
56 pounds
1st Place - Ripley Smith of WI
2nd Place - Leah Hatfield of IA
Round 1
Ripley Smith (WI) won by tech fall over Leah Hatfield (IA) (TF 8-0)
Round 2
Leah Hatfield (IA) won by decision over Ripley Smith (WI) (Dec 17-14)
Round 3
Ripley Smith (WI) won by tech fall over Leah Hatfield (IA) (TF 10-2)
59 pounds
1st Place - Adam Husk Jr. of WI
2nd Place - Kaiel Coleman of IL
3rd Place - Arthur Nelson of MN
4th Place - Kinnick Smit of SD
Round 1
Adam Husk Jr. (WI) won by fall over Kinnick Smit (SD) (Fall 0:12)
Kaiel Coleman (IL) won by tech fall over Arthur Nelson (MN) (TF 13-4)
Round 2
Adam Husk Jr. (WI) won by tech fall over Arthur Nelson (MN) (TF 8-0)
Kaiel Coleman (IL) won by tech fall over Kinnick Smit (SD) (TF 10-0)
Round 3
Adam Husk Jr. (WI) won by tech fall over Kaiel Coleman (IL) (TF 11-0)
Arthur Nelson (MN) won by tech fall over Kinnick Smit (SD) (TF 8-0)
63 pounds
1st Place - Ian Weber of WI
2nd Place - Gabriel Jasso of MN
3rd Place - Theodore Moyer of IL
4th Place - Coy Nielsen of NE
5th Place - Roman Spinelli of IL
6th Place - Perez Perez of IA
1st Place Match
Ian Weber (WI) won by tech fall over Gabriel Jasso (MN) (TF 14-4)
3rd Place Match
Theodore Moyer (IL) won by disqualification over Coy Nielsen (NE) (DQ)
5th Place Match
Roman Spinelli (IL) won by tech fall over Perez Perez (IA) (TF 15-6)
67 pounds
1st Place - Braxton Irvine of IA
2nd Place - Bennett Davis of MN
3rd Place - Ryder Mitchell of WI
4th Place - Gibson Engelkes of IA
5th Place - Rowen Villalobos of IL
6th Place - Oscar Pederson of MN
1st Place Match
Braxton Irvine (IA) won by tech fall over Bennett Davis (MN) (TF 12-4)
3rd Place Match
Ryder Mitchell (WI) won by tech fall over Gibson Engelkes (IA) (TF 8-0)
5th Place Match
Rowen Villalobos (IL) won by tech fall over Oscar Pederson (MN) (TF 12-1)
71 pounds
1st Place - Iaromir Zhukovskii of IL
2nd Place - Sebastian Gonzales of MN
3rd Place - Kaileb Lambers of IL
Round 1
Kaileb Lambers (IL) received a bye () (Bye)
Iaromir Zhukovskii (IL) won by fall over Sebastian Gonzales (MN) (Fall 0:43)
Round 2
Iaromir Zhukovskii (IL) received a bye () (Bye)
Sebastian Gonzales (MN) won by fall over Kaileb Lambers (IL) (Fall 1:01)
Round 3
Sebastian Gonzales (MN) received a bye () (Bye)
Iaromir Zhukovskii (IL) won by injury default over Kaileb Lambers (IL) (Inj. 0:35)
77 pounds
1st Place - Dominick Jackson of MN
2nd Place - Jayce Leclaire of WI
3rd Place - Landon Piontek of WI
4th Place - Bryson Wilkinson of IL
5th Place - Gideon Ayers of IL
Round 1
Jayce Leclaire (WI) won by tech fall over Landon Piontek (WI) (TF 8-0)
Bryson Wilkinson (IL) won by fall over Gideon Ayers (IL) (Fall 1:54)
Round 2
Dominick Jackson (MN) won by tech fall over Gideon Ayers (IL) (TF 8-0)
Jayce Leclaire (WI) won by tech fall over Bryson Wilkinson (IL) (TF 8-0)
Round 3
Dominick Jackson (MN) won by tech fall over Bryson Wilkinson (IL) (TF 24-15)
Landon Piontek (WI) won by fall over Gideon Ayers (IL) (Fall 1:57)
Round 4
Dominick Jackson (MN) won by tech fall over Landon Piontek (WI) (TF 23-14)
Jayce Leclaire (WI) won by tech fall over Gideon Ayers (IL) (TF 11-1)
Round 5
Dominick Jackson (MN) won by decision over Jayce Leclaire (WI) (Dec 6-4)
Landon Piontek (WI) won by fall over Bryson Wilkinson (IL) (Fall 0:56)
84 pounds
1st Place - Jace Evers of MN
2nd Place - Damon Johannes-Kasuboski of WI
3rd Place - Blake Mosbach of IL
Round 1
Jace Evers (MN) won by tech fall over Damon Johannes-Kasuboski (WI) (TF 8-0)
Blake Mosbach (IL) received a bye () (Bye)
Round 2
Jace Evers (MN) received a bye () (Bye)
Damon Johannes-Kasuboski (WI) won by tech fall over Blake Mosbach (IL) (TF 8-0)
Round 3
Jace Evers (MN) won by tech fall over Blake Mosbach (IL) (TF 8-0)
Damon Johannes-Kasuboski (WI) received a bye () (Bye)
93-105 pounds
1st Place - Dominic Englese of IL
2nd Place - DaMarkus Borman of IA
3rd Place - Gavin Olenek of IL
4th Place - Kaesen Miller of MN
5th Place - Francesca Yurs of IL
Round 1
Gavin Olenek (IL) won by tech fall over Francesca Yurs (IL) (TF 8-0)
DaMarkus Borman (IA) won by tech fall over Kaesen Miller (MN) (TF 8-0)
Round 2
Dominic Englese (IL) won by fall over DaMarkus Borman (IA) (Fall 1:23)
Gavin Olenek (IL) won by tech fall over Kaesen Miller (MN) (TF 8-0)
Round 3
Dominic Englese (IL) won by fall over Kaesen Miller (MN) (Fall 0:27)
DaMarkus Borman (IA) won by fall over Francesca Yurs (IL) (Fall 0:23)
Round 4
Dominic Englese (IL) won by fall over Francesca Yurs (IL) (Fall 0:26)
DaMarkus Borman (IA) won by tech fall over Gavin Olenek (IL) (TF 8-0)
Round 5
Dominic Englese (IL) won by tech fall over Gavin Olenek (IL) (TF 15-6)
Kaesen Miller (MN) won by tech fall over Francesca Yurs (IL) (TF 10-2)
120 pounds
1st Place - Cash Carter of MN
2nd Place - Steele Thornton of ND
Round 1
Cash Carter (MN) won by tech fall over Steele Thornton (ND) (TF 8-0)
Round 2
Cash Carter (MN) won by fall over Steele Thornton (ND) (Fall 0:37)
10U Girls Freestyle Results
60-65 pounds
1st Place - Mila Sebolt of IA
2nd Place - Kayle Georgel of WI
Round 1
Mila Sebolt (IA) won by tech fall over Kayle Georgel (WI) (TF 10-0)
Round 2
Mila Sebolt (IA) won by fall over Kayle Georgel (WI) (Fall 0:18)
70-75 pounds
1st Place - Hadley Vold of WI
2nd Place - Adriana Ragona of IL
3rd Place - Charlie Claymore of SD
4th Place - Alexi Carrasco of IL
Round 1
Hadley Vold (WI) won by tech fall over Alexi Carrasco (IL) (TF 10-0)
Adriana Ragona (IL) won by fall over Charlie Claymore (SD) (Fall 1:02)
Round 2
Hadley Vold (WI) won by decision over Adriana Ragona (IL) (Dec 6-1)
Charlie Claymore (SD) won by fall over Alexi Carrasco (IL) (Fall 0:24)
Round 3
Hadley Vold (WI) won by tech fall over Charlie Claymore (SD) (TF 10-0)
Adriana Ragona (IL) won by fall over Alexi Carrasco (IL) (Fall 0:15)
90 pounds
1st Place - Hope Sjostrom of ND
8U Boys Freestyle Results
45 pounds
1st Place - Kaison Perkins of MN
53 pounds
1st Place - Easton Werner of WI
2nd Place - Leo Nielsen of NE
3rd Place - Roman Kinsella of MN
4th Place - Wells Millard of IL
5th Place - Braxton Eller of MN
Round 1
Leo Nielsen (NE) won by tech fall over Roman Kinsella (MN) (TF 13-2)
Wells Millard (IL) won by tech fall over Braxton Eller (MN) (TF 10-0)
Round 2
Easton Werner (WI) won by tech fall over Braxton Eller (MN) (TF 12-1)
Leo Nielsen (NE) won by tech fall over Wells Millard (IL) (TF 10-0)
Round 3
Easton Werner (WI) won by fall over Wells Millard (IL) (Fall 0:33)
Braxton Eller (MN) won by decision over Roman Kinsella (MN) (Dec 10-4)
Round 4
Easton Werner (WI) won by fall over Roman Kinsella (MN) (Fall 0:23)
Leo Nielsen (NE) won by fall over Braxton Eller (MN) (Fall 0:30)
Round 5
Easton Werner (WI) won by fall over Leo Nielsen (NE) (Fall 1:51)
Roman Kinsella (MN) won by tech fall over Wells Millard (IL) (TF 10-0)
56 pounds
1st Place - Anthony Ragona of IL
2nd Place - Phillip Elson of MN
Round 1
Anthony Ragona (IL) won by fall over Phillip Elson (MN) (Fall 1:09)
Round 2
Anthony Ragona (IL) won by fall over Phillip Elson (MN) (Fall 2:55)
62 pounds
1st Place - Nehemiah Andronic of IL
2nd Place - Samson Beyer of NE
3rd Place - Rodolfo Beltran of WI
4th Place - Mason Potts of IL
5th Place - Maximus Chambers of WI
6th Place - Jordan Benefiel of IL
1st Place Match
Nehemiah Andronic (IL) won by tech fall over Samson Beyer (NE) (TF 13-2)
3rd Place Match
Rodolfo Beltran (WI) won by tech fall over Mason Potts (IL) (TF 15-5)
5th Place Match
Maximus Chambers (WI) won by fall over Jordan Benefiel (IL) (Fall 0:38)
70 pounds
1st Place - Elias Inniss of WI
2nd Place - Henry Seidl of MN
3rd Place - Gavin Schoenoff of WI
4th Place - Conrad Barber of IL
5th Place - Rylan Joustra of IL
6th Place - Ava Barber of IL
1st Place Match
Elias Inniss (WI) won by tech fall over Henry Seidl (MN) (TF 13-2)
3rd Place Match
Gavin Schoenoff (WI) won by decision over Conrad Barber (IL) (Dec 15-7)
5th Place Match
Rylan Joustra (IL) won by decision over Ava Barber (IL) (Dec 14-6)
85 pounds
1st Place - Joseph Englese of IL
2nd Place - Vincent Englese of IL
3rd Place - Reed Rugroden of MN
Round 1
Joseph Englese (IL) won by tech fall over Reed Rugroden (MN) (TF 10-0)
Vincent Englese (IL) received a bye () (Bye)
Round 2
Reed Rugroden (MN) received a bye () (Bye)
Joseph Englese (IL) won by no contest over Vincent Englese (IL) (NC)
Round 3
Vincent Englese (IL) won by fall over Reed Rugroden (MN) (Fall 0:53)
Joseph Englese (IL) received a bye () (Bye)
8U Boys Greco-Roman Results
53-56 pounds
1st Place - Leo Nielsen of NE
2nd Place - Phillip Elson of MN
3rd Place - Braxton Eller of MN
4th Place - Wells Millard of IL
5th Place - Roman Kinsella of MN
Round 1
Braxton Eller (MN) won by tech fall over Roman Kinsella (MN) (TF 10-0)
Leo Nielsen (NE) won by tech fall over Wells Millard (IL) (TF 8-0)
Round 2
Phillip Elson (MN) won by tech fall over Wells Millard (IL) (TF 8-0)
Leo Nielsen (NE) won by tech fall over Braxton Eller (MN) (TF 8-0)
Round 3
Leo Nielsen (NE) won by tech fall over Phillip Elson (MN) (TF 8-0)
Wells Millard (IL) won by fall over Roman Kinsella (MN) (Fall 0:07)
Round 4
Phillip Elson (MN) won by fall over Roman Kinsella (MN) (Fall 0:23)
Braxton Eller (MN) won by tech fall over Wells Millard (IL) (TF 12-4)
Round 5
Phillip Elson (MN) won by tech fall over Braxton Eller (MN) (TF 10-2)
Leo Nielsen (NE) won by tech fall over Roman Kinsella (MN) (TF 8-0)
62 pounds
1st Place - Nehemiah Andronic of IL
2nd Place - Samson Beyer of NE
Round 1
Nehemiah Andronic (IL) won by tech fall over Samson Beyer (NE) (TF 12-1)
Round 2
Samson Beyer (NE) won by decision over Nehemiah Andronic (IL) (Dec 7-5)
Round 3
Nehemiah Andronic (IL) won by fall over Samson Beyer (NE) (Fall 2:22)
8U Girls Freestyle Results
60 pounds
1st Place - Alivia Emms of MN
2nd Place - Alexis Baake of WI
Round 1
Alivia Emms (MN) won by tech fall over Alexis Baake (WI) (TF 10-0)
Round 2
Alivia Emms (MN) won by fall over Alexis Baake (WI) (Fall 1:13)