News
USA Wrestling
College
USAW
Penn State clinches 11th NCAA title in medal round
by Richard Immel, USA Wrestling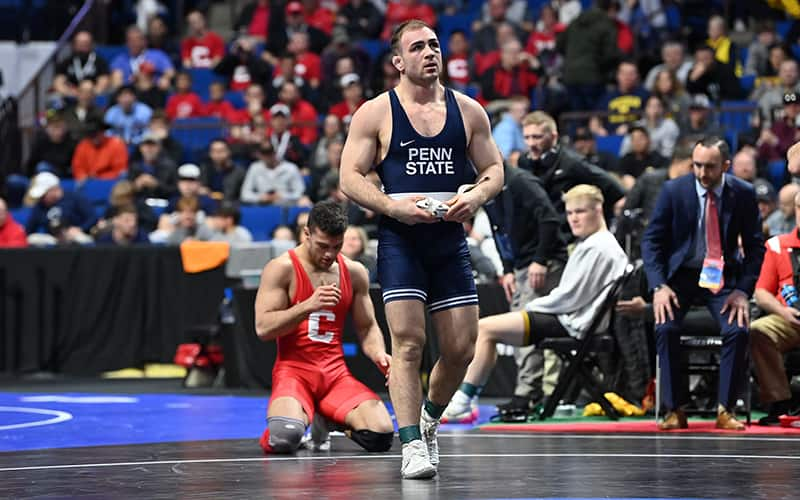 Max Dean (Penn State) placed seventh at 197 pounds at 2023 NCAA Championships. Photo by Sam Janicki.

🎥
NCAA Championships Athlete and Coach Interviews
TULSA, Okla. – For the 11th time in program history, and the 10th under head coach
Cael Sanderson,
the
Penn State Nittany Lions
are kings of college wrestling.
The team title was officially clinched during the Saturday morning session at the BOK Center. First-time All-American
Beau Bartlett
put the team race to bed with a 12-3 major decision over South Dakota State's Clay Carlson in the 141-pound consolation semifinals. The junior went on to finish in third place, as did his 149-pound teammate
Shayne Van Ness
.
"There's a lot of people involved, and it really takes the stress off of everything," Bartlett said after his impressive NCAA run. "People are going to hate this, it's having fun. We're having a lot of fun. It's hard to have fun with something as serious as this…It almost doesn't feel real. We've got five guys in the finals, and I'm excited.
The Penn State coronation felt inevitable for the majority of the weekend. Eight men donning the classic PSU Dark Blue singlet earned All-America status, five of whom advanced to Saturday's grand finale. For the third time since 2017, Penn State can tie the record of five individual NCAA champions. It's a force no team could contend with this season.
Prior to session five kicking off, the University of Iowa issued a statement announcing three-time NCAA champion
Spencer Lee
would medical forfeit from the tournament. The redshirt senior dropped to a sixth-place finish at 125 pounds after his bid for a fourth NCAA title was stunningly dashed in last night's semifinal round.
In addition to Lee, three past winners of the NCAA tournament bounced back from heartbreaking front-side losses to finish with All-America status to end their respective seasons.
2021 NCAA champion
Shane Griffith
walked to the tunnel amidst a standing ovation from the Tulsa crowd at the end of his campaign. The redshirt senior from Stanford was rock solid in a 4-1 decision over Wisconsin's Dean Hamiti to wind up in fifth place at 165 pounds and earn his third-straight All-America label.
"You just have to, like I said, get a little gritty with it and push through...it's about your mental's really to take the next step," Griffith said.
Griffith went on to mention he doesn't necessarily want the credit for saving the Stanford wrestling program from the chopping block. He did what he had to do and "just wrestled." Griffith remains undecided on if he will use his remaining year of college eligibility next season.
Defending champion
Max Dean
fittingly capped his career with a 4-2 win over Cornell's Jacob Cardenas to place seventh at 197 pounds. Dean began his collegiate career at Cornell in 2017 before transferring to Penn State prior to his junior year. He has earned All-America status four times, twice at each institution.
On summoning the strength to wrestle back after an early loss Dean noted, "Your lowest moments are the most important, so, you know, I didn't really know if I'd win or not anymore going forward, but I just wanted to show my character, and go out and compete as hard as I could. I wanted at the end of this to be able to look back and know I didn't check out early."
Hokie sensation
Mekhi Lewis
fought to a fourth-place finish at 174 pounds after going 1-1 on Saturday morning. The three-time All-American Lewis became Virginia Tech's first individual to win the NCAA tournament back in 2019, doing so as a freshman.
It wasn't the storybook ending he'd hoped for, but Oklahoma State senior
Daton Fix
was able to pick up a fourth-place finish at 133 pounds to go along with his three NCAA finals appearances as he concluded his season in front of a hometown crowd.
The loudest applause was earned by Air Force heavyweight
Wyatt Hendrickson
, who heard chants of U-S-A following his second-period pin of Iowa's Tony Cassioppi in the final third-place match of the event. Hendrickson became the first Falcon since 2003 to make the NCAA podium.
In the same vein as Penn State's title, the remaining top-four team trophies have been locked up by Iowa, Ohio State and Cornell. All that remains to be seen is the order of finish.
The championship finals are set for 6 p.m. (CT) this evening and can be viewed live on ESPN.
NCAA DIV. I MEN'S WRESTLING CHAMPIONSHIPS
At Tulsa, Okla., March 17, 2023

Team Standings After Session Five
1. Penn State, 127.5
2. Iowa, 82.5
3. Ohio State, 70.5
4. Cornell, 68.5
5. Missouri, 60.5
6. Arizona State, 55
7. Michigan, 54.5
8. Nebraska, 54
9. Virginia Tech, 49
10. North Carolina State, 48
Placement Match Results

125 pounds
3rd – Brandon Courtney (Arizona State) dec. Anthony Noto (Lock Haven), 4-2 SV1
5th – Liam Cronin (Nebraska) med. for. Spencer Lee (Iowa), 0:00
7th – Eddie Ventresca (Virginia Tech) dec. Killian Cardinale (West Virginia), 7-6
133 pounds
3rd – Michael McGee (Arizona State) dec. Daton Fix (Oklahoma State), 2-1
5th – Aaron Nagao (Minnesota) dec. Jesse Mendez (Ohio State), 4-0
7th – Sam Latona (Virginia Tech) dec. Kai Orine (NC State), 3-1
141 pounds
3rd – Beau Bartlett (Penn State) dec. Lachlan McNeil (North Carolina), 4-1
5th – Clay Carlson (South Dakota State) inj. def. Brock Hardy (Nebraska), 2:11
7th – Parker Filius (Purdue) dec. Dylan D`Emilio (Ohio State), 8-4 SV1
149 pounds
3rd – Shayne Van Ness (Penn State) dec. Kyle Parco (Arizona State), 7-2
5th – Caleb Henson (Virginia Tech) maj. dec. Max Murin (Iowa), 12-3
7th – Brock Mauller (Missouri) dec. Michael Blockhus (Minnesota), 6-2
157 pounds
3rd – Josh Humphreys (Lehigh) maj. dec. Jared Franek (North Dakota State), 8-0
5th – Ed Scott (NC State) inj. def. Peyton Robb (Nebraska), 0:00
7th – Bryce Andonian (Virginia Tech) dec. Will Lewan (Michigan), 6-4
165 pounds
3rd – Quincy Monday (Princeton) dec. Cameron Amine (Michigan), 3-2
5th – Shane Griffith (Stanford) dec. Dean Hamiti (Wisconsin), 4-1
7th – Michael Caliendo III (North Dakota State) dec. Izzak Olejnik (Northern Illinois), 6-2
174 pounds
3rd – Chris Foca (Cornell) dec. Mekhi Lewis (Virginia Tech), 3-2 TB1
5th – Nelson Brands (Iowa) dec. Dustin Plott (Oklahoma State), 4-2 SV1
7th – Ethan Smith (Ohio State) maj. dec. Peyton Mocco (Missouri), 12-2
184 pounds
3rd – Kaleb Romero (Ohio State) dec. Trent Hidlay (NC State), 3-1 SV1
5th – Marcus Coleman (Iowa State) med. for. Trey Munoz (Oregon State), 0:00
7th – Will Feldkamp (Clarion) fall Gavin Kane (North Carolina), 2:38
197 pounds
3rd – Rocky Elam (Missouri) dec. Bernie Truax (Cal Poly), 5-2
5th – Jacob Warner (Iowa) dec. Ethan Laird (Rider), 7-3
7th – Max Dean (Penn State) dec. Jacob Cardenas (Cornell), 4-2
285 pounds
3rd – Wyatt Hendrickson (Air Force) fall Tony Cassioppi (Iowa), 4:16
5th – Lucas Davison (Northwestern) dec. Zach Elam (Missouri), 4-3
7th – Cohlton Schultz (Arizona State) inj. def. Trent Hillger (Wisconsin), 0:01