News
USA Wrestling
College
USAW
Diakomihalis becomes fifth four-time NCAA Div. I champion; Champion Penn State adds three-timers Starocci and Brooks
by Gary Abbott, USA Wrestling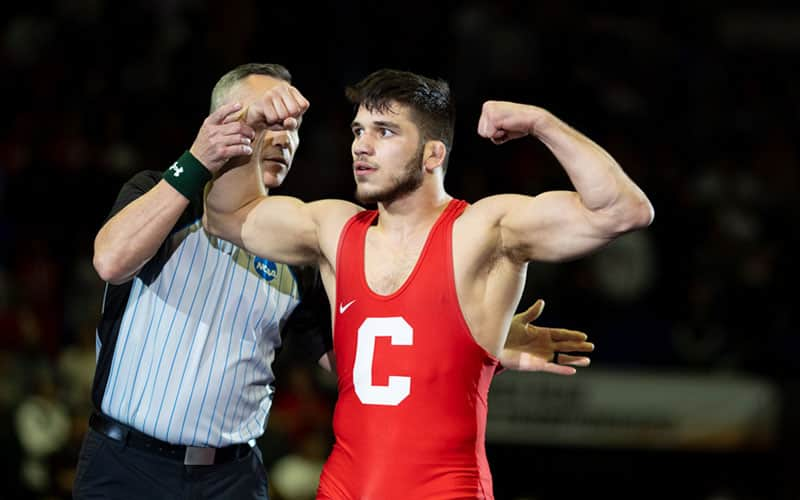 Yianni Diakomihalis flexes after winning fourth NCAA title. Photo by Larry Slater.
TULSA, Okla. – History was made tonight as Cornell's
Yianni Diakomihali
s became just the fifth four-time NCAA Div. I champion with his victory at 149 pounds at the NCAA Div. I Men's Wrestling Championships at the BOK Center on Saturday night.
Diakomihalis defeated No. 2 seed and 2021 NCAA runner-up Sammy Sasso of Ohio State, 4-2 in the finals. There was no takedown in the first period. Diakomihalis scored a reversal in the second period to lead 2-0. After a Sasso escape, Diakomihalis scored a second takedown on a cradle. In the third period, Sasso escaped, but could not score on Diakomihalis the rest of the way.
"I have a really tough weight class and I'm wrestling some really quality guys. They are coming to get me and that's what they should do. I have some special people in my life I wouldn't be here without. My dad, Mike Grey, my mom, my brothers, Vito (Arujau). I could sit here and talk for 30 minutes about all those people. People think this is me. I'm just the face. There are so many people who push me through it. I'd don't know what kind of person I would be without those people," said Diakomihalis.
Diakomihalis becomes the fifth four-time NCAA Div. I champion, following Pat Smith of Oklahoma State (1990, 1991, 1992, 1994), Cael Sanderson of Iowa State (1999, 2000, 2001, 2002), Kyle Dake of Cornell (2010, 2011, 2012, 2013) and Logan Stieber of Ohio State (2012, 2013, 2014, 2015).
Cornell becomes the first university to have two four-time NCAA Div. I champions.
Diakomihalis won his first NCAA title in 2018 in Cleveland, beating Bryce Meredith of Wyoming in the finals at 141 pounds. In 2019 in Pittsburgh, he defended his 141 title, stopping Joey McKenna of Ohio State in the finals. Everybody lost the 2020 national tournament due to COVID-19. When the Ivy League chose not to compete in 2021, Diakomihalis also missed the national tournament. In 2022 in Detroit, he was up at 149 pounds, and defeated Ridge Lovett of Nebraska in the finals.
Penn State,
which clinched its 10th title since 2011 during the Saturday morning session, finished with two national champions, including now three-time NCAA champions
Carter Starocci
(174) and
Aaron Brooks
(184).
Starocci took control of the match with a first-period takedown, then was able to turn Labriola, finishing off the pin in the first period at 2:46
"It feels good. I just joined some elite company at Penn State. I believe I was that guy from day one. I walked in the room. I was starting to fight through all those guys that were already big dogs. But it feels good. And this is not where the train stops. Back in the gym on Monday. And I'm excited to watch Aaron, Greg and Roman do their thing, it's cool watching them do it rather than me doing it," said Starocci
Brooks secured the first takedown on a single leg and led 2-0 after the first period. Keckeisen escaped to make it 2-1, but Brooks quickly responded with a takedown and a 4-1 lead. A Keckeisen escape made it 4-2 after two periods. In the third, Keckeisen was penalized on cautions, then a Brooks escape make it 6-2. Add in riding time, and Brooks won 7-2. Brooks came in as the No. 3 seed, having lost a match during the season, while Keckeisen was top seeded.
"Just blessed and grateful. Everything I have is from God. He gives me the ability to wrestle. When I go out there, if it's anything, it's to preach about him. I'm blessed and grateful he's using me. We all give him the glory, but he chose me for this. So I'm blessed," said Brooks.
It was the 10th NCAA team title under Penn State coach
Cael Sanderson
.
"The team had a great weekend, a lot of gutsy performances. It's an individual sport as well as a team sport, so as a coach your heart and mind is with the guys that don't reach their goals. But we've got a lot to be happy about and proud of ourselves. That's why we do this is to help these student-athletes reach their goals. So seeing them become a national champion. As you see, obviously, it's a very difficult thing to do. That's what we live for. We live to help these guys reach their goals.So that's exciting. And, like I said before, you're always thinking, man, we had some great wins tonight, some tough losses but some great competition," said Sanderson.
Also winning NCAA team trophies were runner-up Iowa with 82.5 points, third-place
Cornell
with 76.5 points and fourth place
Ohio State
with 70.5 points.
The first match of the night was at 157 pounds, where top seed
Austin O'Connor
of North Carolina became a two-time NCAA champion with a 6-2 decision over No. 2 seed freshman Levi Haines of Penn State. After there was no takedown in the first period, O'Connor rode Haines the entire second period. In the third period, O'Connor escaped and scored a pair of takedowns, adding riding time at the end.
"It's very special. Honestly, it might be more special than my first one. Obviously, it was a long journey, battling back after an injury last year," said O'Connor. "There's always going to be someone saying something. I wanted to prove them wrong. I started wrestling hard and I was getting to where I needed to be for the national championship. And I got set back again by an injury. And that just upped my determination. As soon as the offseason hit, I got on the ground running, and I got in with my trainers, had the surgery the following week after nationals. And every day since the last tournament ended ,I was ready to start grinding to get me to where I am today."
In the only finals battle between a pair of past national champions this year, 2022 NCAA champion
Keegan O'Toole
became a two-time champion with an 8-2 victory over 2021 NCAA champion David Carr of Iowa State at 165 pounds. He had lost twice to Carr during the season. O'Toole scored a first period takedown. In the second period, Carr escaped but was not able to score from his feet. In the third period, Carr cut O'Toole, who responded with a counter takedown then a two-point tilt before a late Carr escape. Add in riding time and O'Toole had the comfortable win
Carr won the first battle this year, 7-2 in the dual meet, then Carr scored a pin in overtime in the Big 12 finals.
"I'm super grateful. I've been saying it all week that I'm so blessed to have the people around me that I do have. And I thought in that match I was fearless. And that's what I've been trying to achieve all tournament. And just having a loving family, loving coaches, teammates, always there for me, feels amazing. But this isn't just me. This is everyone around me," said O'Connor.
Five champions tonight were first-time winners, although a number had been in the finals before.
No. 3 seed
Vito Arujau
of Cornell wrestled aggressively, defeating two-time NCAA champion Roman Bravo-Young of Penn State in the 133-pound finals, 9-4. Arujau opened the first period with a pair of takedowns, with a Bravo-Young escape between them, to lead 4-1. Arujau took bottom, and scored a slick counter move to score a reversal and two backpoints for an 8-1 lead. Bravo-Young closed the gap with a second-period escape and a third-period reversal to make it 8-4. Arujau escaped to make it 9-4 and closed down Bravo-Young's late throw attempts.
"I should start by saying this isn't my dream. I never dreamt about being an NCAA champ. For some people it's everything. It's their entire reason for wrestling. But my dream is always to be an Olympian, a gold medalist in the sport of wrestling. That was instilled by my father at a young age. This was never really a dream of mine. But it was a milestone. It became a milestone. And it really kind of stuck with me for a little bit as I'm going through my career. And obviously freestyle is where I want to excel at, but this is part of our society in America and you have to do it. So I'm wondering, am I that good? If I am, then why am I not winning? I'm pretty sure I'm the best guy in these weights, but I'm not winning. And it was always a disconnect. And that's why I say this is a moment of satisfaction. It's a moment of validity of my own cause and my own greatness. And I'm very happy to finally have that -- not checkmark, but little checkmark, all right, I did that," said Arujau.
Arujau was named Outstanding Wrestler of the NCAA Championships, and Cornell coach Mike Grey was named tournament Coach of the Year.
No. 1
Nino Bonaccorsi
of Pittsburgh came from behind to defeat No. 7 Tanner Sloan of South Dakota State, 5-3 at 197 pounds,. Sloan scored the first takedown on an high single leg to lead 2-0 in the first period. Sloan escaped in the second period to make it 3-0, then Bonaccorsi got his own high single takedown to close it to 3-2. The third period started in neutral, and Bonaccorsi got a single leg takedown for a 4-3 lead and rode him out to get riding time and the 5-3 win. Bonaccorsi was a 2021 NCAA runner-up.
"I dreamed of this moment. You have no idea, every single day. And I can't believe it. I put so much effort. I have no words. I'm just so blessed and grateful. And I can't believe I'm sitting here right now. This means everything to me. I was born in Pittsburgh. I'm 20 minutes from Pitt. That's my hometown. I grew up there going to Steeler games, wrestling matches when I was 8, 9, 10 years old. I always dreamed of wrestling at Pitt and winning a national title. And what better place to do it than my -- basically my backyard school. I can't believe it," said Bonaccorsi.
At 285 pounds, No. 1
Mason Parris
of Michigan defeated No. 3 Greg Kerkvliet of Penn State, 4-1. Parris opened the scoring in the first period with a fireman's carry takedown for a 2-0 lead. He added a second-period escape to make it 3-0. In the third period, Parris got a point when Kerkvliet was hit for stalling, gave up a penalty point and secured riding time for the victory. Parris was a 2021 NCAA runner-up.
"My mindset was I gotta ride him out. I know I can. That was an adjustment I made from the match, our first match and then Big Tens, is I can ride this guy, I can ride him out, I can break him on top.That's what I did. Just focused on getting that ride down and breaking him down and just breaking his spirit was the main thing. And I knew that I could do that. That's why I focused so much on getting better on top," said Parris.
No. 2 seed
Pat Glory
of Princeton became his school's first NCAA champion in 72 years, going back to 1951 when Brad Glass won for the Tigers. He defeated No. 4 seed Matt Ramos of Purdue, 4-1 in the 125-pound finals. The first period was scoreless, and Glory got a second period escape to lead 1-0. In the third period, Ramos chose neutral, and Glory scored the only takedown of the match to lead 3-0. Late in the match, Glory was penalized for clasping, and he added riding time for the final margin.
"It just feels really amazing. No one really knows what Ivy League kids had to go through during that COVID year. I was really, really excited about the NCAA Tournament my sophomore year. I think it would have really helped me last year coming into this tournament, knowing what to expect. You don't realize how two years off really inhibits you from competition. And this stage is unlike any other. There's no tournament like this one. It just feels really amazing to have my last match be a national championship. It's unexplainable how amazing it feels," said Glory.
No. 2
Andrew Alirez
of Northern Colorado, the local Greeley star who stayed home for college, won the UNC's first Div. I national title in 61 years, since Jack Flasche won in 1962. He defeated No. 1 seed Real Woods of Iowa, 6-4.
There was no takedown in the first period. Woods scored two backpoints, then Alirez hit a reversal with two back point, followed by a stalling call against Alirez. Northern Colorado challenged and the officials after a long delay, gave Alirez four backpoints instead, making it 6-2. Woods got an escape in the second period, and another escape in the third to make it 6-4.
"It means the world to me. I gave my life to this game. And to be able to reap the benefit from it means everything. That's years and years of sacrifice, especially over this past year. Sacrificed everything that I could to get to this moment. And now that I'm here, I can do nothing but be grateful. I just did whatever I could. That move that I hit to get those back points, that's not even something I drill. My little brother is way better at that than me. But I just threw it out there and I got it. And in that moment that's what it takes, just the cajones to be able to do something like that," said Alirez.
Four athletes finished the year undefeated: Alirez, O'Connor, Starocci, Bonaccorsi and Parris.
The Elite 90 award went to highest GPA at the event – All-American
Jared Franek
of North Dakota State, with a 4.0 in Sports Management
NCAA DIV. I MEN'S WRESTLING CHAMPIONSHIPS
At Tulsa, Okla., March 18, 2023

Championship finals
157 - No. 1 Austin O`Connor (North Carolina) dec. No. 2 Levi Haines (Penn State), 6-2
165 - No. 2 Keegan O`Toole (Missouri) dec. No. 1 David Carr (Iowa State), 8-2
174 - No. 1 Carter Starocci (Penn State) pin No. 2 Mikey Labriola (Nebraska), 2:46
184 - No. 3 Aaron Brooks (Penn State) dec. No. 1 Parker Keckeisen (Northern Iowa), 7-2
197 - No. 1 Nino Bonaccorsi (Pittsburgh) dec. No. 7 Tanner Sloan (South Dakota State), 5-3
285 - No. 1 Mason Parris (Michigan) dec. No. 3 Greg Kerkvliet (Penn State), 4-1
125 - No. 2 Pat Glory (Princeton) dec. No. 4 Matt Ramos (Purdue), 4-1
133 - No. 3 Vito Arujau (Cornell) dec. No. 1 Roman Bravo-Young (Penn State), 10-4
141 - No. 2 Andrew Alirez (Northern Colorado) dec. No. 1 Real Woods (Iowa), 6-2
149 - No. 1 Yianni Diakomihalis (Cornell) dec. No. 2 Sammy Sasso (Ohio State), 4-2
Team Standings
1 Penn State 137.5
2 Iowa 82.5
3 Cornell 76.5
4 Ohio State 70.5
5 Missouri 64.5
6 Michigan 58.5
7 Arizona State 55.0
8 Nebraska 54.0
9 Virginia Tech 49.0
10 NC State 48.0
11 Iowa State 47.0
12 North Carolina 42.0
13 Princeton 37.5
14 South Dakota State 37.0
15 Minnesota 30.5
16 Northern Iowa 29.0
16 Wisconsin 29.0
18 Air Force 28.5
18 Oklahoma State 28.5
20 Lehigh 28.0
20 Purdue 28.0