News
USA Wrestling
College
USAW
Penn State leads Iowa by 4.5 points after Session II of NCAA Championships; returning champ Dean falls to Allred
by Gary Abbott, USA Wrestling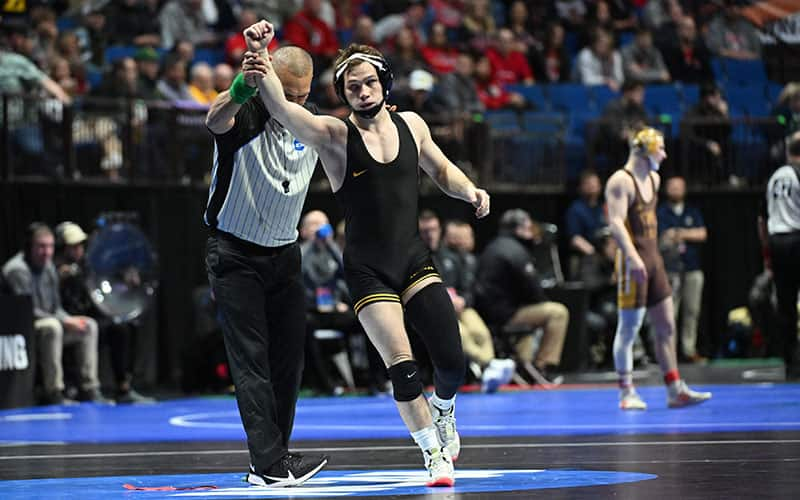 Spencer Lee (Iowa) has arm raised in victory at NCAA Championships. Photo by Sam Janicki.
The Friday morning quarterfinals have been set after a spirited round of 16 session at the
2023 NCAA Div. I Men;s Wrestling Championships
at BOK Arena.
No. 1
Penn State
maintained its lead over No. 2
Iowa
by 4.5 points, 26 to 21.5. However, the Nittany Lions, known for getting many bonus points early at the national tournament, had only two bonus point wins this round.
Penn State won five matches on the championship side by decision, and lost a consolation match, before their first bonus point win of the session by Aaron Brooks at 184, who scored a pin. The second came at 285 pounds, with a major decision win by Greg Kerkvliet. Penn State has seven in the quarterfinals.
The first of the 11 past NCAA champions in the field was beaten at 197, when No. 8 Silas Allred of Nebraska stopped 2022 NCAA champion and No. 9 seed Max Dean of Penn State, 7-2. The bout was tied at 2-2 in the second period, when Allred scored a takedown at the end of the second period. The third period, with the athletes on the feet, was spirited, but Dean did not score, and Allred put it away with a late takedown and riding time.
Iowa put six into the quarterfinals, including a nice win by No. 11 Nelson Brands over No. 6 Ethan Smith of Ohio State, 3-1 at 174 pounds.
Rounding out the top five are
Missouri
with 17.5 points in third, with
Minnesota
and
NC State
tied at 16.5 points in fourth.
Three-time NCAA champions Spencer Lee of Iowa and Yianni Diakomihalis of Cornell continued march for a fourth NCAA title. Lee scored a technical fall in his second round match, while Diakomihalis scored a fall.
Two-time NCAA champions from Penn State, Roman Bravo-Young (133), Carter Starocci (174) and Aaron Brooks (184) all advanced to the quarterfinals.
Other past NCAA champions in the quarterfinals are Keegan O'Toole of Missouri (165), Austin O'Connor of North Carolina (157), David Carr of Iowa State (165), Shane Griffith of Stanford (165) and Mekhi Lewis of Virginia Tech (174).
All 10 No. 1 seeds have advanced to the quarterfinals, as have all the No. 2 and No. 3 seeds.
No. 1 Real Woods of Iowa escaped a scare against No. 17 Dylan D'Emilio of Ohio State, securing a 7-5 victory which included riding time. The final move was challenged as Ohio State felt that D'Emilio scored a takedown on the edge as time ran out, but the challenge was denied.
Three-time NCAA runner-up Daton Fix of Oklahoma State won his 100th career match, with a victory over No. 15 Kyle Biscoglia of UNI, 8-4. Fix, a World silver medalist in freestyle and a top Olympic hopeful, grew up just a few minutes from Tulsa in Sand Springs, Okla.
The highest seed beaten in session two was No. 4 Caleb Henson of Virginia Tech, who fell to No. 20 Graham Rooks of Indiana, 5-4 at 149 pounds. The lowest seed in the quarterfinals is No. 29 Caleb Fish of Michigan State at 165.
The third session of the tournament begins at 11:00 a.m. CT, with coverage on ESPNU and ESPN+.
The "upsets" in the Thursday night session included:
149 – No. 20 Graham Rooks (Indiana) dec. No. 4 Caleb Henson (Virginia Tech), 5-4
141 – No. 12 Parker Filius (Purdue) dec. No. 5 Ryan Jack (NC State), 7-6
149 – No. 12 Shayne Van Ness (Penn State) dec. No. 5 Paniro Johnson (Iowa State), 14-8
197 – No. 12 Zac Braunagel (Illinois) dec. No. 5 Michael Beard (Lehigh), 7-6
165 – No. 11 Cameron Amine (Michigan) dec. No. 6 Patrick Kennedy (Iowa), 3-2
174 – No. 11 Nelson Brands (Iowa) dec. No. 6 Ethan Smith (Ohio State), 3-1
197 – No. 11 Jaxon Smith (Maryland) pin No. 6 Isaac Trumble (NC State), 2:16
285 – No. 11 Trent Hillger (Wisconsin) dec. No. 6 Yaraslau Slavikouski (Harvard), 1-0
133 - No. 10 Lucas Byrd (Illinois) dec. No. 7 Michael Colaiocco (Pennsylvania), 6-3
165 – No. 10 Carson Kharchla (Ohio State) dec. No. 7 Michael Caliendo III (North Dakota State), 8-3
141 – No. 10 Lachlan McNeil (North Carolina) dec. No. 7 Vince Cornella (Cornell), 2-1, SV
285 – No. 10 Zach Elam (Missouri) dec. No. 7 Owen Trephan (NC State), 4-0
157 – No. 9 Will Lewan (Michigan) dec. No. 8 Ed Scott (NC State), 7-5
285- No. 9 Lucas Davison (Northwestern) dec. No. 8 Sam Schuyler (Iowa State), 2-1
125 – No. 27 Eddie Ventresca (Virginia Tech) dec. No. 11 Patrick McKee (Minnesota), 3-2
165 – No. 29 Caleb Fish (Michigan State) dec. No. 20 Holden Heller (Pittsburgh), 7-2
125 – No. 28 Killian Cardinale (WVA) over No. 21 Jore Volk (Wyoming), 8-3
NCAA DIV. I MEN'S WRESTLING CHAMPIONSHIPS
at Tulsa, Okla., March 16

Quarterfinal pairings
125
No. 1 Spencer Lee (Iowa) vs. No. 8 Anthony Noto (Lock Haven)
No. 28 Killian Cardinale (West Virginia) vs. No. 4 Matt Ramos (Purdue)
No. 3 Liam Cronin (Nebraska) vs. No. 27 Eddie Ventresca (Virginia Tech)
No. 10 Brandon Courtney (Arizona State) vs. No. 2 Pat Glory (Princeton)
133
No. 1 Roman Bravo-Young (Penn State) vs. No. 8 Aaron Nagao (Minnesota)
No. 5 Kai Orine (NC State) vs. No. 4 Michael McGee (Arizona State)
No. 3 Vito Arujau (Cornell) vs. No. 6 Sam Latona (Virginia Tech)
No. 10 Lucas Byrd (Illinois) vs. No. 2 Daton Fix (Oklahoma State)
141
No. 1 Real Woods (Iowa) vs. No. 8 Allan Hart (Missouri)
No. 12 Parker Filius (Purdue) vs. No. 4 Brock Hardy (Nebraska)
No. 3 Cole Matthews (Pittsburgh) vs. No. 6 Beau Bartlett (Penn State)
No. 10 Lachlan McNeil (North Carolina) vs. No. 2 Andrew Alirez (Northern Colorado)
149
No. 1 Yianni Diakomihalis (Cornell) vs. No. 8 Max Murin (Iowa)
No. 12 Shayne Van Ness (Penn State) vs. No. 20 Graham Rooks (Indiana)
No. 3 Kyle Parco (Arizona State) vs. No. 6 Brock Mauller (Missouri)
No. 7 Yahya Thomas (Northwestern) vs. No. 2 Sammy Sasso (Ohio State)
157
No. 1 Austin O`Connor (North Carolina) vs. No. 9 Will Lewan (Michigan)
No. 5 Josh Humphreys (Lehigh) vs. No. 4 Jared Franek (North Dakota State)
No. 3 Peyton Robb (Nebraska) vs. No. 6 Daniel Cardenas (Stanford)
No. 7 Bryce Andonian (Virginia Tech) vs. No. 2 Levi Haines (Penn State)
165
No. 1 David Carr (Iowa State) vs. No. 9 Shane Griffith (Stanford)
No. 5 Quincy Monday (Princeton) vs. No. 29 Caleb Fish (Michigan State)
No. 3 Dean Hamiti (Wisconsin) vs. No. 11 Cameron Amine (Michigan)
No. 10 Carson Kharchla (Ohio State) vs. No. 2 Keegan O`Toole (Missouri)
174
No. 1 Carter Starocci (Penn State) vs. No. 8 Bailee O`Reilly (Minnesota)
No. 5 Dustin Plott (Oklahoma State) vs. No. 4 Chris Foca (Cornell)
No. 3 Mekhi Lewis (Virginia Tech) vs. No. 11 Nelson Brands (Iowa)
No. 7 Peyton Mocco (Missouri) vs. No. 2 Mikey Labriola (Nebraska)
184
No. 1 Parker Keckeisen (Northern Iowa) vs. No. 9 Isaiah Salazar (Minnesota)
No. 5 Marcus Coleman (Iowa State) vs. No. 4 Trey Munoz (Oregon State)
No. 3 Aaron Brooks (Penn State) vs. No. 6 Kaleb Romero (Ohio State)
No. 7 Hunter Bolen (Virginia Tech) vs. No. 2 Trent Hidlay (NC State)
197
No. 1 Nino Bonaccorsi (Pittsburgh) vs. No. 8 Silas Allred (Nebraska)
No. 12 Zac Braunagel (Illinois) vs. No. 4 Ethan Laird (Rider)
No. 3 Rocky Elam (Missouri) vs. No. 11 Jaxon Smith (Maryland)
No. 7 Tanner Sloan (South Dakota State) vs. No. 2 Bernie Truax (Cal Poly)
285
No. 1 Mason Parris (Michigan) vs. No. 9 Lucas Davison (Northwestern)
No. 5 Cohlton Schultz (Arizona State) vs. No. 4 Tony Cassioppi (Iowa)
No. 3 Greg Kerkvliet (Penn State) vs. No. 11 Trent Hillger (Wisconsin)
No. 10 Zach Elam (Missouri) vs. No. 2 Wyatt Hendrickson (Air Force)
Team Standings after Session Two
1 Penn State 26.0
2 Iowa 21.5
3 Missouri 17.5
4 Minnesota 16.5
4 NC State 16.5
6 Cornell 15.5
6 Nebraska 15.5
8 Michigan 14.5
8 Ohio State 14.5
10 Arizona State 13.0
10 Virginia Tech 13.0
10 Wisconsin 13.0
13 Iowa State 12.0
13 Northwestern 12.0
15 Northern Iowa 11.0