News
USA Wrestling
College
High School & Youth
International
USAW
National Wrestling Hall of Fame will feature three Oklahoma-themed exhibits at NCAA Tournament in Tulsa
by Jack Carnefix, National Wrestling Hall of Fame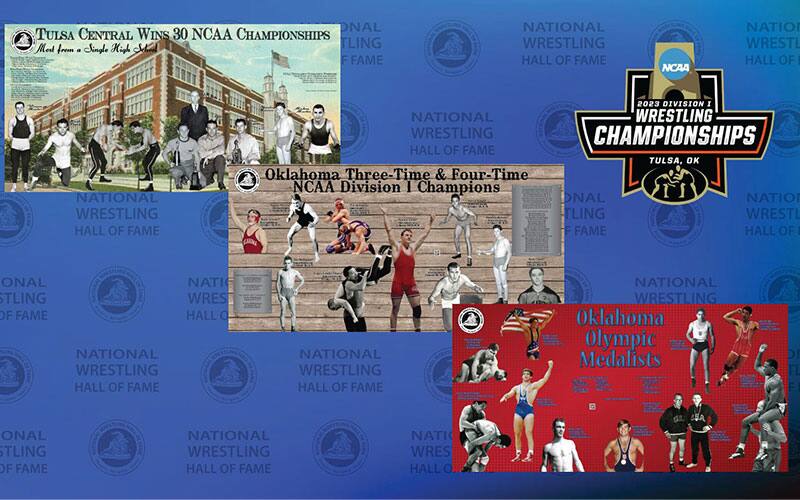 The
National Wrestling Hall of Fame
has announced that it will feature three Oklahoma-themed exhibits at the 2023 NCAA Division I Wrestling Championships on March 16-18 at the BOK Center in Tulsa, Oklahoma.
The 8-foot by 15-foot exhibits are
Oklahoma Olympic Medalists,
Oklahoma Three-Time and Four-Time National Champions
, and
Tulsa Central High School's Record 30 NCAA Championships.
They will be displayed either in the
BOK Center
or at the
NCAA Fan Festival
in the Tulsa Ballroom at the Cox Convention Center.
"We are so excited that Oklahoma is again hosting the NCAA Championships," said
Lee Roy Smith,
Executive Director, National Wrestling Hall of Fame. "Oklahoma has an incredibly rich tradition in our great sport and has made tremendous contributions to the legacy of wrestling excellence.
"We look forward to those who attend the NCAA tournament having an opportunity to see our exhibits and learn more about the unparalleled history of wrestling in Oklahoma," he added. "We also hope that while they are in town, wrestling fans have an opportunity to visit the National Wrestling Hall of Fame, located less than 70 miles from the BOK Center."
The Olympic medalists exhibit features pictures of gold medalists and Hall of Fame Distinguished Members Doug Blubaugh, Kendall Cross, Frank Lewis, Kenny Monday, Yojiro Uetake Obata, Bobby Pearce, Dave Schultz, Mark Schultz, John Smith, Jack VanBebber, Wayne Wells and Shelby Wilson. It also lists Olympic silver medalists Tommy Evans, Ross Flood, Danny Hodge, and Jamill Kelly, and Olympic bronze medalists Gene Davis, Josiah Henson and Coleman Scott.
Davis, Evans, Flood, Henson, and Hodge are also Distinguished Members of the Hall of Fame.
Visitors to the Hall of Fame can see the gold medals won by Blubaugh, Lewis, Pearce, Smith and VanBebber and the silver medals won by Flood and Hodge.
The national champions exhibit features pictures of four-time NCAA champion Pat Smith and three-time champions David "Buddy" Arndt, Flood, Stanley Henson, Hodge, Wayne Martin, Joe McDaniel, T.J. Jaworsky, Obata, and Mark Schultz. It also lists three-time champions Conrad Caldwell, Alex Dieringer, Eric Guerrero, Dick Hutton, Jimmy Jackson, Earl McCready, Rex Peery, Myron Roderick, Jake Rosholt, and VanBebber, and Outstanding Wrestlers Dick Delgado, Evans, Flood, Stanley Henson, Charles Hetrick, Hodge, Alan Kelley, Darrell Keller, Dwayne Keller, Mickey Martin, Wayne Martin, McDaniel, Obata and Al Whitehurst. It also features the University of Central Oklahoma's four-time champions Johnny Nimmo and Cole Province and three-time champions Jerry Best and Ronnie James, and Oklahoma City University's undefeated four-time champion Emily Webster and three-time champions Brittany Delgado and Michaela Hutchison.
Tulsa Central was the largest high school in the state, with an enrollment that peaked in 1939 at 5,107. Art Griffith started the wrestling program at Tulsa Central in 1926 and the Braves won 95 of 100 dual meets and 10 high school titles in 15 years before Griffith succeeded Ed Gallagher as head coach at Oklahoma State. Rex Peery, a three-time NCAA champion at OSU, took over for Griffith and coached Tulsa Central until he became the head coach at Pittsburgh in 1950. With back-to-back Hall of Fame coaches, it is not surprising that a number of Tulsa Central alumni went on to win individual NCAA champions. What is remarkable is how many of them won titles - 16 graduates won a total of 30 titles. Tulsa Central produced three-time NCAA champions Arndt, Henson, Martin and Hugh Peery; two-time champions Burl Jennings, Merle Jennings, Alan Kelley, George Layman, Vernon Logan and Mickey Martin; and NCAA champions Harold Byrd, Fred Davis, Dick Dickenson, LeRoy McGuirk, Bill Maxwell and Phil Smith. Arndt, Davis, Henson, Kelley, Layman, Logan, and McGuirk won their titles for Oklahoma State while Byrd, Mickey Martin, Wayne Martin and Smith won their titles for Oklahoma. Dickenson, Burl Jennings, Merle Jennings and Maxwell won their titles for Michigan State University and Hugh Peery won his titles for the University of Pittsburgh.
The Hall of Fame featured wrestling greats from Michigan when the NCAA tournament was held in Detroit in 2022 and from Pennsylvania when the NCAA tournament was held in Pittsburgh in 2019.
The Hall of Fame's exhibit highlighting Minnesota wrestling legends was unable to be displayed when the 2020 NCAA tournament was canceled because of the COVID pandemic. The exhibits were presented to the Hall of Fame's State Chapters in Michigan, Minnesota and Pennsylvania for display at events in their respective states to celebrate their state's wrestling heritage.