News
USA Wrestling
High School & Youth
Women
USAW
Thomas and Vargas win OW awards, as 23 bouts display high school talent at the Oklahoma Border Brawl in Tulsa
by Gary Abbott, USA Wrestling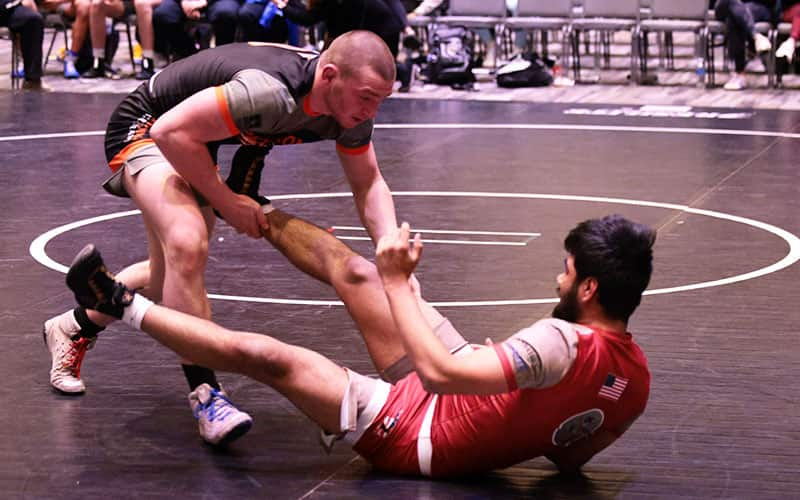 Nationally ranked Payton Thomas of Oklahoma scored seven first-period takedowns then pinned Alan Chairez of Kansas at 190 pounds in the Oklahoma Border Brawl. Photo by Mark Lundy
.
TULSA, Okla. – NCAA Championships week kicked off with a traditional high school all-star match, the Oklahoma Border Brawl, held at the Cox Convention Center on Tuesday night.
A card of 23 matches was held, with talented high school wrestlers from host Oklahoma, competing against wrestlers from Kansas and Missouri. The girls competed in freestyle, while the boys wrestled folkstyle, the styles they will wrestle in college.
The Outstanding Wrestlers of the meet were
Angelina Vargas
of Missouri for the girls and
Payton Thomas
of Oklahoma for the boys.
In the only battle between two nationally ranked girls, two-time Missouri state champion and No. 12 Vargas scored two takedowns and three turns for a 10-0 technical fall over four-time Oklahoma state champion and No. 21 ranked Peyton Hand of Oklahoma at 115 pounds.
Nationally ranked Thomas was dominant in his pin over Alan Chairez of Kansas in 2:17. Thomas, who is committed to the U.S. Naval Academy, scored seven first period takedowns. In the second period, he powered Chairez over for the fall
Two Oklahoma girls stars agreed to wrestle twice and were able to win them both. They wrestled the first two matches of the night, then came back late in the card.
Oklahoma state girls champion Hannah Lopez opened the event with a victory at 105 pounds. Her opponent, two-time Kansas state champion Amara Ehsa came out and got an early lead, but Lopez was able to get on top and run an arm bar, finishing off the fall in 3:01. In her second match, Lopez jumped to a 7-2 lead in the first period over Gabby Hampton of Missouri, and closed out a competitive second period with a hip toss and an 11-6 win.
Two-time Oklahoma state champion and nationally ranked No. 23 Khaleah Kirk also won twice at 125 pounds. In her first match, she got her offense going against Hailey Ramos of Kansas. Kirk lit up the scoreboard, getting takedowns and turns, before putting Ramos away in 1:58. In her second bout, Kirk scored the first two takedowns and added another to lead 6-3 at the break over Lily Brower of Missouri. She opened up her offense in period two with takedowns and turns for a 14-3 technical fall
At 144 pounds, Kansas state champion Tate Rusher scored a stunning fall, stacking up Oklahoma state finalist Jaxon Koletzow during a scramble for the pin in 2:12.
Johnson, a four-time Kansas state champion and St. Cloud State commit, took an early lead and came out with a 6-4 decision over Oklahoma state champion Landyn Sommer, 6-4. The match featured some excellent scrambles, as both wrestlers showed high skill levels.
A third period takedown for key for Kansas state champion Sean Carroll, who edged two-time Oklahoma state champion Gunner Wilson, 5-3 at 215 pounds.
In a battle of Fargo All-Americans, Oklahoma state champion Ayden Thomas edged Kansas runner-up Ezekiel Witt, 7-6 at 106 pounds. The match was tied at 4-4 after two periods, and Witt let Thomas up to give him a 5-4 lead. A Witt takedown was followed by a Thomas reversal for the 7-6 lead. Thomas rode Witt out to get the win.
At 106 pounds, Kaiden Herendeen was dominant on his feet and on the mat, controlling Missouri's Garrett Beane in a 14-4 major decision.
Blowing open the match after it was tied at 3-3, Kansas state champion Easton Broxterman ran the lead to 14-3 before pinning Oklahoma's Chance Fisher on a cradle in 4:40.
Three-time Oklahoma state champion Canon Acklin scored early, then closed it out with a takedown at the buzzer for a 7-2 decision over Kansas state champion Landen Kocher-Munoz at 120 pounds.
Trailing 2-1, Missouri's Miller Sipes scored a third-period reversal for a 3-2 lead, then, as time ran out, nailed a headlock for two back points to defeat two-time state champion Braden Potts of Oklahoma, 5-2 at 120 pounds.
At 126 pounds, Braden Tatum of Kansas scored a double leg takedown in sudden victory overtime for a 5-3 win over two-time state champion Eli Kirk of Oklahoma. Tatum led 3-1 late in the match, but a Kirk takedown with three seconds left tied it up and forced overtime.
In a dominant performance at 126, three-time Missouri state champion scored a 19-4 technical fall over Kansas state champion Dillon Cooper. Roark ran off four takedowns, then ran a bar arm for four backpoints to blow open the bout. He finished the match off with a few more takedowns.
In the fastest match of the day, two-time Oklahoma state champion Beau Hickman scored a quick takedown, secured a turk ride and turned Chase Short of Missouri, securing the pin in 33 seconds at 138 pounds.
Looking strong late in the match, Isaac Villalobos of Oklahoma secured a 7-2 decision over Kansas state champion Trysian Juarez. Leading 1-0, Villalabos scored a second period takedown with three seconds left for a 3-0 lead. He controlled the third period for a comfortable win. .
In a battle of talented heavyweights, nationally ranked No. 14 Ricky Thomas of Oklahoma edged Sebastian Lopez of Kansas, 4-3 in tiebreaker two. Regulation ended 2-2 and nobody scored in sudden victory. From the bottom, Lopez scored an escape in his 30 second period to lead 3-2. It looked like Lopez might ride out Thomas, but he secured the reversal at the buzzer for a 4-3 overtime win.
At 150 pounds, Oklahoma's Jaxon Koeltzow edged Kansas state champion Colin McCallister, 4-3.
Competing in his second match, Oklahoma state champion Landon Sommer broke a 3-3 tie with a takedown with just four seconds left in the match for a 5-3 decision over Merrik Murray of Missouri at 157 pounds.
The final bout of the day, Oklahoma state runner-up and Fargo All-American Oscar Williams scored a takedown in sudden victory to beat Kansas state champion Sean Carroll, 3-1. Both athletes scored escapes in regulation, but Williams closed it out with a leg attack takedown.
There was also a bout between junior high emerging talents, as Cruz Enderle of Missouri had the edge over Maddox Moore of Oklahoma, 9-3 at 95 pounds.
OKLAHOMA BORDER BRAWL
At Tulsa, Okla., March 14
105 Girls - Hannah Lopez, Moore HS, OK pin Amara Ehsa, Derby HS, KS, 3:01
125 Girls - No. 23 Khaleah Kirk, Guthrie HS, OK pin Hailey Ramos, Dodge City HS KS, 1:58
144 Boys - Tate Rusher, Derby HS, KS pin Jaxon Koeltzow Tuttle HS, OK, 2:12
157 Boys - Derek Johnson, Hoxie HS, KS (1st 4x) dec. Landyn Sommer, Stillwater HS, OK, 6-4
215 Boys - Sean Carroll, St Thomas Aquinas HS, KS, dec. Gunner Wilson, Catoosa HS, OK, 5-3
95 Boys - Cruz Enderle GHW/Plaza Middle School, MO dec. Maddox Moore, OWA/Sequoia Jr HS, OK, 9-3
106 Boys - Aydan Thomas, Stillwater HS, OK dec. Ezekiel Witt. Junction City HS, KS, 7-6
106 Boys - Kaiden Herendeen, Guthrie HS, OK maj. dec. Garrett Beane, Lathrop HS, MO, 14-4
113 Boys - Easton Broxterman ,Washburn Rural HS, KS pin Chance Fisher, Tuttle HS, OK, 4:40,
115 Girls - No. 12 Angelina Vargas, Park Hill HS, MO tech. fall No. 21 Peyton Hand, Choctaw HS, OK, 10-0
120 Boys - Canon Acklin, Collinsville HS OK dec. Landen Kocher-Munoz, Washburn Rural HS, KS, 7-2
120 Boys -. Miller Sipes, Staley HS, MO, dec. Braden Potts, Tuttle HS, OK, 5-2
126 Boys -. Braden Tatum, Derby HS, KS dec. Eli Kirk, Guthrie HS, OK, 5-3, SV
126 Boys - Brady Roark, Seneca HS, MO tech. fall Dillon Cooper, Mill Valley HS, KS, 19-4
138 Boys - Beau Hickman, Tuttle HS pin Chase Short, Cameron R-1 HS, MO, 0:33
190 Boys – Isaac Villalabos, Edmond North HS, OK dec. Trystian Juarez, Liberal HS, KS, 7-2
190 Boys - No. 7 Payton Thomas, Moore HS, OK pin Alan Chairez, Garden City HS, KS, 2:17
285 Boys - No. 14 Ricky Thomas, Edmond North HS, OK dec. Sebastian Lopez, Garden City HS, KS, 4-3 TB2
105 Girls - Hannah Lopez, Moore HS, OK dec. Gabby Hamilton, Blue Springs South HS, MO, 11-6
125 Girls - No. 23 Khaleah Kirk, Guthrie HS, OK tech fall Lily Brower, Platte County HS, MO, 14-3
150 Boys - Jaxon Koeltzow Tuttle HS dec. Colin McCallister, Mill Valley HS, KS, 4-3
157 Boys - Landyn Sommer, Stillwater HS, OK dec. Merrik Murray, Staley HS, MO, 5-3
215 Boys - Oscar Williams, Edmond North HS, OK dec. Sean Carroll, St Thomas Aquinas HS, KS, 3-1