News
USA Wrestling
College
USAW
Augsburg puts two into NCAA Div. III finals, and maintains lead over Baldwin Wallace and Wartburg
by Jon Gremmels, Special to TheMat.com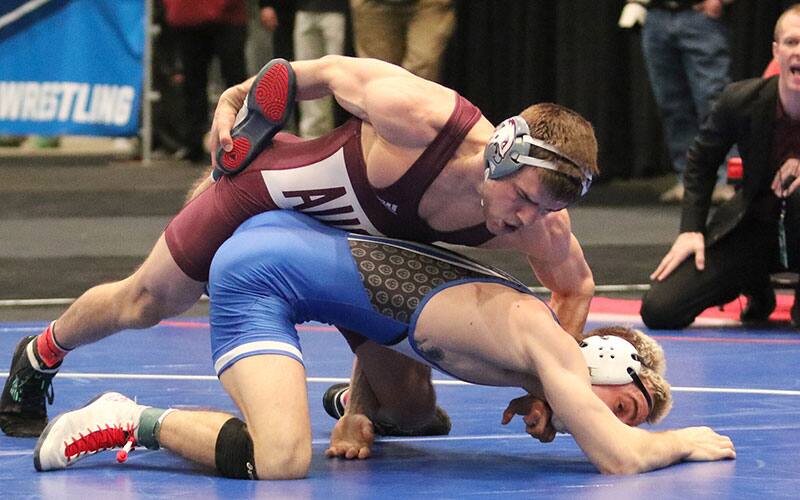 Tyson Shilson of Augsburg (157) is one of two Auggie finalists at the NCAA Div. III Nationals. Photo courtesy of Augsburg Athletics.

ROANOKE, Va. – There was plenty of brotherly love leading up to a brother-on-brother match in the finals of the 2023 NCAA Division III Wrestling Championships on Saturday at the Berglund Center.
Three sets of brothers earned All-America status over the weekend, and brothers Nathan and Matt Lackman were in the spotlight Saturday night, matched head-to-head in the final at 165 pounds. Nathan, the defending champion, wrestles for Rhode Island College, while Alvernia College's Matt was an All-American in 2022.
Whether you're on the same side or not, there always is something unique with brothers.
"I think the first year we started wrestling we were 4 or 5 years old," Dylan Koontz said. "Since then it's really helped us grow always having a training partner and being brothers we're always really competititve.
Dylan and twin brother Brady transferred from Ohio State at the semester break, and both earned All-America status this weekend.
Dylan Koontz claimed fifth place at 133 pounds, moments after Brady captured seventh place at 125.
"It was definitely a lot of motivation to finish our last college match as a win," Brady said. "Even though we didn't get the outcome we were hoping for I think we can both look back on it and know we fought our hardest."
The Koontzes joined the Spartans after spending parts of six seasons with the Buckeyes.
"A lot of it was our club coach growing up, Dennis Hall, who is still our Greco coach , got the assistant coaching job at the University of Dubuque, and we knew that we were going to go to Dubuque after the spring semester even if we had decided to stay at Ohio State. We decided to transfer there a semester early and wrestle for them our last semester. … After today it's full-time Greco."
The transition from Ohio State to Dubuque was smooth.
"It's really cool coming from a D1 program to a D3 program," Brady said. "A lot of people think when you go from D1 to D3 it's just going to get easy because guys aren't as good, but that wasn't really the case. A lot of the guys are just as tough; they're just not in a D1 program and every match is going to be a battle and you have to go in there as prepared as you can be."
Brady Koontz closed his career with a 7-2 win against Muhlenberg's Joey Lamparelli.
"I feel like I battled hard, and he's definitely not an easy opponent," Koontz said. "He fought hard, too. Going out there knowing it was my last college match, I went out there knowing that win or lose I was going to leave it all out there.
Dylan ended his career with a pin, flattening Ty Bisek of Concordia-Minnesota in 1 minute, 24 seconds for fifth place at 133.
"I was just going to one of my go-tos," Dylan said. "Going to my underhooks is what I like; it's what I know. I went there and felt what he was doing and ended up getting to the body, taking him to his back and getting the pin."
The brothers from Plover, Wisconsin, have stayed together since their days as youth wrestlers before their days at Stevens Point Area High School.
"The last time we ever really thought about it (going different directions) was when we were deciding where to go to college between the Naval Academy and Ohio State. We both liked Ohio State more, so we went there.
"Back in the fall, in like October, my brother told me that he was probably planning on going to Dubuque after the semester, so that got me thinking about what I wanted with my future, and right before Thanksgiving, just a few weeks before the semester ended, I decided I was going to transfer to Dubuque."
Augsburg had the third pair of All-American brothers, Sam and Charlie Stuhl of Ellsworth, Wisconsin. Unseeded Sam, a junior, made Saturday night's finals at 141 pounds, while sophomore Charlie placed eighth at 149.
"They have very different personalities," Augsburg Coach Tony Valek said.
But brothers, he said, take the team concept to another level. "They have that built-in support system. Brothers have grown up doing it together."
The Stuhls won a team title together, helping Augsburg to its 14th team championship.
"(My brother) said something I think is true. He was here before I transferred here (at midseason last year from North Dakota State). He told me, 'Our lineup, we're deep. We're three, four deep. We have guys on our team who could be starters on other teams who are fourth string in our room. Every time we're at practice we're competing against the best of the best. We've got those guys to push us."
The Auggies entered the finals with 98 points, 36 more than second-place Baldwin Wallace.
"It's amazing," Valek said. "The work those eight (Augsburg qualifiers) did represented the 41 in our room. It certainly was a full team effort.
"We have seven on the podium and two wrestling tonight (in the finals); we're well-balanced."
The title hasn't come as a surprise for Valek, who a week before the tournament confidently said," This isn't the year," when asked if someone other than Augsburg or Wartburg would win the title for the first time since 1994.
"I was part of a championship team," he said. "The culture and leadership of this group is unique.".
NCAA DIV. III NATIONALS
At Roanoke, Va., March 10-11, 2023

Finals pairings
125 - No. 1 Joziah Fry (Johnson & Wales -Rhode Island) vs. No. 2 Jacob Decatur (Baldwin Wallace)
133 - No. 1 Robbie Precin (North Central College) vs. No. 6 Dalton Rohrbaugh (York College - Pennsylvania)
141 - Unseeded Ethan Harsted (Wheaton College - Illinois) vs. Unseeded Sam Stuhl (Augsburg)
149 - No. 1 Michael Petrella (Baldwin Wallace) vs. No. 6 Javen Estrada (North Central College)
157 - No. 2 Nolan Hertel (University Of Wisconsin-La Crosse) vs. No. 4 Tyler Shilson (Augsburg)
165 - No. 1 Nathan Lackman (Rhode Island College) vs. No. 2 Matt Lackman (Alvernia)
174 - No. 2 Zane Mulder (Wartburg College) vs. No. 4 Jared Stricker (University Of Wisconsin-Eau Claire)
184 - No. 1 Jaritt Shinhoster (University Of Wisconsin-Whitewater) vs. No. 2 Shane Liegel (Loras College)
197 - No. 1 Coy Spooner (U.S. Coast Guard Academy) vs. No. 2 Massoma Endene (Wartburg College)
Team Standings after semifinals
1 Augsburg University 81.0
2 Baldwin Wallace University 57.5
2 Wartburg College 57.5
4 North Central College 54.0
5 University Of Wisconsin-La Crosse 46.0
6 Stevens Institute Of Technology 42.0
7 U.S. Coast Guard Academy 38.5
8 Johnson & Wales University (Rhode Island) 38.0
9 Coe College 32.0
9 University Of Dubuque 32.0
11 Wabash College 29.5
Semifinals results
125
No. 1 Joziah Fry (Johnson & Wales University (Rhode Island)) tech. fall No. 4 Christian Guzman (North Central College), 21-3, 6:09
No. 2 Jacob Decatur (Baldwin Wallace University) dec. No. 6 Jake Craig (University Of Southern Maine), 2-1
133
No. 1 Robbie Precin (North Central College) dec. unseeded Tyler Fleetwood (University Of Wisconsin-Eau Claire), 6-2
No. 6 Dalton Rohrbaugh (York College (Pennsylvania)) dec. No. 2 Jaden Hinton (Baldwin Wallace University), 11-9
141
Unseeded Ethan Harsted (Wheaton College (Illinois)) dec. No. 5 Domenic Difrancescantonio (The College Of New Jersey), 7-5
Unseeded Sam Stuhl (Augsburg) dec. No. 2 Jacob Reed (Ohio Northern), 6-3
149
No. 1 Michael Petrella (Baldwin Wallace) dec. No. 4 Hunter Gutierrez (Stevens Institute of Technology), 3-0
No. 6 Javen Estrada (North Central College) pin No. 2 Hayden Brown (Johnson & Wales - Rhode Island), 1:26
157
No. 4 Tyler Shilson (Augsburg) maj. dec. No. 1 David Hollingsworth (Wartburg College), 13-0
No. 2 Nolan Hertel (University Of Wisconsin-La Crosse) dec. No. 3 Zeke Smith (Loras College), 2-0 SV
165
No. 1 Nathan Lackman (Rhode Island College) dec. No. 5 Nicholas Sacco (The College Of New Jersey), 7-3
No. 2 Matt Lackman (Alvernia) dec. No. 3 Noah Leisgang (University Of Wisconsin-La Crosse), 5-2
174
No. 4 Jared Stricker (University Of Wisconsin-Eau Claire) dec. Unseeded LJ Richardson (Coe College), 8-2
No. 2 Zane Mulder (Wartburg College) dec. No. 6 Charlie Grygas (Oswego State), 4-0
184
No. 1 Jaritt Shinhoster (University Of Wisconsin-Whitewater) maj. dec. No. 5 Donovan Corn (Luther College), 12-0
No. 2 Shane Liegel (Loras College) dec. No. 6 Bentley Schwanebeck-Ostermann (Augsburg), 10-5
197
No. 1 Coy Spooner (U.S. Coast Guard Academy) maj. dec. No. 4 Chibueze Chukwuezi (Ithaca College), 11-3
No. 2 Massoma Endene (Wartburg College) dec. No. 6 Tyler Hannah (University Of Wisconsin-Platteville), 2-1
285
No. 1 Jack Heldt (Wabash College) vs. No. 4 Tyler Kim (Augsburg University)
No. 3 Kaleb Reeves (Coe College) vs. No. 2 Donovan King (Olivet College)