News
USA Wrestling
College
USAW
Harsted upsets No. 1 seed Terukina in session I of Div. III Nationals; Augsburg leads by 9.5 points
by Jon Gremmels, Special to TheMat.com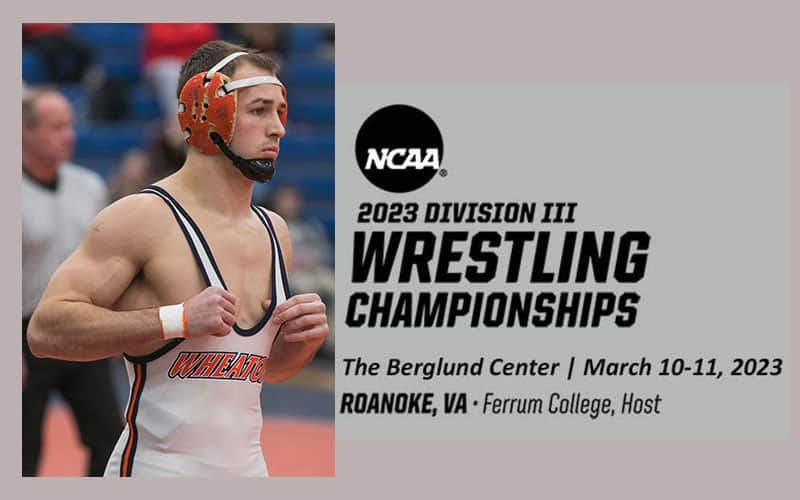 Image of Ethan Harsted courtesy of Wheaton Athletics
.
ROANOKE, Va. –
Ethan Harsted
of Wheaton College didn't mind seeing his name on a pigtail match when the NCAA Division III Wrestling Championship pairings came out.
It was a blessing as far as he was concerned.
"Normally my first match is my worst, and I saw that I pulled the number one kid in the first round, so I was kind of blessed in a way to get that pigtail. I went out and wrestled well (beating Avery Leonard of Alvernia 8-2), and it got me ready for that second match, which was key."
Turns out it was the worst that could have happened for Wartburg's Zayren Terukina, last year's national runner-up at 141 pounds and this year's top seed at the weight..
Harsted scored a takedown in the final seconds Friday morning to knock off top-seeded Terukina 4-3 in the first-round match at the Berglund Center.
"I looked at the clock with 12 seconds left and knew the kid wasn't going to do nothing, just run out the clock," Harsted said. "I knew that if I didn't push the pace then I would regret it. Coach also preaches that if you think the price for winning is huge, wait till you see the bill for regret."
Terukina led 3-2 as the clock wound down.
"I've been training these last two weeks, grinding hard. My teammates, we do situations to where they're up by one and I've got to push the pace and go, go, go, and Coach (Jim Gruenwald) keeps preaching grittiness. If you go out there with grit, let it fly with nothing to lose, it's hard to get beat."
The winning move came off a restart with 12 seconds remaining.
"We went out of bounds, and the first thing was when the whistle blew I knew I was going to go out and dive and take a shot," Harsted explained. "But he was quicker off the whistle, so I've been working on that duck series and I was pushing, pushing, pushing. I waited for him to push back one little push, and as soon as he pushed, I popped and executed it beautifully."
Another former Wartburg wrestler, returning national runner-up and top seed also lost in the first round. For the third time in four postseasons, an injury ended the title hopes of Johnson & Wales' Michael Ross. His match against Coe's
L.J. Richardson
lasted just 8 seconds at 174 before he had to default because of a knee injury after scoring an opening takedown.
As a freshman in 2018, Ross was the top seed at 165 but had to injury default in the quarterfinals and placed eighth, and as a sophomore he was injured in the regional semifinals
First-round upsets are nothing new in the Division III nationals, and there were several Friday morning.
Luca Paladino
of Wisconsin-Stevens Point pulled off the first big upset of the day.
"Seeds at the end of the day don't matter," Paladino said. "I'm unseeded; I could go out there and win this tournament. That's just what it is. You win some and lose some."
Paladino fought off a shot in the final half minute and beat third seed James Day of Wabash at 125 pounds 5-3.
"It's tough, and honestly, it was close, but the best part about it is you have to stay ready for them to say two (points) and go back out there in overtime," Paladino said. "It's hard, it's not fun, but sometimes you just have to do it."
The win avenged an 8-5 loss to Day in December.
"The last time it just wasn't my day," Paladino said. "I knew wrestling before that I could come back and beat him this time. That's what I did."
Tyler Fleetwood
of Wisconsin-Eau Claire beat fourth seed Andrew Perelka of John Carroll 3-0 at 133 pounds.
Augsburg's
Sam Stuhl
knocked off sixth seed Xavier Pena of Centenary 7-2 at 141
Another seeded Wartburg wrestler also fell in the first round. Returning All-American
Cooper Pontelandolfo
of NYU beat fourth-seeded Nathan Fuller 3-0 in the first round at 165.
At 174,
Anson Dewar
of Muhlenberg pinned eighth-seeded Colby Morris of Waynesburg in 39 seconds.
Three seeds fell at 184 pounds.
Tristin Westphal
of Coe scored a takedown in sudden victory to beat third seed David McCullough of the U.S. Coast Guard Academy 11-9.
Sampson Wilkins
of Castleton beat fourth seed Charles Baczek of Wabash 3-0.
Mahlic Sallah
of Roanoke also won in sudden victory, beating Edwin Morales of Bridgewater State 3-1.
A pair of seeds fell at heavyweight.
Carl DiGiorgio
of Coast Guard pinned Michael Douglas of Wisconsin-La Crosse in 6:25,
Daniel Skold
of Augustana pinned Jake Peavey of Southern Maine in 1:11
The first upset of the day came in the preliminaries at 157 when Alvernia's
Jason Rezac
defeated sixth seed Alex Villar of North Central 12-8.
Peter Kane
of Williams also upended a seeded wrestler at 157, beating seventh seed Patrick McGraw of John Carroll 8-1.
Defending champion Nathan Lackman of Rhode Island College earned his 100th career victory in his opening match. The other three returning champions also won: second seed Jacob Decatur ; top seed Robbie Precin of North Central by fall in 1:53 at 133; and top seed Jaritt Shinhoster of Wisconsin-Whitewater by fall in 40 seconds at 184.
Despite the fast fall at 184, Isaac Cory still had a lot to celebrate Friday morning. The first national qualifier in the history of Pennsylvania College of Technology gave his school its first victory at nationals with a 3-1 sudden-victory win against Isaac Kassis of Alvernia in the prelims.
"It feels amazing; I can't even put it in words right now," Cory said.
"Out of sight, out of mind," he said about not letting sudden victory play on his mind. "I don't like to think about things until I'm out there doing it. You've just got to go out and let it fly."
Cory called the win an important milestone for the program.
"It's huge for the program," he said. "Everybody kind of came into this season down on themselves, like, 'Oh, we're a team that hasn't got anything. People look down on us. I like to be that guy who starts making some movement and get these guys to know anyone can do it.
"I want to be that guy to set high standards for the team."
Augsburg won nine of its 10 matches and vaulted into the team lead with 20 points. Baldwin Wallace, which like Augsburg brought eight wrestlers to the tournament, was tied for second with Wisconsin-La Crosse with 11.5 points. North Central was fourth with 11, and Wartburg rounded out the top five with 10 points.
Team Standings after Session I
1 Augsburg University 20.0
2 Baldwin Wallace University 11.5
2 University Of Wisconsin-La Crosse 11.5
4 North Central College 11.0
5 Wartburg College 10.0
6 Stevens Institute Of Technology 8.5
7 U.S. Coast Guard Academy 7.5
8 Coe College 7.0
9 Wabash College 6.5
10 Johnson & Wales University (Rhode Island) 6.0