News
USA Wrestling
College
Women
USAW
No. 3 Southern Oregon, with seven semifinalists, leads NAIA Women's Nationals, ahead of No. 1 Life
by Gary Abbott, USA Wrestling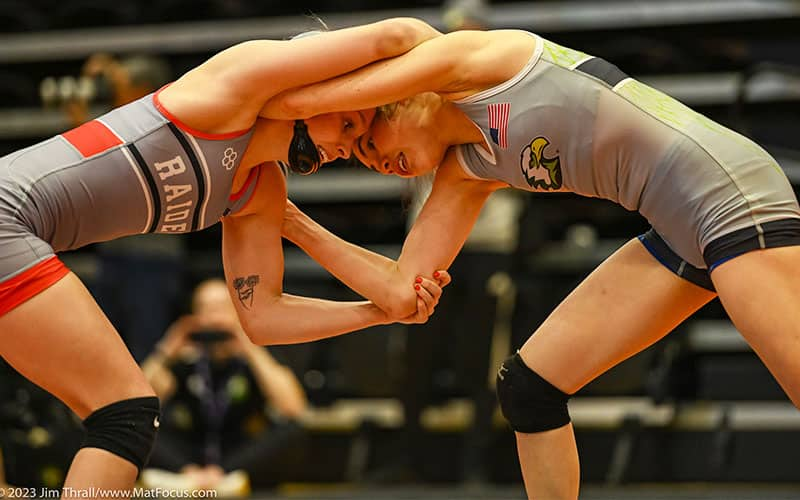 Action image by Jim Thrall, Mat Focus
JAMESTOWN, N.D. – No. 3
Southern Oregon
had a great first day of the NAIA Women's Nationals, punching seven athletes into the semifinals and taking a 5.5-point lead over No. 1
Life.
Southern Oregon has 101.5 points, with Life at 96 points.
The seven Southern Oregon semifinalists are No. 3 Esthela Trevino (101), No. 3 Natalie Reyna-Rodriguez (109), No. 1 Carolina Moreno (123), No. 6 Bella Amaro (136), No. 2 Emily Se (143), No. 2 Joye Levendusky (170) and No. 10 Grace Kristoff (191). Southern Oregon has one athlete who advanced through the blood round and will be an All-American.
Life has put four wrestlers into the semifinals, No. 1 Peyton Prussin (109), No. 2 Sarah Savidge (130), No. 4 Jamilah Mcbryde (143) and No. 1 Latifah Mcbryde (155) , and still has four other All-Americans competing in the consolation rounds.
Among the semifinalists are a pair of two-time NAIA champions,
Peyton Prussin
of Life (109) and
Dymond Guilford
of the Cumberlands (170).
Five other past NAIA champions are in the semifinals. This includes 2022 NAIA champions
Carolina Moreno
of Southern Oregon (123),
Lexie Basham
of Texas Wesleyan (130),
Aduago Nwachukwu
of Iowa Wesleyan (136) and
Kelani Corbett
of Missouri Valley (191). Also in the semifinals is 2021 NAIA national champion,
Waipuilani Estrella-Beauchamp
of Providence (130).
Rounding out the top five teams are third place Menlo with 86 points (and 3 semifinalists), fourth place Grand View (with 3 semifinalists) and fifth place Univ. of Providence (with 4 semifinalists)
This is the first official NAIA Women's National Championships. In the previous four NAIA Women's Invitationals, Campbellsville has won three national titles and Menlo College won the other. Southern Oregon and Life both seek its first NAIA national title in women's wrestling.
The competition is broadcast live by FloWrestling.
NAIA WOMEN'S NATIONAL CHAMPIONSHIPS
At Jamestown, N.D., March 10, 2023

Semifinal pairings
101
Ira Navarro (University of Providence) vs. Elizabeth Dosado (Cumberlands)
Esthela Trevino (Southern Oregon) vs. Erin Hikiji (University of Providence)
109
Peyton Prussin (Life) vs. Jasmine Howard (Texas Wesleyan)
Natalie Reyna-rodriguez (Southern Oregon) vs. Mia Palumbo (Iowa Wesleyan)
116
Ashley Gooman (University of Providence) vs. Camille Fournier (Texas Wesleyan)
Juliana Diaz (Missouri Baptist) vs. Caitlyn Thorne (Central Methodist)
123
Carolina Moreno (Southern Oregon) vs. Haley Narahara (Menlo College)
Alana Vivas (Menlo College) vs. Catharine Campbell (Grand View)
130
Lexie Basham (Texas Wesleyan) vs. Cristelle Rodriguez (Doane)
Waipuilani Estrella-beauchamp (University of Providence) vs. Sarah Savidge (Life)
136
Adaugo Nwachukwu (Iowa Wesleyan) vs. Leidaly Rivera (Brewton Parker)
Bella Amaro (Southern Oregon) vs. Mea Mohler (Texas Wesleyan)
143
Alexis Gomez (Grand View) vs. Jamilah Mcbryde (Life)
Emma Walker (Campbellsville) vs, Emily Se (Southern Oregon)
155
Latifah Mcbryde (Life) vs. India Page (Brewton Parker)
Caitlyn Davis (Central Methodist) vs. Kaylynn Albrecht (Baker)
170
Dymond Guilford (Cumberlands) vs. Liliana Vergara (Campbellsville)
Abby Mcintyre (Grand View) vs. Joye Levendusky (Southern Oregon)
191
Kelani Corbett (Missouri Valley) vs. Jaycee Foeller (Central Methodist)
Tavia Heidelberg-Tillotson (Menlo College) vs. Grace Kristoff (Southern Oregon)
Top 10 teams after day one
1 Southern Oregon 101.5
2 Life 96
3 Menlo College 86
4 Grand View 85.5
5 University of Providence 66.5
6 Cumberlands 65
7 Central Methodist 58.5
7 Iowa Wesleyan 58.5
9 Campbellsville 52.5
10 Texas Wesleyan 45.5
Quarterfinal results
101
Ira Navarro (University of Providence) VSU Jas Alexander (Grand View), 10-0 1:00
Elizabeth Dosado (Cumberlands) VFA Makayla Young (Indiana Tech), 8-0 2:42
Esthela Trevino (Southern Oregon) VSU Esther Walker (Midland), 10-0 2:21
Erin Hikiji (University of Providence) VFA Alyssa Quezaire (Missouri Baptist), 6-2 2:43
109
Peyton Prussin (Life) VPO1 Faith Cole (Iowa Wesleyan), 9-4
Jasmine Howard (Texas Wesleyan) VPO1 Stefana Jelacic (Lourdes), 8-2
Natalie Reyna-rodriguez (Southern Oregon) VSU Kory Phillips (Life), 11-0 4:35
Mia Palumbo (Iowa Wesleyan) VPO1 Tehani Soares (Indiana Tech), 8-4
116
Ashley Gooman (University of Providence) VPO1 Alexis Medina (Cumberlands), 7-4
Camille Fournier (Texas Wesleyan) VPO1 Glory Konecny (Southern Oregon), 7-2
Juliana Diaz (Missouri Baptist) VPO1 Kylie Robledo (Baker), 9-9
Caitlyn Thorne (Central Methodist) VPO1 Josie Bartishofski (Jamestown), 11-4
123
Carolina Moreno (Southern Oregon) VSU1 Larissa Kaz (Hastings), 20-10 5:33
Haley Narahara (Menlo College) VFA Karoline Ortiz (Missouri Baptist), 10-2 5:20
Alana Vivas (Menlo College) VPO Sophie Smith (Oklahoma City), 6-0
Catharine Campbell (Grand View) VSU1 Ashley Whetzal (Missouri Valley), 13-2 5:55
130
Lexie Basham (Texas Wesleyan) VPO Charmayne Delong (Indiana Tech), 6-0
Cristelle Rodriguez (Doane) VPO Andrea Schlabach (Grand View), 8-0
Waipuilani Estrella-beauchamp (University of Providence) VFA Skye Realin (Central Methodist), 6-0 2:00
Sarah Savidge (Life) VSU Louisa Schwab (Menlo College), 10-0 1:42
136
Adaugo Nwachukwu (Iowa Wesleyan) VFA Riley Dalrymple (Life), 6-0 0:30
Leidaly Rivera (Brewton Parker) VPO1 Aliyah Yates (Cumberlands), 8-4
Bella Amaro (Southern Oregon) VPO1 Paige Respicio (University of Providence), 8-6
Mea Mohler (Texas Wesleyan) VSU1 Erin Redford (Eastern Oregon University), 13-3 5:35
143
Alexis Gomez (Grand View) VSU Aevri Ciha (Doane), 10-0 1:55
Jamilah Mcbryde (Life) VFA Josette Partney (Missouri Baptist), 14-8 3:29
Emma Walker (Campbellsville) VFA Isabelle Hawley (Iowa Wesleyan), 6-0 0:50
Emily Se (Southern Oregon) VSU Desiree Jones (Menlo College), 10-0 5:08
155
Latifah Mcbryde (Life) VSU Gabrielle Holloway (St Andrews), 10-0 1:33
India Page (Brewton Parker) VPO1 Madison Diaz (Grand View), 10-8
Caitlyn Davis (Central Methodist) VPO1 Sadie Antoque (University of Providence), 5-2
Kaylynn Albrecht (Baker) VFA Shannon Workinger (Menlo College), 6-0 2:25
170
Dymond Guilford (Cumberlands) VSU Jesaphine Lee (Life), 11-0 0:44
Liliana Vergara (Campbellsville) VPO America Lopez (Iowa Wesleyan), 5-0
Abby Mcintyre (Grand View) VPO1 Shenita Lawson (Grand View), 12-10
Joye Levendusky (Southern Oregon) VSU Bo Geibe (Siena Heights), 10-0 5:04
191
Kelani Corbett (Missouri Valley) VPO1 Olivia Brown (Grand View), 4-1
Jaycee Foeller (Central Methodist) VPO1 Maquoia Bernabe (Cumberlands), 3-2
Tavia Heidelberg-tillotson (Menlo College) VPO1 Joanna Hendricks (Waldorf), 4-1
Grace Kristoff (Southern Oregon) VFA Jesse Kirby (Cumberlands), 10-1 4:04