News
USA Wrestling
Women
High School & Youth
USAW
Girls High School Roundup: Champs crowned in Florida, Michigan, Minnesota, New Jersey, Hawaii & Maryland
by Gary Abbott, USA Wrestling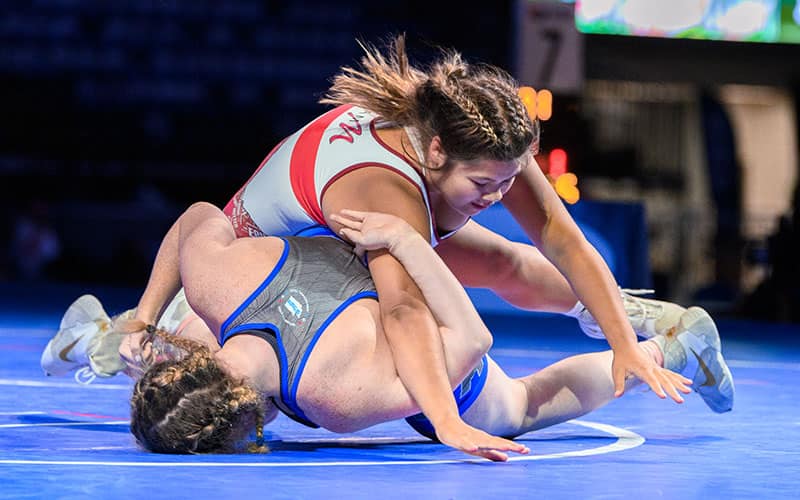 No. 1 national Sabrina Nauss, shown at 2022 Junior Nationals, repeated as a Michigan state champion. Photo by Tony Rotundo, Wrestlers Are Warriors.
HM Matanzas wins Florida state title, ahead of No. 16 Freedom; five ranked wrestlers win gold
National Honorable Mention Matanzas won the team title in the Florida State Championships with 124 points, ahead of returning champion and No. 16 national Orlando Freedom High School with 107 points. Apopka placed third with 71 points. Leading Matanzas was 145-pound champion Kendall Bibla, two runners-up and seven total placewinners. Freedom, which has dominated Florida girls wrestling, had an individual champion, national No. 20 Cameron Galvin (115), a runner-up and six total place winners. Nationally ranked athletes who won individual titles were Galvin, plus No. 23 Kealonie Vega of Osceola (100), No. 24 Gaby Perez of Fort Pierce Central, No. 23 Sofia Delgado of Coral Park (140) and No. 6 Cheyenne Cruce of Middleburg (190). Finishing with unbeaten records were Perez, Delgado and Cruce plus Gabby Tedesco of Lake Gibson (105), Abriela Caro of Marjorie Stoneman Douglas (125), Aireaana Gavere of Milton (130), Mya Bethel of North Miami (155) and Grace Leota of Hernando (170). Repeat champions were Galvin, Perez and Bethel.
Six nationally ranked stars win Michigan state titles; No. 1 Nauss and three others repeat as champions
Six athletes with national rankings claimed individual titles at the Michigan State Championships, held in Detroir: No. 12 Madison Nieuwenhuis (100), No. 21 Sky Langewicz of Algonac (110), No. 8 Cecilia Williams of Mason (120), No. 21 Margaret Buurma of Fowlerville (125), No. 10 Maddie Hayden of Caledonia (155) and No. 1 Sabrina Nauss of Brighton (190). Hayden beat a ranked opponent in the finals, stopping No. 14 Brynn Green of Howell. Repeat state champions were Langewicz, Buurma, Nauss and Angelina Pena of Milan (130). Two new champions defeated returning state champions in the finals. Pena stopped returning champion Tyler Swanigan of South Lyon East in the finals, and Ryen Allen of Goodrich beat returning champion Danni Swihart of Hanover-Horton in the 140-pound finals. Finishing with unbeaten records were Nauss, plus Khloe Williams of Clio (170). No team standings were kept. All of the individual champions came from different schools.
Six nationally ranked stars win Minnesota state titles; No. 1 Pagel and four others repeat as champions
Six athletes with national rankings claimed individual titles at the Minnesota State Championships held in St. Paul: No. 2 Caley Graber of Northfield (100), No. 17 Aspen Blasko of Forest Lake (114), No. 29 Cassandra Gonzales of Shakopee (126), No. 3 Skylar Little Soldier of Hastings (145), No. 1 Ella Pagel of Northfield (165), No. 7 Kami Senlycki of Cambridge-Isanti (185). Undefeated champions included Graber, Gonzales, Little Soldier, Pagel, Senlycki plus Charli Raymond of Simley (107), Joel Makem of Shakopee (132) and Camryn Kenning of Saint Cloud Tech. Repeat champions were Raymond, Blasko, Makem, Little Soldier and Pagel. There were no team standings kept. National No. 25 Bemidji had four place winners, including a runner-up. Teams with two individual champions were Northfield (Graber and Pagel) and Shakopee (Gonzales and Makem). Apple Valley had six place winners, including a runner-up.
No. 26 Jackson Memorial repeats as New Jersey team champion; four nationally ranked athletes win titles
No. 26 national Jackson Memorial repeated as team champions at the New Jersey girls state championships, which completed in Atlantic City. Jackson Memorial had four placewinners, including two runners-up, Marlowe Donato (107) and Kamila Biesczad (138), both who lost to nationally ranked wrestlers in the finals. Second place Rancocas Valley Regional had three placewinners, including a runner-up. State champions with national rankings include No. 15 Leeana Mercado of Lodi (107), No. 11 Ava Rose of Princeton (114), No. 16 Kira Pipkins of Bloomfield (126) and No. 29 Jayla Hahn of Southern Regional (138). Finishing with undefeated seasons were champions Rose, Pipkins, Hahn, plus Kayla Vasquez of Kinnelon (132) and Shellitha Collins of Ewing (235). Vasquez defeated 2022 state champion Maya Hemo of Cherry Hill East in the finals. Repeat champions were Rose, Pipkins and Jenna Filieri of Immaculate Conception Lodi (152).
No. 18 Moanalua repeats as Hawaii team champion with five champions; with Lahainaluna in second
.
No. 18 Moanalua was able to repeat as Hawaii state team champions in Honolulu last week. Moanalua scored 245 points, a full 65 points ahead of runner-up Lahainaluna at 180 points, with Baldwin in third with 137 points and national Honorable Mention Kamehameha-Kapalama in fourth with 130 points. Moanalua had 10 placewinners, including champions Adriana Daoang (97), Isabelle Asuncion (117), Nohilani Kukonu (155), Eden Baguio (168) and national No. 20 Jasmine Adiniwin (184). Adiniwin beat national No. 22 Catherine Asami of Lahainaluna, a returning champion, in the finals by fall. Lahainaluna had nine placewinners, led by champions Naiomi Kalukulualani-Sales (107) and Kiyah Caballero (122). Joining Adiniwin as nationally ranked champions was No. 18 Maya Esera of Kahuku (225). Returning champions were Asuncion, Esera and Lainey Eckart of Kamehameha-Hawaii (138).
Nationally ranked Tsarni and Cacek repeat as Maryland champions, as six wrestlers earn repeat titles
A pair of nationally ranked wrestlers, No. 5 Nebi Tsarni of Watkins Mill (155) and No. 17 Jocelyn Cacek of Great Mills (235), repeated as state champions at the Maryland State Championships in Upper Marlboro. Joining Tsarni and Cacek as repeat champions were Brianna Holcomb of Northern-Cal. (130), Nadia Estrada of Richard Montgomery (145), Ugochi Anunobi of Randallstown (170) and Jabea Ewane of Watkins Mill (190). Finishing with unbeaten records were Anunobi and Faith Day of Manchester Valley (100). No team scores were kept. The only team with two champions was Watkins Mill (Tsarni and Ewane).