News
USA Wrestling
College
USAW
Missouri repeats as Big 12 champions; six wrestlers repeat as conference titlists
by Adam Engel, Special to TheMat.com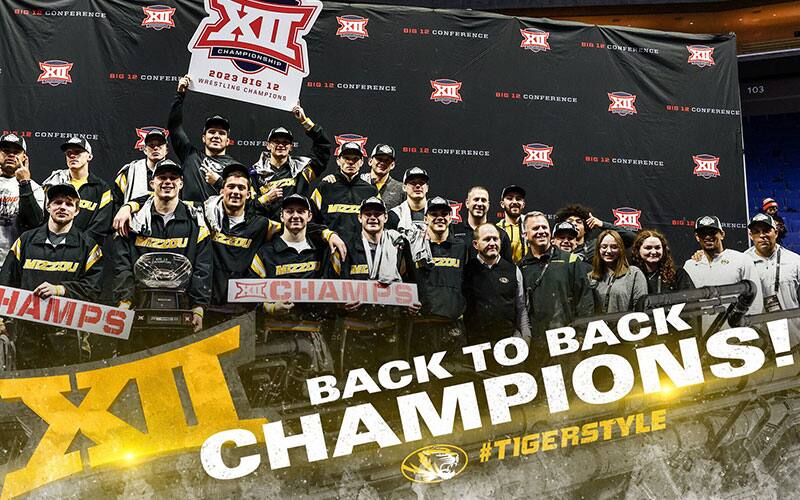 Big 12 champion Missouri graphic courtesy of Missouri Athletics

TULSA — Rocky Elam became the only Missouri wrestler to win a Big 12 title as the Tigers repeated as conference champions on Sunday night at the BOK Center in Tulsa, Oklahoma.
Elam, Missouri's 197-pounder, won his first Big 12 championship, 2-1 in rideouts over South Dakota State's Tanner Sloan. In a defensive bout, Sloan escaped from bottom to start the second but Elam accumulated riding time to force sudden victory. The Tigers held off runner-up Oklahoma State with a 14-point margin but went 1-for-6 in the finals.
Six wrestlers repeated as conference champions.
Iowa State's David Carr won his fourth Big 12 title but first at 165. He pinned Missouri's Keegan O'Toole in sudden victory. O'Toole forced overtime when Carr was hit with stalling.
At 141, Northern Colorado's Andrew Alirez secured his second straight Big 12 title when he stymied Missouri's Allan Hart, 8-4. Alirez, known for his speedy footwork and smooth attacks, limited Hart's offense.
Another Bear broke through for his first title. Steve Poulin, a North Carolina State transfer, tore through the 125-pound bracket. He used a wild four-point nearfall combo to punish Missouri's Noah Surtin, 11-4.
Tied 4-4 in the third after Surtin scored a two-point near fall, Poulin reversed and held Surtin down for four swipes and riding time.
Oklahoma State's Daton Fix rolled to his fourth straight 133-pound Big 12 title. He topped ISU's Zach Redding, 10-2, to recap a tournament with all bonus point wins.
At 174, Oklahoma State's Dustin Plott earned the Cowboys' first win of the night. He repeated as champion with a 5-2 win over Missouri's Peyton Mocco, last year's runner up.
Plott stayed aggressive with several low shots toward Mocco's left leg and finished the match-winning takedown with less than five seconds left.
Northern Iowa's Parker Keckeisen stopped Iowa State's Marcus Coleman, 6-2, to earn his third straight Big 12 title. Keckeisen forced dominance with a speedy, forceful takedown less than 90 seconds into the bout. He added another in the first before finishing with an escape and riding time.
Air Force's Wyatt Hendrickson won his second straight conference title when he shut down ISU's Sam Schuyler. Hendrickson, a prolific scorer who leads the nation in pins, logged two takedowns and a two-point near fall along with an escape and riding time.
At 157, Iowa State's Paniro Johnson clashed with Missouri's Brock Mauller and won 10-4. Johnson became ISU's second champion of the night.
North Dakota State's Jared Franek won his first Big 12 title when he outlasted OSU's Kaden Gfeller, 5-3.
Big 12 Wrestling Championships
At Tulsa, Okla. March 5, 2023
125
1st Place Match — Stevo Poulin (Northern Colorado) dec. Noah Surtin (Missouri), 11-4
3rd Place Match — Reece Witcraft (Oklahoma State) sudden victory Joey Prata (Oklahoma), 3-1
5th Place Match — Jore Volk (Wyoming) dec. Tucker Owens (Air Force), 6-2
7th Place Match — Kase Mauger (Utah Valley) fall Corey Cabanban (Iowa St.), 4:46
133
1st Place Match — Daton Fix (Oklahoma State) maj. dec. Zach Redding (Iowa State), 10-2
3rd Place Match — Wyatt Henson (Oklahoma) dec. over Kyle Biscoglia (Northern Iowa), 9-3
5th Place Match — McGwire Midkiff (North Dakota State) forfeit Connor Brown (Missouri)
7th Place Match — Cody Phippen (Air Force) fall Garrett Ricks (Wyoming), 3:47
141
1st Place Match — Andrew Alirez (Northern Colorado) dec. Allan Hart (Missouri), 8-4
3rd Place Match — Clay Carlson (South Dakota State) tiebreaker Casey Swiderski (Iowa State), 4-3
5th Place Match — Carter Young (Oklahoma State) medical forfeit Mosha Schwartz (Oklahoma)
7th Place Match — Jordan Titus (West Virginia) dec. Job Greenwood (Wyoming), 3-1
149
1st Place Match — Paniro Johnson (Iowa State) dec. Brock Mauller (Missouri), 10-4
3rd Place Match — Mitch Moore (Oklahoma) dec. Kellyn March (North Dakota State), 5-0
5th Place Match — Colin Realbuto (Northern Iowa) dec. Victor Voinovich (Oklahoma State), 3-2
7th Place Match — Isaiah Delgado (Utah Valley) forfeit Chase Zollmann (Wyoming)
157
1st Place Match — Jared Franek (North Dakota State) dec. Kaden Gfeller (Oklahoma State), 5-3
3rd Place Match — Jacob Wright (Wyoming) dec. Jason Kraisser (Iowa State.), 7-6
5th Place Match — Cael Swensen (South Dakota State) dec. Jared Hill (Oklahoma), 5-2
7th Place Match — Jarrett Jacques (Missouri) dec. Vinny Zerban (Northern Colorado), 3-2
165
1st Place Match — David Carr (Iowa St.) fall Keegan O`Toole (Missouri), 7:38
3rd Place Match — Michael Caliendo III (North Dakota State) fall Cole Moody (Wyoming), 3:31
5th Place Match — Austin Yant (Northern Iowa) medical forfeit Peyton Hall (West Virginia)
7th Place Match — Gerrit Nijenhuis (Oklahoma) dec. Tanner Cook (South Dakota State), 8-3
174
1st Place Match — Dustin Plott (Oklahoma State) dec. Peyton Mocco (Missouri), 5-3
3rd Place Match — Cade DeVos (South Dakota State) medical forfeit Demetrius Romero (Utah Valley)
5th Place Match — Tate Picklo (Oklahoma) medical forfeit Sam Wolf (Air Force)
7th Place Match — Scott Joll (West Virginia) Julien Broderson (Iowa State), 7-4
184
1st Place Match — Parker Keckeisen (Northern Iowa) dec. Marcus Coleman (Iowa State), 6-2
3rd Place Match — Travis Wittlake (Oklahoma State) dec. Colton Hawks (Missouri), 8-3
5th Place Match — Deanthony Parker Jr (North Dakota State) dec. Noah Blake (Air Force), 5-3
7th Place Match — Cade King (South Dakota State) forfeit Keegan Moore (Oklahoma)
197
1st Place Match — Rocky Elam (Missouri) tiebreaker Tanner Sloan (South Dakota State), 2-1
3rd Place Match — Luke Surber (Oklahoma State) dec. Owen Pentz (North Dakota State), 8-2
5th Place Match — Evan Bockman (Utah Valley) dec. Yonger Bastida (Iowa State), 3-2
7th Place Match — Austin Cooley (W. Virginia) dec. Calvin Sund (Air Force), 8-2
Heavyweight
1st Place Match — Wyatt Hendrickson (Air Force) dec. Sam Schuyler (Iowa State), 8-2
3rd Place Match — Zach Elam (Missouri) dec. Tyrell Gordon (Northern Iowa), 10-4
5th Place Match — Konner Doucet (Oklahoma State) medical forfeit AJ Nevills (South Dakota State)
7th Place Match — Josh Heindselman (Oklahoma) dec. Michael Wolfgram (West Virginia), 6-4
Team standings
No. 1 Missouri 148.0
No. 2 Oklahoma State 134.0
No. 3 Iowa State 131.0
No. 4 Oklahoma 97.5
No. 5 North Dakota State 89.0
No. 6 South Dakota State 86.5
No. 7 Northern Iowa 73.0
No. 8 Air Force 64.5
No. 9 Northern Colorado 50.0
No. 10 Wyoming 41.0
No. 11 Utah Valley 37.5
No. 12 West Virginia 34.5
No. 13 California Baptist 1.0
Outstanding wrestler
David Carr, Iowa State
Coach of the Year
Brian Smith, Missouri