News
USA Wrestling
Women
College
USAW
Indian Hills leads first NJCAA Women's Invitational, followed by Umpqua and Iowa Central
by USA Wrestling and Indian Hills Athletics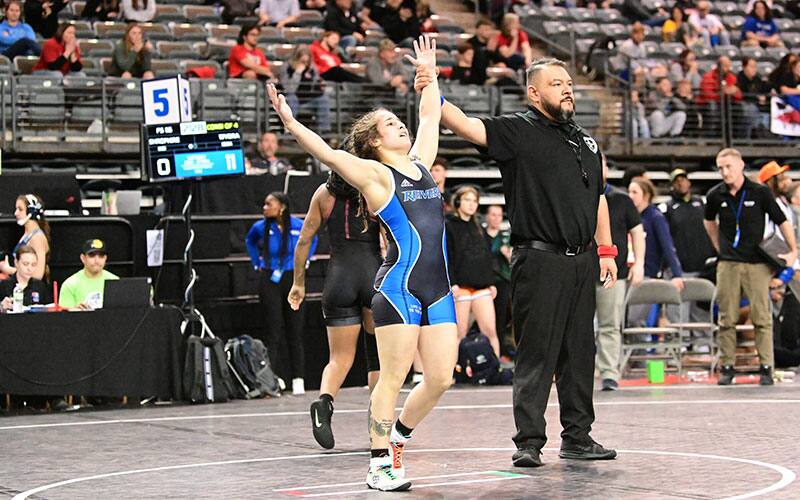 Photo courtesy of NJCAA and Iowa Western Athletics

Indian Hills press release
10 Warriors advance to semis on Day 1
Council Bluffs, IA – In the first-ever National Junior College Athletic Association (NJCAA) Women's Wrestling Invitational, the Indian Hills Women's Wrestling squad has jumped out to a 25.5 point lead after the first day of action at the Mid-America Center.
The Warriors scored 190 team points on the opening day of the inaugural event to hold a marginal lead over second-place Umpqua Community College (OR). Indian Hills will send 10 individuals into the semifinal round of their respective brackets on Saturday while eight additional individuals are still alive in the consolation bracket.
Action gets underway at 9:30 AM with the championship semifinals and the consolation semifinals at 11:00 AM. The consolation finals are slated for 12:15 PM while the championship matchups are scheduled for a 6:00 PM start.
NAIA WOMEN'S INVITATIONAL
At Council Bluffs, Iowa, March 3

Semifinal pairings
101
Nicole Montojo (Iowa Western) vs. Chiara Barbieri (Niacc)
Dutchess King (Indian Hills) vs. Tenley Jones (Carl Albert State)
109
Lexi Miller (Carl Albert State) vs. Leila Sidhu (Umpqua)
Ryasia Mcdougle (Northwest Kansas Tech) vs. Tatiana Hernandez (Niacc)
116
Javanica Mickens (Indian Hills) vs. Flavia Nagatani (Iowa Western)
Shammilka Miranda diaz (Indian Hills) vs. Kendall Martin (Southwestern Oregon)
123
Liannette Ortiz (Indian Hills) vs. Victoriana Kim (Southwestern Oregon)
Emma Truex (Southwestern Oregon) vs. Itzel Medina valdez (Umpqua)
130
Maria Victoria baez dilone (Umpqua) vs. Samar Markwardt (Carl Albert State)
Zainab Ibrahim (Umpqua) vs. Abigail Ahrens (Iowa Western)
136
Annabel Garcia (Umpqua) vs. Princess Altsisi (Iowa Central)
Corrie Williams (Snow) vs. Alondra Martinez (Indian Hills)
143
Laken Lienhard (Niacc) vs. Ashlea Larson (Snow)
Kylie Hulse (Carl Albert State) vs. Zoey Smalley (Umpqua)
155
Tiyanna Leal (Umpqua) vs. Ferny Hernandez (Iowa Western)
Suravieve Robertson (Indian Hills) vs. Ana Barnoski (Carl Albert State)
170
Autumn Perez (Umpqua) vs. Yaracely Saenz (Indian Hills)
Briana Araujo batista (Iowa Central) vs. Larissa Gallo (Iowa Western)
191
Yarissa Gallo (Iowa Western) vs. Maranda Bell (Iowa Central)
Tiffany White (Indian Hills) vs. Alexa Garcia (Southwestern Oregon)
235
Eliana Bommarito (Indian Hills) vs. Valerie Smith (Niacc)
Faith Wooley (Umpqua) vs. Karla Padilla Zepeda (Indian Hills)
Quarterfinal results
101Nicole Montojo (Iowa Western) VSU Isabella Schulz (Southwestern Oregon), 10-0 1:13
101Chiara Barbieri (Niacc) VFA Chelsey Mendoza (Northwest Kansas Tech), 2-1 2:49
101Dutchess King (Indian Hills) VSU Mailien Tran (Southwestern Oregon), 10-0 2:33
101Tenley Jones (Carl Albert State) VSU1 Elle Vinson (Iowa Western), 12-2 1:53
109Lexi Miller (Carl Albert State) VSU1 Analee Razo (Southwestern Oregon), 12-1 2:15
109Leila Sidhu (Umpqua) VPO1 Malachite Chunn (Indian Hills), 8-6
109Ryasia Mcdougle (Northwest Kansas Tech) VSU1 Dianna Pineda (Iowa Central), 19-8 5:39
109Tatiana Hernandez (Niacc) VSU1 Natalie Duran (Iowa Western), 12-1 5:09
116Javanica Mickens (Indian Hills) VFA Kennedy Shrophire (Indian Hills), 5-4 2:52
116Flavia Nagatani (Iowa Western) VSU1 Lorelei Wydra (Iowa Western), 14-2 2:09
116Shammilka Miranda diaz (Indian Hills) VSU Kailyn Younger (Iowa Central), 10-0 3:39
116Kendall Martin (Southwestern Oregon) VFO Madison Kalamau (Southwestern Oregon), 0-0
123Liannette Ortiz (Indian Hills) VSU Madelyn Plotz (Iowa Western), 10-0 4:12
123Victoriana Kim (Southwestern Oregon) VSU1 Rodiat Adeduntan (Iowa Central), 11-1 4:15
123Emma Truex (Southwestern Oregon) VFA Taylor Angle (Indian Hills), 8-2 1:32
123Itzel Medina valdez (Umpqua) VFA Neida Valle (Snow), 7-0 2:41
130Maria Victoria baez dilone (Umpqua) VSU Kayli Acosta (Umpqua), 12-0 3:46
130Samar Markwardt (Carl Albert State) VSU1 Brianna Membreno (Iowa Western), 15-2 3:21
130Zainab Ibrahim (Umpqua) VFA Crystalyn Felan (Northwest Kansas Tech), 8-2 1:23
130Abigail Ahrens (Iowa Western) VFA Bronwyn Brenneman (Iowa Central), 2-0 0:40
136Annabel Garcia (Umpqua) VFA Sophia Miller (Snow), 2-0 0:25
136Princess Altsisi (Iowa Central) VFA Malia Cook (Indian Hills), 2-0 0:48
136Corrie Williams (Snow) VFA Brisa Salas-quintero (Umpqua), 6-2 1:22
136Alondra Martinez (Indian Hills) VFA Hadlie Hood (Iowa Central), 4-0 1:12
143Laken Lienhard (Niacc) VFA Lexi Adams (Indian Hills), 12-3 5:30
143Ashlea Larson (Snow) VSU Kaitlyn Hain (Indian Hills), 12-0 3:32
143Kylie Hulse (Carl Albert State) VFA A'myrha Dylina-syyan (Indian Hills), 12-11 2:40
143Zoey Smalley (Umpqua) VSU Attalia Cano (Umpqua), 10-0 1:56
155Tiyanna Leal (Umpqua) VFA Maria Elizonda (Iowa Central), 8-0 0:42
155Ferny Hernandez (Iowa Western) VPO1 Nolani Snagg (Indian Hills), 11-2
155Suravieve Robertson (Indian Hills) VFA Angella Van valkenburg (Snow), 4-0 0:53
155Ana Barnoski (Carl Albert State) VSU Erma Williams (Indian Hills), 10-0 2:11
170Autumn Perez (Umpqua) VSU Jennifer De la torre (Umpqua), 10-0 3:00
170Yaracely Saenz (Indian Hills) VPO1 Sarah Balbarino (Southwestern Oregon), 2-2
170Briana Araujo batista (Iowa Central) VFA Gracy Jones (Umpqua), 8-0 1:37
170Larissa Gallo (Iowa Western) VSU Ravyn Krachey (Niacc), 10-0 4:32
191Yarissa Gallo (Iowa Western) VSU Alyvia Askren (Umpqua), 11-0 4:24
191Maranda Bell (Iowa Central) VPO Zeriah George (Iowa Western), 8-0
191Tiffany White (Indian Hills) VFA Valerie Osborne (Southwestern Oregon), 6-0 3:50
191Alexa Garcia (Southwestern Oregon) VFA Makinzie Parsons (Iowa Western), 4-0 1:25
235Eliana Bommarito (Indian Hills) VFA Aurora Parsons (Southwestern Oregon), 6-0 0:35
235Valerie Smith (Niacc) VFA Leilani Holley (Umpqua), 4-2 0:39
235Faith Wooley (Umpqua) VFA Averie Burns (Indian Hills), 10-4 2:03
235Karla Padilla zepeda (Indian Hills) VFA Addisson Hershberger (Iowa Central), 6-0 1:05
Teams
1 Indian Hills 190
2 Umpqua 149
3 Iowa Central 90.5
4 Iowa Western 89
5 Southwestern Oregon 63
6 Carl Albert State 51.5
7 Snow 49
8 Niacc 44
9 Northwest Kansas Tech 24