News
USA Wrestling
International
Women
USAW
Piearcy wins silver, Page, McKenna & Messenbrink get bronze in Bulgaria; Snyder in finals, Walz, Smith to seek bronze
by Gary Abbott, USA Wrestling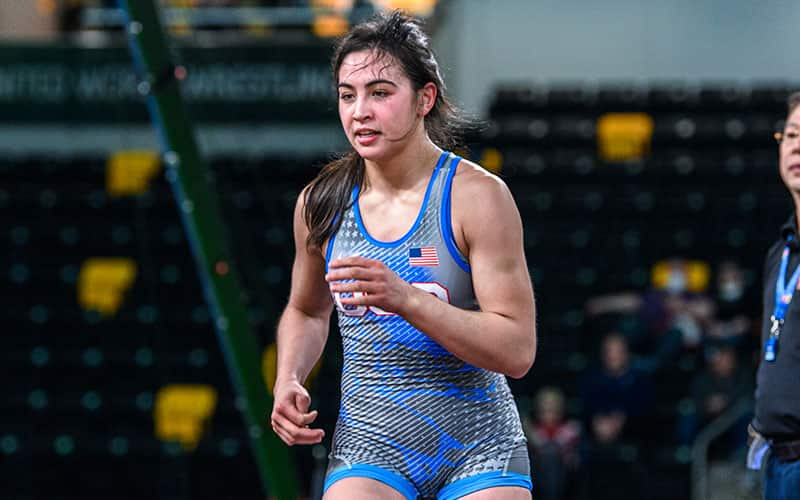 Solin Piearcy (USA) competition portrait by Tony Rotundo, Wrestlers Are Warriors
SOFIA, Bulgaria – The United States added four more medals at the Dan Kolov/Nikola Petrov International on Saturday.
Claiming a silver medal at 68 kg in women's freestyle was
Solin Piearcy
, who lost in the finals to Yuliana Yaneva of Bulgaria, 8-1.
Winning their final matches to come home with bronze were men's freestylers
Joey McKenna
(65 kg) and
Mitchell Mesenbrink
(74 kg), and women's freestyler
Jennifer Page
(68 kg).
Group Three began its competition today and six wrestlers will be competing on Sunday, three in medal matches and three in repechage with a chance to earn a medal match.
Going for the gold medal at 97 kg is Olympic champion and three-time World champion
Kyle Snyder
, who won three matches by technical fall and faces Juhwan Seo of Korea in the finals on Sunday.
Going for bronze medals are men's freestyler
Ty Walz
(125) and Greco-Roman wrestler
Ryder Smith
(60 kg). Competing in repechage bouts are Greco-Roman wrestlers
Gabe Townsell
(60 kg) and
Charles Welcome
(67 kg) and women's freestyler
Audrey Jimenez
(50 kg).
Thanks to Jon Kozak of FloWrestling for support with this update.
DAN KOLOV/NIKOLA PETROV INTERNATIONAL
At Sofia, Bulgaria, March 3

Group Two U.S. results
Men's freestyle
65kg: Joey McKenna (TMWC/PRTC), BRONZE MEDAL
WIN Changsu Kim (Korea), 6-2
WIN Luka Janezashvili (Georgia), tech fall 10-0
WIN Bek Zhaksylykov (Kazakhstan), 7-0
LOSS Islam Dudaev (Albania), 10-3
WIN Stefan Coman (Romania), 6-2
74kg: Mitchell Mesenbrink (Askren WA), BRONZE MEDAL
WIN Presiyan Mihov (Bulgaria), tech. fall 11-0
WIN Askar Zhenisbekov (Kazakhstan), inj. dft.
LOSS Murad Kuramagomedov (Hungary), 12-5
WIN Hikaru Takata (Japan), tech fall 15-2
Women's Freestyle
62kg: Janida Garcia (Colorado/EAP), eliminated
LOSS Elis Manolova (Azerbaijan), 3-0
LOSS Jennifer Page (USA), tech fall 11-0
62kg: Jennifer Page (TMWC/NLWC), BRONZE MEDAL
WIN Elis Manolova (Azerbaijan), 9-4
WIN Janida Garcia (USA), tech fall 11-0
LOSS Marwa Amri (Tunisia), tech fall 12-2
WIN Elis Manolova (Azerbaijan), 5-4
68kg: Solin Piearcy (Menlo WC), SILVER MEDAL
WIN Saidy Chavez Figueroa (Honduras), forfeit
WIN Daniela Brasnarova (Bulgaria), tech fall 10-0
WIN Zsuzsanna Molnar (Slovakia), tech fall 10-0
LOSS Yuliana Yaneva (Bulgaria), 8-1
Group Three U.S. results

U.S. Men's Freestyle results
86kg: Andrew Morgan (NYRTC), eliminated
WIN Ivars Samsusonoks (Latvia), 10-4
LOSS Orkhan Abasov (Azerbaijan), tech. fall 13-1
86kg: Quentin Perez (CARTC), eliminated
LOSS Orkhan Abasov (Azerbaijan), 13-5
97kg: Kyle Snyder (TMWC/NLWC), in gold-medal bout
WIN Daniil Pidlypenets (Ukraine), tech. fall 10-0
WIN Juha Rusila (Denmark), tech fall 10-0
Semifinals – Danyal Sharatinia (Iran), tech. fall 14-4
Gold Medal match – Vs. Juhwan Seo (Korea)
97 kg: George Sikes, eliminated
LOSS Daniil Pidlypenets (Ukraine), eliminated
125kg: Ty Walz (TMWC/SERTC), in bronze medal match
WIN Johannes Ludescher (Austria), 8-0
WIN Giga Shavadze (Georgia), 6-0
LOSS Giorgi Meshvildishvili (Georgia), tech fall 11-0
Bronze Medal match – Vs. Rahid Hamidli (Azerbaijan)
U.S. Women's Freestyle results
50kg: Audrey Jimenez (Sunkist) in repechage
LOSS Svetlana Ankicheva (Kazakhstan), 10-8
Repechage – Vs. Emine Cataloglu (Turkey)
U.S. Greco-Roman results
60 kg: Gabe Townsell (NYAC/CARTC), in repechage
LOSS Zholaman Sharshenbekov (Kyrgyzstan), tech fall 9-0
Repechage match – Vs. Medyalko Petrov (Bulgaria)
60kg: Ryder Smith (NMU NTS), in bronze medal bout
LOSS Michel Tracz (Poland), tech fall 9-0
Bronze medal match - Vs. Koto Gomi (Japan)
67kg: Charles Welcome (NMU NTS), in repechage
LOSS Slavik Galstyan (Armenia), tech fall 8-0
Repechage – Vs. Artur Politaiev (Ukraine)
67kg: David Stepanian (NYAC/NMW NTS), eliminated
LOSS Morten Thoresen (Norway), 6-0
77kg: Riley Briggs (NMU NTS), eliminated
LOSS Zlatomir Emilov (Bulgaria), 4-4
77kg: Mike Higgins (NMU NTS), eliminated
WIN Akseli Yli Hannuksela (Finland), forfeit
LOSS Elma Nurliiev (Ukraine), tech. fall 9-0