News
USA Wrestling
College
USAW
Missouri leads Big 12 Championships on first day with six finalists, 23 points ahead of Oklahoma State
by Adam Engel, Special to TheMat.com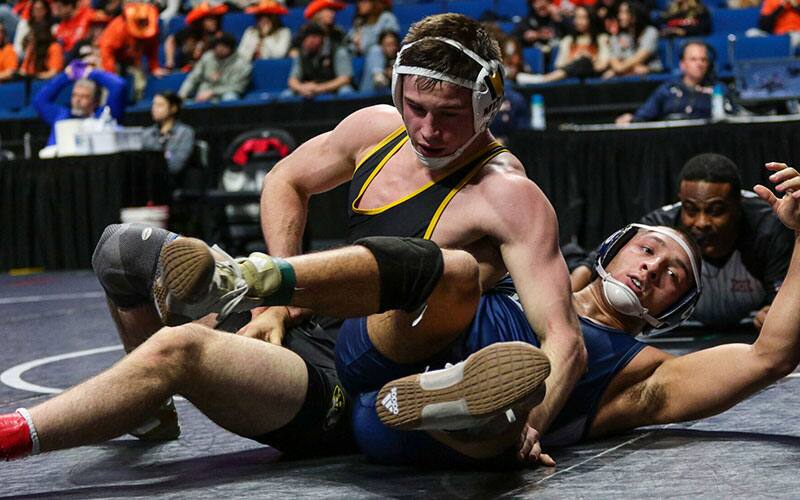 Action image of Keegan O'Toole of Missouri by Molly Jolliff of The O'Colly
TULSA, Okla. — Missouri rolled six athletes into the finals of the Big 12 Wrestling Championships at the BOK Center in Tulsa, Oklahoma, on Saturday night.
The Tigers hold a firm 23-point lead over second-place Iowa State after a productive first day that featured five Missouri pins in the first session.
Keegan O'Toole, defending national champion at 165 pounds, will battle Iowa State's David Carr in Sunday night's finals. Both boast a national championship, but this is Carr's first season at 165. Carr beat O'Toole in a February dual, 7-2.
O'Toole earned two bonus points en route to the finals. Fellow Missouri No. 1 seeds Brock Mauller (149) and Peyton Mocco (174) surged to the finals.
Mauller gets Iowa State's Paniro Johnson in the final while Mocco will clash with Oklahoma State's Dustin Plott in a 2022 Big 12 final rematch. Plott won that one but lost to Mocco in a dual this season. Mauller pinned Johnson in a dual.
Northern Colorado sent two to the finals with Stevo Poulin (125) and top-ranked Andrew Alirez (141). Poulin, a North Carolina State transfer, outlasted Oklahoma State's Reece Witcraft, 8-6, via sudden victory in the semifinals. Alirez earned a quarterfinal major decision and advanced to the finals with an injury default over Oklahoma State's Carter Young.
Those Bears will battle Tigers in the finals. Poulin versus Missouri's Noah Surtin and Alirez against Allan Hart.
At 197, top-seeded Tanner Sloan of South Dakota State rumbled to the finals with two pins and a major decision. Sloan sees Missouri's Rocky Elam.
Oklahoma State's Daton Fix reached his fourth Big 12 final with three bonus point wins. Fix fights Iowa State's Zach Redding in the 133-pound final. Iowa State earned two more finalists with Marcus Coleman at 184. Coleman draws top-seeded Parker Keckeisen of Northern Iowa, in the final.
Air Force's Wyatt Hendrickson will see ISU's Sam Schuyler in the heavyweight final. At 157, North Dakota State's Jared Franek will wrestle OSU's Kaden Gfeller in the final.
Big 12 Wrestling Championships
At Tulsa, Okla. March 4,

Finals pairings
125
No. 4 Stevo Poulin (Northern Colorado) vs No. 3 Noah Surtin (Missouri)
133
No. 1 Daton Fix (Oklahoma State) vs No. 3 Zach Redding (Iowa State)
141
No. 1 Andrew Alirez (Northern Colorado) vs No. 6 Allan Hart (Missouri)
149
No. 1 Brock Mauller (Missouri) vs No. 3 Paniro Johnson (Iowa State)
157
No. 1 Jared Franek (North Dakota State) vs No. 2 Kaden Gfeller (Oklahoma State)
165
No. 1 David Carr (Iowa State) vs No. 2 Keegan O'Toole (Missouri)
174
No. 1 Peyton Mocco (Missouri) vs No. 2 Dustin Plott (Oklahoma State)
184
No. 1 Parker Keckeisen (Northern Iowa) vs No. 2 Marcus Coleman (Iowa State)
197
No. 1 Tanner Sloan (South Dakota State) vs No. 2 Rocky Elam (Missouri)
Heavyweight
No. 1 Wyatt Hendrickson (Air Force) vs No. 2 Sam Schuyler (Iowa State)
Team standings
No. 1 Missouri 135.0
No. 2 Iowa State 112.0
No. 3 Oklahoma State 102.5
No. 4 Oklahoma 78.0
No. 5 South Dakota State 69.5
No. 6 North Dakota State 67.5
No. 7 Air Force 57.5
No. 8 Northern Iowa 57.0
No. 9 Northern Colorado 42.0
No. 10 West Virginia 31.5
No. 11 Wyoming 30.0
No. 12 Utah Valley 26.0
No. 13 California Baptist 1.0
Semifinal results
125
Stevo Poulin (N. Colorado) dec. Reece Witcraft (Oklahoma State) 12-9, sudden victory
Noah Surtin (Missouri) dec. Joey Prata (Oklahoma), 5-3
133
Daton Fix (Oklahoma State) maj. dec. Connor Brown (Missouri), MD 11-3
Zach Redding (Iowa State) dec. Kyle Biscoglia (N. Iowa), 4-1
141
Andrew Alirez (N. Colorado) inj. def. Carter Young (OK State) 0:15
Allan Hart (Missouri) fall Mosha Schwartz (Oklahoma), 6:09
149
Brock Mauller (Missouri) dec. Victor Voinovich (OK State). 7-1
Paniro Johnson (Iowa State) dec. Colin Realbuto (N. Iowa), 3-2
157
Jared Franek (N. Dakota State) dec. Cael Swensen (S. Dakota State), 3-2
Kaden Gfeller (Oklahoma State) tiebreaker Jacob Wright (Wyoming), TB-1 5-2
165
David Carr (Iowa St.) dec. Peyton Hall (W. Virginia), 3-1
Keegan O`Toole (Missouri) dec. Michael Caliendo III (N. Dakota State), 8-3
174
Peyton Mocco (Missouri) dec. Tate Picklo (Oklahoma), 6-5
Dustin Plott (Oklahoma State) fall Sam Wolf (Air Force),2:17
184
Parker Keckeisen (N. Iowa) dec. Colton Hawks (Missouri), 7-5
Marcus Coleman (Iowa St.) dec. Travis Wittlake (Oklahoma State), 5-3
197
Tanner Sloan (S. Dakota State) maj. dec. Luke Surber (Oklahoma State), 12-1
Semifinal - Rocky Elam (Missouri) dec. Yonger Bastida (Iowa St.), 6-0
Heavyweight
Wyatt Hendrickson (Air Force) tech fall AJ Nevills (S. Dakota State), 16-1, 5:35 (TF-1.5 5:35 (16-1))
Sam Schuyler (Iowa St.) dec. Zach Elam (Missouri), 3-2