News
USA Wrestling
College
USAW
Lock Haven leads MAC Championships with three finalists, ahead of Central Michigan and Clarion
by USA Wrestling and Lock Haven Athletics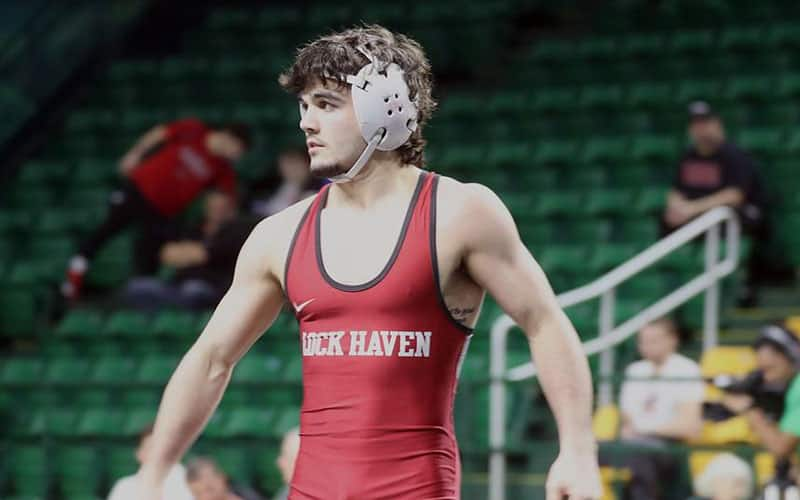 Photo by Mary Raskob, Bloomsburg University
FAIRFAX, Va. – Lock Haven placed seven in the semifinals and three in the finals, to take the team lead after one day at the MAC Championships held at George Mason.
Lock Haven has 90 points, 12 ahead of Central Michigan and Clarion, which are tied in second with 78 points.
Lock Haven and Clarion have three finalists. Kent State, Rider, Central Michigan, George Mason, Northern Illinois and Ohio each have two finalists. Bloomsburg and SIU-Edwardsville have one finalist.
Lock Haven press release
Men's Wrestling opens 2023 MAC Championships with Strong Effort, Three in Finals
FAIRFAX, Va. – The Lock Haven University men's wrestling team opened the first day of action at the 2023 Mid-American Conference (MAC) Championships hosted by George Mason, and took the first step towards defending their 2022 title.
In the first session of the day, The Haven sent an incredible seven wrestlers to the evening's semifinal bouts, and three advanced to the finals at their respective weights.
Anthony Noto (Lima, N.Y./Honeoye Falls-Lima (NC State)), Gable Strickland (Benton, Pa./Benton), Ashton Eyler (Millersburg, Ohio/ Claymont High (Iowa Central CC)), Avery Bassett (Middleburg, Pa./Midd-West (George Mason)), Tyler Stoltzfus (Mifflinburg, Pa./Saint Joseph's Academy), Colin Fegley (Mahanoy, Pa./Mahanoy), and Isaac Reid (Saltsburg, Pa./Kiski) all punched their ticket to the evening semifinals, and the trio of Noto, Strickland and Eyler will all be in action tomorrow looking to bring home individual MAC titles.
The top seed in the MAC and the No. 10 wrestler at 125 pounds, Noto opened his day in style recording a first-period fall over Cleveland State's Ben Aranda at the 2:03 mark. The reigning MAC champion then gathered two tight decision victories to advance and will put his belt on the line in tomorrow afternoon's final against Jake Ferri of Kent State.
Another one of the Bald Eagle's finalists came from Strickland, who entered as the top seed and the 30th ranked 133-pounder. After trailing in his opening bout, Strickland responded in style with a 7-6 decision followed by a pin over Ohio's Gio DiSabato. In the semis, Strickland continued to impress with an 11-2 major decision victory over Aaron Schulist of SIU Edwardsville. In the 133-pound final, Strickland battles Rider's Richie Koehler.
A 2022 runner-up at 165 pounds, Eyler powered his way to the 157 finals despite a No. 7 seeding. Eyler opened his day with a victory over the No. 2 seed in Ohio's Peyton Keller 2-0, by way of a late escape and a riding time point. In the semis, Eyler opened up a 7-0 lead on Cleveland State's Marcus Robinson and fended off a late comeback to win 10-6. Eyler will look to grab gold tomorrow against George Mason's Peter Pappas.
With the semifinal win, Eyler locked himself in as a national-qualifier for the 2023 NCAA Division I Championships, his second-straight trip.
No. 31 Bassett, Stoltzfus, Fegley and No. 32 Reid each dropped their semifinal matchups after strong performances, and will look to propel The Haven to the team title in tomorrow's wrestle backs.
At 174, Stoltzfus can lock his place up in the national tournament with a fourth-place finish.
MAC CHAMPIONSHIPS
at Fairfax, Va.

Finals pairings
125 - Anthony Noto (Lock Haven) vs. Jake Ferri (Kent State)
133 - Gable Strickland (Lock Haven) vs. Richie Koehler (Rider)
141 - Josh Mason (Bloomsburg) vs. Seth Koleno (Clarion)
149 - Johnny Lovett (Central Michigan) vs. Nate Higley (George Mason)
157 - Peter Pappas (George Mason) vs. Ashton Eyler (Lock Haven)
165 - Izzak Olejnik (Northern Illinois) vs. Enrique Munguia (Kent State)
174 - Alex Cramer (Central Michigan) vs. John Worthing (Clarion)
184 - Will Feldkamp (Clarion) vs. Zayne Lehman (Ohio)
197 - Ethan Laird (Rider) vs. Carson Brewer (Ohio)
285 - Colton McKiernan (SIU Edwardsville) vs. Terrese Aaron (Northern Illinois)
Semifinal results
125
Anthony Noto (Lock Haven) won by decision over Markel Baker (George Mason) (Dec 4-3)
Jake Ferri (Kent State) won by decision over Joey Fischer (Clarion) (Dec 5-3)
133
Gable Strickland (Lock Haven) won by major decision over Aaron Schulist (SIU Edwardsville) (MD 11-2)
Richie Koehler (Rider) won by major decision over Jake Manley (Cleveland State) (MD 11-3)
141
Josh Mason (Bloomsburg) won by decision over Jaivon Jones (Northern Illinois) (Dec 2-0)
Seth Koleno (Clarion) won by fall over Saul Ervin (SIU Edwardsville) 17-7 (Fall 0:57)
149
Johnny Lovett (Central Michigan) won by decision over Caleb Tyus (SIU Edwardsville) (Dec 5-4)
Nate Higley (George Mason) won by fall over Ryan Burgos (Edinboro) (Fall 4:23)
157
Peter Pappas (George Mason) won by decision over Corbyn Munson (Central Michigan) (Dec 5-3)
Ashton Eyler (Lock Haven) won by decision over Marcus Robinson (Cleveland State) (Dec 10-6)
165
Izzak Olejnik (Northern Illinois) won by decision over Tracy Hubbard (Central Michigan) (Dec 8-2)
Enrique Munguia (Kent State) won by decision over Avery Bassett (Lock Haven) (Dec 11-5)
174
Alex Cramer (Central Michigan) won by fall over Logan Messer (George Mason) (Fall 6:37)
John Worthing (Clarion) won in sudden victory - 1 over Tyler Stoltzfus (Lock Haven) (SV-1 3-1)
184
Will Feldkamp (Clarion) won by decision over DeAndre Nassar (Cleveland State) (Dec 3-1)
Zayne Lehman (Ohio) won by decision over Colin Fegley (Lock Haven) (Dec 4-0)
197
Ethan Laird (Rider) won by decision over Sam Mitchell (Buffalo) (Dec 5-2)
Carson Brewer (Ohio) won by decision over Tyler Bagoly (Clarion) (Dec 5-3)
285
Colton McKiernan (SIU Edwardsville) won by decision over Daniel Bucknavich (Cleveland State) (Dec 2-0)
Terrese Aaron (Northern Illinois) won in tie breaker - 1 over Isaac Reid (Lock Haven) (TB-1 5-1)
Team Standings
1 Lock Haven, 90.0
2 Central Michigan, 78.0
2 Clarion, 78.0
4 George Mason, 63.5
5 Northern Illinois, 62.0
6 Ohio, 59.5
7 Rider, 59.0
8 Kent State, 54.0
9 Cleveland State, 53.5
10 SIU Edwardsville, 49.5
11 Buffalo, 33.5
12 Bloomsburg, 20.5
13 Edinboro, 20.0