News
USA Wrestling
College
USAW
Clackamas looks for record fifth straight NJCAA title; Western Wyoming is a favorite for first title
by Johnnie Johnson, Special to TheMat.com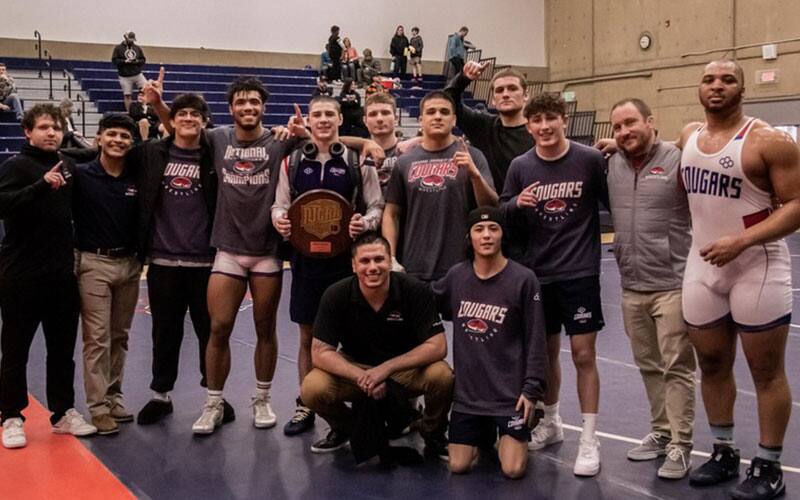 Clackamas CC celebrates after winning the 2023 Regional title. Photo courtesy of Clackamas CC Athletics
The NJCAA has a long and storied history, but only four teams have ever won four straight team titles. The first was a string of four titles in a row that started in the first year of the NJCAA National Championships in 1960, when Lamar College (CO) led by Earl Lynn won titles from 1960-1963. North Idaho College led by John Owen won four titles from 1985-1988, Rex Branum won four titles with Lassen (CA) from 1995-1998, and Luke Moffitt led Iowa Central to four straight titles in 2006-2009.
Lamar and Lassen are no longer active in JUCO wrestling. Coach Moffitt is still an active coach. Now, Josh Rhoden from Clackamas Community College is poised to join the prestigious list of teams winning four straight titles. Clackamas has won the NJCAA title the past three seasons, and after being behind Western Wyoming for most of the season, the Cougars ended up joining the club in 2022 with their NJCAA title! Now Clackamas has an opportunity to set the all-time record with the most consecutive NJCAA titles in HISTORY with five!
Since 2011, Clackamas Community College's wrestling team has only lost one NJCAA West Region Championship (2013) and has won eight straight conference titles, the 2021 West Region was not contested as a result of COVID. The Cougars have been incredibly dominant out west and this year was no exception. Ranked #1 in the NJCAA coaches association poll, Clackamas qualified all 10 wrestlers for the March 4-5 NJCAA National Championship in Council Bluffs, Iowa.
The Clackamas Cougars hosted the Region 18 Championships this last weekend in Randall Hall on February 12th. Clackamas came into the tournament ranked #1 in the country but long-time rival North Idaho who is ranked sixth in the country beat the Cougars twice this season in team duals which were going to make the team race for the Regional Championship very close. The Cougars were able to edge North Idaho for the team title which made the Cougars win the Regional Championship for the 10th year in a row.
"We knew we had a tough team going into post-season and throughout the whole season, we haven't been able to put our full line up at any event this year. We've been dealing with a lot of injuries this season but this coaching staff worked hard and our leaders on the team kept the morale up knowing we were going to be a tough team when it's all put together, we just had to be patient," said Coach Brett Sanchez. Coach Sanchez received Regional Coach of the Year Award which was voted for by his coaching peers. Steele Starren for the Cougars was voted Most Outstanding Wrestler in the upper-weight class and Brant Porter from North Idaho was voted Most Outstanding Wrestler in the lower-weight class.
"I'm grateful to receive the Coach of the Year Award but I can't take all the credit, my coaching staff deserves a lot and the leaders on the team deserve a lot of credit for myself to receive that. I'm so happy Steele was voted Most Outstanding Wrestler because he's been one of those guys on the team who's been doing everything right on and off the mat and displaying his dominance to anybody who steps up to the line against him on the mat, and it's well-deserved," said Sanchez.
Clackamas has won four consecutive National Championships and will try to make history this season by winning their 5th consecutive team title which would be the most in NJCAA history. "We like our chances this year to bring home number five and this staff and group of guys believe we can do it. We just need to wrestle for each other and focus on one match at a time and I believe will be in the mix to do something special," said Sanchez.
Despite being ranked sixth in the latest NJCAA poll, the Cardinals of North Idaho, were only three points behind Clackamas at regionals, and that is nothing that NI is satisfied with!! NIC's Freshman Kobi Johnson (125 pounds), sophomore Brant Porter (141), freshman Kana'i Tapia (149) and freshman Benjamen Mitchell (157) won regional titles for NIC and qualified nine of 10 wrestlers to nationals.
"For the most part, we wrestled really well and had a couple of setbacks," NIC interim coach Derrick Booth said. "But we're really proud of what they put out. We're really looking forward to what could happen in a few weeks." "Everyone wrestled really well," said Booth, who competed on NIC's last national championship team in 2013. "We're never going to settle for second. We want that first-place trophy. It's not what we wanted, but we're motivated for the future."
The Western Wyoming Mustangs go to Council Bluffs, Iowa ranked as the second team in the nation hunting for their first NJCAA title. WWCC qualified all 10 wrestlers this year, with two starters returning from 2022, who both came away with All-American honors. Sophomores Christian Smoot and Joseph Mecham bring the experience to the team and have both gone through the refiners fire this season. Western Wyoming is looking for the college's first ever national title! Looking at some of the Mustang wrestlers, one can only look as far as Christian.
Smoot, the returning 174 for Western, has had a season full of ups and downs and said that he's been figuring out his opponents throughout the season. Last year, the pressure was on when he had a large target on his back as a No. 1 seed at the national tournament. This year he's heading into the bracket as a No. 5 seed and has the opportunity to spoil the tournament for the opposition. "I'm confident, there's no pressure. I'm going in there to upset some kids," Smoot said. As for Mecham, injuries slowed the start of this season. He's split matches with the No. 1 ranked wrestler in his weight, but said he knows what he needs to do to beat him in the 141 division.
Mecham said last year getting to witness his teammate Garrett Ricks wrestle for a national title inspired him this season. That inspiration has made all the difference in how he feels mentally and physically heading to Iowa this year. "I looked up to Garrett Ricks and learned what it takes to win a national title," Mecham said. "I tried to interpret his work ethic from last year into this year. I'm a lot more confident. I know I deserve it this year. I'm in a lot better shape and I can wrestle hard for seven minutes straight."
Garrett Ricks' younger brother, Bridger Ricks, stepped into the 125 slot for the Mustangs this season and he looks to add his own name to the wall of champions. Ricks has only lost to one junior college wrestler this season and is firing on all cylinders going into nationals as the third seed. "To wrestle for a national title and be up on the wall next to my brother is a pretty special opportunity," Ricks said. "If I do the same things that Garrett does, I'll be in pretty good shape," Ricks said. Also going into the tournament as a third seed is Cody Phelps at 133. Phelps also only has one loss to junior college wrestlers this season and when combined with Ricks, serves as the best one-two punch combo. At 184, Darion Johnson goes into nationals as the highest seeded wrestler for the Mustangs as a two seed. Johnson is a three-time state champion from Washington who will get his first taste of the bright lights.
Jayden Luttrell will serve as a fourth seed in the 157 division. Chirs Lopez will wrestle at 149 as the number nine seed and at 165 Holden Andrews will go in as the 10th seed. At 197, Talmage Carman will battle it out as an 11th seed. The Mustangs' heavyweight, Matthew Boone, goes in as the 13th seed. It's been a season of adversity for the Mustangs. This year the team hasn't been fully together until the regional tournament just two weeks ago. "We've definitely had a bigger roller coaster this year than previous years," WWCC Head Coach Art Castillo said.
The Mustangs had a few tough losses where they didn't perform well and had to bounce around several weight classes trying to find their identity during the regular season. But as Castillo puts it, the team isn't seeking to peak to win duals, instead they aim to peak for the national tournament. And that's exactly what they've been doing. "We're rolling now," Castillo said. "In contrast to teams in recent years, we're having a lot more fun." The strength of this year's team is their brotherhood, confidence and ability to bring high energy to the mat. The game plan is simple. Go out and perform, score points and do things that the Mustangs have never done before. "I can't wait to watch them perform this weekend," Castillo said.
Fourth ranked Pratt CC, like many teams, is seeking their first NJCAA title. The Beaver wrestling team traveled to Chanute, KS to compete in the NJCAA South Central Wrestling Tournament on Saturday, February 11, in quest of a regional title. Last season, the Beavers finished second in this tournament and entered regionals with something to prove having won their third straight conference championship prior. They did just that by winning the 2023 South Central District Team Championship with a total score of 187 points. Coach Ken Kepley was named the 2023 South Central District Coach of the Year.
Coach Luke Moffitt is no stranger when it comes to winning national titles. Under Moffitt's guidance, the Tritons have become a national power, placing in the Top-8 at the NJCAA National Championships 18 consecutive seasons including 13 Top-3 finishes and seven national championships. The Tritons are accustomed to winning their North Central region XI wrestling title, but in the past two years, Indian Hills won the program's first title in 2021, and Coach Steve Kelly of NIACC won the first regional title during his tenure, with the last title for the Trojan's coming in 1972. Indian Hills is tied for fifth with NEO and NIACC is seventh, but NIACC and IHCC have shown that they are indeed part of the conversation when it come to the hardware in Council Bluffs. "All of the top 9 ranked teams could play a role in who takes home a trophy this year," state Moffitt.
The regional tournament didn't begin the way Lane Cowell wanted, but when his back was against the wall, the former Fort Dodge Dodger dug deep. Cowell lost his first match 8-4 at 125 pounds, but reeled off three victories to finish second and advance to the NJCAA national tournament.
"Lane started from a tough spot, losing his first match, but stormed back to win a true second against the third-ranked wrestler in the nation," said Iowa Central head coach Luke Moffitt. "It was a huge day for him. He got knocked down in the dirt and came right back, beating some high-level opponents."
Cowell and the rest of his nine Iowa Central lineup mates qualified for the national tournament after placing second at regionals here on Sunday. "It's always better going with all of your guys on board," Moffitt said. "We have one mission in mind: that's putting points on the board. We want to put as many guys as we can on the podium and bring back the national title."
Iowa Western (138) was the champion, followed by the Tritons (123.5) and Indian Hills (112.5). All 10 Tritons will be at the national tournament. After the loss, Cowell won by fall and injury default, before upsetting No. 3 Riley Bettich of Indian Hills, 9-5. Cowell's brother, Brooks Cowell (133), also qualified with a fourth-place finish. Matt Sarbo (149) was the lone Triton champion, pinning his way through the field."Matt Starbo was our lone champion as the third-ranked wrestler in the country," Moffitt said. "He took care of business and got some bonus points." Phil Smith Jr. (174), John Lovett (197) and Hugo Harp (285) were all second for Iowa Central. Triton Andrew Gamble (165) was third, while Caleb Nadig (141) and Nathan Napolitano (157) were fourth and Quentin Saunders (184) placed fourth.
Northeast Oklahoma has qualified nine wrestlers of the NJCAA national tournament and know how to win a title in a tight field like 2023.
The five Minnesota College Athletic Conference (MCAC) wrestling programs traveled to Thief River Falls, Minnesota on Sunday, February 19 for the 2023 NJCAA North District/MCAC Championship Wrestling Tournament held at Northland Community & Technical College. Twenty-four individual performers earned the opportunity to advance to nationals. Rochester Community & Technical College (RCTC) won the overall team event, with Minnesota North College - Itasca claiming runner-up honors. Host Ridgewater College finished third, followed by Northland Community & Technical College and Minnesota West Community & Technical College.
RCTC head coach Andy Hackenmueller was named the 2022-23 MCAC Coach-of-the-Year. RCTC also claimed the MCAC Dual Championships earlier this season. The Yellow Jacket National qualifiers, all 10, include 125 Rocco Visci - 1st, 133 Jackson McCormick - 1st , 141 Jake Thompson - 3rd (At Large berth to Nationals), 149 Omar Zamora - 3rd (At Large berth to Nationals), 157 Kandon Gode - 1st, 165 Kent Beecham - 1st, 174 Walker Ingham - 1st, 184 Antony Tuttle - 1st, 197 Martin Prieto - 1st, and 285 - Nate Beberg – 1st. The Yellow Jackets who have won numerous non-scholarship titles are poised to win another title, and are ranked just behind the top non-scholarship team of Harper College.
Sometimes you have to wait a long time to get what you want in sports, and that wait a quarter-century for a program at Triton College. The NJCAA wrestling team hadn't won a district championship since 1998, but that streak was about to come to an end at Harper College in Palatine. In a strong effort across the team, the Trojans captured the Great Lakes district title as they beat ten other schools taking part in the championships. Triton's 155 points were nine points better than host Harper, who finished in second place. What makes it even better is that all Triton wrestlers that competed at district championships advanced to the nationals.
The Trojans took the Great Lakes District crown, besting 10 other community college's representing Region's 4 (Upper Illinois and Southern Wisconsin) and 12 (Michigan and Indiana). When Triton last won in 1998, they represented the Midwest District.
"Our team has worked extremely hard all, battled through some adversity and continued to find a way to win," said head coach Tim Duggan who was awarded with Great Lakes District Coach of the Year honors. "Winning the district and qualifying all 10 wrestlers to national tournament is an amazing achievement. But our focus has been and will continue to be wrestling our best at national tournament as we fight for a national championship." Triton had five individual champions: Anthony Schickel (125), Elon Rodriguez (133), Connor Svantner (157), Alonzo Smiley (165) and Curtis Ruff II (197). Sherman Dixon finished second at 174 and David Capron was third at 149. Billy Tucker (141) and Jeivan Ross (184) each placed fourth to punch their tickets to Iowa, while Ronald Krewer earned a wild card entry to nationals at 285. The Trojans finished atop the team standings with 155 points to edge out long-time region rival Harper College who placed second with 146 points. Duggan reflected on the journey when describing being named Coach of the Year. "I am very grateful and humbled to receive the honor, he said. "All the early mornings, late nights, weekend travel and sacrifices are worth it when I see my team succeed and become strong young men."
The 12th ranked team, Indian Hills, who qualified all 10 wrestlers, learned their first round opponent for the upcoming national tournament after the National Junior College Athletic Association (NJCAA) Men's Wrestling committee released the brackets for the 10 respective weight classes.
Three individuals will enter the national tournament with one of the top-16 seeds in their respective weight class. Returning All-American and 2023 district champion Kawaun Deboe (Erie, PA/Cathedral Prep) earned the No. 3 overall seed in the 285lb bracket. Sophomore Manuel Limon (Rock Island, IL/Rock Island), who has surged into the national rankings in recent weeks, earned the No. 10 seed in the 133lb bracket. Sophomore Nevertessone Lahens (Immokalee, FL/Immokalee) enters the 149lb bracket as the No. 13 seed. The Warriors capped the year winning five of six Iowa Community College Athletic Conference (ICCAC) duals and are ranked No. 12 in the final national rankings of the regular season.
A majority of the NJCAA coaches will tell you that the 2023 NJCAA tournament is wide open, one of the most wide open tournament in years, with Western Wyoming being a slight favorite. The NJCAA Men's Wrestling Championship starts on March 3rd, 2023, at the Mid-American Center at 9:00 a.m., in Council Bluffs, Iowa.