News
USA Wrestling
College
Women
USAW
NCWWC Executive Committee: 40 programs meet division rules allowing NCAA to sponsor a National Championships in women's wrestling
by The Collegiate Women's Wrestling Coalition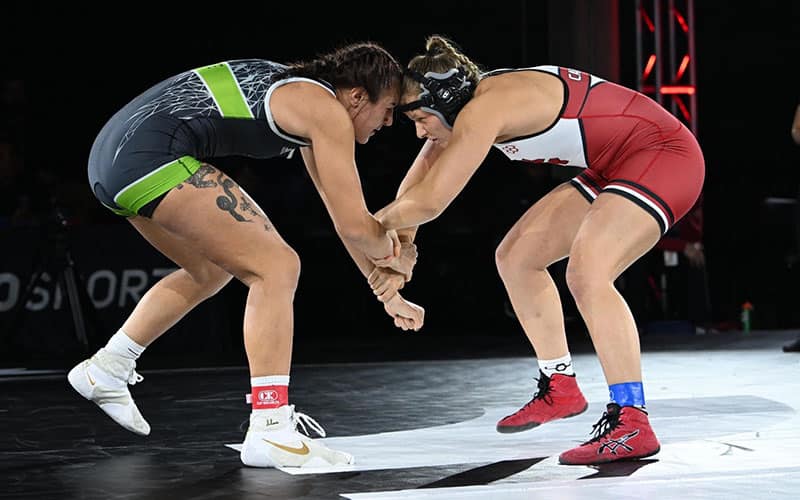 National Collegiate Women's Wrestling Championship (NCWWC) Executive Committee announces the success of
over 40 programs meeting all their divisional rules
allowing for the consideration of the NCAA to sponsor a National Championship in women's wrestling.
The NCWWC Executive Committee is pleased to announce that NCAA women's wrestling has successfully met the requirements established for consideration of an NCAA sponsored championship. Teams across all three divisions report meeting their respective divisional NCAA rules required to be considered for NCAA Championship sponsorship.
"With the help of our coalition partners, Wrestle Like a Girl, USA Wrestling, the National Wrestling Hall of Fame and the National Wrestling Coaches Association we are proud to share that 43 teams have reported meeting their divisional Bylaw goals. We also want to express our appreciation of support from the NCAA Committee on Women's Athletics, the NCAA staff and institutional members of that committee for their support of the sport," said
Lisa Goddard McGuirk
, chair of the NCWWC Executive Committee.
"Finally, I also want to thank the administrators of member institutions who gave of their time to serve on the Executive Committee. Administrators from all three divisions serve on this critical committee which provided guidance and leadership throughout the process."
The NCAA teams presently compete in the National Collegiate Women's Wrestling Championship (NCWWC) which serves as the National Championship for all NCAA schools until the NCAA sponsor a Championship.
What other leaders in women's wrestling are saying
.
Sally Roberts Chief Executive Officer of Wrestle Like a Girl
"NCAA inclusion of women's wrestling is vital to the sport's expansion across the globe and will open opportunities for more girls and women from underrepresented communities to pursue their education and become leaders in life. Wrestle Like a Girl and our supporters are thrilled with the achievement of this milestone and are committed to continuing the work to achieve NCAA championship status."
Rich Bender Executive Director USA Wrestling
"USA Wrestling is overjoyed with our great sport reaching this important milestone. It has been the combined efforts of many that has helped push NCAA Women's Wrestling to these incredible new heights. Much work remains as we collectively continue the sport's advancement by providing more quality collegiate wrestling opportunities for women all across the nation."
Lee Roy Smith, National Wrestling Hall of Fame Executive Director
"The National Wrestling Hall of Fame wholeheartedly supports expanding and creating opportunities for women at every level in our great sport. The inclusion of women's wrestling at the NCAA level provides future generations another way to advance their career on the mat while also continuing their education and helping provide future opportunities and success for life.'
Mike Moyer, Executive Director, NWCA
"On behalf of the NWCA Board of Directors, I want to extend a heartfelt thanks to all of our women's wrestling coalition members for their relentless efforts to make this day possible. This historic announcement leads to more opportunities for young aspiring high school wrestlers to pursue their academic and athletic careers in college, something we should all celebrate."