News
USA Wrestling
College
USAW
NAIA men's preview: Grand View looks to repeat, seeking 11th title in 12 years, Life is top challenger
by Johnnie Johnson, Special to TheMat.com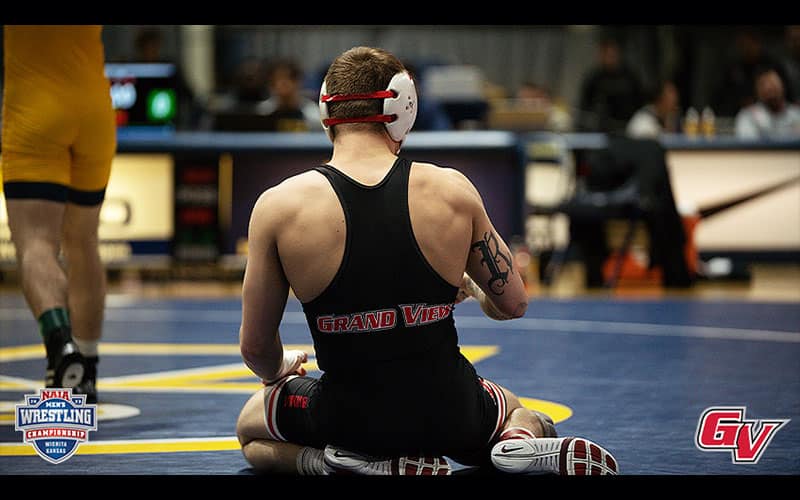 Graphic courtesy of Grand View Athletics
.
The Vikings of Grand View (IA) are looking to repeat as NAIA Champions, and in the process garner their 11th title in the past 12 years. The Vikings have set, broken, and rebroken just about every record there is in NAIA wrestling history.
No. 1 ranked Grand View traveled to Oskaloosa, Iowa to compete in the Men's Wrestling Heart of America Conference Championships. The Vikings garnered their 8th-consecutive Conference Championship with a total point count of 229, and for the first time in the Heart of America Conference, a team won all 10 finals bouts. Twelve ranked individuals represented Grand View in the championship round, with all wrestlers being ranked within the top four nationally.
Earning individual titles were 125 Esco Walker (SR), 133 Carson Taylor (SO), 141 Shea Ruffridge (SR/), 149 Blake Gonzalez (JR), 165 Marty Margolis (SR), 174 Isaiah Luellen (JR), 184 Ben Lee (SR), 197 Owen Braungardt (JR), and 285 Greg Hagan (JR). At the 157, the Vikings got a double forfeit as No. 2 Israel Casarez (SR) and No. 1 Giovanny Bonilla (SR) became Co-Champions. At the conclusion of the championship, the Vikings garnered three postseason awards including Nick Mitchell earning Head Coach of the Year, Paul Reedy being named Assistant Coach of the Year, Esco Walker earned Wrestler of the Year, Garavous Kouekabakilaho (FR) winning Co-Freshman of the Year, and Greg Hagan earned Most Outstanding Wrestler.
The Vikings earned 11 automatic qualifiers with their conference finalists, and Kouekabakilaho earned an At-Large bid for the 2023 NAIA National Championship, giving Grand View 12 national qualifiers. The NAIA allows 12 national qualifiers per institution, with no more than two wrestlers at any given weight class.
Head Coach Nick Mitchell has amassed what could arguably be the best NAIA Tournament team EVER, perhaps the best tournament team in any collegiate level! Heading into the NAIA Nationals the Vikings have five top ranked wrestlers, four second ranked wrestlers, a third ranked wrestler, and a pair of fourth ranked wrestlers, giving Coach Mitchell 12 wrestlers ranked in the top four at the national tournament! The top ranked Vikings include Esco Walker (125), Carson Taylor (133),Giovanni Bonilla (157), Isaiah Luellen (174), and Greg Hagan (285). The four GV grapplers ranked second are 149-pounder Blake Gonzalez, Israel Casarez (157), Marty Margolis (165), and Ben Lee at 184. 197-pounder Owen Braungardt is ranked third, while Ruffridge (141) and Kouekabakilaho (197) are ranked fourth.
The Vikings have two National Champions who will be returning to Wichita this weekend, Esco Walker at 125, and Israel Casarez at 157. Earning runner-up was Marty Margolis, Ben Lee, and Greg Hagan for the Vikings. Earning third place were Carson Taylor, Isaiah Luellen, and Shea Ruffridge. Owen Braungardt would finish in 5th overall. All of the Viking wrestlers have the potential to be NAIA finalist and champions!
In the final NAIA poll, the Vikings were in the top spot with 300 points, followed by Life University with 276 points.
The Life Running Eagle,s led by head coach Omi Acosta, secured 11 national qualifiers following the 2023 AAC Wrestling Championships held in Marietta, Georgia, gaining 9 champions in 10 weight classes. LU's 11 qualifiers include Brandon Orum (125), Jacob Ruiz (133), Julian Hernandez (141), Tyree Johnson (141), Brevin Balmeceda (149), Steven Villalobos (157), Jack Bass (165), Riley Smucker (174), Asher Eichert (184), Zane Lanham (197), and Austin Harris (285) all with automatic bids to the 2023 Championships. The Running Eagles are led by a pair of top ranked wrestlers in Bass (165) and Lanham (197). Life's 11 qualifiers are all ranked in the top eight, with six ranked in the top 4! Second-ranked Eagles include Orum (125) and Ruiz (133), third is Balmeceda (149), Harris (285) is ranked fourth, a pair of fifth-ranked wrestlers include Hernandez (141) and Villalobos(157), sixth-ranked is Johnson (141), and rounding out the top eight is Smucker (174).
Rounding out the top 10 teams in the poll are Southeastern Florida (3rd/242 pts.), Doane NE (4th/181 pts), Indiana Tech (5th, 173 pts.), Marian University IN (6th/164 pts.), Menlo CA (7th/157 pts), Eastern Oregon (8th/147 pts), Providence MT (9th/126 pts), and Morningside Iowa (10/123 pts.).
The final three top ranked NAIA wrestlers include Baterdene Boldmaa, Doane (Neb.) at 141, 149-pounder Ryan Moore of Thomas More (Ky.), and Eric Vermillion of Indiana Tech at 184.
Third ranked Southeastern Florida finished runner-up to 2nd ranked Life at the Appalachian Athletic Conference Championships with Sal Silva being the lone champion, but 11 other Fire wrestlers earned trips to the NAIA National Championships. Six other Southeastern Florida wrestlers finished as runner-up in their weight class and include (national rank/weight) Isaac Crowell (7th/125), Parker Dobrocky (2nd/141), Andreus Bond (4th/149), Stephen Kelle (5th/174), Coleman Bryant (15th/184), and Gage Braun (3rd/285). Douglas Peppers was fourth (7th/174), and a trio placed 5th in Esau Bazilme (8th/125), Kael Brisker was fifth (7th/141), and Trace Braun fifth. (13th/157).
Fourth ranked Doane hosted the 2023 Great Plains Athletic Conference (GPAC) Championships in Fuhrer Field House. The Tigers walked away with a aecond-place finish as they posted 175.0 points, nine behind 10th ranked Morningside. The Tigers crowned three champions in the tournament. Six wrestlers automatically qualified for the NAIA National Championships with top two finishes. Daniel Vargas (125) was the first Tiger to win a championship, taking his third straight GPAC title. Baagii Boldmaa won his fourth GPAC championship at 141, and Bradley Antesberger won his second GPAC championship in three years at 197. Runner-ups for Doane included Nate Lendt (149), Michael Scarponi (174), and Tristan Zamilpa at 157.
Indiana Tech remains the fifth-ranked team off the strength of three top-3 wrestlers. Eric Vermillion holds as No. 1 at 184, Matt Gimson 3rd at 133, and Nate Wheeler 3rd at 157. The Marian U (IN) wrestling team competed tough in the WHAC Championships, battling against their conference rivals in nine weight classes. The Knights finished the day with five individual champions, and closed as the WHAC runner-up behind Indiana Tech, who edged out Marian by a final team score of 165-161.5. Marian led the WHAC with five First Team All-Conference honors, winning at five weight classes in the championships. Blake Mulkey (133), Logan Wagner (141), Elliott Rodgers (165), Noah Hollendonner (174), and Jack Servies (197) were all champions in their weight classes. Servies and Rodgers closed the championship as three-time conference champions, landing on the first team for the third time in their careers. Mulkey earned his second WHAC Championship, earning his first title since 2021 after missing last season with a lower-body injury. Earning Second Team All-WHAC honors were Asa Garcia (141) and Bailey Moore (157), who each finished as the runner-up in their respective weight classes. The top two placers are automatic NAIA qualifiers.
No. 7 Menlo (CA) claimed the championship title at the Cascade Collegiate Conference for the third time in five years! The last title won by Menlo was in 2020 where they won by a 10-point margin. This year, the Oaks won with 153.0 points beating the next best team, Southern Oregon (108.5 points), by 45 points. Menlo placed 9 wrestlers: two champions, three 2nd place wrestlers, three 3rd place wrestlers, and many more have officially qualified for nationals!
Eastern Oregon University is ranked eighth,and had a program-record nine wrestlers make the cut for nationals, with eight automatic qualifiers and one national at-large bid. Mountie grapplers who earned their spot at the NAIA Men's Wrestling Championship include Hunter Sparks (125), Luciano Fasulo (125), Braden Carson (133), Jaxon Morlan (141), Keegan Mulhill (174) Kyle Knudtson (184), Marco Retano (197), Jay Smith (197), and Noel Orozco (285). The Cascade Collegiate Conference led all conferences with 57 individual qualifiers when including automatic qualifiers and at-large bids. Eastern Oregon is traveling the second largest team to nationals with nine just behind CCC Champion Menlo College with 10.
No. 9 ranked University of Providence (MT) Argo wrestlers Joel Avila and Liam Swanson were named at-large qualifiers for the NAIA. Avila, a senior from Indio, California, earned an at-large selection at 133lbs. He has spent most of the season ranked inside the top 10 in his weight class and is currently ranked 8th in the country. Swanson, a sophomore from Great Falls, Montana, received an at-large bid at 197-lbs. The Great Falls High product is ranked No. 14 in the nation. Avila and Swanson will join automatic qualifiers from Providence, Aden Graves (157), Bridger Hall (165), Jordan Komac (165), Sawyer Hobbs (184) and KC Buday (285), giving UP seven qualifiers.
Making one of the most impressive strides in NAIA wrestling this season is Morningside College (IA), as 11 Mustangs qualified, either through conference allocations or at-large berths for the national tournament. Evan Shell, representing Morningside at 125 pounds, will wrestle no. 5 Isaac Crowell from Southeastern in the first round. Taylor Vasquez and Benjamin Schmitz weigh in at 133 pounds for the Mustangs. Vasquez, seeded no. 9, will face Julian Leon of Vanguard while Schmitz will see no. 11 Elijah Anthony of Indiana Tech. Nicholas Walters dons the maroon at 141 pounds, meeting no. 12 Bryce Nickel from Cumberlands at the center of the mat.John Diener, Morningside's career falls record holder, is seeded no. 8, and will advance to the second round with a bye. He'll get the winner of no. 9 Nathan Lendt from Doane and Steven Weathers from Missouri Valley. Diener and Lendt have crossed paths twice this season, with Diener getting the fall at the Great Plains Athletic Conference tournament on Feb. 18.
Grand View (Iowa), Indiana Tech, and Southeastern (Fla.) will travel 12 wrestlers to the national championships. Life (Ga.), Morningside (Iowa), and Ottawa (Kan.) will bring 11 wrestlers total; Campbellsville (Ky.) and Menlo (Calif.) will bring along 10 each. The Cascade Collegiate Conference led all conferences with 57 individual qualifiers. The Heart of America Athletic Conference was second with 43 student-athletes while the Mid-South Conference was just behind with 42.
The 66th annual NAIA Men's Nationals takes place March 3-4 at Hartman Arena in Park City, Kansas. The action begins at 11 a.m. EST on March 3, with the first two championship and consolation rounds being held in the opening session. There is an evening session on that same day in which the championship quarterfinals and two more consolation rounds will take place. On March 4, the morning session begins at 11 a.m. EST, featuring the championship semifinals and consolation placements, with the championship finals taking place that evening beginning at 8 p.m. EST.