News
USA Wrestling
International
USAW
Green to leave USA Wrestling coaching position in September to compete again and train with Nebraska Wrestling Training Center
by Gary Abbott, USA Wrestling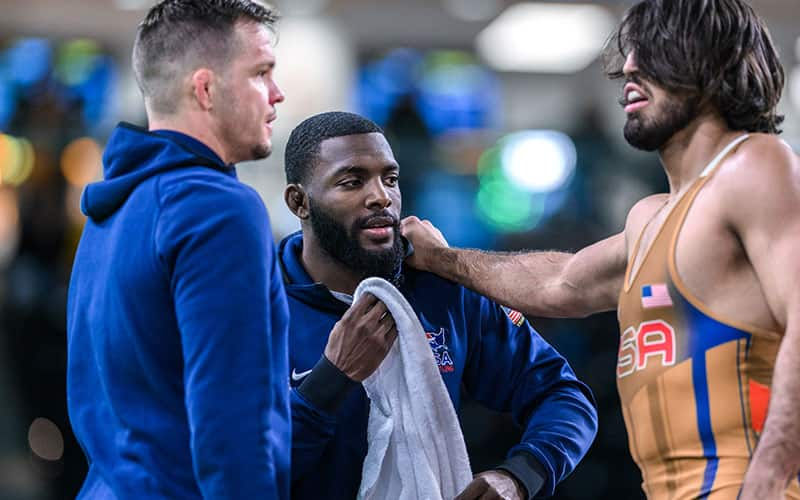 James Green, along with Mark Perry, coach Zahid Valencia at 2022 World Cup. Photo by Tony Rotundo, Wrestlers Are Warriors
USA Wrestling's National Freestyle Developmental Coach
James Green
will return to competition as an athlete. He will also return to his alma mater, the University of Nebraska at Lincoln, to train with the Nebraska Wrestling Training Center.
Green was named to the USA Wrestling national men's freestyle coaching staff in April 2022 and has worked with USA Wrestling's elite age-group freestyle wrestlers. He also managed the men's freestyle portion of the Elite Accelerator Program at the U.S. Olympic & Paralympic Training Center in Colorado Springs, Colo.
Before going back to his athletic career, Green will coach the U.S. men's freestyle teams at the 2023 U17 World Championships in Istanbul, Turkey and the 2023 U20 World Championships in Warsaw, Poland this summer.
Green had retired from competition when he took the USA Wrestling job, having been a two-time Senior World medalist in men's freestyle for the United States. Green, 31, will leave coaching after this summer to pursue his quest to compete at the international level again.
"James, Chandell and their family have been a great addition to our staff and team. James' impact on our men's freestyle program as coach was immediate in both our U17 World Team Championship and overall developmental medals. It's bitter sweet for me, However, just as previously, I'll look forward to James' impact on our Senior men's freestyle team as an athlete, again. We wish the Green family well in a new direction within the USA Wrestling family," said
Bill Zadick
, National Freestyle Coach for USA Wrestling.
USA Wrestling was very successful with Green coaching its 2022 U17 and U20 World Teams. The United States won the team title in Green's first event with the program at the 2022 U17 World Championships in Rome, Italy. The team won nine medals in the 10 weight classes, led by U17 World champions Domenic Munaretto (45 kg), Luke Lilledahl (51 kg), Joseph Sealey (71 kg) and Koy Hopke (110 kg). Green also led the USA to a second-place finish at the 2022 U20 World Championships in Sofia, Bulgaria, with a pair of champions, Jore Volk (57 kg) and Ben Kueter (97 kg) and two silver medalists.
As an athlete, Green won a silver medal at the 2017 World Championships in Paris, France, as part of the U.S. team which won the Senior World Team title. He also won a bronze medal at the 2015 World Championships in Las Vegas, Nev. Green competed on six U.S. Senior World Teams.
Before coming to USA Wrestling, Green was an athlete with the Southeast Regional Training Center, affiliated with Virginia Tech University, and competed for the Titan Mercury Wrestling Club. He previously spent many years with the Nebraska Wrestling Training Center, which is affiliated with the University of Nebraska.
Green won Pan American Championships titles in 2017 and 2018. He claimed U.S. Senior National titles in 2017 and 2021. Green competed on three U.S. World Cup teams. During his career, he won medals in major international tournaments in Turkey, Poland, France, Russia, Bulgaria, Spain and Ukraine. He also won a silver medal at the 2014 University World Championships.
He was a four-time NCAA All-American for the University of Nebraska, placing third in the 2014 and 2015 NCAA Championships, and seventh at the 2012 and 2013 NCAA Championships, competing for coach Mark Manning. Green was a 2014 Big Ten champion and 2013 Big Ten runner-up.
A native of Willingboro High School, Green was a 2011 New Jersey state champion for Willingboro High School, the first state champion in his school's history. He was also a 2010 New Jersey state runner-up.