News
USA Wrestling
Women
High School & Youth
USAW
U.S. women score nine gold medals, one silver and team title at U17 Pan-American Championships
by Richard Immel, USA Wrestling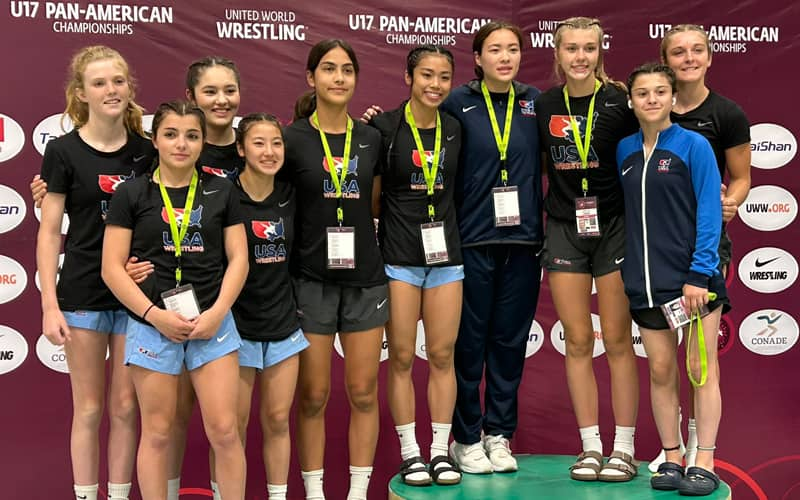 Photo: The U.S. women's team poses on the podium at the U17 Pan-American Championships in Mexico City. (Danny Struck)
MEXICO CITY – The U.S. women's freestyle bunch went 10-for-10 on medals at the U17 Pan-American Championships, collecting a whopping nine golds, one silver and a team title to boot.
At the tip of the spear for Team USA was Wisconsin native Carley Ceshker, who was awarded the "Golden Boot" as Outstanding Wrestler of the event as the day of wrestling concluded inside Gimnasio Principal del Centro Deportivo Olímpico Mexicano in Mexico City.
Ceshker won five matches, the most of any wrestler at the event. Four of her five victories came by way of pin or technical fall. In the 57 kg finals, it was Ceshker tactically edging Puerto Rico's Eliana White Vega by a 6-3 decision.
Outstanding wrestler for the tourney! Your u17 OW 57kg Carley Ceshker! @USAWrestling pic.twitter.com/HUn0gYQqPd

— Danny Struck (@danny_struck) June 23, 2023
The U.S. hauled in an astonishing 245 team points, five points shy of the maximum 250 points. Coming in a distant second place was the home country of Mexico who earned 136 team points on the strength of one champion, three silver medalists and two bronze medalists. Canada finished in third place with two bronze medal winners and 94 team points.
Illinois product Harlee Hiller had an argument for top performance of the event. Hiller claimed the 49 kg gold medal by pinning all four of her international foes. Her combined mat time across all matches was 7:08, an average of 1:47 per match. Only one of her matches made it to the second period.
Four American women navigated to gold medals with a combination pins and technical falls in every contest. Francesca Gusfa and Katelyn Valdez accomplished the feat in the three-women round-robin brackets at 40 kg and 43 kg with apparent ease. California's Isabella Marie Gonzales iced her perfect day with a 10-0 technical fall in the 53 kg finals. Sarah Henckel of Connecticut equitably threw out 10-0 techs across the board at 69 kg.
Also earning gold medals with impressive efforts for the U.S. were Charlie Wylie at 46 kg, Cadence Diduch at 61 kg and Belicia Manuel at 65 kg. Mishell Rebisch picked up a silver medal at 73 kg to round out a spectacular day of wrestling for the American group.
The U17 Pan-American Championships continue at 10 a.m. (MT) on Saturday with the men's freestyle portion of the event. A live stream and complete results can be found at unitedworldwrestling.org.
2023 U17 Pan-American Championships
At Mexico City, Mexico, June 23
Women's Freestyle Results
Team Standings
1. United States, 245
2. Mexico, 136
3. Canada, 94
4. Ecuador, 83
5. Puerto Rico, 80
6. Brazil, 63
7. Colombia, 57
8. Peru, 30
9. Chile, 8
40 kg
Gold – Francesca Gusfa (United States)
Silver – Ana Maria Baquerizo Gavilanes (Ecuador)
Bronze – Manavi Asthana (Canada)
Round 1
Ana Maria Baquerizo Gavilanes (Ecuador) fall Manavi Asthana (Canada), 2:56
Round 2
Francesca Gusfa (United States) tech. fall Ana Maria Baquerizo Gavilanes (Ecuador), 10-0
Round 3
Francesca Gusfa (United States) tech. fall Manavi Asthana (Canada), 10-0
43 kg
Gold – Katelyn Valdez (United States)
Silver – Jennyfer Jimenez Ferrusca (Mexico)
Bronze – Vitoria Da Silva Vieira (Brazil)
Round 1
Jennyfer Jimenez Ferrusca (Mexico) fall Vitoria Da Silva Vieira (Brazil), 2:25
Round 2
Katelyn Valdez (United States) tech. fall Vitoria Da Silva Vieira (Brazil), 10-0
Round 3
Katelyn Valdez (United States) fall Jennyfer Jimenez Ferrusca (Mexico), 0:49
46 kg
Gold – Charlie Wylie (United States)
Silver – Vicky Leon Gomez (Ecuador)
Bronze – Anna Gutierrez Martinez (Mexico)
4th – Emma Chartres (Canada)
Round 1
Vicky Leon Gomez (Ecuador) dec. Anna Gutierrez Martinez (Mexico), 8-5
Charlie Wylie (United States) tech. fall Emma Chartres (Canada), 10-0
Round 2
Charlie Wylie (United States) dec. Vicky Leon Gomez (Ecuador), 8-8
Anna Gutierrez Martinez (Mexico) fall Emma Chartres (Canada), 2:44
Round 3
Vicky Leon Gomez (Ecuador) forfeit Emma Chartres (Canada)
Charlie Wylie (United States) inj. def. Anna Gutierrez Martinez (Mexico), 0:41
49 kg
Gold – Harlee Hiller (United States)
Silver – Aneishka Santos Baez (Puerto Rico)
Bronze – Valeria Alvarez Agurto (Ecuador)
4th – Ava Guay (Canada)
5th – Valery Gomez Nanez (Colombia)
6th – Giovanna Cincinato Pimenta (Brazil)
Gold Medal Match
Harlee Hiller (United States) fall Aneishka Santos Baez (Puerto Rico), 1:35
Bronze Medal Match
Valeria Alvarez Agurto (Ecuador) dec. Ava Guay (Canada), 3-2
53 kg
Gold – Isabella Marie Gonzales (United States)
Silver – Montserrat Hernandez Gomez (Mexico)
Bronze – Paola Vezquez Marengo (Puerto Rico)
4th – Darli Serna Ramirez (Colombia)
Round 1
Isabella Marie Gonzales (United States) fall Darli Serna Ramirez (Colombia), 0:33
Montserrat Hernandez Gomez (Mexico) fall Paola Vezquez Marengo (Puerto Rico), 0:43
Round 2
Montserrat Hernandez Gomez (Mexico) fall Darli Serna Ramirez (Colombia), 3:22
Isabella Marie Gonzales (United States) fall Paola Vezquez Marengo (Puerto Rico), 0:24
Round 3
Paola Vezquez Marengo (Puerto Rico) fall Darli Serna Ramirez (Colombia), 1:04
Isabella Marie Gonzales (United States) tech. fall Montserrat Hernandez Gomez (Mexico), 10-0
57 kg
Gold – Carley Ceshker (United States)
Silver – Eliana White Vega (Puerto Rico)
Bronze – Avril De Souza Oliveira (Brazil)
4th – Angelica Plascencia Aceves (Mexico)
5th – Cindell Casusol Casas (Peru)
6th – Mackenzie Cayer (Canada)
7th – Josselyn Guallpa Naranjo (Ecuador)
Gold Medal Match
Carley Ceshker (United States) dec. Eliana White Vega (Puerto Rico), 6-3
Bronze Medal Match
Avril De Souza Oliveira (Brazil) dec. Angelica Plascencia Aceves (Mexico), 4-4
61 kg
Gold – Cadence Diduch (United States)
Silver – Leiddy Acuna Penaranda (Ecuador)
Bronze – Carina Giangeruso (Puerto Rico)
4th – Maicielo Molina Rivasplata (Peru)
5th – Anaka Chartrand (Canada)
6th – Grecia Romero Gudino (Mexico)
7th – Martina Godoy Corvalan (Chile)
Gold Medal Match
Cadence Diduch (United States) tech. fall Leiddy Acuna Penaranda (Ecuador), 11-0
Bronze Medal Match
Carina Giangeruso (Puerto Rico) tech. fall Maicielo Molina Rivasplata (Peru), 10-0
65 kg
Gold – Belicia Manuel (United States)
Silver – Diana Carmona Alcantara (Colombia)
Bronze – Debanhi Martinez Tello (Mexico)
4th – Mayara Neper Oliveira Santos (Brazil)
5th – Gabriella Ocasio Borges (Puerto Rico)
6th – Paige Veloso (Canada)
7th – Fabiana Cruz Zapata (Peru)
Gold Medal Match
Belicia Manuel (United States) tech. fall Diana Carmona Alcantara (Colombia), 10-0
Bronze Medal Match
Debanhi Martinez Tello (Mexico) dec. Mayara Neper Oliveira Santos (Brazil), 6-1
69 kg
Gold – Sarah Henckel (United States)
Silver – Zashka Ruiz Carrizales (Mexico)
Bronze – Angie Medina Cruz (Colombia)
4th – Rose LaCoste (Canada)
Round 1
Sarah Henckel (United States) tech. fall Rose LaCoste (Canada), 10-0
Zashka Ruiz Carrizales (Mexico) dec. Angie Medina Cruz (Colombia), 5-4
Round 2
Zashka Ruiz Carrizales (Mexico) fall Rose LaCoste (Canada), 3:57
Sarah Henckel (United States) tech. fall Angie Medina Cruz (Colombia), 10-0
Round 3
Angie Medina Cruz (Colombia) fall Rose LaCoste (Canada), 1:14
Sarah Henckel (United States) tech. fall Zashka Ruiz Carrizales (Mexico), 10-0
73 kg
Gold – Edna Jimenez Villalba (Mexico)
Silver – Mishell Rebisch (United States)
Bronze – Beatrice Galaise (Canada)
4th – Bruna De Souza Azeredo (Brazil)
Round 1
Mishell Rebisch (United States) tech. fall Bruna De Souza Azeredo (Brazil), 10-0
Edna Jimenez Villalba (Mexico) dec. Beatrice Galaise (Canada), 9-0
Round 2
Mishell Rebisch (United States) dec. Beatrice Galaise (Canada), 9-0
Edna Jimenez Villalba (Mexico) fall Bruna De Souza Azeredo (Brazil), 0:18
Round 3
Beatrice Galaise (Canada) fall Bruna De Souza Azeredo (Brazil), 0:47
Edna Jimenez Villalba (Mexico) fall Mishell Rebisch (United States), 2:33
U.S. Women's Freestyle Results
40 kg – Francesca Gusfa, Ridgewood, N.J., Gold
WIN Ana Maria Baquerizo Gavilanes (Ecuador), tech. fall, 10-0
WIN Manavi Asthana (Canada), tech. fall, 10-0
43 kg – Katelyn Valdez, Colorado Springs, Colo., Gold
WIN Vitoria Da Silva Vieira (Brazil), tech. fall, 10-0
WIN Jennyfer Jimenez Ferrusca (Mexico), fall, 0:49
46 kg – Charlie Wylie, Montague, N.J., Gold
WIN Emma May Chartres (Canada), tech. fall, 10-0
WIN Vicky Leon Gomez (Ecuador), 8-8
WIN Anna Gutierrez Martinez (Mexico), inj. def., 0:41
49 kg – Harlee Hiller, Evanston, Ill., Gold
WIN Valery Gomez Nanez (Colombia), fall, 1:09
WIN Aneishka Santos Baez (Puerto Rico), fall, 3:33
WIN Ava Guay (Canada), fall, 0:51
WIN Aneishka Santos Baez (Puerto Rico), fall, 1:35
53 kg – Isabella Marie Gonzales, Fresno, Calif., Gold
WIN Darli Serna Ramirez (Colombia), fall, 0:33
WIN Paola Vezquez Marengo (Puerto Rico), fall, 0:24
WIN Montserrat Hernandez Gomez (Mexico), tech. fall, 10-0
57 kg – Carley Ceshker, Lake Geneva, Wis., Gold
WIN Avril De Souza Oliveira (Brazil), tech. fall, 11-0
WIN Mackenzie Cayer (Canada), fall, 0:20
WIN Cindell Casusol Casas (Peru), tech. fall, 10-0
WIN Angelica Plascencia Aceves (Mexico), fall, 0:40
WIN Eliana White Vega (Puerto Rico), 6-3
61 kg – Cadence Diduch, Freeport, Ill., Gold
WIN Grecia Romero Gudino (Mexico), tech. fall, 10-0
WIN Maicielo Molina Rivasplata (Peru), fall, 0:50
WIN Carina Giangeruso (Puerto Rico), 8-2
WIN Leiddy Acuna Penaranda (Ecuador), 11-0
65 kg – Belicia Manuel, Washington, Mich., Gold
WIN Diana Carmona Alcantara (Colombia), 6-4
WIN Paige Veloso (Canada), tech. fall, 15-5
WIN Debanhi Martinez Tello (Mexico), fall, 0:30
WIN Diana Carmona Alcantara (Colombia), tech. fall, 10-0
69 kg – Sarah Henckel, Southbury, Conn., Gold
WIN Rose LaCoste (Canada), tech. fall, 10-0
WIN Angie Medina Cruz (Colombia), tech. fall, 10-0
WIN Zashka Ruiz Carrizales (Mexico), tech. fall, 10-0
73 kg – Mishell Rebisch, Brighton, Mich., Silver
WIN Bruna De Souza Azeredo (Brazil), tech. fall 10-0
WIN Beatrice Galaise (Canada), 9-0
LOSS Edna Jimenez Villalba (Mexico), fall, 2:33