News
USA Wrestling
Women
High School & Youth
USAW
California Red topples Colorado to win Junior Women's Greco-Roman National Duals
by Richard Immel, USA Wrestling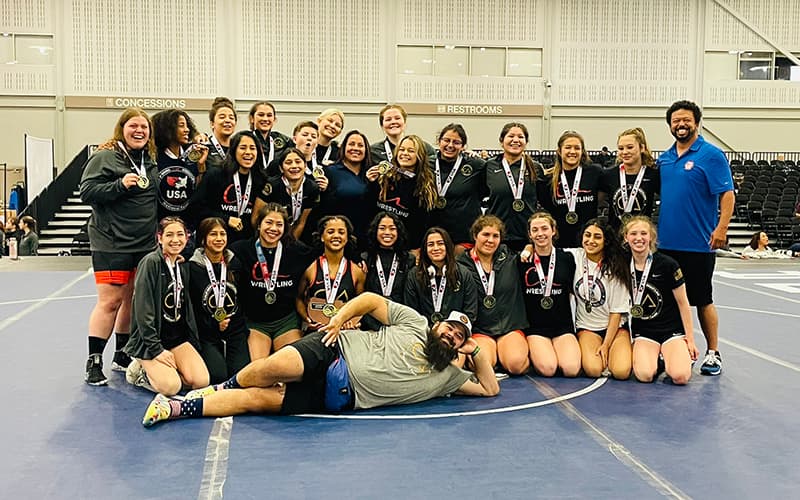 Photo: California Red after capturing the Junior Women's Greco-Roman National Duals title. (California USA Wrestling Twitter/@calUSAwrestling)
TULSA, Okla. – California Red completed an undefeated run at the Junior Women's Greco-Roman National Duals with a thrilling 39-28 victory over Colorado in the championship match on Saturday morning at Cox Convention Center.
The battle for first place was a tight one as eight of the 14 matches went in California Red's favor. Both California Red and Colorado were flush with domestic stars listed in the National Girls High School Rankings.
The premier match came midway through the championship dual at 225 pounds between top-ranked Ciara Monger of Colorado and No. 5 Alysse Phillips of California Red. The on-paper underdog Phillips was aggressive early and often, driving through her underhooks and controlling the center of the mat. This strategy paid off as Monger was disqualified from the match after surrendering three cautions. The final caution against Monger came on a defensive leg foul as Phillips hit a masterful feet-to-back toss near the end of the second period.
Two other matches pitted ranked wrestlers against one another. At 164 pounds, No. 25 Nevaeh Garcia of Colorado pulled the slight upset over California Red's fifteenth-ranked Johanna Forman. Garcia scored a pin at the 1:02 mark after countering a Forman arm spin attempt to her back for the fall. In the second-to-last match, No. 9 Samantha Sachs iced the national title for California Red with a smooth over/under body lock toss to pin No. 28 Timberly Martinez of Colorado in 2:35 at 132 pounds. Martinez was leading 2-1 at the time of the critical exchange that led to the pin.
Down at 112 pounds, California Red picked up another match-swinging upset with unranked Abbi Cooper dropping No. 5 Janessa George in 4:35. Cooper was aggressive with her two-on-one ties throughout the contest, a strategy that ultimately led to the pin. In the second period, Cooper threw a two-on-one attempt to the mat, forcing George to stumble to her back, as Cooper pounced for the fall.
Additional winners for California Red against Colorado include Arieana Arias at 117 pounds, No. 11 Alejandra Valdiviezo at 122 pounds, Alex Maday at 138 pounds, Kaylin Montano at 144 pounds and No. 15 Anna Bozanic at 200 pounds. Picking up bonus-point wins for Colorado were No. 6 Katey Valdez at 100 pounds, No. 9 Alexsys Jacquez at 106 pounds, No. 16 Taylor Miess at 127 pounds, Desza Munson at 152 pounds and No. 18 Alison Evans at 180 pounds.
Utah rebounded from a two-point loss to the eventual champions California Red in Gold/Silver Pool play, to take out Oklahoma Red, 48-21, in the third-place match. Five athletes from Utah picked up pins during the match: Sadie Rhoades at 106 pounds, No. 15 Rachel Camacho at 112 pounds, Nya Jolley at 144 pounds, No. 8 Lizzie Shunn at 152 pounds and No. 20 Aurellia Ramos at 164 pounds.
Finishing in fifth place was Michigan, who cruised past Kansas in the placement match, 47-19. Michigan won 10 bouts against Kansas, including bonus-point victories from four nationally ranked women: No. 10 Gigi Bragg at 117 pounds, No. 27 Isabella Cepak at 122 pounds, No. 18 Margaret Buurma at 138 pounds and No. 9 Maddie Hayden at 164 pounds.
Rounding out the Gold/Silver Pool placers were Texas Red and Pennsylvania Blue, who battled for seventh place. Texas Red edged its Pennsylvania Blue counterpart, 36-30, in a dual that came down to the wire. No. 28 Anna Vogt of Texas Red scored a massive fall over No. 5 Jordyn Fouse of Pennsylvania Blue at 132 pounds before Zoe Bennett received a forfeit at 138 pounds to end the dual. Texas Red was trailing 30-26 heading into the final two bouts.
Complete brackets and match-by-match results for the Junior Women's Greco-Roman National Duals can be found at Trackwrestling.com. Archived matches from the event are available at FloWrestling.com.

The All-Tournament Team for the Junior Women's Greco-Roman Nationals Duals will be announced later today.
Junior Women's Greco-Roman National Duals
At Tulsa, Okla., June 16-17
Gold/Silver Pool Results
Team Standings
1st Place - California Red
2nd Place - Colorado
3rd Place - Utah
4th Place - Oklahoma Red
5th Place - Michigan
6th Place - Kansas
7th Place - Texas Red
8th Place - Pennsylvania Blue
1st Place Match
California Red defeated Colorado, 39-28
144 lbs. – Kaylin Montano (California Red) winner by forfeit
152 lbs. – Desza Munson (Colorado) fall Luana Stathopoulos (California Red), 0:30
164 lbs. – No. 25 Nevaeh Garcia (Colorado) fall No. 15 Johanna Forman (California Red), 1:02
180 lbs. – No. 18 Alison Evans (Colorado) tech. fall Kiley McClain (California Red), 11-0
200 lbs. – No. 15 Anna Bozanic (California Red) fall Natasha Kuberski (Colorado), 5:00
225 lbs. – No. 5 Alysse Phillips (California Red) disqualification No. 1 Ciara Monger (Colorado), 3 cautions
100 lbs. – No. 6 Katey Valdez (Colorado) fall Abigail Alvarado (California Red), 0:34
106 lbs. – No. 9 Alexsys Jacquez (Colorado) tech. fall Madison Heinzer (California Red), 9-0
112 lbs. – Abbi Cooper (California Red) fall No. 5 Janessa George (Colorado), 4:35
117 lbs. – Arieana Arias (California Red) winner by forfeit
122 lbs. – No. 11 Alejandra Valdiviezo (California Red) tech. fall Alexis Segura (Colorado), 8-0
127 lbs. – No. 16 Taylor Miess (Colorado) fall Kayla Edwards (California Red), 4:52
132 lbs. – No. 9 Samantha Sachs (California Red) fall No. 28 Timberly Martinez (Colorado), 2:35
138 lbs. – Alex Maday (California Red) fall Camryn Scott (Colorado), 0:58
3rd Place Match
Utah defeated Oklahoma Red, 48-21
144 lbs. – Nya Jolley (Utah) fall Corin Lowe (Oklahoma Red), 3:56
152 lbs. – No. 8 Lizzie Shunn (Utah) fall Ryleigh Lefkowitz (Oklahoma Red), 4:59
164 lbs. – No. 20 Aurellia Ramos (Utah) fall Alexandria Ray (Oklahoma Red), 1:24
180 lbs. – No. 5 Cheyenne Ruiz (Utah) tech. fall No. 12 Symphony Veloz (Oklahoma Red), 8-0
200 lbs. – No. 2 Tilisa Matakaiongo (Utah) winner by forfeit
225 lbs. – No. 17 Keilikki Nau Rarick (Utah) winner by forfeit
100 lbs. – Alicia Hansen (Utah) winner by forfeit
106 lbs. – Sadie Rhoades (Utah) fall Addie Morse (Oklahoma Red), 3:26
112 lbs. – No. 15 Rachel Camacho (Utah) fall Coty Sessions (Oklahoma Red), 2:34
117 lbs. – Aiyana Perkins (Oklahoma Red) fall Aleena Navarrete (Utah), 5:50
122 lbs. – No. 6 Bella Williams (Oklahoma Red) inj. def. Brooklyn Pace (Utah), 3:00
127 lbs. – Lynn Horn (Oklahoma Red) fall Ashley Cannon (Utah), 0:55
132 lbs. – Kendra Perrien (Oklahoma Red) fall Isla Baeza (Utah), 0:36
138 lbs. – No. 25 Celeste Detoles (Utah) tech. fall Trysten Rittberger (Oklahoma Red), 14-6
5th Place Match
Michigan defeated Kansas, 47-19
144 lbs. – Alissa Caltagirone (Michigan) tech. fall Lexi Burton (Kansas), 8-0
152 lbs. – Shawna Sundholm (Michigan) fall Justice Thomas (Kansas), 1:11
164 lbs. – No. 9 Maddie Hayden (Michigan) tech. fall Kiley Dillow (Kansas), 12-2
180 lbs. – Karla Martinez (Kansas) fall Halle Spears (Michigan), 1:45
200 lbs. – Gabriella Allen (Michigan) fall Morgan Miller (Kansas), 1:43
225 lbs. – Hailey Conley (Kansas) fall Cassidee Easey (Michigan), 1:46
100 lbs. – Cheyenne Frank (Michigan) fall Jaidyn Alvarado (Kansas), 0:22
106 lbs. – Mackenzie Burger (Michigan) fall Veronica Greene (Kansas), 0:56
112 lbs. – No. 16 Sarah Zimmerman (Kansas) tech. fall Dannielle Christian (Michigan), 10-0
117 lbs. – No. 10 Gigi Bragg (Michigan) tech. fall Connie Burns (Kansas), 8-0
122 lbs. – No. 27 Isabella Cepak (Michigan) fall No. 13 Leiannah Landreth (Kansas), 2:32
127 lbs. – No. 23 Kaylan Hitchcock (Kansas) tech. fall Hannah Blyveis (Michigan), 9-0
132 lbs. – Tyler Swanigan (Michigan) fall Isabella Keesee (Kansas), 1:03
138 lbs. – No. 18 Margaret Buurma (Michigan) fall Alexis Means (Kansas), 3:59
7th Place Match
Texas Red defeated Pennsylvania Blue, 36-30
144 lbs. – Jalynn Patino (Texas Red) winner by forfeit
152 lbs. – Brijatte Garcia (Texas Red) dec. No. 30 Raegan Snider (Pennsylvania Blue), 7-1
164 lbs. – Jael Miller (Pennsylvania Blue) tech. fall Camryn Strohman (Texas Red), 8-0
180 lbs. – No. 17 Alyssa Favara (Pennsylvania Blue) fall No. 22 Faith Macharia (Texas Red), 0:43
200 lbs. – Caroline Hattala (Pennsylvania Blue) winner by forfeit
225 lbs. – Brenda Banks (Pennsylvania Blue) winner by forfeit
100 lbs. – Arianna Beltran (Texas Red) winner by forfeit
106 lbs. – No. 18 Lexia Schechterly (Pennsylvania Blue) fall Carly Rodriguez (Texas Red), 0:37
112 lbs. – No. 25 Riley Rayome (Texas Red) dec. No. 27 Journie Rodriguez (Pennsylvania Blue), 5-3
117 lbs. – Annesley Day (Texas Red) winner by forfeit
122 lbs. – Mariah Smith (Texas Red) fall No. 25 Savannah Witt (Pennsylvania Blue), 2:58
127 lbs. – Julissa Ortiz (Pennsylvania Blue) tech. fall Vanessa Egorah (Texas Red), 9-0
132 lbs. – No. 28 Anna Vogt (Texas Red) fall No. 5 Jordyn Fouse (Pennsylvania Blue), 2:56
138 lbs. – Zoe Bennett (Texas Red) winner by forfeit


Bronze/Copper Pool Results
Team Standings
1st Place - Missouri
2nd Place - Minnesota
3rd Place - California Blue
4th Place - Idaho
5th Place - Georgia
6th Place - Indiana
Round 1
Minnesota defeated Idaho, 36-32
Missouri defeated California Blue, 48-16
Georgia defeated Indiana, 35-30
Round 2
Minnesota defeated Indiana, 37-27
Missouri defeated Georgia, 69-1
California Blue defeated Idaho, 41-27
Round 3
Minnesota defeated Georgia, 45-18
Missouri defeated Idaho, 43-23
Indiana defeated California Blue, 49-21
Round 4
Minnesota defeated California Blue, 32-32
Missouri defeated Indiana, 42-21
Idaho defeated Georgia, 43-23
Round 5
Missouri defeated Minnesota, 48-17
California Blue defeated Georgia, 0-0
Idaho defeated Indiana, 37-24
Red/Blue Pool Results
Team Standings
1st Place - Ohio Red
2nd Place - Pennsylvania Red
3rd Place - North Carolina
4th Place - Ohio Blue
5th Place - South Carolina
Round 1
North Carolina defeated Ohio Blue, 39-29
Ohio Red defeated South Carolina, 42-22
Round 2
Ohio Red defeated Pennsylvania Red, 36-23
Ohio Blue defeated South Carolina, 35-34
Round 3
Pennsylvania Red defeated South Carolina, 39-30
Ohio Red defeated North Carolina, 36-33
Round 4
Pennsylvania Red defeated North Carolina, 36-27
Ohio Red defeated Ohio Blue, 0-0
Round 5
Pennsylvania Red defeated Ohio Blue, 39-31
North Carolina defeated South Carolina, 33-29