News
USA Wrestling
Women
USAW
Texas Red, Washington, Pennsylvania, Florida win pools at 14U Girl's Freestyle National Duals
by Richard Immel, USA Wrestling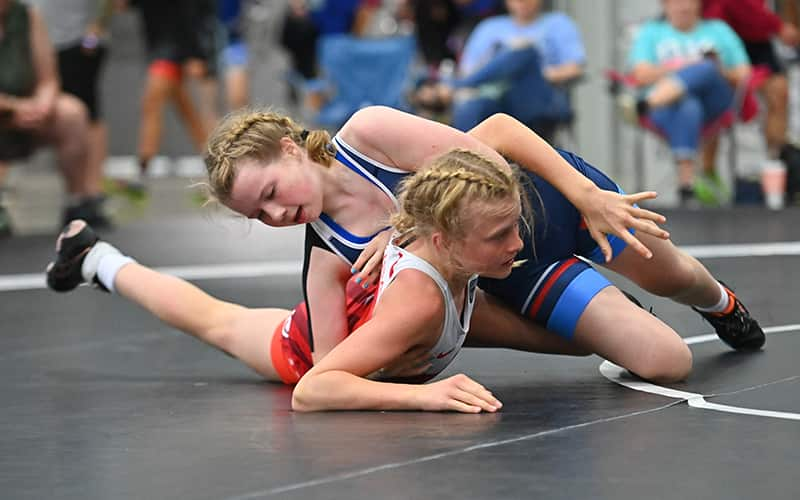 Photo: Action from the 14U Girl's Freestyle National Duals in Tulsa, Okla. (Farrah Sheeren, Wrestling Texas)
TULSA, Okla. – The pool play stage of competition at the 14U Girl's Freestyle National Duals has concluded with Texas Red (Pool A), Washington (Pool B), Pennsylvania (Pool C) and Florida (Pool D) each winning its respective group.
Each pool consisted of five teams competing in a round robin format. The top two teams in each pool advance to the Gold/Silver Pool where they are guaranteed a top-eight finish and remain in contention for the first-place prize.
Texas Red posted an impressive 4-0 record to take Pool A. Brynlee Mooney and Hailey Delgado played hero for Texas Red in its 28-27 victory over pool runner-up Oklahoma Blue. The duo won the final two bouts of the dual by technical fall to punctuate a come-from-behind thriller over their Red River rival.
It doesn't get much closer than the finish in Pool B. Both Washington and Tennessee tied with 3-1 records in the Pool B bracket and deadlocked, 26-26, in their head-to-head matchup. Tennessee did win the dual meet on criteria, but Washington was more dominant against common opponents and was awarded first place in the pool as a result.
The defending champions from Pennsylvania ran through the Pool C bracket with ease. The Keystone State squad outscored its four opponents by a combined 219-24 tally and earned 28 wins by either pin or technical fall, the most of any state. Kansas wound up in second place in Pool C with a 3-1 effort.
Much like Pool B, the Pool D group was decided on criteria after Florida and Ohio both finished with 3-1 records. Florida won the head-to-head matchup against Ohio, 33-23, and brought home first place in the pool as well. Florida wrestlers Maya Alvarado, Jada Williams, Makayla Harrison and Emerson Webber were winners-by-pin in the pivotal dual meet against Ohio.
Of the Pool winners, Washington and Texas Red were tied at No. 1 in the pre-ranking seeds, while Pennsylvania was down at No. 6. Florida came out of left field as a pool winner coming in as the No. 19 ranked team. Wisconsin and Michigan Blue, who were top five in the pre-ranking seeds, did not advance to the Gold/Silver Pool.
There was one round of Color Pool competition on Wednesday evening at Cox Convention Center. After the preliminary pools, the field was broken down into the Gold/Silver, Bronze/Copper and Red/Blue Pools. The tournament completes on Thursday with the conclusion of the Color Pools starting at 8:00 a.m. (CT), followed by the finals at 1 p.m.


Brackets for the 14U Girl's National Duals are available on Trackwrestling.com and the live stream can be accessed through FloWrestling.com.
14U Girl's Freestyle National Duals
At Tulsa, Okla., June 14-15
Pool A Results
Team Standings
1st Place - Texas Red
2nd Place - Oklahoma Blue
3rd Place - Minnesota Blue
4th Place - Arizona Black
5th Place - Arkansas
Round 1
Texas Red defeated Arizona Black, 35-17
Oklahoma Blue defeated Arkansas, 53-0
Round 2
Oklahoma Blue defeated Minnesota Blue, 30-27
Texas Red defeated Arkansas, 53-0
Round 3
Minnesota Blue defeated Arkansas, 49-10
Oklahoma Blue defeated Arizona Black, 37-21
Round 4
Minnesota Blue defeated Arizona Black 32-27.
Texas Red defeated Oklahoma Blue 28-27.
Round 5
Texas Red defeated Minnesota Blue, 34-24
Arizona Black defeated Arkansas, 47-0
Pool B Results
Team Standings
1st Place - Washington
2nd Place - Tennessee
3rd Place - Illinois
4th Place - Missouri
5th Place - Indiana
Round 1
Illinois defeated Missouri, 31-21
Washington defeated Indiana, 44-15
Round 2
Tennessee defeated Indiana, 30-20
Washington defeated Missouri, 42-14
Round 3
Tennessee defeated Washington, 26-26
Illinois defeated Indiana, 43-6
Round 4
Illinois defeated Tennessee, 29-17
Missouri defeated Indiana, 37-14
Round 5
Tennessee defeated Missouri, 29-22
Washington defeated Illinois, 46-13
Pool C Results
Team Standings
1st Place - Pennsylvania
2nd Place - Kansas
3rd Place - Virginia
4th Place - South Carolina
5th Place - North Carolina
Round 1
Virginia defeated North Carolina, 38-8
Kansas defeated South Carolina, 34-18
Round 2
Pennsylvania defeated South Carolina, 57-5
Kansas defeated North Carolina, 37-5
Round 3
Pennsylvania defeated Kansas, 47-11
Virginia defeated South Carolina, 36-14
Round 4
Pennsylvania defeated Virginia, 55-5
South Carolina defeated North Carolina, 32-14
Round 5
Pennsylvania defeated North Carolina, 60-3
Kansas defeated Virginia, 31-17
Pool D Results
Team Standings
1st Place - Florida
2nd Place - Ohio
3rd Place - Wisconsin
4th Place - Michigan Blue
5th Place - North Dakota
Round 1
Ohio defeated Michigan Blue, 42-16
Florida defeated North Dakota, 35-19
Round 2
Wisconsin defeated Florida, 27-26
Michigan Blue defeated North Dakota, 22-22
Round 3
North Dakota defeated Wisconsin, 29-28
Florida defeated Ohio, 33-23
Round 4
Ohio defeated Wisconsin, 29-28
Florida defeated Michigan Blue, 33-24
Round 5
Wisconsin defeated Michigan Blue, 42-15
Ohio defeated North Dakota, 38-19