News
USA Wrestling
International
USAW
Olympic champs Taylor, Snyder, Steveson win, Marsteller tops Burroughs, in men's freestyle at Final X
by Gary Abbott, USA Wrestling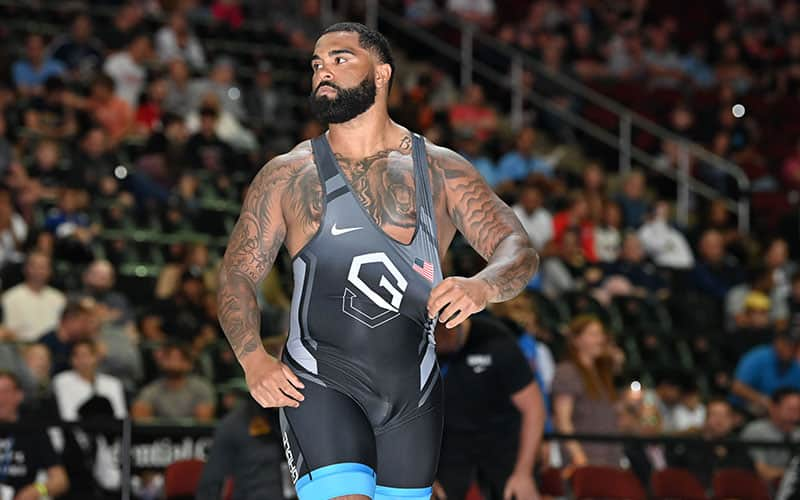 Gable Steveson competing in 2023 Final X. Photo by Sam Janicki
.
NEWARK, N.J. - Three Olympic champions earned titles and six athletes qualified for their first Senior World Team in an exciting men's freestyle segment of Final X on Saturday night at Prudential Center.
Advancing to the 2023 Senior World Championships will be 2020 Olympic champions David Taylor at 86 kg and Gable Steveson at 125 kg, plus 2016 Olympic champion Kyle Snyder at 97 kg.
Taylor, also a two-time World champion, defeated another Penn State legend, Aaron Brooks in two straight matches in the finals series. Taylor shut out Brooks in the first match, then won a closer 5-4 match to advance back to the World Championships.
Steveson defeated an old college rival, Mason Parris, in two straight matches. Steveson won the first match 6-2, and shut out Parris in the second bout for a two-match sweep. Although he is an Olympic champion, Steveson will be competing in his first Senior World Championships.
Snyder, also a three-time World champion, did not wrestle today. His opponent, two-time World champion and Olympic medalist J'den Cox weighed in, but was injured and could not compete. Snyder will represent the USA at the World Championships or Olympics for the ninth straight time.
Chance Marsteller defeated 2012 Olympic champion and six-time World champion Jordan Burroughs in three exciting matches at 79 kg. Burroughs had competed on every Senior World Team since his 2011. Burroughs won the first match 3-3, getting a point for Marsteller pulling on his singlet late in the match and then getting criteria. In the second bout, Marsteller ground out a tough 5-4 win. In the deciding third match, a key throw on the edge, which was originally scored for Burroughs, was awarded four points for Marsteller on the challenge review. Marsteller finished off an 8-3 victoryu.
Four-time World champion Kyle Dake returns for a fifth World Championships with a two-match sweep over Jason Nolf, both by shut outs. In the first match, Dake won 6-0, and in the second match, it was Dake by a 3-0 margin, with all of his points in the first period. It was the second straight year Dake beat Nolf for the team spot.
2022 World silver medalist Zain Retherford earned his third Senior World Team berth with a two match sweep over Tyler Berger at 70 kg. Retherford was dominant in the opening win by an 11-2 margin. In the second bout, trailing 3-0, Retherford battled back for a 4-3 win to close out the series.
Along with Steveson and Marsteller, there will be six Final X winners who will be competing in their first Senior World Championships, Zane Richards at 57 kg, Vitali Arujau at 61 kg, Nick Lee at 65 kg and Zahid Valencia at 92 kg.
Richards scored a two-match sweep over 2021 World champion and Olympic medalist Thomas Gilman. Richards scored a takedown with about 20 seconds left to secure a 4-3 win in bout one. In the second match, a four-point move by Richards with 37 seconds left secured him an 8-6 victory.
Arujau won a battle of Cornell wrestlers, stopping Nahshon Garrett in two straight matches. The first match was a tight 6-5 win for Arujau. In the second match, although Arujau opened it with a big four-point throw, Garrett had an 8-4 lead before Arujau made a big run to win an entertaining 13-10 victory.
Lee won a pair of very close battles against 2022 World silver medalist Yianni Diakomihalis. Lee jumped to a 7-3 lead in match one, but Diakomihalis made a late charge, with Lee emerging with a 7-6 win. In the second bout, with Lee trailing 8-6, the match ended on a scramble. Lee's corner challenged and the video replay gave Lee two points for exposure to tie the match at 8-8 and give Lee criteria.
Valencia, who moved up from 86 kg after losing in the 2023 U.S. Open, made his first World Team at a new weight class with a two-match sweep over Michael Macchiavello in dominant fashion. Valencia won the first match 8-0, and came back with a 9-2 decision in the second match.
Final X

At Newark, N.J., June 10


Men's freestyle results
57 kg – Zane Richards (Illinois RTC/Titan Mercury WC) vs. Thomas Gilman (Nittany Lion WC/Titan Mercury WC)
Bout One: Richards dec. Gilman, 4-3
Bout Two: Richards dec. Gilman, 8-6
Richards wins series 2 matches to 0 and makes World Team
61 kg – Vitali Arujau (Spartan Combat RTC/Titan Mercury WC) vs. Nahshon Garrett (Titan Mercury WC/Lehigh Valley WC)
Bout One: Arujau dec. Garrett, 6-5
Bout Two: Arujau dec. Garrett, 13-10
Arujau wins series 2 matches to 0 and makes World Team
65 kg –Nick Lee (Nittany Lion WC/Titan Mercury WC) vs. Yianni Diakomihalis (Spartan Combat RTC/Titan Mercury WC)
Bout One: Lee dec. Diakomihalis, 7-6
Bout Two: Lee dec. Diakomihalis, 8-8
Lee wins series 2 matches to 0 and makes World Team
70 kg – Zain Retherford (Nittany Lion WC/Titan Mercury WC) vs. Tyler Berger (Pennsylvania RTC/Sunkist Kids WC)
Bout One: Retherford dec. Berger, 11-2
Bout Two: Retherford dec. Berger, 4-3
Retherford wins series 2 matches to 0 and makes World Team
74 kg – Kyle Dake (Nittany Lion WC/Titan Mercury WC) vs. Jason Nolf (Nittany Lion WC/Titan Mercury WC)
Bout One: Dake dec. Nolf, 6-0
Bout Two: Dake dec. Nolf, 3-0
Dake wins series, 2 matches to 0 and makes World Team
79 kg – Jordan Burroughs (Pennsylvania RTC/Sunkist Kids WC) vs. Chance Marsteller (York City RTC/Titan Mercury WC)
Bout One: Burroughs dec. Marsteller, 3-3
Bout Two: Marsteller dec. Burroughs, 5-4
Bout Three: Marsteller dec. Burroughs, 8-3
Marsteller wins series, 2 matches to 1, and makes World Team
86 kg – David Taylor (Nittany Lion WC/Titan Mercury WC) vs. Aaron Brooks (Nittany Lion WC/Titan Mercury WC)
Bout One: Taylor dec. Brooks, 6-0
Bout Two: Taylor dec. Brooks, 5-4
Taylor wins series, 2 matches to 0, and makes World Team
92 kg –. Zahid Valencia (Sunkist Kids WC) vs. Michael Macchiavello (Wolfpack WC/Titan Mercury WC)
Bout One: Valencia dec. Macchiavello, 8-0
Bout Two: Valencia dec. Macchiavello, 9-2
Valencia wins series, 2 matches to 0, and makes World Team
97 kg – Kyle Snyder (Nittany Lion WC/Titan Mercury WC) vs. J'den Cox (Cliff Keen WC/Titan Mercury WC)
Bout One: Snyder inj. dft. Cox, 0:00
Bout Two: Snyder inj. dft. Cox, 0:00
Snyder wins series, 2 matches to 0, and makes World Team
125 kg – Gable Steveson (Gopher WC-RTC) vs. Mason Parris (Cliff Keen WC/Titan Mercury WC)
Bout One: Steveson dec. Parris, 6-2
Bout Two: Steveson dec. Parris, 5-0
Steveson wins series, 2 matches to 0, and makes World Team