Stiffler, Sylvestre among triple champions at USA Wrestling Southeast Regional
by Savannah Asmann, USA Wrestling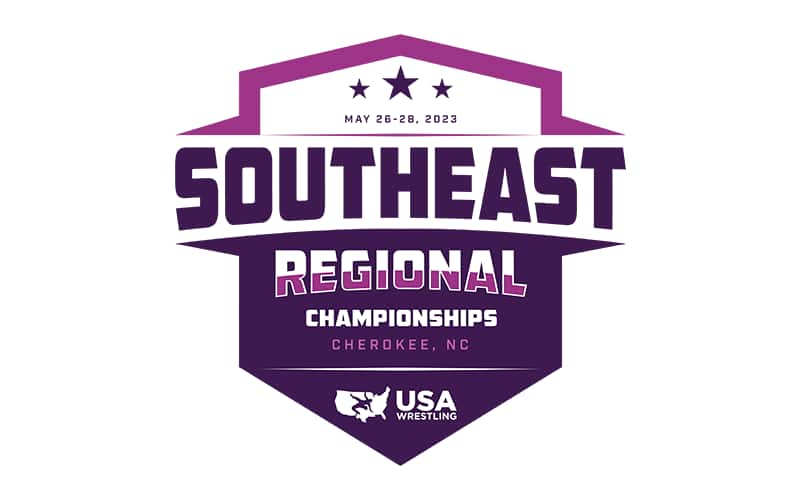 CHEROKEE, N.C. – The USA Wrestling Regionals series continued with the Southeast Regional Championships being held at Cherokee Convention Center Expo Hall and Ballrooms.
There were eight double champions in the Junior boys division, athletes who won both the freestyle and Greco-Roman styles:
William Jakeway
of South Carolina (106),
Tanner Spalding
of Georgia (126),
Anderson Heap
of Florida (145),
Layton Schneider
of Oklahoma (152),
Jude Randall
of Oklahoma (160),
Dominic Bambinelli
of Georgia (170),
Oscar Williams
of Oklahoma (220) and
Richard Thomas
of Oklahoma (285).
Three competitors in the 16U boys division tripled up on gold medals:
Hudson Chittum
of Tennessee (94),
Blue Stiffler
of Georgia (138) and
Ryder Wilder
of Georgia (182).
Two athletes in the junior Girls division were triple champions in
Gabriele Tedesco
of Florida (106) and
Naomie Sylvestre
of Florida (122) as both won first place in freestyle, Greco-Roman and folkstyle.
Zao Estrada
of South Carolina (112-117) won first place in both freestyle and Greco-Roman.
In the 16U girls division, one competitor brought home a title in Greco-Roman, freestyle and folkstyle in
Evelyn Holmes-Smith
of Alabama (127).
The top six boys and top six girls in each weight class in the Junior and 16U divisions have qualified for their state teams for the 2023 USMC Junior and 16U Nationals in Fargo, N.D.
There were also tournaments held in freestyle, folkstyle and Greco-Roman at the 14U, 12U, 10U and 8U divisions for both boys and girls. Results for each weight class can be found below, with complete brackets available at Trackwrestling.com.
USA Wrestling Southeast Regional Championships
At Cherokee Convention Center Expo Hall and Ballrooms, May 26-28
Junior Boys Freestyle Results
100 pounds
1st Place - Cadence Grulla of GA
106 pounds
1st Place - William Jakeway of SC
2nd Place - John Sheehy of IL
3rd Place - Tavian Melvin of VA
4th Place - Blake Allen of TN
5th Place - Cadence Grulla of GA
Round 1
Blake Allen (TN) won by forfeit over Cadence Grulla (GA) (FF)
William Jakeway (SC) won by fall over Tavian Melvin (VA) (Fall 0:00)
Round 2
John Sheehy (IL) won by tech fall over Tavian Melvin (VA) (TF 10-0)
William Jakeway (SC) won by forfeit over Cadence Grulla (GA) (FF)
Round 3
William Jakeway (SC) won by tech fall over John Sheehy (IL) (TF 10-0)
Tavian Melvin (VA) won by fall over Blake Allen (TN) (Fall 0:00)
Round 4
John Sheehy (IL) won by tech fall over Blake Allen (TN) (TF 10-0)
Tavian Melvin (VA) won by fall over Cadence Grulla (GA) (Fall 0:34)
Round 5
John Sheehy (IL) won by fall over Cadence Grulla (GA) (Fall 0:00)
William Jakeway (SC) won by tech fall over Blake Allen (TN) (TF 10-0)
113 pounds
1st Place - Samuel Aponte of NC
2nd Place - Arcadian Eaton of GA
3rd Place - Sebron Colson of TN
4th Place - Sky Gillette of TN
5th Place - Ignatius Smout of TN
6th Place - Bobby Rutkoff of AL
1st Place Match
Samuel Aponte (NC) won by tech fall over Arcadian Eaton (GA) (TF 11-1)
3rd Place Match
Sebron Colson (TN) won by tech fall over Sky Gillette (TN) (TF 14-4)
5th Place Match
Ignatius Smout (TN) won by decision over Bobby Rutkoff (AL) (Dec 12-10)
120 pounds
1st Place - Antonio Mills of GA
2nd Place - Mason Jakob of TN
3rd Place - Fredrick Mitchum of FL
4th Place - Elijah Lowe of FL
5th Place - Jacob Bond of GA
6th Place - Alexander Reid of GA
1st Place Match
Antonio Mills (GA) won by tech fall over Mason Jakob (TN) (TF 13-3)
3rd Place Match
Fredrick Mitchum (FL) won by decision over Elijah Lowe (FL) (Dec 9-6)
5th Place Match
Jacob Bond (GA) won by forfeit over Alexander Reid (GA) (FF)
126 pounds
1st Place - Tanner Spalding of GA
2nd Place - Christian Belford of OK
3rd Place - Anthony Lucio of CA
4th Place - Jermaine Peace of SC
5th Place - Rafael Otero of VA
6th Place - Hunter Heflin of TN
1st Place Match
Tanner Spalding (GA) won by tech fall over Christian Belford (OK) (TF 14-4)
3rd Place Match
Anthony Lucio (CA) won by decision over Jermaine Peace (SC) (Dec 9-2)
5th Place Match
Rafael Otero (VA) won by tech fall over Hunter Heflin (TN) (TF 10-0)
132 pounds
1st Place - Christian Fretwell of FL
2nd Place - Rayshun James of NC
3rd Place - Colson Hoffman of GA
4th Place - Damon Landreth of NC
5th Place - Alex Ropski of TN
6th Place - Spencer Reep of TN
1st Place Match
Christian Fretwell (FL) won by decision over Rayshun James (NC) (Dec 13-4)
3rd Place Match
Colson Hoffman (GA) won by tech fall over Damon Landreth (NC) (TF 14-4)
5th Place Match
Alex Ropski (TN) won by injury default over Spencer Reep (TN) (Inj. 0:00)
138 pounds
1st Place - Jveion Redmon of GA
2nd Place - Brayden Belford of OK
3rd Place - Anthony Lucchiani of VA
4th Place - Hudson Hackbarth of OK
5th Place - Sebastian Vidacovich of LA
6th Place - George Maholtz of SC
1st Place Match
Jveion Redmon (GA) won by decision over Brayden Belford (OK) (Dec 4-3)
3rd Place Match
Anthony Lucchiani (VA) won by tech fall over Hudson Hackbarth (OK) (TF 22-12)
5th Place Match
Sebastian Vidacovich (LA) won by injury default over George Maholtz (SC) (Inj. 0:00)
145 pounds
1st Place - Anderson Heap of FL
2nd Place - Jorge Otero of VA
3rd Place - Elijah Murray of NC
4th Place - Conner Kimbrough of GA
5th Place - Harlen Hunley of TN
6th Place - Austin Marshall of GA
1st Place Match
Anderson Heap (FL) won by fall over Jorge Otero (VA) (Fall 1:22)
3rd Place Match
Elijah Murray (NC) won by fall over Conner Kimbrough (GA) (Fall 3:00)
5th Place Match
Harlen Hunley (TN) won by tech fall over Austin Marshall (GA) (TF 12-2)
152 pounds
1st Place - Layton Schneider of OK
2nd Place - Hunter Sturgill of TN
3rd Place - Mitchell Faglioni of VA
4th Place - Thomas Stofka of VA
5th Place - Daishun Powe of AL
6th Place - Kellen Smith of IA
1st Place Match
Layton Schneider (OK) won by tech fall over Hunter Sturgill (TN) (TF 10-0)
3rd Place Match
Mitchell Faglioni (VA) won by decision over Thomas Stofka (VA) (Dec 8-3)
5th Place Match
Daishun Powe (AL) won by decision over Kellen Smith (IA) (Dec 21-18)
160 pounds
1st Place - Jude Randall of OK
2nd Place - Jake Dailey of PA
3rd Place - Konlin Weaver of GA
4th Place - Sean Crews of GA
5th Place - Brayden Lucas of OK
6th Place - Wills Bronson of TN
1st Place Match
Jude Randall (OK) won by decision over Jake Dailey (PA) (Dec 9-4)
3rd Place Match
Konlin Weaver (GA) won by decision over Sean Crews (GA) (Dec 5-0)
5th Place Match
Brayden Lucas (OK) won by tech fall over Wills Bronson (TN) (TF 10-0)
170 pounds
1st Place - Dominic Bambinelli of GA
2nd Place - David Holland of FL
3rd Place - Austyn Johnson of TN
4th Place - Kaiden Bates of TN
5th Place - Owen Wasley of WI
6th Place - Aiden Knight of AL
1st Place Match
Dominic Bambinelli (GA) won by tech fall over David Holland (FL) (TF 10-0)
3rd Place Match
Austyn Johnson (TN) won by fall over Kaiden Bates (TN) (Fall 0:00)
5th Place Match
Owen Wasley (WI) won by tech fall over Aiden Knight (AL) (TF 10-0)
182 pounds
1st Place - Jake Stacey of TN
2nd Place - Brody Casto of TN
3rd Place - Matthew Kubas of IL
4th Place - Connor Cooper of GA
5th Place - Dillon Fitzpatrick of VA
6th Place - Keagen Kroeger of CA
1st Place Match
Jake Stacey (TN) won by tech fall over Brody Casto (TN) (TF 10-0)
3rd Place Match
Matthew Kubas (IL) won by fall over Connor Cooper (GA) (Fall 1:53)
5th Place Match
Dillon Fitzpatrick (VA) won by fall over Keagen Kroeger (CA) (Fall 0:00)
195 pounds
1st Place - Ethan Williams of NC
2nd Place - Evan Wingrove of GA
3rd Place - Liam Daniels of OK
4th Place - Thomas Stadel of TN
5th Place - Brock Hacker of GA
6th Place - Magnus Lloyd of PA
1st Place Match
Ethan Williams (NC) won by decision over Evan Wingrove (GA) (Dec 6-4)
3rd Place Match
Liam Daniels (OK) won by fall over Thomas Stadel (TN) (Fall 0:00)
5th Place Match
Brock Hacker (GA) won by forfeit over Magnus Lloyd (PA) (FF)
220 pounds
1st Place - Oscar Williams of OK
2nd Place - Benji Del Priore of SC
3rd Place - Owen McGrory of IL
4th Place - Kyle Oliveira of AL
5th Place - Brysen Godbey of NC
6th Place - Jimmy Amatore of IL
1st Place Match
Oscar Williams (OK) won by tech fall over Benji Del Priore (SC) (TF 10-0)
3rd Place Match
Owen McGrory (IL) won by decision over Kyle Oliveira (AL) (Dec 6-4)
5th Place Match
Brysen Godbey (NC) won by forfeit over Jimmy Amatore (IL) (FF)
285 pounds
1st Place - Richard Thomas of OK
2nd Place - Willie Cox of AL
3rd Place - John Domencic of NC
4th Place - Kaden Darwin of FL
5th Place - Cristopher Flockhart of TN
6th Place - Seth Glance of NC
1st Place Match
Richard Thomas (OK) won by tech fall over Willie Cox (AL) (TF 10-0)
3rd Place Match
John Domencic (NC) won by tech fall over Kaden Darwin (FL) (TF 12-1)
5th Place Match
Cristopher Flockhart (TN) won by fall over Seth Glance (NC) (Fall 0:00)
Junior Boys Greco-Roman Results
100 pounds
1st Place - Ignacio Rodriguez of IL
106 pounds
1st Place - William Jakeway of SC
2nd Place - John Sheehy of IL
3rd Place - Emmons Tewalt of VA
4th Place - Blake Allen of TN
5th Place - Tavian Melvin of VA
Round 1
William Jakeway (SC) won by decision over John Sheehy (IL) (Dec 15-11)
Blake Allen (TN) won by tech fall over Tavian Melvin (VA) (TF 10-0)
Round 2
Emmons Tewalt (VA) won by tech fall over Blake Allen (TN) (TF 10-0)
John Sheehy (IL) won by tech fall over Tavian Melvin (VA) (TF 10-0)
Round 3
Emmons Tewalt (VA) won by fall over Tavian Melvin (VA) (Fall 0:00)
William Jakeway (SC) won by fall over Blake Allen (TN) (Fall 0:00)
Round 4
William Jakeway (SC) won by fall over Emmons Tewalt (VA) (Fall 0:26)
John Sheehy (IL) won by fall over Blake Allen (TN) (Fall 0:00)
Round 5
John Sheehy (IL) won by tech fall over Emmons Tewalt (VA) (TF 8-0)
William Jakeway (SC) won by tech fall over Tavian Melvin (VA) (TF 9-0)
113 pounds
1st Place - Sebron Colson of TN
2nd Place - Samuel Aponte of NC
3rd Place - Ignatius Smout of TN
4th Place - Sky Gillette of TN
5th Place - Bobby Rutkoff of AL
Round 1
Sebron Colson (TN) won by tech fall over Samuel Aponte (NC) (TF 14-6)
Ignatius Smout (TN) won by decision over Sky Gillette (TN) (Dec 6-4)
Round 2
Sky Gillette (TN) won by tech fall over Bobby Rutkoff (AL) (TF 10-0)
Sebron Colson (TN) won by tech fall over Ignatius Smout (TN) (TF 11-0)
Round 3
Ignatius Smout (TN) won by decision over Bobby Rutkoff (AL) (Dec 15-10)
Samuel Aponte (NC) won by decision over Sky Gillette (TN) (Dec 14-7)
Round 4
Samuel Aponte (NC) won by tech fall over Bobby Rutkoff (AL) (TF 14-1)
Sebron Colson (TN) won by fall over Sky Gillette (TN) (Fall 0:00)
Round 5
Sebron Colson (TN) won by fall over Bobby Rutkoff (AL) (Fall 0:00)
Samuel Aponte (NC) won by tech fall over Ignatius Smout (TN) (TF 8-0)
120 pounds
1st Place - Fredrick Mitchum of FL
2nd Place - Tyler Washburn of FL
3rd Place - Antonio Mills of GA
4th Place - Teague Strobel of SC
5th Place - Mason Jakob of TN
6th Place - Alexander Reid of GA
1st Place Match
Fredrick Mitchum (FL) won by tech fall over Tyler Washburn (FL) (TF 8-0)
3rd Place Match
Antonio Mills (GA) won by tech fall over Teague Strobel (SC) (TF 10-2)
5th Place Match
Mason Jakob (TN) won by decision over Alexander Reid (GA) (Dec 5-0)
126 pounds
1st Place - Tanner Spalding of GA
2nd Place - Christian Belford of OK
3rd Place - Rafael Otero of VA
4th Place - Hunter Heflin of TN
5th Place - Brody Gobbell of TN
6th Place - Devon Conner of NC
1st Place Match
Tanner Spalding (GA) won by forfeit over Christian Belford (OK) (FF)
3rd Place Match
Rafael Otero (VA) won by tech fall over Hunter Heflin (TN) (TF 13-4)
5th Place Match
Brody Gobbell (TN) won by tech fall over Devon Conner (NC) (TF 10-2)
132 pounds
1st Place - Colson Hoffman of GA
2nd Place - Christian Fretwell of FL
3rd Place - Alex Ropski of TN
4th Place - Spencer Reep of TN
5th Place - Damon Landreth of NC
6th Place - Owen Bell of MD
1st Place Match
Colson Hoffman (GA) won by tech fall over Christian Fretwell (FL) (TF 8-0)
3rd Place Match
Alex Ropski (TN) won by fall over Spencer Reep (TN) (Fall 0:00)
5th Place Match
Damon Landreth (NC) won by tech fall over Owen Bell (MD) (TF 8-0)
138 pounds
1st Place - Will Scherer of MO
2nd Place - Ryder Joseph of PA
3rd Place - Hudson Hackbarth of OK
4th Place - Michael Phoutasen of VA
5th Place - Cale Stonitsch of IL
6th Place - Noah Smith of AL
1st Place Match
Will Scherer (MO) won by tech fall over Ryder Joseph (PA) (TF 8-0)
3rd Place Match
Hudson Hackbarth (OK) won by decision over Michael Phoutasen (VA) (Dec 7-6)
5th Place Match
Cale Stonitsch (IL) won by decision over Noah Smith (AL) (Dec 16-13)
145 pounds
1st Place - Anderson Heap of FL
2nd Place - Jorge Otero of VA
3rd Place - Julian Slaastad of IL
4th Place - Harlen Hunley of TN
5th Place - Conner Kimbrough of GA
6th Place - Stetson Collins of NC
1st Place Match
Anderson Heap (FL) won by fall over Jorge Otero (VA) (Fall 5:02)
3rd Place Match
Julian Slaastad (IL) won by tech fall over Harlen Hunley (TN) (TF 11-0)
5th Place Match
Conner Kimbrough (GA) won by tech fall over Stetson Collins (NC) (TF 8-0)
152 pounds
1st Place - Layton Schneider of OK
2nd Place - Mitchell Faglioni of VA
3rd Place - Hunter Sturgill of TN
4th Place - Emil Necula of GA
5th Place - Avery Buonocore of NC
6th Place - Cedric Griffin of NC
1st Place Match
Layton Schneider (OK) won by decision over Mitchell Faglioni (VA) (Dec 5-5)
3rd Place Match
Hunter Sturgill (TN) won by decision over Emil Necula (GA) (Dec 4-2)
5th Place Match
Avery Buonocore (NC) won by tech fall over Cedric Griffin (NC) (TF 8-0)
160 pounds
1st Place - Jude Randall of OK
2nd Place - Yannis Charles of SC
3rd Place - Konlin Weaver of GA
4th Place - Jacob Barlow of TN
5th Place - Oliver Howard of AL
6th Place - Brayden Lucas of OK
1st Place Match
Jude Randall (OK) won by tech fall over Yannis Charles (SC) (TF 9-0)
3rd Place Match
Konlin Weaver (GA) won by tech fall over Jacob Barlow (TN) (TF 9-0)
5th Place Match
Oliver Howard (AL) won by tech fall over Brayden Lucas (OK) (TF 8-0)
170 pounds
1st Place - Dominic Bambinelli of GA
2nd Place - Clay Johnston of AL
3rd Place - David Holland of FL
4th Place - Drake Bowers of TN
5th Place - Briar Whaley of TN
6th Place - Owen Wasley of WI
1st Place Match
Dominic Bambinelli (GA) won by tech fall over Clay Johnston (AL) (TF 8-0)
3rd Place Match
David Holland (FL) won by tech fall over Drake Bowers (TN) (TF 11-0)
5th Place Match
Briar Whaley (TN) won by tech fall over Owen Wasley (WI) (TF 9-0)
182 pounds
1st Place - Riley Hucks of SC
2nd Place - Brody Casto of TN
3rd Place - Matthew Kubas of IL
4th Place - Jake Stacey of TN
5th Place - Mason Parsons of SC
6th Place - Joseph Poole of VA
1st Place Match
Riley Hucks (SC) won by tech fall over Brody Casto (TN) (TF 10-1)
3rd Place Match
Matthew Kubas (IL) won by fall over Jake Stacey (TN) (Fall 0:00)
5th Place Match
Mason Parsons (SC) won by fall over Joseph Poole (VA) (Fall 4:20)
195 pounds
1st Place - Evan Wingrove of GA
2nd Place - Magnus Lloyd of PA
3rd Place - Thomas Stadel of TN
4th Place - Liam Daniels of OK
5th Place - Jadyn Virgil of NC
6th Place - William Lewey of VA
1st Place Match
Evan Wingrove (GA) won by fall over Magnus Lloyd (PA) (Fall 0:00)
3rd Place Match
Thomas Stadel (TN) won by tech fall over Liam Daniels (OK) (TF 17-7)
5th Place Match
Jadyn Virgil (NC) won by fall over William Lewey (VA) (Fall 0:00)
220 pounds
1st Place - Oscar Williams of OK
2nd Place - Benjamin Nania of NY
3rd Place - Kyle Oliveira of AL
4th Place - Jimmy Amatore of IL
5th Place - John Drury of VA
6th Place - Luke Early of TN
1st Place Match
Oscar Williams (OK) won by tech fall over Benjamin Nania (NY) (TF 8-0)
3rd Place Match
Kyle Oliveira (AL) won by tech fall over Jimmy Amatore (IL) (TF 8-0)
5th Place Match
John Drury (VA) won by decision over Luke Early (TN) (Dec 4-2)
285 pounds
1st Place - Richard Thomas of OK
2nd Place - Willie Cox of AL
3rd Place - Kaden Darwin of FL
4th Place - Rylan Madison of SC
5th Place - Seth Glance of NC
6th Place - Landon Redman of LA
1st Place Match
Richard Thomas (OK) won by decision over Willie Cox (AL) (Dec 16-11)
3rd Place Match
Kaden Darwin (FL) won by fall over Rylan Madison (SC) (Fall 0:00)
5th Place Match
Seth Glance (NC) won by fall over Landon Redman (LA) (Fall 0:00)
Junior Boys Folkstyle Results
106-113 pounds
1st Place - Samuel Aponte of NC
2nd Place - Bobby Rutkoff of AL
3rd Place - Blake Allen of TN
4th Place - Ignatius Smout of TN
5th Place - Sebron Colson of TN
Round 1
Bobby Rutkoff (AL) won by forfeit over Sebron Colson (TN) (FF)
Blake Allen (TN) won by decision over Ignatius Smout (TN) (Dec 12-5)
Round 2
Samuel Aponte (NC) won by fall over Ignatius Smout (TN) (Fall 2:47)
Blake Allen (TN) won by forfeit over Sebron Colson (TN) (FF)
Round 3
Samuel Aponte (NC) won by fall over Blake Allen (TN) (Fall 0:00)
Bobby Rutkoff (AL) won by decision over Ignatius Smout (TN) (Dec 6-2)
Round 4
Samuel Aponte (NC) won by decision over Bobby Rutkoff (AL) (Dec 5-2)
Ignatius Smout (TN) won by fall over Sebron Colson (TN) (Fall 0:00)
Round 5
Samuel Aponte (NC) won by forfeit over Sebron Colson (TN) (FF)
Bobby Rutkoff (AL) won by major decision over Blake Allen (TN) (Maj 11-2)
120 pounds
1st Place - Mason Jakob of TN
2nd Place - Teague Strobel of SC
3rd Place - Tyler Washburn of FL
4th Place - Elijah Lowe of FL
1st Place Match
Mason Jakob (TN) won by decision over Teague Strobel (SC) (Dec 4-4)
3rd Place Match
Tyler Washburn (FL) won by decision over Elijah Lowe (FL) (Dec 2-0)
126 pounds
1st Place - Christian Belford of OK
2nd Place - Hunter Heflin of TN
3rd Place - Canaan Spears of VA
4th Place - Gaetano Tedesco of FL
1st Place Match
Christian Belford (OK) won by decision over Hunter Heflin (TN) (Dec 2-0)
3rd Place Match
Canaan Spears (VA) won by medical forfeit over Gaetano Tedesco (FL) (MFF)
132 pounds
1st Place - Spencer Reep of TN
2nd Place - Owen Bell of MD
3rd Place - Maddox McArthur of GA
4th Place - Alex Ropski of TN
1st Place Match
Spencer Reep (TN) won by decision over Owen Bell (MD) (Dec 3-2)
3rd Place Match
Maddox McArthur (GA) won by decision over Alex Ropski (TN) (Dec 3-0)
138 pounds
1st Place - Cooper Hilton of TN
2nd Place - Sebastian Vidacovich of LA
3rd Place - Brayden Belford of OK
4th Place - Luke Connick of NC
1st Place Match
Cooper Hilton (TN) won by major decision over Sebastian Vidacovich (LA) (Maj 19-6)
3rd Place Match
Brayden Belford (OK) won by major decision over Luke Connick (NC) (Maj 10-0)
145 pounds
1st Place - Harlen Hunley of TN
2nd Place - Frank Bianco of NC
3rd Place - Caiden Mears of TN
4th Place - Mason Butler of TN
1st Place Match
Harlen Hunley (TN) won by decision over Frank Bianco (NC) (Dec 6-2)
3rd Place Match
Caiden Mears (TN) won by decision over Mason Butler (TN) (Dec 9-3)
152 pounds
1st Place - Avery Buonocore of NC
2nd Place - James Singer of FL
3rd Place - Pete Winterstein of NC
4th Place - Colin Lutz of NC
1st Place Match
Avery Buonocore (NC) won by decision over James Singer (FL) (Dec 7-2)
3rd Place Match
Pete Winterstein (NC) won by fall over Colin Lutz (NC) (Fall 0:00)
160 pounds
1st Place - Jake Dailey of PA
2nd Place - Konlin Weaver of GA
3rd Place - Wills Bronson of TN
4th Place - Christion Griggs of AL
1st Place Match
Jake Dailey (PA) won by decision over Konlin Weaver (GA) (Dec 6-1)
3rd Place Match
Wills Bronson (TN) won by decision over Christion Griggs (AL) (Dec 8-4)
170 pounds
1st Place - Owen Wasley of WI
2nd Place - Aiden Knight of AL
3rd Place - Drake Bowers of TN
4th Place - Andrew Anderson of AL
1st Place Match
Owen Wasley (WI) won by decision over Aiden Knight (AL) (Dec 9-4)
3rd Place Match
Drake Bowers (TN) won by decision over Andrew Anderson (AL) (Dec 2-0)
182 pounds
1st Place - Savian Graham of AL
2nd Place - Brody Casto of TN
3rd Place - Grant Anderson of CA
4th Place - Austin Williams of FL
1st Place Match
Savian Graham (AL) won by decision over Brody Casto (TN) (Dec 10-6)
3rd Place Match
Grant Anderson (CA) won by decision over Austin Williams (FL) (Dec 7-0)
195 pounds
1st Place - William Lewey of VA
2nd Place - Jaydn Virgil of NC
3rd Place - Zack May of GA
4th Place - Stanley Brown of NC
Round 1
William Lewey (VA) won by decision over Jaydn Virgil (NC) (Dec 5-1)
Zack May (GA) won by forfeit over Stanley Brown (NC) (FF)
Round 2
William Lewey (VA) won by fall over Stanley Brown (NC) (Fall 1:25)
Jaydn Virgil (NC) won by fall over Zack May (GA) (Fall 1:45)
Round 3
William Lewey (VA) won by fall over Zack May (GA) (Fall 0:00)
Jaydn Virgil (NC) won by fall over Stanley Brown (NC) (Fall 1:00)
220 pounds
1st Place - Brysen Godbey of NC
2nd Place - Benji Del Priore of SC
3rd Place - Hunter Miller of NC
4th Place - John Drury of VA
5th Place - Benjamin Nania of Wylie East
Round 1
Benji Del Priore (SC) won in sudden victory - 1 over Hunter Miller (NC) (SV-1 3-1)
Brysen Godbey (NC) won by fall over John Drury (VA) (Fall 1:29)
Round 2
John Drury (VA) won by fall over Benjamin Nania (Wylie East) (Fall 0:00)
Brysen Godbey (NC) won by decision over Benji Del Priore (SC) (Dec 12-6)
Round 3
Brysen Godbey (NC) won by decision over Benjamin Nania (Wylie East) (Dec 4-0)
Hunter Miller (NC) won by fall over John Drury (VA) (Fall 0:00)
Round 4
Hunter Miller (NC) won by decision over Benjamin Nania (Wylie East) (Dec 7-1)
Benji Del Priore (SC) won by decision over John Drury (VA) (Dec 3-2)
Round 5
Benji Del Priore (SC) won by forfeit over Benjamin Nania (Wylie East) (FF)
Brysen Godbey (NC) won by decision over Hunter Miller (NC) (Dec 3-2)
285 pounds
1st Place - Kaden Darwin of FL
2nd Place - Cristopher Flockhart of TN
3rd Place - Orrin King of TN
4th Place - Tyreik Davison of SC
5th Place - Landon Redman of LA
Round 1
Kaden Darwin (FL) won by tech fall over Tyreik Davison (SC) (TF 17-2)
Cristopher Flockhart (TN) won by fall over Landon Redman (LA) (Fall 0:54)
Round 2
Cristopher Flockhart (TN) won by fall over Orrin King (TN) (Fall 0:00)
Tyreik Davison (SC) won by fall over Landon Redman (LA) (Fall 0:00)
Round 3
Orrin King (TN) won by fall over Landon Redman (LA) (Fall 0:00)
Kaden Darwin (FL) won by fall over Cristopher Flockhart (TN) (Fall 4:00)
Round 4
Kaden Darwin (FL) won by decision over Orrin King (TN) (Dec 6-3)
Cristopher Flockhart (TN) won by fall over Tyreik Davison (SC) (Fall 0:00)
Round 5
Orrin King (TN) won by forfeit over Tyreik Davison (SC) (FF)
Kaden Darwin (FL) won by fall over Landon Redman (LA) (Fall 0:00)
Junior Girls Freestyle Results
100 pounds
1st Place - Zoey Haney of MO
2nd Place - Anna Ockerman of NC
3rd Place - Cadence Grulla of GA
Round 1
Anna Ockerman (NC) won by tech fall over Cadence Grulla (GA) (TF 10-0)
Round 2
Zoey Haney (MO) won by fall over Cadence Grulla (GA) (Fall 0:00)
Round 3
Zoey Haney (MO) won by decision over Anna Ockerman (NC) (Dec 0-0)
106 pounds
1st Place - Gabriele Tedesco of FL
2nd Place - Jada Chaves of MD
3rd Place - Kealonie Vega of FL
4th Place - Madison Haney of MO
5th Place - Neveah Justus of TN
6th Place - Hayle Peck of FL
1st Place Match
Gabriele Tedesco (FL) won by fall over Jada Chaves (MD) (Fall 0:00)
3rd Place Match
Kealonie Vega (FL) won by fall over Madison Haney (MO) (Fall 0:00)
5th Place Match
Neveah Justus (TN) won by fall over Hayle Peck (FL) (Fall 0:00)
112 pounds
1st Place - Autumn Sunderland of TN
2nd Place - Isabella Crandall of NC
3rd Place - Andrea Garcia of FL
4th Place - Alyssa Archer of TN
Round 1
Isabella Crandall (NC) won by tech fall over Alyssa Archer (TN) (TF 14-4)
Andrea Garcia (FL) won by decision over Autumn Sunderland (TN) (Dec 16-14)
Round 2
Isabella Crandall (NC) won by tech fall over Andrea Garcia (FL) (TF 12-2)
Autumn Sunderland (TN) won by tech fall over Alyssa Archer (TN) (TF 10-0)
Round 3
Autumn Sunderland (TN) won by fall over Isabella Crandall (NC) (Fall 0:00)
Andrea Garcia (FL) won by decision over Alyssa Archer (TN) (Dec 18-14)
117 pounds
1st Place - Zao Estrada of SC
2nd Place - Jordyn Anderson of VA
3rd Place - Teresa Canady of NC
4th Place - Tori Iams of TN
5th Place - Diya Dhananjay of NC
Round 1
Teresa Canady (NC) won by decision over Tori Iams (TN) (Dec 18-14)
Jordyn Anderson (VA) won by tech fall over Diya Dhananjay (NC) (TF 10-0)
Round 2
Zao Estrada (SC) won by tech fall over Diya Dhananjay (NC) (TF 10-0)
Jordyn Anderson (VA) won by fall over Tori Iams (TN) (Fall 1:15)
Round 3
Zao Estrada (SC) won by fall over Jordyn Anderson (VA) (Fall 0:00)
Teresa Canady (NC) won by fall over Diya Dhananjay (NC) (Fall 0:00)
Round 4
Zao Estrada (SC) won by tech fall over Teresa Canady (NC) (TF 10-0)
Tori Iams (TN) won by fall over Diya Dhananjay (NC) (Fall 0:00)
Round 5
Zao Estrada (SC) won by tech fall over Tori Iams (TN) (TF 10-0)
Jordyn Anderson (VA) won by tech fall over Teresa Canady (NC) (TF 14-2)
122 pounds
1st Place - Naomie Sylvestre of FL
2nd Place - Tatiana Soto of FL
3rd Place - Elizabeth Rosenstiel of AL
4th Place - Jaclyn Hodge of NC
5th Place - Isabella Mingledorff of GA
Round 1
Naomie Sylvestre (FL) won by tech fall over Isabella Mingledorff (GA) (TF 12-2)
Elizabeth Rosenstiel (AL) won by tech fall over Jaclyn Hodge (NC) (TF 10-0)
Round 2
Tatiana Soto (FL) won by tech fall over Elizabeth Rosenstiel (AL) (TF 10-0)
Naomie Sylvestre (FL) won by tech fall over Jaclyn Hodge (NC) (TF 10-0)
Round 3
Tatiana Soto (FL) won by tech fall over Jaclyn Hodge (NC) (TF 10-0)
Elizabeth Rosenstiel (AL) won by injury default over Isabella Mingledorff (GA) (Inj. 0:00)
Round 4
Tatiana Soto (FL) won by injury default over Isabella Mingledorff (GA) (Inj. 0:00)
Naomie Sylvestre (FL) won by fall over Elizabeth Rosenstiel (AL) (Fall 0:00)
Round 5
Naomie Sylvestre (FL) won by decision over Tatiana Soto (FL) (Dec 15-9)
Jaclyn Hodge (NC) won by injury default over Isabella Mingledorff (GA) (Inj. 0:00)
127 pounds
1st Place - Evelin Ochoa of TN
2nd Place - Delaney Nichols of TN
3rd Place - Esperanza Cruz of TN
Round 1
Delaney Nichols (TN) won by tech fall over Esperanza Cruz (TN) (TF 17-6)
Round 2
Evelin Ochoa (TN) won by tech fall over Delaney Nichols (TN) (TF 12-0)
Round 3
Evelin Ochoa (TN) won by fall over Esperanza Cruz (TN) (Fall 0:00)
132 pounds
1st Place - Bella Williams of OK
2nd Place - Sara Daley of LA
3rd Place - Abigail Plemons of GA
4th Place - Milly Hughes of GA
5th Place - Jakeythia Gooch of TN
Round 1
Sara Daley (LA) won by decision over Abigail Plemons (GA) (Dec 8-8)
Bella Williams (OK) won by fall over Jakeythia Gooch (TN) (Fall 0:00)
Round 2
Bella Williams (OK) won by tech fall over Milly Hughes (GA) (TF 10-0)
Jakeythia Gooch (TN) won by decision over Sara Daley (LA) (Dec 13-9)
Round 3
Milly Hughes (GA) won by tech fall over Jakeythia Gooch (TN) (TF 10-0)
Bella Williams (OK) won by tech fall over Abigail Plemons (GA) (TF 10-0)
Round 4
Abigail Plemons (GA) won by fall over Milly Hughes (GA) (Fall 0:00)
Bella Williams (OK) won by tech fall over Sara Daley (LA) (TF 11-0)
Round 5
Sara Daley (LA) won by fall over Milly Hughes (GA) (Fall 0:00)
Abigail Plemons (GA) won by decision over Jakeythia Gooch (TN) (Dec 9-5)
138 pounds
1st Place - Shelby Kemp of OK
2nd Place - Trysten Rittberger of OK
3rd Place - Kristyn Harr of TN
4th Place - Ashlyn Sappington of NC
5th Place - Charlotte Wheeler of GA
Round 1
Kristyn Harr (TN) won by fall over Charlotte Wheeler (GA) (Fall 0:00)
Trysten Rittberger (OK) won by fall over Ashlyn Sappington (NC) (Fall 0:00)
Round 2
Shelby Kemp (OK) won by fall over Ashlyn Sappington (NC) (Fall 0:00)
Trysten Rittberger (OK) won by tech fall over Kristyn Harr (TN) (TF 10-0)
Round 3
Shelby Kemp (OK) won by tech fall over Trysten Rittberger (OK) (TF 13-2)
Ashlyn Sappington (NC) won by forfeit over Charlotte Wheeler (GA) (FF)
Round 4
Shelby Kemp (OK) won by forfeit over Charlotte Wheeler (GA) (FF)
Kristyn Harr (TN) won by fall over Ashlyn Sappington (NC) (Fall 2:01)
Round 5
Shelby Kemp (OK) won by fall over Kristyn Harr (TN) (Fall 0:00)
Trysten Rittberger (OK) won by forfeit over Charlotte Wheeler (GA) (FF)
152 pounds
1st Place - Karla Ortiz of FL
Round 1
Karla Ortiz (FL) received a bye () (Bye)
Round 2
Karla Ortiz (FL) received a bye () (Bye)
Round 3
() received a bye () (Bye)
164 pounds
1st Place - Karla Ortiz of FL
2nd Place - Gwendalyn Wight of GA
3rd Place - Isabella Harris of TN
4th Place - Riley Lancaster of FL
5th Place - MiAmore Davis of MD
Round 1
Gwendalyn Wight (GA) won by fall over Riley Lancaster (FL) (Fall 0:00)
Karla Ortiz (FL) won by fall over MiAmore Davis (MD) (Fall 0:00)
Round 2
Isabella Harris (TN) won by fall over MiAmore Davis (MD) (Fall 0:00)
Karla Ortiz (FL) won by fall over Gwendalyn Wight (GA) (Fall 0:00)
Round 3
Karla Ortiz (FL) won by fall over Isabella Harris (TN) (Fall 0:00)
Riley Lancaster (FL) won by tech fall over MiAmore Davis (MD) (TF 16-6)
Round 4
Isabella Harris (TN) won by fall over Riley Lancaster (FL) (Fall 0:00)
Gwendalyn Wight (GA) won by injury default over MiAmore Davis (MD) (Inj. 0:00)
Round 5
Gwendalyn Wight (GA) won by fall over Isabella Harris (TN) (Fall 0:00)
Karla Ortiz (FL) won by fall over Riley Lancaster (FL) (Fall 0:00)
180 pounds
1st Place - Ella Murphey of TN
2nd Place - Savannah Bramhall of NC
3rd Place - Emily Riopel of SC
4th Place - Aaliyah Presley of TN
5th Place - Gabriella Watson of AR
Round 1
Savannah Bramhall (NC) won by fall over Gabriella Watson (AR) (Fall 0:00)
Emily Riopel (SC) won by fall over Aaliyah Presley (TN) (Fall 0:00)
Round 2
Ella Murphey (TN) won by fall over Aaliyah Presley (TN) (Fall 0:00)
Emily Riopel (SC) won by fall over Gabriella Watson (AR) (Fall 0:00)
Round 3
Ella Murphey (TN) won by tech fall over Emily Riopel (SC) (TF 10-0)
Savannah Bramhall (NC) won by tech fall over Aaliyah Presley (TN) (TF 12-0)
Round 4
Ella Murphey (TN) won by fall over Savannah Bramhall (NC) (Fall 0:00)
Aaliyah Presley (TN) won by tech fall over Gabriella Watson (AR) (TF 10-0)
Round 5
Ella Murphey (TN) won by tech fall over Gabriella Watson (AR) (TF 10-0)
Savannah Bramhall (NC) won by fall over Emily Riopel (SC) (Fall 0:00)

200 pounds
1st Place - Diamond Young of TN
2nd Place - Kiera Seguin of MD
3rd Place - Brooke Kennedy of GA
Round 1
Brooke Kennedy (GA) received a bye () (Bye)
Diamond Young (TN) won by tech fall over Kiera Seguin (MD) (TF 10-0)
Round 2
Kiera Seguin (MD) won by tech fall over Brooke Kennedy (GA) (TF 10-0)
Diamond Young (TN) received a bye () (Bye)
Round 3
Diamond Young (TN) won by fall over Brooke Kennedy (GA) (Fall 0:00)
Kiera Seguin (MD) received a bye () (Bye)
225 pounds
1st Place - Jocelyn Cacek of MD
2nd Place - Wyntergale Oxendine of NC
3rd Place - Kaley Hunt of NC
4th Place - Riley Stokes of NC
Round 1
Jocelyn Cacek (MD) won by fall over Kaley Hunt (NC) (Fall 0:00)
Wyntergale Oxendine (NC) won by fall over Riley Stokes (NC) (Fall 0:00)
Round 2
Jocelyn Cacek (MD) won by fall over Wyntergale Oxendine (NC) (Fall 0:00)
Kaley Hunt (NC) won by fall over Riley Stokes (NC) (Fall 0:00)
Round 3
Jocelyn Cacek (MD) won by fall over Riley Stokes (NC) (Fall 0:00)
Wyntergale Oxendine (NC) won by tech fall over Kaley Hunt (NC) (TF 10-0)
Junior Girls Greco-Roman Results
106 pounds
1st Place - Gabriele Tedesco of FL
2nd Place - Jada Chaves of MD
3rd Place - Hayle Peck of FL
Round 1
Gabriele Tedesco (FL) won by fall over Jada Chaves (MD) (Fall 2:29)
Round 2
Jada Chaves (MD) won by tech fall over Hayle Peck (FL) (TF 8-0)
Round 3
Gabriele Tedesco (FL) won by tech fall over Hayle Peck (FL) (TF 8-0)
112-117 pounds
1st Place - Zao Estrada of SC
2nd Place - Teresa Canady of NC
3rd Place - Autumn Sunderland of TN
4th Place - Tori Iams of TN
Round 1
Teresa Canady (NC) won by fall over Tori Iams (TN) (Fall 0:00)
Zao Estrada (SC) won by tech fall over Autumn Sunderland (TN) (TF 8-0)
Round 2
Zao Estrada (SC) won by fall over Teresa Canady (NC) (Fall 0:00)
Autumn Sunderland (TN) won by fall over Tori Iams (TN) (Fall 0:00)
Round 3
Teresa Canady (NC) won by decision over Autumn Sunderland (TN) (Dec 6-4)
Zao Estrada (SC) won by tech fall over Tori Iams (TN) (TF 9-0)
122 pounds
1st Place - Naomie Sylvestre of FL
2nd Place - Kylie Brigman of NC
Round 1
Naomie Sylvestre (FL) won by tech fall over Kylie Brigman (NC) (TF 8-0)
Round 2
Naomie Sylvestre (FL) won by fall over Kylie Brigman (NC) (Fall 0:00)
Round 3

127-132 pounds
1st Place - Abigail Plemons of GA
2nd Place - Sara Daley of LA
3rd Place - Delaney Nichols of TN
Round 1
Abigail Plemons (GA) won by tech fall over Delaney Nichols (TN) (TF 8-0)
Round 2
Sara Daley (LA) won by tech fall over Delaney Nichols (TN) (TF 9-0)
Round 3
Abigail Plemons (GA) won by tech fall over Sara Daley (LA) (TF 8-0)
138 pounds
1st Place - Shelby Kemp of OK
2nd Place - Trysten Rittberger of OK
3rd Place - Charlotte Wheeler of GA
Round 1
Shelby Kemp (OK) won by fall over Trysten Rittberger (OK) (Fall 0:00)
Round 2
Trysten Rittberger (OK) won by tech fall over Charlotte Wheeler (GA) (TF 8-0)
Round 3
Shelby Kemp (OK) won by fall over Charlotte Wheeler (GA) (Fall 0:00)
152-164 pounds
1st Place - Karla Ortiz of FL
2nd Place - Isabella Harris of TN
3rd Place - Gwendalyn Wight of GA
Round 1
Isabella Harris (TN) won by fall over Gwendalyn Wight (GA) (Fall 0:00)
Round 2
Karla Ortiz (FL) won by tech fall over Isabella Harris (TN) (TF 9-0)
Round 3
Karla Ortiz (FL) won by fall over Gwendalyn Wight (GA) (Fall 0:00)
180-196 pounds
1st Place - Emily Riopel of SC
2nd Place - Ellysia Jennings of TN
3rd Place - Brooke Kennedy of GA
Round 1
Emily Riopel (SC) won by tech fall over Ellysia Jennings (TN) (TF 8-0)
Round 2
Ellysia Jennings (TN) won by fall over Brooke Kennedy (GA) (Fall 0:00)
Round 3
Emily Riopel (SC) won by fall over Brooke Kennedy (GA) (Fall 0:00)
225 pounds
1st Place - Wyntergale Oxendine of NC
2nd Place - Kaley Hunt of NC
Round 1
Wyntergale Oxendine (NC) won by fall over Kaley Hunt (NC) (Fall 0:00)
Round 2
Wyntergale Oxendine (NC) won by tech fall over Kaley Hunt (NC) (TF 10-0)
High School Girls Folkstyle Results
106 pounds
1st Place - Gabriele Tedesco of FL
2nd Place - Jada Chaves of MD
3rd Place - Hayle Peck of FL
4th Place - Hayley Riddell of AR
5th Place - Sydney Martin of NC
Round 1
Gabriele Tedesco (FL) won by fall over Hayle Peck (FL) (Fall 0:00)
Hayley Riddell (AR) won by decision over Sydney Martin (NC) (Dec 12-7)
Round 2
Jada Chaves (MD) won by fall over Sydney Martin (NC) (Fall 0:00)
Gabriele Tedesco (FL) won by fall over Hayley Riddell (AR) (Fall 0:00)
Round 3
Jada Chaves (MD) won by fall over Hayley Riddell (AR) (Fall 0:00)
Hayle Peck (FL) won by fall over Sydney Martin (NC) (Fall 0:00)
Round 4
Jada Chaves (MD) won by fall over Hayle Peck (FL) (Fall 0:43)
Gabriele Tedesco (FL) won by fall over Sydney Martin (NC) (Fall 0:00)
Round 5
Gabriele Tedesco (FL) won by decision over Jada Chaves (MD) (Dec 9-4)
Hayle Peck (FL) won by fall over Hayley Riddell (AR) (Fall 0:00)
112 pounds
1st Place - Ellie Underwood of TN
2nd Place - Autumn Sunderland of TN
3rd Place - Alyssa Archer of TN
4th Place - Elizabeth Franks of SC
5th Place - Susannah Duke of TN
Round 1
Ellie Underwood (TN) won by fall over Elizabeth Franks (SC) (Fall 0:00)
Alyssa Archer (TN) won by fall over Susannah Duke (TN) (Fall 0:58)
Round 2
Autumn Sunderland (TN) won by fall over Alyssa Archer (TN) (Fall 0:00)
Elizabeth Franks (SC) won by fall over Susannah Duke (TN) (Fall 0:00)
Round 3
Autumn Sunderland (TN) won by fall over Susannah Duke (TN) (Fall 0:00)
Ellie Underwood (TN) won by fall over Alyssa Archer (TN) (Fall 0:00)
Round 4
Ellie Underwood (TN) won by decision over Autumn Sunderland (TN) (Dec 7-6)
Alyssa Archer (TN) won by fall over Elizabeth Franks (SC) (Fall 0:00)
Round 5
Autumn Sunderland (TN) won by fall over Elizabeth Franks (SC) (Fall 0:00)
Ellie Underwood (TN) won by major decision over Susannah Duke (TN) (Maj 12-0)
117 pounds
1st Place - LilyAnn Blair of TN
2nd Place - Teresa Canady of NC
3rd Place - Tori Iams of TN
4th Place - Addy Jackson of AR
1st Place Match
LilyAnn Blair (TN) won by decision over Teresa Canady (NC) (Dec 5-4)
3rd Place Match
Tori Iams (TN) won by decision over Addy Jackson (AR) (Dec 8-2)
122 pounds
1st Place - Naomie Sylvestre of FL
2nd Place - Ryding Stewart-Grounds of NC
Round 1
Naomie Sylvestre (FL) won by fall over Ryding Stewart-Grounds (NC) (Fall 0:00)
Round 2
Naomie Sylvestre (FL) won by fall over Ryding Stewart-Grounds (NC) (Fall 0:00)
127 pounds
1st Place - Evelyn Holmes-Smith of AL
2nd Place - Bailey Nimer of NC
3rd Place - Mia Kiser of NC
4th Place - Delaney Nichols of TN
5th Place - Esperanza Cruz of TN
Round 1
Bailey Nimer (NC) won by fall over Esperanza Cruz (TN) (Fall 0:00)
Mia Kiser (NC) won by decision over Delaney Nichols (TN) (Dec 4-1)
Round 2
Evelyn Holmes-Smith (AL) won by fall over Delaney Nichols (TN) (Fall 0:00)
Bailey Nimer (NC) won by fall over Mia Kiser (NC) (Fall 0:00)
Round 3
Evelyn Holmes-Smith (AL) won by fall over Mia Kiser (NC) (Fall 0:00)
Delaney Nichols (TN) won by decision over Esperanza Cruz (TN) (Dec 7-3)
Round 4
Evelyn Holmes-Smith (AL) won by fall over Esperanza Cruz (TN) (Fall 2:20)
Bailey Nimer (NC) won by fall over Delaney Nichols (TN) (Fall 0:00)
Round 5
Evelyn Holmes-Smith (AL) won by major decision over Bailey Nimer (NC) (Maj 11-0)
Mia Kiser (NC) won by decision over Esperanza Cruz (TN) (Dec 10-9)
132 pounds
1st Place - Kennedie Snow of NC
2nd Place - Sara Daley of LA
3rd Place - Paige Jox of PA
4th Place - Jacee Cox of TN
5th Place - Arwyn Brungardt of NC
Round 1
Kennedie Snow (NC) won by decision over Jacee Cox (TN) (Dec 7-0)
Paige Jox (PA) won by fall over Arwyn Brungardt (NC) (Fall 0:00)
Round 2
Sara Daley (LA) won by decision over Paige Jox (PA) (Dec 7-0)
Kennedie Snow (NC) won by fall over Arwyn Brungardt (NC) (Fall 1:08)
Round 3
Sara Daley (LA) won by fall over Arwyn Brungardt (NC) (Fall 0:00)
Paige Jox (PA) won by decision over Jacee Cox (TN) (Dec 6-5)
Round 4
Sara Daley (LA) won by major decision over Jacee Cox (TN) (Maj 12-0)
Kennedie Snow (NC) won by fall over Paige Jox (PA) (Fall 0:00)
Round 5
Kennedie Snow (NC) won by fall over Sara Daley (LA) (Fall 0:00)
Jacee Cox (TN) won by fall over Arwyn Brungardt (NC) (Fall 0:00)
138-144 pounds
1st Place - Trinity Roberts of TN
2nd Place - Riley Johnson of NC
Round 1
Trinity Roberts (TN) won by decision over Riley Johnson (NC) (Dec 4-0)
Round 2
Riley Johnson (NC) won by fall over Trinity Roberts (TN) (Fall 0:00)
Round 3
Trinity Roberts (TN) won by fall over Riley Johnson (NC) (Fall 3:45)
152 pounds
1st Place - Karla Ortiz of FL
2nd Place - Hannah Lewelling of TN
Round 1
Karla Ortiz (FL) won by fall over Hannah Lewelling (TN) (Fall 0:00)
Round 2
Karla Ortiz (FL) won by fall over Hannah Lewelling (TN) (Fall 0:53)
Round 3
164 pounds
1st Place - Bianca Connell of SC
2nd Place - Riley Lancaster of FL
3rd Place - Gwendalyn Wight of GA
Round 1
Bianca Connell (SC) won by decision over Riley Lancaster (FL) (Dec 14-9)
Round 2
Riley Lancaster (FL) won by decision over Gwendalyn Wight (GA) (Dec 3-2)
Round 3
Bianca Connell (SC) won by fall over Gwendalyn Wight (GA) (Fall 0:38)
180 pounds
1st Place - Ellysia Jennings of TN
2nd Place - Aaliyah Presley of TN
Round 1
Ellysia Jennings (TN) won by fall over Aaliyah Presley (TN) (Fall 0:00)
Round 2
Aaliyah Presley (TN) won by fall over Ellysia Jennings (TN) (Fall 0:00)
Round 3
Ellysia Jennings (TN) won by decision over Aaliyah Presley (TN) (Dec 6-4)
200-220 pounds
1st Place - Kennedy Norton of GA
2nd Place - Wyntergale Oxendine of NC
3rd Place - Mackenzie Riley of NC
4th Place - Brooke Kennedy of GA
Round 1
Kennedy Norton (GA) won by fall over Mackenzie Riley (NC) (Fall 0:00)
Wyntergale Oxendine (NC) won by fall over Brooke Kennedy (GA) (Fall 0:00)
Round 2
Kennedy Norton (GA) won by fall over Brooke Kennedy (GA) (Fall 0:00)
Wyntergale Oxendine (NC) won by fall over Mackenzie Riley (NC) (Fall 0:00)
Round 3
Kennedy Norton (GA) won by fall over Wyntergale Oxendine (NC) (Fall 0:00)
Mackenzie Riley (NC) won by fall over Brooke Kennedy (GA) (Fall 0:00)
16U Boys Freestyle Results
88 pounds
1st Place - Cooper Mcarthur of GA
2nd Place - Rj Phelan of VA
3rd Place - Jameson Thomas of AL
4th Place - Jakoby Odineal of TN
Round 1
Cooper Mcarthur (GA) won by tech fall over Jakoby Odineal (TN) (TF 10-0)
Rj Phelan (VA) won by fall over Jameson Thomas (AL) (Fall 0:39)
Round 2
Cooper Mcarthur (GA) won by tech fall over Jameson Thomas (AL) (TF 17-5)
Rj Phelan (VA) won by fall over Jakoby Odineal (TN) (Fall 1:14)
Round 3
Cooper Mcarthur (GA) won by decision over Rj Phelan (VA) (Dec 21-13)
Jameson Thomas (AL) won by tech fall over Jakoby Odineal (TN) (TF 10-0)
94 pounds
1st Place - Hudson Chittum of TN
2nd Place - Teequavious Mills of GA
3rd Place - Landen Modica of LA
4th Place - Larry Quirk of IL
5th Place - Triston Mouton of TN
Round 1
Teequavious Mills (GA) won by tech fall over Triston Mouton (TN) (TF 15-4)
Hudson Chittum (TN) won by tech fall over Landen Modica (LA) (TF 12-2)
Round 2
Hudson Chittum (TN) won by tech fall over Larry Quirk (IL) (TF 10-0)
Teequavious Mills (GA) won by tech fall over Landen Modica (LA) (TF 18-7)
Round 3
Landen Modica (LA) won by tech fall over Larry Quirk (IL) (TF 10-0)
Hudson Chittum (TN) won by tech fall over Triston Mouton (TN) (TF 11-0)
Round 4
Larry Quirk (IL) won by fall over Triston Mouton (TN) (Fall 0:00)
Hudson Chittum (TN) won by tech fall over Teequavious Mills (GA) (TF 11-0)
Round 5
Teequavious Mills (GA) won by tech fall over Larry Quirk (IL) (TF 10-0)
Landen Modica (LA) won by tech fall over Triston Mouton (TN) (TF 10-0)
100 pounds
1st Place - Tanner Tran of TN
2nd Place - William Atkinson of AL
3rd Place - Shamus Regan of TN
4th Place - Jackson Soney of IL
5th Place - Justin Harbin of AL
6th Place - Emmons Tewalt of VA
1st Place Match
Tanner Tran (TN) won by tech fall over William Atkinson (AL) (TF 16-6)
3rd Place Match
Shamus Regan (TN) won by tech fall over Jackson Soney (IL) (TF 13-2)
5th Place Match
Justin Harbin (AL) won by tech fall over Emmons Tewalt (VA) (TF 12-1)
106 pounds
1st Place - Anthony Ciotoli of VA
2nd Place - Tristan Carter of VA
3rd Place - Axel Ritchie of TN
4th Place - Matthew Dailey of PA
5th Place - David Hill of AL
6th Place - Vince Jasinski of IL
1st Place Match
Anthony Ciotoli (VA) won by tech fall over Tristan Carter (VA) (TF 10-0)
3rd Place Match
Axel Ritchie (TN) won by tech fall over Matthew Dailey (PA) (TF 10-0)
5th Place Match
David Hill (AL) won by fall over Vince Jasinski (IL) (Fall 0:00)
113 pounds
1st Place - Chase Walker of TN
2nd Place - Dj Clarke of GA
3rd Place - Jack Oliver of FL
4th Place - Sy Strobel of SC
5th Place - Dominick Durham of LA
6th Place - Erik Perez of FL
1st Place Match
Chase Walker (TN) won by fall over Dj Clarke (GA) (Fall 0:00)
3rd Place Match
Jack Oliver (FL) won by fall over Sy Strobel (SC) (Fall 0:00)
5th Place Match
Dominick Durham (LA) won by forfeit over Erik Perez (FL) (FF)
120 pounds
1st Place - Stone Phillips of AL
2nd Place - Sawyer Hackbarth of OK
3rd Place - Preston White of SC
4th Place - Kyle Nielsen of TN
5th Place - Collier Hartman of PA
6th Place - Roberto De Jesus of FL
1st Place Match
Stone Phillips (AL) won by tech fall over Sawyer Hackbarth (OK) (TF 13-2)
3rd Place Match
Preston White (SC) won by decision over Kyle Nielsen (TN) (Dec 11-10)
5th Place Match
Collier Hartman (PA) won by decision over Roberto De Jesus (FL) (Dec 12-5)
126 pounds
1st Place - John Stewart of AL
2nd Place - Chris Dennis of PA
3rd Place - Josiah Boyden of GA
4th Place - Houston Rudisill of SC
5th Place - Gianni Bottone of SC
6th Place - Nick Sykes of AL
1st Place Match
John Stewart (AL) won by decision over Chris Dennis (PA) (Dec 10-4)
3rd Place Match
Josiah Boyden (GA) won by decision over Houston Rudisill (SC) (Dec 4-4)
5th Place Match
Gianni Bottone (SC) won by decision over Nick Sykes (AL) (Dec 6-4)
132 pounds
1st Place - Kiowa Vines of AL
2nd Place - Liam Hickey of NC
3rd Place - Bentley Sly of NC
4th Place - Conner Beaudin of SC
5th Place - Teague Smith of IA
6th Place - Loxston Hooper of NC
1st Place Match
Kiowa Vines (AL) won by tech fall over Liam Hickey (NC) (TF 10-0)
3rd Place Match
Bentley Sly (NC) won by tech fall over Conner Beaudin (SC) (TF 11-1)
5th Place Match
Teague Smith (IA) won by tech fall over Loxston Hooper (NC) (TF 13-3)
138 pounds
1st Place - Blue Stiffler of GA
2nd Place - Andres Digrigoli of FL
3rd Place - Jaylen Bethea of NC
4th Place - Blake Congdon of TN
5th Place - Kaden Rice of TN
6th Place - Max Rosen of IL
1st Place Match
Blue Stiffler (GA) won by tech fall over Andres Digrigoli (FL) (TF 11-0)
3rd Place Match
Jaylen Bethea (NC) won by decision over Blake Congdon (TN) (Dec 8-3)
5th Place Match
Kaden Rice (TN) won by forfeit over Max Rosen (IL) (FF)
145 pounds
1st Place - Nathaniel Askew of GA
2nd Place - Jaelen Culp of NC
3rd Place - Abraham Pomeroy of CO
4th Place - Austin West of MN
5th Place - Nathan Nielsen of GA
6th Place - Hank Lee of SC
1st Place Match
Nathaniel Askew (GA) won by tech fall over Jaelen Culp (NC) (TF 11-0)
3rd Place Match
Abraham Pomeroy (CO) won by tech fall over Austin West (MN) (TF 12-1)
5th Place Match
Nathan Nielsen (GA) won by fall over Hank Lee (SC) (Fall 0:00)
152 pounds
1st Place - Joseph Jeter of OK
2nd Place - Victor MarksJenkins of MD
3rd Place - Cody Kirk of AL
4th Place - Brock Weaver of GA
5th Place - David Jewell of GA
6th Place - Zac Turberville of PA
1st Place Match
Joseph Jeter (OK) won by decision over Victor MarksJenkins (MD) (Dec 10-3)
3rd Place Match
Cody Kirk (AL) won by decision over Brock Weaver (GA) (Dec 8-6)
5th Place Match
David Jewell (GA) won by fall over Zac Turberville (PA) (Fall 0:00)
160 pounds
1st Place - Brock Swenson of WI
2nd Place - Blaise Meeks of TN
3rd Place - Bryson Lambert of LA
4th Place - Carter Macha of LA
5th Place - Landon Martin of GA
6th Place - Nathan McCartney of NC
1st Place Match
Brock Swenson (WI) won by tech fall over Blaise Meeks (TN) (TF 18-7)
3rd Place Match
Bryson Lambert (LA) won by fall over Carter Macha (LA) (Fall 0:00)
5th Place Match
Landon Martin (GA) won by forfeit over Nathan McCartney (NC) (FF)
170 pounds
1st Place - Xander Dossett of GA
2nd Place - Jake Rheaume of GA
3rd Place - Braeden Simoneaux of LA
4th Place - Jackson Davis of TN
5th Place - Jackson Moffit of GA
6th Place - Jonah Little of TN
1st Place Match
Xander Dossett (GA) won by decision over Jake Rheaume (GA) (Dec 5-2)
3rd Place Match
Braeden Simoneaux (LA) won by tech fall over Jackson Davis (TN) (TF 10-0)
5th Place Match
Jackson Moffit (GA) won by injury default over Jonah Little (TN) (Inj. 0:00)
182 pounds
1st Place - Ryder Wilder of GA
2nd Place - Cason Howle of SC
3rd Place - Aiden Hennings of IL
4th Place - Nathaniel Wade of TN
5th Place - Joshua Echeverria of SC
6th Place - Jonah Howard of AL
1st Place Match
Ryder Wilder (GA) won by decision over Cason Howle (SC) (Dec 8-3)
3rd Place Match
Aiden Hennings (IL) won by decision over Nathaniel Wade (TN) (Dec 7-4)
5th Place Match
Joshua Echeverria (SC) won by fall over Jonah Howard (AL) (Fall 0:00)
195 pounds
1st Place - Gabe Moore of TN
2nd Place - Harrison Compton of NC
3rd Place - Standford Thompson of TN
4th Place - Leonard Gilley of FL
5th Place - Ethan Kuball of NC
6th Place - Caleb Forbes of GA
1st Place Match
Gabe Moore (TN) won by tech fall over Harrison Compton (NC) (TF 10-0)
3rd Place Match
Standford Thompson (TN) won by fall over Leonard Gilley (FL) (Fall 0:00)
5th Place Match
Ethan Kuball (NC) won by tech fall over Caleb Forbes (GA) (TF 10-0)
220 pounds
1st Place - Tyson Russell of TN
2nd Place - Jordan Ogle of TN
3rd Place - Xavier Simmons of TN
4th Place - Cristean Langston of NC
5th Place - Ryel Deleon of IL
6th Place - Bernardo Barbalat of TN
1st Place Match
Tyson Russell (TN) won by tech fall over Jordan Ogle (TN) (TF 10-0)
3rd Place Match
Xavier Simmons (TN) won by fall over Cristean Langston (NC) (Fall 0:00)
5th Place Match
Ryel Deleon (IL) won by forfeit over Bernardo Barbalat (TN) (FF)
285 pounds
1st Place - Ryan Miret of FL
2nd Place - Seaton Tallent of TN
3rd Place - Damien Couture of NC
4th Place - Donovan Hebenstreit of NC
5th Place - Martin Thomas of AL
6th Place - Ian Hernandez of IL
1st Place Match
Ryan Miret (FL) won by fall over Seaton Tallent (TN) (Fall 0:00)
3rd Place Match
Damien Couture (NC) won by decision over Donovan Hebenstreit (NC) (Dec 10-2)
5th Place Match
Martin Thomas (AL) won by tech fall over Ian Hernandez (IL) (TF 10-0)

16U Boys Greco-Roman Results
88 pounds
1st Place - Jameson Thomas of AL
2nd Place - Cooper Mcarthur of GA
3rd Place - Rj Phelan of VA
4th Place - Jakoby Odineal of TN
Round 1
Cooper Mcarthur (GA) won by tech fall over Jakoby Odineal (TN) (TF 8-0)
Jameson Thomas (AL) won by decision over Rj Phelan (VA) (Dec 10-8)
Round 2
Cooper Mcarthur (GA) won by tech fall over Rj Phelan (VA) (TF 10-2)
Jameson Thomas (AL) won by fall over Jakoby Odineal (TN) (Fall 0:00)
Round 3
Jameson Thomas (AL) won by tech fall over Cooper Mcarthur (GA) (TF 10-1)
Rj Phelan (VA) won by tech fall over Jakoby Odineal (TN) (TF 8-0)
94 pounds
1st Place - Hudson Chittum of TN
2nd Place - Landen Modica of LA
3rd Place - Larry Quirk of IL
4th Place - Triston Mouton of TN
Round 1
Hudson Chittum (TN) won by tech fall over Larry Quirk (IL) (TF 9-0)
Landen Modica (LA) won by tech fall over Triston Mouton (TN) (TF 10-0)
Round 2
Hudson Chittum (TN) won by decision over Landen Modica (LA) (Dec 7-2)
Larry Quirk (IL) won by fall over Triston Mouton (TN) (Fall 0:00)
Round 3
Hudson Chittum (TN) won by fall over Triston Mouton (TN) (Fall 0:00)
Landen Modica (LA) won by tech fall over Larry Quirk (IL) (TF 11-3)
100 pounds
1st Place - Shamus Regan of TN
2nd Place - Tanner Tran of TN
3rd Place - William Atkinson of AL
4th Place - Emmons Tewalt of VA
5th Place - Jackson Soney of IL
6th Place - Justin Harbin of AL
1st Place Match
Shamus Regan (TN) won by tech fall over Tanner Tran (TN) (TF 8-0)
3rd Place Match
William Atkinson (AL) won by tech fall over Emmons Tewalt (VA) (TF 8-0)
5th Place Match
Jackson Soney (IL) won by tech fall over Justin Harbin (AL) (TF 12-3)
106 pounds
1st Place - Axel Ritchie of TN
2nd Place - Matthew Dailey of PA
3rd Place - Vince Jasinski of IL
4th Place - Anthony Ciotoli of VA
5th Place - Locke Sessions of TN
6th Place - Evan Gates of SC
1st Place Match
Axel Ritchie (TN) won by decision over Matthew Dailey (PA) (Dec 5-4)
3rd Place Match
Vince Jasinski (IL) won by decision over Anthony Ciotoli (VA) (Dec 4-0)
5th Place Match
Locke Sessions (TN) won by fall over Evan Gates (SC) (Fall 0:00)
113 pounds
1st Place - Chase Walker of TN
2nd Place - Erik Perez of FL
3rd Place - Sy Strobel of SC
4th Place - Nash Neeley of OK
5th Place - Elijah Hattaway of GA
6th Place - Jackson Stocker of SC
1st Place Match
Chase Walker (TN) won by tech fall over Erik Perez (FL) (TF 8-0)
3rd Place Match
Sy Strobel (SC) won by tech fall over Nash Neeley (OK) (TF 10-2)
5th Place Match
Elijah Hattaway (GA) won by fall over Jackson Stocker (SC) (Fall 0:00)
120 pounds
1st Place - Stone Phillips of AL
2nd Place - Ollie Phillips of TN
3rd Place - Preston White of SC
4th Place - Collier Hartman of PA
5th Place - Sawyer Hackbarth of OK
6th Place - Adaias Ortiz of FL
1st Place Match
Stone Phillips (AL) won by tech fall over Ollie Phillips (TN) (TF 8-0)
3rd Place Match
Preston White (SC) won by fall over Collier Hartman (PA) (Fall 0:00)
5th Place Match
Sawyer Hackbarth (OK) won by decision over Adaias Ortiz (FL) (Dec 5-4)
126 pounds

1st Place - Josiah Boyden of GA
2nd Place - Gianni Bottone of SC
3rd Place - Nathan Simpson of TN
4th Place - Nick Sykes of AL
5th Place - Houston Rudisill of SC
6th Place - Tyson Flavin of TN
1st Place Match
Josiah Boyden (GA) won by decision over Gianni Bottone (SC) (Dec 4-2)
3rd Place Match
Nathan Simpson (TN) won by tech fall over Nick Sykes (AL) (TF 8-0)
5th Place Match
Houston Rudisill (SC) won by forfeit over Tyson Flavin (TN) (FF)
132 pounds
1st Place - Kiowa Vines of AL
2nd Place - Jaden Weisgal of FL
3rd Place - Benito Diaz of MN
4th Place - Bentley Sly of NC
5th Place - Cristian Ramos of NC
6th Place - Wilson Jamison of TN
1st Place Match
Kiowa Vines (AL) won by tech fall over Jaden Weisgal (FL) (TF 10-2)
3rd Place Match
Benito Diaz (MN) won by tech fall over Bentley Sly (NC) (TF 8-0)
5th Place Match
Cristian Ramos (NC) won by fall over Wilson Jamison (TN) (Fall 0:00)
138 pounds
1st Place - Blue Stiffler of GA
2nd Place - Andres Digrigoli of FL
3rd Place - Jaylen Bethea of NC
4th Place - Carter Blalock of AL
5th Place - Forfeit Forfeit of Unattached
6th Place - Vayden Moore of TN
6th Place - Oskar Gluckow of NJ
1st Place Match
Blue Stiffler (GA) won by decision over Andres Digrigoli (FL) (Dec 3-2)
3rd Place Match
Jaylen Bethea (NC) won by tech fall over Carter Blalock (AL) (TF 10-1)
5th Place Match
Vayden Moore (TN) and Oskar Gluckow (NJ) (DFF)
145 pounds
1st Place - Nathaniel Askew of GA
2nd Place - Braylan Cosper of TN
3rd Place - Ayden Hood of TN
4th Place - Austin West of MN
1st Place Match
Nathaniel Askew (GA) won by tech fall over Braylan Cosper (TN) (TF 8-0)
3rd Place Match
Ayden Hood (TN) won by fall over Austin West (MN) (Fall 0:00)
152 pounds
1st Place - Victor MarksJenkins of MD
2nd Place - David Jewell of GA
3rd Place - Callen Bridgman of TN
4th Place - Brodie Melzoni of TN
5th Place - Brock Weaver of GA
6th Place - Cody Kirk of AL
1st Place Match
Victor MarksJenkins (MD) won by tech fall over David Jewell (GA) (TF 9-0)
3rd Place Match
Callen Bridgman (TN) won by decision over Brodie Melzoni (TN) (Dec 10-10)
5th Place Match
Brock Weaver (GA) won by decision over Cody Kirk (AL) (Dec 10-5)

160 pounds
1st Place - Blaise Meeks of TN
2nd Place - Bryson Lambert of LA
3rd Place - Landon Martin of GA
4th Place - Ian Ray of VA
5th Place - Brock Swenson of WI
6th Place - Carter Macha of LA
1st Place Match
Blaise Meeks (TN) won by tech fall over Bryson Lambert (LA) (TF 9-0)
3rd Place Match
Landon Martin (GA) won by fall over Ian Ray (VA) (Fall 0:00)
5th Place Match
Brock Swenson (WI) won by tech fall over Carter Macha (LA) (TF 14-4)
170 pounds
1st Place - Xander Dossett of GA
2nd Place - Jake Rheaume of GA
3rd Place - Jackson Moffit of GA
4th Place - Jackson Davis of TN
5th Place - Braeden Simoneaux of LA
6th Place - Jessi Davidson of NC
1st Place Match
Xander Dossett (GA) won by tech fall over Jake Rheaume (GA) (TF 9-0)
3rd Place Match
Jackson Moffit (GA) won by tech fall over Jackson Davis (TN) (TF 12-4)
5th Place Match
Braeden Simoneaux (LA) won by tech fall over Jessi Davidson (NC) (TF 8-0)

182 pounds
1st Place - Ryder Wilder of GA
2nd Place - Nathaniel Wade of TN
3rd Place - Cason Howle of SC
4th Place - Zerek Keel of TN
5th Place - Aiden Hennings of IL
6th Place - Jonah Howard of AL
1st Place Match
Ryder Wilder (GA) won by tech fall over Nathaniel Wade (TN) (TF 10-0)
3rd Place Match
Cason Howle (SC) won by tech fall over Zerek Keel (TN) (TF 8-0)
5th Place Match
Aiden Hennings (IL) won by tech fall over Jonah Howard (AL) (TF 8-0)
195 pounds
1st Place - Leonard Gilley of FL
2nd Place - Ashton Boswell of TN
3rd Place - Gabe Moore of TN
4th Place - Bruce Walker of IL
5th Place - James Paudel of OH
Round 1
Bruce Walker (IL) won by tech fall over James Paudel (OH) (TF 11-2)
Leonard Gilley (FL) won by decision over Ashton Boswell (TN) (Dec 0-0)
Round 2
Leonard Gilley (FL) won by decision over Gabe Moore (TN) (Dec 4-0)
Ashton Boswell (TN) won by tech fall over James Paudel (OH) (TF 8-0)
Round 3
Ashton Boswell (TN) won by decision over Gabe Moore (TN) (Dec 8-2)
Leonard Gilley (FL) won by fall over Bruce Walker (IL) (Fall 0:00)
Round 4
Gabe Moore (TN) won by tech fall over Bruce Walker (IL) (TF 8-0)
Leonard Gilley (FL) won by fall over James Paudel (OH) (Fall 0:00)
Round 5
Gabe Moore (TN) won by tech fall over James Paudel (OH) (TF 8-0)
Ashton Boswell (TN) won by fall over Bruce Walker (IL) (Fall 0:00)
220 pounds
1st Place - Tyson Russell of TN
2nd Place - Xavier Simmons of TN
3rd Place - Ryel Deleon of IL
4th Place - Jordan Ogle of TN
Round 1
Xavier Simmons (TN) won by tech fall over Jordan Ogle (TN) (TF 10-0)
Tyson Russell (TN) won by tech fall over Ryel Deleon (IL) (TF 8-0)
Round 2
Ryel Deleon (IL) won by fall over Jordan Ogle (TN) (Fall 0:00)
Tyson Russell (TN) won by fall over Xavier Simmons (TN) (Fall 1:54)
Round 3
Tyson Russell (TN) won by fall over Jordan Ogle (TN) (Fall 0:00)
Xavier Simmons (TN) won by tech fall over Ryel Deleon (IL) (TF 10-0)
285 pounds
1st Place - Ryan Miret of FL
2nd Place - Damien Couture of NC
3rd Place - Martin Thomas of AL
4th Place - Ian Hernandez of IL
Round 1
Ryan Miret (FL) won by decision over Martin Thomas (AL) (Dec 7-0)
Damien Couture (NC) won by tech fall over Ian Hernandez (IL) (TF 8-0)
Round 2
Ryan Miret (FL) won by fall over Damien Couture (NC) (Fall 0:00)
Martin Thomas (AL) won by decision over Ian Hernandez (IL) (Dec 7-2)
Round 3
Ryan Miret (FL) won by tech fall over Ian Hernandez (IL) (TF 8-0)
Damien Couture (NC) won by tech fall over Martin Thomas (AL) (TF 8-0)
16U Boys Folkstyle Results
88 pounds
1st Place - Cooper Mcarthur of GA
2nd Place - Rj Phelan of VA
3rd Place - Jameson Thomas of AL
4th Place - Jakoby Odineal of TN
Round 1
Jameson Thomas (AL) won by tech fall over Jakoby Odineal (TN) (TF 15-0)
Rj Phelan (VA) won by decision over Cooper Mcarthur (GA) (Dec 16-15)
Round 2
Jameson Thomas (AL) won by decision over Rj Phelan (VA) (Dec 6-2)
Cooper Mcarthur (GA) won by tech fall over Jakoby Odineal (TN) (TF 21-4)
Round 3
Cooper Mcarthur (GA) won by fall over Jameson Thomas (AL) (Fall 1:13)
Rj Phelan (VA) won by fall over Jakoby Odineal (TN) (Fall 1:30)
94 pounds
1st Place - Hudson Chittum of TN
2nd Place - Landen Modica of Lewisville The Colony
Round 1
Hudson Chittum (TN) won by decision over Landen Modica (Lewisville The Colony) (Dec 10-4)
Round 2
Hudson Chittum (TN) won by decision over Landen Modica (Lewisville The Colony) (Dec 4-3)
100 pounds
1st Place - Shamus Regan of TN
2nd Place - William Atkinson of AL
3rd Place - Jackson Soney of IL
4th Place - Joseph Little Iii of NC
1st Place Match
Shamus Regan (TN) won by tech fall over William Atkinson (AL) (TF 16-0)
3rd Place Match
Jackson Soney (IL) won by tech fall over Joseph Little Iii (NC) (TF 15-0)
106 pounds
1st Place - Axel Ritchie of TN
2nd Place - Matthew Dailey of PA
3rd Place - Tristan Carter of VA
4th Place - Liam Ritchie of LA
1st Place Match
Axel Ritchie (TN) won by decision over Matthew Dailey (PA) (Dec 12-7)
3rd Place Match
Tristan Carter (VA) won by fall over Liam Ritchie (LA) (Fall 1:30)
113 pounds
1st Place - Jackson Stocker of SC
2nd Place - Jack Oliver of FL
3rd Place - Dominick Durham of LA
4th Place - Elijah Hattaway of GA
1st Place Match
Jackson Stocker (SC) won by decision over Jack Oliver (FL) (Dec 7-4)
3rd Place Match
Dominick Durham (LA) won by decision over Elijah Hattaway (GA) (Dec 4-3)
120 pounds
1st Place - Preston White of SC
2nd Place - Ollie Phillips of TN
3rd Place - Kyle Nielsen of TN
4th Place - Jacob Britt of LA
1st Place Match
Preston White (SC) won by decision over Ollie Phillips (TN) (Dec 5-0)
3rd Place Match
Kyle Nielsen (TN) won by decision over Jacob Britt (LA) (Dec 10-9)
126 pounds
1st Place - Gianni Bottone of SC
2nd Place - Houston Rudisill of SC
3rd Place - Nick Sykes of AL
4th Place - Brandon Higgins of GA
1st Place Match
Gianni Bottone (SC) won by major decision over Houston Rudisill (SC) (Maj 8-0)
3rd Place Match
Nick Sykes (AL) won by decision over Brandon Higgins (GA) (Dec 2-0)
132 pounds
1st Place - Bentley Sly of NC
2nd Place - Kiowa Vines of AL
3rd Place - Conner Beaudin of SC
4th Place - Dylan Stubbs of LA
1st Place Match
Bentley Sly (NC) won by fall over Kiowa Vines (AL) (Fall 4:30)
3rd Place Match
Conner Beaudin (SC) won by fall over Dylan Stubbs (LA) (Fall 4:10)
138 pounds
1st Place - Blue Stiffler of GA
2nd Place - Vayden Moore of TN
3rd Place - Oskar Gluckow of NJ
4th Place - Carter Blalock of AL
1st Place Match
Blue Stiffler (GA) won by fall over Vayden Moore (TN) (Fall 0:00)
3rd Place Match
Oskar Gluckow (NJ) won by decision over Carter Blalock (AL) (Dec 6-2)
145 pounds
1st Place - Jaelen Culp of NC
2nd Place - Braylan Cosper of TN
3rd Place - Bradley Williams of AL
4th Place - Hank Lee of SC
1st Place Match
Jaelen Culp (NC) won by decision over Braylan Cosper (TN) (Dec 9-3)
3rd Place Match
Bradley Williams (AL) won by major decision over Hank Lee (SC) (Maj 16-7)
152 pounds
1st Place - Victor MarksJenkins of MD
2nd Place - Brock Weaver of GA
3rd Place - Findley Smout of TN
4th Place - Zac Turberville of PA
1st Place Match
Victor MarksJenkins (MD) won by fall over Brock Weaver (GA) (Fall 4:06)
3rd Place Match
Findley Smout (TN) won by decision over Zac Turberville (PA) (Dec 10-3)
160 pounds
1st Place - Brock Swenson of WI
2nd Place - Bryson Lambert of LA
3rd Place - Carter Macha of LA
4th Place - Landon Martin of GA
1st Place Match
Brock Swenson (WI) won by fall over Bryson Lambert (LA) (Fall 1:08)
3rd Place Match
Carter Macha (LA) won by decision over Landon Martin (GA) (Dec 7-3)
170 pounds
1st Place - Braeden Simoneaux of LA
2nd Place - Jackson Davis of TN
3rd Place - Avery Jones of GA
4th Place - Ethan Jones of SC
1st Place Match
Braeden Simoneaux (LA) won by major decision over Jackson Davis (TN) (Maj 12-2)
3rd Place Match
Avery Jones (GA) won by fall over Ethan Jones (SC) (Fall 3:48)
182 pounds
1st Place - Ryder Wilder of GA
2nd Place - Landon Pope of NC
3rd Place - Zerek Keel of TN
4th Place - Jonah Howard of AL
1st Place Match
Ryder Wilder (GA) won by major decision over Landon Pope (NC) (Maj 10-0)
3rd Place Match
Zerek Keel (TN) won by forfeit over Jonah Howard (AL) (FF)
220 pounds
1st Place - Xavier Simmons of TN
2nd Place - Jordan Ogle of TN
3rd Place - Nathaniel Strain of GA
4th Place - Bernardo Barbalat of TN
Round 1
Jordan Ogle (TN) won by fall over Nathaniel Strain (GA) (Fall 1:30)
Xavier Simmons (TN) won by fall over Bernardo Barbalat (TN) (Fall 3:27)
Round 2
Xavier Simmons (TN) won by fall over Jordan Ogle (TN) (Fall 2:07)
Nathaniel Strain (GA) won by fall over Bernardo Barbalat (TN) (Fall 1:30)
Round 3
Jordan Ogle (TN) won by fall over Bernardo Barbalat (TN) (Fall 0:00)
Xavier Simmons (TN) won by fall over Nathaniel Strain (GA) (Fall 2:57)
285 pounds
1st Place - Damien Couture of NC
2nd Place - Martin Thomas of AL
3rd Place - Micah Villatoro of AR
4th Place - William Barrow of NC
Round 1
Martin Thomas (AL) won by fall over William Barrow (NC) (Fall 2:03)
Damien Couture (NC) won by fall over Micah Villatoro (AR) (Fall 1:14)
Round 2
Damien Couture (NC) won by fall over Martin Thomas (AL) (Fall 3:24)
Micah Villatoro (AR) won by fall over William Barrow (NC) (Fall 0:48)
Round 3
Martin Thomas (AL) won by fall over Micah Villatoro (AR) (Fall 3:29)
Damien Couture (NC) won by fall over William Barrow (NC) (Fall 0:49)
16U Girls Freestyle Results
106 pounds
1st Place - Olivia Weiland of GA
2nd Place - Reagan Patrum of TN
3rd Place - Sydney Martin of NC
4th Place - Hayley Riddell of AR
5th Place - Lily Shipley of TN
Round 1
Reagan Patrum (TN) won by fall over Hayley Riddell (AR) (Fall 0:00)
Sydney Martin (NC) won by tech fall over Lily Shipley (TN) (TF 16-5)
Round 2
Olivia Weiland (GA) won by fall over Lily Shipley (TN) (Fall 0:22)
Sydney Martin (NC) won by decision over Hayley Riddell (AR) (Dec 14-6)
Round 3
Olivia Weiland (GA) won by fall over Sydney Martin (NC) (Fall 0:31)
Reagan Patrum (TN) won by fall over Lily Shipley (TN) (Fall 1:16)
Round 4
Olivia Weiland (GA) won by fall over Reagan Patrum (TN) (Fall 0:34)
Hayley Riddell (AR) won by tech fall over Lily Shipley (TN) (TF 10-0)
Round 5
Olivia Weiland (GA) won by fall over Hayley Riddell (AR) (Fall 0:00)
Reagan Patrum (TN) won by fall over Sydney Martin (NC) (Fall 0:00)
112 pounds
1st Place - Senna Grassman of TN
2nd Place - Artemis Eaton of GA
3rd Place - Ellie Underwood of TN
4th Place - Memphis Moses of FL
5th Place - Susannah Duke of TN
6th Place - Elizabeth Franks of SC
1st Place Match
Senna Grassman (TN) won by tech fall over Artemis Eaton (GA) (TF 10-0)
3rd Place Match
Ellie Underwood (TN) won by fall over Memphis Moses (FL) (Fall 0:00)
5th Place Match
Susannah Duke (TN) received a bye Elizabeth Franks (SC) (Bye)
117 pounds
1st Place - Vivian Urriola of SC
2nd Place - LilyAnn Blair of TN
3rd Place - Addy Jackson of AR
4th Place - Emily McIntosh of FL
5th Place - Waylan Collins of NC
6th Place - Anete Rodriguez of TN
1st Place Match
Vivian Urriola (SC) won by decision over LilyAnn Blair (TN) (Dec 10-6)
3rd Place Match
Addy Jackson (AR) won by decision over Emily McIntosh (FL) (Dec 17-9)
5th Place Match
Waylan Collins (NC) received a bye Anete Rodriguez (TN) (Bye)
122 pounds
1st Place - Anabel Rodriguez of NC
2nd Place - Ella Hughes of GA
3rd Place - Madyson Jones of TN
4th Place - Raylee Hunter of AR
5th Place - My`Shawnna Tinsley of OH
Round 1
Anabel Rodriguez (NC) won by decision over Raylee Hunter (AR) (Dec 7-2)
Madyson Jones (TN) won by tech fall over My`Shawnna Tinsley (OH) (TF 10-0)
Round 2
Ella Hughes (GA) won by tech fall over My`Shawnna Tinsley (OH) (TF 13-3)
Madyson Jones (TN) won by tech fall over Raylee Hunter (AR) (TF 10-0)
Round 3
Ella Hughes (GA) won by tech fall over Madyson Jones (TN) (TF 12-2)
Anabel Rodriguez (NC) won by injury default over My`Shawnna Tinsley (OH) (Inj. 0:00)
Round 4
Anabel Rodriguez (NC) won by fall over Ella Hughes (GA) (Fall 0:00)
Raylee Hunter (AR) won by injury default over My`Shawnna Tinsley (OH) (Inj. 0:00)
Round 5
Ella Hughes (GA) won by tech fall over Raylee Hunter (AR) (TF 10-0)
Anabel Rodriguez (NC) won by fall over Madyson Jones (TN) (Fall 0:00)
127 pounds
1st Place - Evelyn Holmes-Smith of AL
2nd Place - Bailey Nimer of NC
3rd Place - Mia Kiser of NC
4th Place - Astrid Reyes of SC
5th Place - Annaliegh Tinoco of NC
Round 1
Evelyn Holmes-Smith (AL) won by tech fall over Mia Kiser (NC) (TF 10-0)
Bailey Nimer (NC) won by fall over Annaliegh Tinoco (NC) (Fall 0:00)
Round 2
Astrid Reyes (SC) won by fall over Annaliegh Tinoco (NC) (Fall 1:21)
Evelyn Holmes-Smith (AL) won by fall over Bailey Nimer (NC) (Fall 1:05)
Round 3
Bailey Nimer (NC) won by fall over Astrid Reyes (SC) (Fall 0:00)
Mia Kiser (NC) won by decision over Annaliegh Tinoco (NC) (Dec 9-6)
Round 4
Mia Kiser (NC) won by tech fall over Astrid Reyes (SC) (TF 10-0)
Evelyn Holmes-Smith (AL) won by tech fall over Annaliegh Tinoco (NC) (TF 10-0)
Round 5
Evelyn Holmes-Smith (AL) won by tech fall over Astrid Reyes (SC) (TF 12-0)
Bailey Nimer (NC) won by fall over Mia Kiser (NC) (Fall 0:00)
132 pounds
1st Place - Kennedie Snow of NC
2nd Place - Aenaya Vines of AL
3rd Place - Kiersten Green of GA
4th Place - Paige Jox of PA
5th Place - Esperanza Huitron of GA
6th Place - Jacee Cox of TN
1st Place Match
Kennedie Snow (NC) won by fall over Aenaya Vines (AL) (Fall 0:00)
3rd Place Match
Kiersten Green (GA) won by fall over Paige Jox (PA) (Fall 1:28)
5th Place Match
Esperanza Huitron (GA) won by injury default over Jacee Cox (TN) (Inj. 0:00)
138 pounds
1st Place - Trinity Roberts of TN
2nd Place - Lilly Reese of NC
3rd Place - Iyanna Crawford of NC
4th Place - Cheyenne Bramhall of NC
5th Place - Rochelle Ross of OH
6th Place - Arwyn Brungardt of NC
1st Place Match
Trinity Roberts (TN) won by tech fall over Lilly Reese (NC) (TF 11-0)
3rd Place Match
Iyanna Crawford (NC) won by tech fall over Cheyenne Bramhall (NC) (TF 10-0)
5th Place Match
Rochelle Ross (OH) received a bye Arwyn Brungardt (NC) (Bye)

144 pounds
1st Place - Greta Garbuzovas of GA
2nd Place - Adelyn Vanoy of TN
3rd Place - Riley Johnson of NC
Round 1
Greta Garbuzovas (GA) won by fall over Riley Johnson (NC) (Fall 0:47)
Round 2
Adelyn Vanoy (TN) won by fall over Riley Johnson (NC) (Fall 0:21)
Round 3
Greta Garbuzovas (GA) won by tech fall over Adelyn Vanoy (TN) (TF 10-0)
152 pounds
1st Place - Sierha Lopes of GA
2nd Place - Isabella Hill of VA
3rd Place - Hannah Lewelling of TN
Round 1
Isabella Hill (VA) won by fall over Hannah Lewelling (TN) (Fall 1:11)
Round 2
Sierha Lopes (GA) won by fall over Hannah Lewelling (TN) (Fall 0:43)
Round 3
Sierha Lopes (GA) won by fall over Isabella Hill (VA) (Fall 0:00)
164 pounds
1st Place - Alexandria Ray of OK
2nd Place - Riley Lancaster of FL
3rd Place - Bianca Connell of SC
Round 1
Riley Lancaster (FL) won by tech fall over Bianca Connell (SC) (TF 13-2)
Round 2
Alexandria Ray (OK) won by tech fall over Riley Lancaster (FL) (TF 11-0)
Round 3
Alexandria Ray (OK) won by tech fall over Bianca Connell (SC) (TF 11-0)
180 pounds
1st Place - Elaina Pollock of NC
2nd Place - Ellysia Jennings of TN
3rd Place - Gabriela Roman-Bruno of NC
Round 1
Elaina Pollock (NC) won by fall over Ellysia Jennings (TN) (Fall 3:46)
Round 2
Ellysia Jennings (TN) won by fall over Gabriela Roman-Bruno (NC) (Fall 2:27)
Round 3
Elaina Pollock (NC) won by tech fall over Gabriela Roman-Bruno (NC) (TF 10-0)
16U Girls Greco-Roman Results
106-112 pounds
1st Place - Ellie Underwood of TN
2nd Place - Elizabeth Franks of SC
3rd Place - Hayley Riddell of AR
Round 1
Ellie Underwood (TN) won by tech fall over Hayley Riddell (AR) (TF 8-0)
Round 2
Elizabeth Franks (SC) won by fall over Hayley Riddell (AR) (Fall 0:00)
Round 3
Ellie Underwood (TN) won by decision over Elizabeth Franks (SC) (Dec 6-0)
117 pounds
1st Place - LilyAnn Blair of TN
2nd Place - Emily McIntosh of FL
3rd Place - Vivian Urriola of SC
4th Place - Waylan Collins of NC
5th Place - Anete Rodriguez of TN
Round 1
Waylan Collins (NC) won by tech fall over Anete Rodriguez (TN) (TF 8-0)
LilyAnn Blair (TN) won by fall over Emily McIntosh (FL) (Fall 0:00)
Round 2
LilyAnn Blair (TN) won by fall over Vivian Urriola (SC) (Fall 0:00)
Waylan Collins (NC) won by decision over Emily McIntosh (FL) (Dec 2-1)
Round 3
Emily McIntosh (FL) won by fall over Vivian Urriola (SC) (Fall 0:00)
LilyAnn Blair (TN) won by tech fall over Anete Rodriguez (TN) (TF 9-0)
Round 4
Vivian Urriola (SC) won by tech fall over Anete Rodriguez (TN) (TF 8-0)
LilyAnn Blair (TN) won by tech fall over Waylan Collins (NC) (TF 17-9)
Round 5
Vivian Urriola (SC) won by decision over Waylan Collins (NC) (Dec 8-6)
Emily McIntosh (FL) won by tech fall over Anete Rodriguez (TN) (TF 8-0)
122 pounds
1st Place - Madyson Jones of TN
2nd Place - My`Shawnna Tinsley of OH
Round 1
My`Shawnna Tinsley (OH) won by tech fall over Madyson Jones (TN) (TF 12-3)
Round 2
Madyson Jones (TN) won by tech fall over My`Shawnna Tinsley (OH) (TF 8-0)
Round 3
Madyson Jones (TN) won by fall over My`Shawnna Tinsley (OH) (Fall 0:00)
127 pounds
1st Place - Evelyn Holmes-Smith of AL
2nd Place - Bailey Nimer of NC
3rd Place - Mia Kiser of NC
4th Place - Astrid Reyes of SC
Round 1
Evelyn Holmes-Smith (AL) won by fall over Mia Kiser (NC) (Fall 0:00)
Bailey Nimer (NC) won by tech fall over Astrid Reyes (SC) (TF 8-0)
Round 2
Bailey Nimer (NC) won by fall over Mia Kiser (NC) (Fall 0:00)
Evelyn Holmes-Smith (AL) won by fall over Astrid Reyes (SC) (Fall 0:00)
Round 3
Mia Kiser (NC) won by tech fall over Astrid Reyes (SC) (TF 8-0)
Evelyn Holmes-Smith (AL) won by fall over Bailey Nimer (NC) (Fall 0:00)
132 pounds
1st Place - Bella Williams of OK
2nd Place - Kennedie Snow of NC
3rd Place - Paige Jox of PA
4th Place - Jacee Cox of TN
5th Place - Danielle Burkhardt of VA
Round 1
Paige Jox (PA) won by decision over Jacee Cox (TN) (Dec 8-1)
Bella Williams (OK) won by fall over Kennedie Snow (NC) (Fall 0:49)
Round 2
Kennedie Snow (NC) won by fall over Danielle Burkhardt (VA) (Fall 0:00)
Bella Williams (OK) won by fall over Paige Jox (PA) (Fall 0:00)
Round 3
Bella Williams (OK) won by fall over Danielle Burkhardt (VA) (Fall 0:00)
Kennedie Snow (NC) won by tech fall over Jacee Cox (TN) (TF 8-0)
Round 4
Jacee Cox (TN) won by decision over Danielle Burkhardt (VA) (Dec 4-1)
Kennedie Snow (NC) won by fall over Paige Jox (PA) (Fall 0:00)
Round 5
Paige Jox (PA) won by decision over Danielle Burkhardt (VA) (Dec 2-0)
Bella Williams (OK) won by tech fall over Jacee Cox (TN) (TF 8-0)
138-144 pounds
1st Place - Iyanna Crawford of NC
2nd Place - Trinity Roberts of TN
3rd Place - Isabella Hill of VA
4th Place - Lilly Reese of NC
5th Place - Rochelle Ross of OH
Round 1
Isabella Hill (VA) won by fall over Lilly Reese (NC) (Fall 0:00)
Iyanna Crawford (NC) won by decision over Trinity Roberts (TN) (Dec 5-2)
Round 2
Iyanna Crawford (NC) won by tech fall over Rochelle Ross (OH) (TF 8-0)
Trinity Roberts (TN) won by fall over Isabella Hill (VA) (Fall 0:00)
Round 3
Trinity Roberts (TN) won by tech fall over Rochelle Ross (OH) (TF 9-0)
Iyanna Crawford (NC) won by tech fall over Lilly Reese (NC) (TF 8-0)
Round 4
Lilly Reese (NC) won by fall over Rochelle Ross (OH) (Fall 0:00)
Iyanna Crawford (NC) won by tech fall over Isabella Hill (VA) (TF 8-0)
Round 5
Isabella Hill (VA) won by tech fall over Rochelle Ross (OH) (TF 9-0)
Trinity Roberts (TN) won by decision over Lilly Reese (NC) (Dec 4-1)
164 pounds
1st Place - Bianca Connell of SC
2nd Place - Alexandria Ray of OK
3rd Place - Riley Lancaster of FL
Round 1
Bianca Connell (SC) won by fall over Alexandria Ray (OK) (Fall 0:00)
Round 2
Riley Lancaster (FL) won by decision over Bianca Connell (SC) (Dec 7-4)
Round 3
Alexandria Ray (OK) won by decision over Riley Lancaster (FL) (Dec 2-0)
14U Boys Freestyle Results
71 pounds
1st Place – Jha'kai Roller of TN
2nd Place - Diego Robertty of FL
3rd Place - Jude Goss of GA
Round 1
Jha'kai Roller (TN) won by decision over Diego Robertty (FL) (Dec 8-2)
Round 2
Diego Robertty (FL) won by tech fall over Jude Goss (GA) (TF 10-0)
Round 3
Jha'kai Roller (TN) won by tech fall over Jude Goss (GA) (TF 12-0)
77 pounds
1st Place - Greyson McDonald of FL
2nd Place - Michiah Gillins Jr of FL
3rd Place - Camden Palmer of VA
Round 1
Greyson McDonald (FL) won by tech fall over Michiah Gillins Jr (FL) (TF 12-2)
Round 2
Michiah Gillins Jr (FL) won by tech fall over Camden Palmer (VA) (TF 12-0)
Round 3
Greyson McDonald (FL) won by tech fall over Camden Palmer (VA) (TF 10-0)
83 pounds
1st Place - Ariah Mills of GA
2nd Place - Stephano Calderon of SC
3rd Place - Jay McQuiston of PA
4th Place - Michael Woodard of NC
1st Place Match
Ariah Mills (GA) won by tech fall over Stephano Calderon (SC) (TF 10-0)
3rd Place Match
Jay McQuiston (PA) won by decision over Michael Woodard (NC) (Dec 8-4)
87 pounds
1st Place - Cody Clarke of GA
2nd Place - Flynn Arnestad of VA
3rd Place - Brandon Lefler of NC
4th Place - Zachary Leto of FL
1st Place Match
Cody Clarke (GA) won by tech fall over Flynn Arnestad (VA) (TF 19-8)
3rd Place Match
Brandon Lefler (NC) won by tech fall over Zachary Leto (FL) (TF 10-0)
92 pounds
1st Place - Bryson Drennen of GA
2nd Place - Gavin Matheis of FL
3rd Place - Zane Messiter of VA
4th Place - Connor McLeod of VA
1st Place Match
Bryson Drennen (GA) won by decision over Gavin Matheis (FL) (Dec 10-10)
3rd Place Match
Zane Messiter (VA) won by tech fall over Connor McLeod (VA) (TF 10-0)
97 pounds
1st Place - Mateo Gallegos of PA
2nd Place - Mason Soney of IL
3rd Place - Xavier Mance of GA
4th Place - Michael Reichow of VA
1st Place Match
Mateo Gallegos (PA) won by tech fall over Mason Soney (IL) (TF 10-0)
3rd Place Match
Xavier Mance (GA) won by tech fall over Michael Reichow (VA) (TF 12-1)
102 pounds
1st Place - Benjamin Proper of VA
2nd Place - Tanner Hunt of GA
3rd Place - Michael Klein of LA
4th Place - Joseph Drewry of TN
1st Place Match
Benjamin Proper (VA) won by decision over Tanner Hunt (GA) (Dec 6-4)
3rd Place Match
Michael Klein (LA) won by decision over Joseph Drewry (TN) (Dec 13-4)
106 pounds
1st Place - Jaxon Lane of TN
2nd Place - Reece Movahead of VA
3rd Place - Jovanni Tovar of FL
4th Place - Ericson Ej Coney of FL
1st Place Match
Jaxon Lane (TN) won by tech fall over Reece Movahead (VA) (TF 10-0)
3rd Place Match
Jovanni Tovar (FL) won by tech fall over Ericson Ej Coney (FL) (TF 10-0)
110 pounds
1st Place - Jekai Sedgwick of NC
2nd Place - Efrain Rivera of NC
3rd Place - Christian Davis of TN
4th Place - Maddox Stonitsch of IL
Round 1
Jekai Sedgwick (NC) won by tech fall over Maddox Stonitsch (IL) (TF 10-0)
Efrain Rivera (NC) won by fall over Christian Davis (TN) (Fall 0:00)
Round 2
Jekai Sedgwick (NC) won by tech fall over Efrain Rivera (NC) (TF 10-0)
Christian Davis (TN) won by tech fall over Maddox Stonitsch (IL) (TF 15-4)
Round 3
Jekai Sedgwick (NC) won by tech fall over Christian Davis (TN) (TF 11-0)
Efrain Rivera (NC) won by forfeit over Maddox Stonitsch (IL) (FF)
114 pounds
1st Place - Walker Woodard of GA
2nd Place - Ayden Jenkins of TN
3rd Place - Noah Eller of TN
4th Place - David Newell of AL
1st Place Match
Walker Woodard (GA) won by fall over Ayden Jenkins (TN) (Fall 0:00)
3rd Place Match
Noah Eller (TN) won by decision over David Newell (AL) (Dec 10-9)
119 pounds
1st Place - Gary High of TN
2nd Place - Dylan Villers of TN
3rd Place - Daniel Dennis of PA
4th Place - Benjamin Owens of VA
1st Place Match
Gary High (TN) won by decision over Dylan Villers (TN) (Dec 10-8)
3rd Place Match
Daniel Dennis (PA) won by tech fall over Benjamin Owens (VA) (TF 10-0)
125 pounds
1st Place - Nathaniel Moungsiharat of TN
2nd Place - Tyrone Norris of SC
3rd Place - Xander Nielsen of GA
4th Place - Alexander Sosa of FL
1st Place Match
Nathaniel Moungsiharat (TN) won by decision over Tyrone Norris (SC) (Dec 5-4)
3rd Place Match
Xander Nielsen (GA) won by tech fall over Alexander Sosa (FL) (TF 16-6)
130 pounds
1st Place - Cruz Hezel of GA
2nd Place - Noah King of GA
3rd Place - Joshua Huskey of TN
4th Place - Noah Macha of LA
5th Place - Jaylin Bellamy of KY
6th Place - Jacob Bannister of SC
1st Place Match
Cruz Hezel (GA) won by tech fall over Noah King (GA) (TF 10-0)
3rd Place Match
Joshua Huskey (TN) won by fall over Noah Macha (LA) (Fall 0:00)
5th Place Match
Jaylin Bellamy (KY) won by tech fall over Jacob Bannister (SC) (TF 10-0)
136 pounds
1st Place - Kevin Kilpatrick of GA
2nd Place - Charles O`Malley of KY
3rd Place - Kaden Dressel of TN
4th Place - Nathaniel Park of GA
1st Place Match
Kevin Kilpatrick (GA) won by tech fall over Charles O`Malley (KY) (TF 11-0)
3rd Place Match
Kaden Dressel (TN) won by decision over Nathaniel Park (GA) (Dec 7-6)
149 pounds
1st Place - Mihai Necula of GA
2nd Place - Coleman Lee of GA
3rd Place - Brieon Mayfield of NC
4th Place - Henry Martin Schultz of SC
5th Place - Tracey Dennard of TN
Round 1
Coleman Lee (GA) won by fall over Brieon Mayfield (NC) (Fall 0:00)
Mihai Necula (GA) won by tech fall over Henry Martin Schultz (SC) (TF 10-0)
Round 2
Henry Martin Schultz (SC) won by tech fall over Tracey Dennard (TN) (TF 12-2)
Mihai Necula (GA) won by tech fall over Brieon Mayfield (NC) (TF 10-0)
Round 3
Mihai Necula (GA) won by tech fall over Tracey Dennard (TN) (TF 10-0)
Coleman Lee (GA) won by fall over Henry Martin Schultz (SC) (Fall 0:42)
Round 4
Coleman Lee (GA) won by tech fall over Tracey Dennard (TN) (TF 14-1)
Brieon Mayfield (NC) won by decision over Henry Martin Schultz (SC) (Dec 9-8)
Round 5
Brieon Mayfield (NC) won by tech fall over Tracey Dennard (TN) (TF 10-0)
Mihai Necula (GA) won by tech fall over Coleman Lee (GA) (TF 12-1)
165 pounds
1st Place - Braylon Stewart of LA
2nd Place - Drew Adams of AL
3rd Place - Caden McWilliams of GA
4th Place - Jeshurun Mills of NC
1st Place Match
Braylon Stewart (LA) won by fall over Drew Adams (AL) (Fall 0:00)
3rd Place Match
Caden McWilliams (GA) won by fall over Jeshurun Mills (NC) (Fall 0:00)
187 pounds
1st Place - Xander Johnson of TN
250 pounds
1st Place - Judah Harris of NC
2nd Place - Prosper Livingston-Holmes of KY
3rd Place - Nathaniel Strain of GA
Round 1
Judah Harris (NC) won by decision over Prosper Livingston-Holmes (KY) (Dec 11-7)
Round 2
Prosper Livingston-Holmes (KY) won by fall over Nathaniel Strain (GA) (Fall 0:00)
Round 3
Judah Harris (NC) won by decision over Nathaniel Strain (GA) (Dec 6-2)
14U Boys Greco-Roman Results
71 pounds
1st Place - Jha`kai Roller of TN
2nd Place - Diego Robertty of FL
Round 1
Diego Robertty (FL) won by tech fall over Jha`kai Roller (TN) (TF 13-4)
Round 2
Jha`kai Roller (TN) won by decision over Diego Robertty (FL) (Dec 10-6)
Round 3
Jha`kai Roller (TN) won by decision over Diego Robertty (FL) (Dec 7-6)
77 pounds
1st Place - Greyson McDonald of FL
2nd Place - Michiah Gillins Jr of FL
3rd Place - Camden Palmer of VA
Round 1
Michiah Gillins Jr (FL) won by tech fall over Camden Palmer (VA) (TF 10-1)
Round 2
Greyson McDonald (FL) won by fall over Michiah Gillins Jr (FL) (Fall 0:00)
Round 3
Greyson McDonald (FL) won by fall over Camden Palmer (VA) (Fall 0:00)
83 pounds
1st Place - Ariah Mills of GA
2nd Place - Kenly Estevez of FL
3rd Place - Michael Woodard of NC
4th Place - Jay McQuiston of PA
1st Place Match
Ariah Mills (GA) won by tech fall over Kenly Estevez (FL) (TF 9-0)
3rd Place Match
Michael Woodard (NC) won by tech fall over Jay McQuiston (PA) (TF 10-0)
87 pounds
1st Place - Flynn Arnestad of VA
2nd Place - Cody Clarke of GA
3rd Place - Brandon Lefler of NC
4th Place - Zachary Leto of FL
1st Place Match
Flynn Arnestad (VA) won by decision over Cody Clarke (GA) (Dec 5-5)
3rd Place Match
Brandon Lefler (NC) won by fall over Zachary Leto (FL) (Fall 0:00)
92 pounds
1st Place - Zane Messiter of VA
2nd Place - Bryson Drennen of GA
3rd Place - Gavin Matheis of FL
4th Place - Eli Carter of AL
1st Place Match
Zane Messiter (VA) won by fall over Bryson Drennen (GA) (Fall 0:00)
3rd Place Match
Gavin Matheis (FL) won by fall over Eli Carter (AL) (Fall 0:00)
97 pounds
1st Place - Thomas Perez Iii of SC
2nd Place - Braylen Johnson of AL
3rd Place - Mason Soney of IL
4th Place - Michael Reichow of VA
1st Place Match
Thomas Perez Iii (SC) won by tech fall over Braylen Johnson (AL) (TF 8-0)
3rd Place Match
Mason Soney (IL) won by fall over Michael Reichow (VA) (Fall 0:00)
102 pounds
1st Place - Michael Klein of LA
2nd Place - Joseph Drewry of TN
3rd Place - Benjamin Proper of VA
4th Place - Tanner Hunt of GA
1st Place Match
Michael Klein (LA) won by tech fall over Joseph Drewry (TN) (TF 11-1)
3rd Place Match
Benjamin Proper (VA) won by tech fall over Tanner Hunt (GA) (TF 10-0)
106 pounds
1st Place - Jaxon Lane of TN
2nd Place - Reece Movahead of VA
3rd Place - Jovanni Tovar of FL
4th Place - Ericson Ej Coney of FL
1st Place Match
Jaxon Lane (TN) won by decision over Reece Movahead (VA) (Dec 6-3)
3rd Place Match
Jovanni Tovar (FL) won by tech fall over Ericson Ej Coney (FL) (TF 8-0)
110 pounds
1st Place - Jekai Sedgwick of NC
2nd Place - Christian Davis of TN
3rd Place - Maddox Stonitsch of IL
Round 1
Jekai Sedgwick (NC) won by tech fall over Christian Davis (TN) (TF 8-0)
Round 2
Christian Davis (TN) won by fall over Maddox Stonitsch (IL) (Fall 0:00)
Round 3
Jekai Sedgwick (NC) won by tech fall over Maddox Stonitsch (IL) (TF 10-0)
114 pounds
1st Place - Walker Woodard of GA
2nd Place - Ayden Jenkins of TN
3rd Place - Braxton Pennings of TN
4th Place - Ritchie Trew of SC
1st Place Match
Walker Woodard (GA) won by tech fall over Ayden Jenkins (TN) (TF 18-10)
3rd Place Match
Braxton Pennings (TN) won by decision over Ritchie Trew (SC) (Dec 14-8)

119 pounds
1st Place - Gary High of TN
2nd Place - Dylan Villers of TN
3rd Place - Benjamin Owens of VA
4th Place - Javin Taylor of FL
1st Place Match
Gary High (TN) won by tech fall over Dylan Villers (TN) (TF 10-2)
3rd Place Match
Benjamin Owens (VA) won by fall over Javin Taylor (FL) (Fall 0:00)
125 pounds
1st Place - Nathaniel Moungsiharat of TN
2nd Place - Tyrone Norris of SC
3rd Place - Xander Nielsen of GA
4th Place - Maddox Santos of FL
1st Place Match
Nathaniel Moungsiharat (TN) won by 3 caution rule over Tyrone Norris (SC) (3 Cau.)
3rd Place Match
Xander Nielsen (GA) won by decision over Maddox Santos (FL) (Dec 4-2)
130 pounds
1st Place - Cainan Williams of TN
2nd Place - Noah Macha of LA
3rd Place - Cruz Hezel of GA
4th Place - Landon Lewis of FL
1st Place Match
Cainan Williams (TN) won by tech fall over Noah Macha (LA) (TF 9-0)
3rd Place Match
Cruz Hezel (GA) won by tech fall over Landon Lewis (FL) (TF 10-1)
136 pounds
1st Place - William Etu of VA
2nd Place - Kevin Kilpatrick of GA
3rd Place - Osvaldo Gonzalez of FL
4th Place - Abram Stoebig of NC
Round 1
Kevin Kilpatrick (GA) won by fall over Abram Stoebig (NC) (Fall 1:32)
William Etu (VA) won by tech fall over Osvaldo Gonzalez (FL) (TF 8-0)
Round 2
Kevin Kilpatrick (GA) won by tech fall over Osvaldo Gonzalez (FL) (TF 14-6)
William Etu (VA) won by fall over Abram Stoebig (NC) (Fall 0:00)
Round 3
William Etu (VA) won by fall over Kevin Kilpatrick (GA) (Fall 0:00)
Osvaldo Gonzalez (FL) won by fall over Abram Stoebig (NC) (Fall 20:27)
149 pounds
1st Place - Mihai Necula of GA
2nd Place - Henry Martin Schultz of SC
3rd Place - Nathaniel Park of GA
4th Place - Tracey Dennard of TN
Round 1
Mihai Necula (GA) won by tech fall over Henry Martin Schultz (SC) (TF 8-0)
Nathaniel Park (GA) won by decision over Tracey Dennard (TN) (Dec 4-3)
Round 2
Mihai Necula (GA) won by tech fall over Tracey Dennard (TN) (TF 8-0)
Henry Martin Schultz (SC) won by decision over Nathaniel Park (GA) (Dec 10-4)
Round 3
Mihai Necula (GA) won by tech fall over Nathaniel Park (GA) (TF 8-0)
Henry Martin Schultz (SC) won by fall over Tracey Dennard (TN) (Fall 0:00)
165 pounds
1st Place - Braylon Stewart of LA
2nd Place - Drew Adams of AL
3rd Place - Jeshurun Mills of NC
4th Place - John Bramlett of TN
1st Place Match
Braylon Stewart (LA) won by fall over Drew Adams (AL) (Fall 0:00)
3rd Place Match
Jeshurun Mills (NC) won by tech fall over John Bramlett (TN) (TF 14-4)
14U Boys Folkstyle Results
71 pounds
1st Place – Jha'kai Roller of TN
2nd Place - Diego Robertty of FL
Round 1
Jha'kai Roller (TN) won by decision over Diego Robertty (FL) (Dec 7-1)
Round 2
Jha'kai Roller (TN) won by decision over Diego Robertty (FL) (Dec 4-2)
77 pounds
1st Place - Greyson McDonald of FL
2nd Place - Michiah Gillins Jr of FL
3rd Place - Camden Palmer of VA
Round 1
Michiah Gillins Jr (FL) won by decision over Camden Palmer (VA) (Dec 7-2)
Round 2
Greyson McDonald (FL) won by tech fall over Michiah Gillins Jr (FL) (TF 16-0)
Round 3
Greyson McDonald (FL) won by tech fall over Camden Palmer (VA) (TF 17-1)
83 pounds
1st Place - Michael Woodard of NC
2nd Place - Jay McQuiston of PA
3rd Place - Charlie Pierce of NC
4th Place - Bo Jorges of NC
Round 1
Jay McQuiston (PA) won by fall over Bo Jorges (NC) (Fall 2:21)
Michael Woodard (NC) won by fall over Charlie Pierce (NC) (Fall 0:51)
Round 2
Michael Woodard (NC) won by decision over Jay McQuiston (PA) (Dec 5-3)
Charlie Pierce (NC) won by fall over Bo Jorges (NC) (Fall 0:00)
Round 3
Jay McQuiston (PA) won by fall over Charlie Pierce (NC) (Fall 0:00)
Michael Woodard (NC) won by fall over Bo Jorges (NC) (Fall 0:00)
87 pounds
1st Place - Brandon Lefler of NC
2nd Place - Luke Mealer of GA
3rd Place - Kanaan Martinez of NC
Round 1
Luke Mealer (GA) won by fall over Kanaan Martinez (NC) (Fall 0:52)
Round 2
Brandon Lefler (NC) won by tech fall over Kanaan Martinez (NC) (TF 17-2)
Round 3
Brandon Lefler (NC) won by major decision over Luke Mealer (GA) (Maj 11-0)
92 pounds
1st Place - Gavin Matheis of FL
2nd Place - Zane Messiter of VA
3rd Place - Joshua Guhman of LA
4th Place - Connor McLeod of VA
1st Place Match
Gavin Matheis (FL) won by decision over Zane Messiter (VA) (Dec 5-0)
3rd Place Match
Joshua Guhman (LA) won by decision over Connor McLeod (VA) (Dec 3-0)

97 pounds
1st Place - Thomas Perez Iii of SC
2nd Place - Braylen Johnson of AL
3rd Place - Mason Soney of IL
4th Place - Mason Crane of TN
1st Place Match
Thomas Perez Iii (SC) won by decision over Braylen Johnson (AL) (Dec 2-0)
3rd Place Match
Mason Soney (IL) won by fall over Mason Crane (TN) (Fall 0:00)
102 pounds
1st Place - Benjamin Proper of VA
2nd Place - Michael Klein of LA
3rd Place - Joseph Drewry of TN
4th Place - Ryan Dietrick of TN
1st Place Match
Benjamin Proper (VA) won by decision over Michael Klein (LA) (Dec 5-3)
3rd Place Match
Joseph Drewry (TN) won by decision over Ryan Dietrick (TN) (Dec 5-3)
106 pounds
1st Place - Jaxon Lane of TN
2nd Place - Griffin Gardner of AL
3rd Place - Ericson Ej Coney of FL
4th Place - Cael Moore of GA
1st Place Match
Jaxon Lane (TN) won by major decision over Griffin Gardner (AL) (Maj 9-0)
3rd Place Match
Ericson Ej Coney (FL) won by decision over Cael Moore (GA) (Dec 7-2)
110 pounds
1st Place - Efrain Rivera of NC
2nd Place - Christian Davis of TN
3rd Place - Maddox Stonitsch of IL
Round 1
Christian Davis (TN) won by major decision over Maddox Stonitsch (IL) (Maj 13-5)
Round 2
Efrain Rivera (NC) won by decision over Maddox Stonitsch (IL) (Dec 8-2)
Round 3
Efrain Rivera (NC) won by fall over Christian Davis (TN) (Fall 0:00)
114 pounds
1st Place - Walker Woodard of GA
2nd Place - Ayden Jenkins of TN
3rd Place - Sawyer Rees of NC
4th Place - David Newell of AL
1st Place Match
Walker Woodard (GA) won by decision over Ayden Jenkins (TN) (Dec 5-3)
3rd Place Match
Sawyer Rees (NC) won by fall over David Newell (AL) (Fall 0:00)
119 pounds
1st Place - Benjamin Owens of VA
2nd Place - Ruger Pennington of TN
3rd Place - Javin Taylor of FL
4th Place - Landen Bell of GA
1st Place Match
Benjamin Owens (VA) won by fall over Ruger Pennington (TN) (Fall 0:00)
3rd Place Match
Javin Taylor (FL) won by major decision over Landen Bell (GA) (Maj 14-3)
125 pounds
1st Place - Alexander Sosa of FL
2nd Place - Nathaniel Moungsiharat of TN
3rd Place - Tyrone Norris of SC
4th Place - Maddox Santos of FL
1st Place Match
Alexander Sosa (FL) won by decision over Nathaniel Moungsiharat (TN) (Dec 4-1)
3rd Place Match
Tyrone Norris (SC) won by decision over Maddox Santos (FL) (Dec 4-1)
130 pounds
1st Place - Cruz Hezel of GA
2nd Place - Connor Reece of NC
3rd Place - Noah Macha of LA
4th Place - Noah King of GA
1st Place Match
Cruz Hezel (GA) won by fall over Connor Reece (NC) (Fall 0:00)
3rd Place Match
Noah Macha (LA) won by major decision over Noah King (GA) (Maj 11-0)
136 pounds
1st Place - Kevin Kilpatrick of GA
2nd Place - Luke Howle of SC
Round 1
Kevin Kilpatrick (GA) won in sudden victory - 1 over Luke Howle (SC) (SV-1 5-3)
Round 2
Kevin Kilpatrick (GA) won by decision over Luke Howle (SC) (Dec 6-1)

149 pounds
1st Place - Henry Martin Schultz of SC
2nd Place - Tracey Dennard of TN
Round 1
Henry Martin Schultz (SC) won by decision over Tracey Dennard (TN) (Dec 5-0)
Round 2
Henry Martin Schultz (SC) won by fall over Tracey Dennard (TN) (Fall 0:00)
160-165 pounds
1st Place - Drew Adams of AL
2nd Place - John Bramlett of TN
3rd Place - Caden McWilliams of GA
4th Place - Luke Malbrough of TN
5th Place - Joey Lipton of TN
Round 1
Caden McWilliams (GA) won by fall over Luke Malbrough (TN) (Fall 0:23)
John Bramlett (TN) won by fall over Joey Lipton (TN) (Fall 0:26)
Round 2
Drew Adams (AL) won by fall over John Bramlett (TN) (Fall 0:00)
Caden McWilliams (GA) won by fall over Joey Lipton (TN) (Fall 0:00)
Round 3
Drew Adams (AL) won by fall over Joey Lipton (TN) (Fall 0:00)
John Bramlett (TN) won by fall over Luke Malbrough (TN) (Fall 0:00)
Round 4
Drew Adams (AL) won by major decision over Luke Malbrough (TN) (Maj 9-0)
John Bramlett (TN) won by decision over Caden McWilliams (GA) (Dec 7-6)
Round 5
Drew Adams (AL) won by decision over Caden McWilliams (GA) (Dec 8-2)
Luke Malbrough (TN) won by fall over Joey Lipton (TN) (Fall 0:00)
187 pounds
1st Place - Xander Johnson of TN
2nd Place - Peyton Marshall of NC
Round 1
Xander Johnson (TN) won by fall over Peyton Marshall (NC) (Fall 0:43)
Round 2
Peyton Marshall (NC) won by decision over Xander Johnson (TN) (Dec 5-4)
Round 3
Xander Johnson (TN) won by decision over Peyton Marshall (NC) (Dec 8-2)
250 pounds
1st Place - Nathaniel Strain of GA

14U Girls Freestyle Results
85-92 pounds
1st Place - Alliya Walker of VA
2nd Place - Easton Dadiomoff of TN
3rd Place - Natalie Lippstreu of GA
Round 1
Alliya Walker (VA) won by tech fall over Natalie Lippstreu (GA) (TF 10-0)
Round 2
Alliya Walker (VA) won by tech fall over Easton Dadiomoff (TN) (TF 12-1)
Round 3
Easton Dadiomoff (TN) won by decision over Natalie Lippstreu (GA) (Dec 9-2)
97-105 pounds
1st Place - Ryleigh Sturgill of TN
2nd Place - Julia McGee of NC
3rd Place - Katie Stowe of NC
Round 1
Ryleigh Sturgill (TN) won by tech fall over Katie Stowe (NC) (TF 10-0)
Round 2
Ryleigh Sturgill (TN) won by fall over Julia McGee (NC) (Fall 0:00)
Round 3
Julia McGee (NC) won by tech fall over Katie Stowe (NC) (TF 22-11)
110 pounds
1st Place - Sophia Perez of SC
2nd Place - Kashlyn Locklear of NC
Round 1
Sophia Perez (SC) won by fall over Kashlyn Locklear (NC) (Fall 0:00)
Round 2
Sophia Perez (SC) won by decision over Kashlyn Locklear (NC) (Dec 14-6)
119 pounds
1st Place - Ava Johnson of TN
2nd Place - Lillian Malloy of GA
3rd Place - Vanessa Whitelock of FL
4th Place - Angely Mendez of SC
1st Place Match
Ava Johnson (TN) won by fall over Lillian Malloy (GA) (Fall 0:00)
3rd Place Match
Vanessa Whitelock (FL) won by fall over Angely Mendez (SC) (Fall 0:00)
127 pounds
1st Place - Lexi Dean of TN
2nd Place - Taylure Foreman of TN
136 pounds
1st Place - Clover Williams of OK
2nd Place - Delilah Queen of TN
3rd Place - Kate Hayes of NC
4th Place - Makayla Hinchey of SC
1st Place Match
Clover Williams (OK) won by decision over Delilah Queen (TN) (Dec 12-3)
3rd Place Match
Kate Hayes (NC) won by decision over Makayla Hinchey (SC) (Dec 4-3)
145 pounds
1st Place - Laila Hustoles of SC
2nd Place - Melody Mauney of NC
Round 1
Laila Hustoles (SC) won by tech fall over Melody Mauney (NC) (TF 12-0)
Round 2
Laila Hustoles (SC) won by fall over Melody Mauney (NC) (Fall 0:00)
185 pounds
1st Place - Shaylee Temple of NC
2nd Place - Alicia Ramirez of OH
Round 1
Shaylee Temple (NC) won by fall over Alicia Ramirez (OH) (Fall 0:00)
Round 2
Shaylee Temple (NC) won by fall over Alicia Ramirez (OH) (Fall 0:00)
14U Girls Greco-Roman Results
85 pounds
1st Place - Easton Dadiomoff of TN
2nd Place - Natalie Lippstreu of GA
3rd Place - Carly Jox of PA
Round 1
Easton Dadiomoff (TN) won by fall over Carly Jox (PA) (Fall 0:00)
Round 2
Natalie Lippstreu (GA) won by fall over Carly Jox (PA) (Fall 0:00)
Round 3
Easton Dadiomoff (TN) won by decision over Natalie Lippstreu (GA) (Dec 10-4)
97-105 pounds
1st Place - Ryleigh Sturgill of TN
2nd Place - Julia McGee of NC
3rd Place - Katie Stowe of NC
Round 1
Julia McGee (NC) won by fall over Katie Stowe (NC) (Fall 0:00)
Round 2
Ryleigh Sturgill (TN) won by tech fall over Julia McGee (NC) (TF 10-2)
Round 3
Ryleigh Sturgill (TN) won by tech fall over Katie Stowe (NC) (TF 8-0)
119 pounds
1st Place - Vanessa Whitelock of FL
2nd Place - Ava Johnson of TN
Round 1
Vanessa Whitelock (FL) won by tech fall over Ava Johnson (TN) (TF 9-0)
Round 2
Vanessa Whitelock (FL) won by fall over Ava Johnson (TN) (Fall 0:00)
127 pounds
1st Place - Lexi Dean of TN
2nd Place - Taylure Foreman of TN
Round 1
Lexi Dean (TN) won by tech fall over Taylure Foreman (TN) (TF 8-0)
Round 2
Lexi Dean (TN) won by tech fall over Taylure Foreman (TN) (TF 8-0)
136 pounds
1st Place - Clover Williams of OK
2nd Place - Makayla Hinchey of SC
Round 1
Clover Williams (OK) won by fall over Makayla Hinchey (SC) (Fall 0:00)
Round 2
Clover Williams (OK) won by fall over Makayla Hinchey (SC) (Fall 0:00)
145 pounds
1st Place - Laila Hustoles of SC
185 pounds
1st Place - Alicia Ramirez of OH
12U-14U Girls Folkstyle Results
85 pounds
1st Place - Natalie Lippstreu of GA
2nd Place - Easton Dadiomoff of TN
3rd Place - Carly Jox of PA
4th Place - Amber Stoneman of VA
Round 1
Natalie Lippstreu (GA) won by fall over Carly Jox (PA) (Fall 1:38)
Easton Dadiomoff (TN) won by fall over Amber Stoneman (VA) (Fall 0:17)
Round 2
Natalie Lippstreu (GA) won by decision over Easton Dadiomoff (TN) (Dec 6-0)
Carly Jox (PA) won by fall over Amber Stoneman (VA) (Fall 0:00)
Round 3
Natalie Lippstreu (GA) won by fall over Amber Stoneman (VA) (Fall 0:39)
Easton Dadiomoff (TN) won by fall over Carly Jox (PA) (Fall 0:59)
107 pounds
1st Place - Kara-Lynn Dover of GA
2nd Place - Makaylah Vega of FL
3rd Place - Katie Stowe of NC
Round 1
Kara-Lynn Dover (GA) won by fall over Makaylah Vega (FL) (Fall 0:54)
Round 2
Kara-Lynn Dover (GA) won by fall over Katie Stowe (NC) (Fall 0:00)
Round 3
Makaylah Vega (FL) won by fall over Katie Stowe (NC) (Fall 0:00)
119 pounds
1st Place - Ava Johnson of TN
2nd Place - Lillian Malloy of GA
3rd Place - Vanessa Whitelock of FL
4th Place - Eliana Minton of TN
Round 1
Lillian Malloy (GA) won by fall over Eliana Minton (TN) (Fall 2:23)
Ava Johnson (TN) won by fall over Vanessa Whitelock (FL) (Fall 2:20)
Round 2
Lillian Malloy (GA) won by fall over Vanessa Whitelock (FL) (Fall 0:00)
Ava Johnson (TN) won by fall over Eliana Minton (TN) (Fall 0:00)
Round 3
Ava Johnson (TN) won by fall over Lillian Malloy (GA) (Fall 2:19)
Vanessa Whitelock (FL) won by fall over Eliana Minton (TN) (Fall 0:52)
127-136 pounds
1st Place - Lexi Dean of TN
2nd Place - Makayla Hinchey of SC
3rd Place - Taylure Foreman of TN
4th Place - Cheyanne Geyer of NC
Round 1
Makayla Hinchey (SC) won by fall over Taylure Foreman (TN) (Fall 2:05)
Lexi Dean (TN) won by fall over Cheyanne Geyer (NC) (Fall 0:37)
Round 2
Makayla Hinchey (SC) won by fall over Cheyanne Geyer (NC) (Fall 0:00)
Lexi Dean (TN) won by fall over Taylure Foreman (TN) (Fall 0:00)
Round 3
Lexi Dean (TN) won by fall over Makayla Hinchey (SC) (Fall 0:00)
Taylure Foreman (TN) won by fall over Cheyanne Geyer (NC) (Fall 0:00)
145 pounds
1st Place - Laila Hustoles of SC
2nd Place - JayceeMae Erwin of NC
Round 1
Laila Hustoles (SC) won by fall over JayceeMae Erwin (NC) (Fall 0:00)
Round 2
Laila Hustoles (SC) won by fall over JayceeMae Erwin (NC) (Fall 0:00)
145+ pounds
1st Place - JayceeMae Erwin of North Carolina
2nd Place - Marijane Tafoya of North Carolina
Round 1
JayceeMae Erwin (North Carolina) won by fall over Marijane Tafoya (North Carolina) (Fall 0:00)
Round 2
JayceeMae Erwin (North Carolina) won by fall over Marijane Tafoya (North Carolina) (Fall 0:00)
12U Boys Freestyle Results

58 pounds

1st Place - Jett Deville of LA
2nd Place - Peyton Arch of NC
Round 1
Jett Deville (LA) won by fall over Peyton Arch (NC) (Fall 2:58)
Round 2
Jett Deville (LA) won by tech fall over Peyton Arch (NC) (TF 10-0)
63 pounds
1st Place - Caiden Whitmore of VA
2nd Place - Mason Lee of GA
Round 1
Caiden Whitmore (VA) won by decision over Mason Lee (GA) (Dec 12-12)
Round 2
Caiden Whitmore (VA) won by decision over Mason Lee (GA) (Dec 21-16)
70 pounds
1st Place - Bowen Lefler of NC
2nd Place - Chase Smith of TN
3rd Place - Deklan Koopman of FL
4th Place - Daniel Wittekind of TN
1st Place Match
Bowen Lefler (NC) won by decision over Chase Smith (TN) (Dec 5-3)
3rd Place Match
Deklan Koopman (FL) won by fall over Daniel Wittekind (TN) (Fall 0:00)
74 pounds
1st Place - Jaxon Flood of TN
2nd Place - Caleb Shipman of TN
3rd Place - Chase Congdon of VA
4th Place - Stratton Guy of TN
5th Place - Keegan Beard of PA
Round 1
Jaxon Flood (TN) won by fall over Caleb Shipman (TN) (Fall 0:00)
Chase Congdon (VA) won by fall over Keegan Beard (PA) (Fall 0:12)
Round 2
Chase Congdon (VA) won by tech fall over Stratton Guy (TN) (TF 12-2)
Caleb Shipman (TN) won by tech fall over Keegan Beard (PA) (TF 10-0)
Round 3
Stratton Guy (TN) won by fall over Keegan Beard (PA) (Fall 0:00)
Jaxon Flood (TN) won by tech fall over Chase Congdon (VA) (TF 10-0)
Round 4
Jaxon Flood (TN) won by tech fall over Stratton Guy (TN) (TF 10-0)
Caleb Shipman (TN) won by tech fall over Chase Congdon (VA) (TF 12-2)
Round 5
Caleb Shipman (TN) won by tech fall over Stratton Guy (TN) (TF 14-4)
Jaxon Flood (TN) won by tech fall over Keegan Beard (PA) (TF 10-0)
78 pounds
1st Place - James Strain of TN
2nd Place - Thomas Radin of TN
3rd Place - Payton Vaughan of TN
4th Place - Liam Burgett of FL
Round 1
Thomas Radin (TN) won by fall over Liam Burgett (FL) (Fall 2:50)
James Strain (TN) won by tech fall over Payton Vaughan (TN) (TF 10-0)
Round 2
Thomas Radin (TN) won by fall over Payton Vaughan (TN) (Fall 0:00)
James Strain (TN) won by tech fall over Liam Burgett (FL) (TF 10-0)
Round 3
James Strain (TN) won by tech fall over Thomas Radin (TN) (TF 12-0)
Payton Vaughan (TN) won by fall over Liam Burgett (FL) (Fall 3:21)
82 pounds
1st Place - Javen Russo of GA
2nd Place - Jameson Ritchie of LA
3rd Place - Emmett Williams of NC
Round 1
Javen Russo (GA) won by decision over Jameson Ritchie (LA) (Dec 10-2)
Round 2
Javen Russo (GA) won by decision over Emmett Williams (NC) (Dec 6-4)
Round 3
Jameson Ritchie (LA) won by tech fall over Emmett Williams (NC) (TF 14-3)
86 pounds
1st Place - Ethan Halstead of NC
2nd Place - Kalel Winesburgh of TN
3rd Place - Jayden Duruji of MN
4th Place - Max Splete of OH
1st Place Match
Ethan Halstead (NC) won by tech fall over Kalel Winesburgh (TN) (TF 10-0)
3rd Place Match
Jayden Duruji (MN) won by tech fall over Max Splete (OH) (TF 13-0)
92 pounds
1st Place - Andrew Sonnier of LA
2nd Place - Mitchell Chen of VA
3rd Place - Liam Nielsen of GA
Round 1
Mitchell Chen (VA) won by tech fall over Liam Nielsen (GA) (TF 12-0)
Round 2
Liam Nielsen (GA) won by tech fall over Andrew Sonnier (LA) (TF 10-0)
Round 3
Andrew Sonnier (LA) won by forfeit over Mitchell Chen (VA) (FF)
98 pounds
1st Place - Cooper Mariakis of GA
2nd Place - Ilias Delarosa of GA
3rd Place - Magnus Semenick of FL
4th Place - Matthew Bramhall of NC
5th Place - Gideon Comstock of TN
Round 1
Cooper Mariakis (GA) won by fall over Magnus Semenick (FL) (Fall 0:00)
Matthew Bramhall (NC) won by fall over Gideon Comstock (TN) (Fall 1:41)
Round 2
Ilias Delarosa (GA) won by fall over Matthew Bramhall (NC) (Fall 0:00)
Magnus Semenick (FL) won by forfeit over Gideon Comstock (TN) (FF)
Round 3
Ilias Delarosa (GA) won by forfeit over Gideon Comstock (TN) (FF)
Cooper Mariakis (GA) won by tech fall over Matthew Bramhall (NC) (TF 10-0)
Round 4
Cooper Mariakis (GA) won by decision over Ilias Delarosa (GA) (Dec 11-6)
Magnus Semenick (FL) won by tech fall over Matthew Bramhall (NC) (TF 10-0)
Round 5
Ilias Delarosa (GA) won by fall over Magnus Semenick (FL) (Fall 0:48)
Cooper Mariakis (GA) won by forfeit over Gideon Comstock (TN) (FF)
108 pounds
1st Place - Kara-Lynn Dover of GA
117-125 pounds
1st Place - Ernest Watkins of TN
2nd Place - Makoa Badillo of FL
3rd Place - Kreed Williams of NC
Round 1
Ernest Watkins (TN) won by fall over Kreed Williams (NC) (Fall 0:00)
Round 2
Ernest Watkins (TN) won by fall over Makoa Badillo (FL) (Fall 0:58)
Round 3
Makoa Badillo (FL) won by fall over Kreed Williams (NC) (Fall 1:32)
160 pounds
1st Place - Jacob Pyles of KY
2nd Place - Joey Lipton of TN
Round 1
Jacob Pyles (KY) won by fall over Joey Lipton (TN) (Fall 1:04)
Round 2
Jacob Pyles (KY) won by fall over Joey Lipton (TN) (Fall 0:00)
12U Boys Greco-Roman Results
58 pounds
1st Place - Jett Deville of LA
2nd Place - Peyton Arch of NC
Round 1
Jett Deville (LA) won by tech fall over Peyton Arch (NC) (TF 10-0)
Round 2
Jett Deville (LA) won by tech fall over Peyton Arch (NC) (TF 8-0)
63 pounds
1st Place - Caiden Whitmore of VA
2nd Place - Mason Lee of GA
Round 1
Caiden Whitmore (VA) won by tech fall over Mason Lee (GA) (TF 8-0)
Round 2
Caiden Whitmore (VA) won by tech fall over Mason Lee (GA) (TF 20-11)
67 pounds
1st Place - Bowen Lefler of NC
70 pounds
1st Place - Chase Smith of TN
2nd Place - Deklan Koopman of FL
3rd Place - Daniel Wittekind of TN
4th Place - Paul Regalbuto of VA
5th Place - Jack Duncan of SC
Round 1
Daniel Wittekind (TN) won by tech fall over Paul Regalbuto (VA) (TF 11-2)
Deklan Koopman (FL) won by tech fall over Jack Duncan (SC) (TF 10-2)
Round 2
Chase Smith (TN) won by tech fall over Jack Duncan (SC) (TF 8-0)
Paul Regalbuto (VA) won by tech fall over Deklan Koopman (FL) (TF 8-0)
Round 3
Chase Smith (TN) won by tech fall over Deklan Koopman (FL) (TF 8-0)
Daniel Wittekind (TN) won by tech fall over Jack Duncan (SC) (TF 10-0)
Round 4
Chase Smith (TN) won by fall over Daniel Wittekind (TN) (Fall 0:00)
Paul Regalbuto (VA) won by tech fall over Jack Duncan (SC) (TF 14-6)
Round 5
Chase Smith (TN) won by tech fall over Paul Regalbuto (VA) (TF 9-0)
Deklan Koopman (FL) won by fall over Daniel Wittekind (TN) (Fall 0:00)
74 pounds
1st Place - Jaxon Flood of TN
2nd Place - Caleb Shipman of TN
3rd Place - Stratton Guy of TN
4th Place - Chase Congdon of VA
5th Place - Keegan Beard of PA
Round 1
Jaxon Flood (TN) won by tech fall over Chase Congdon (VA) (TF 8-0)
Caleb Shipman (TN) won by tech fall over Keegan Beard (PA) (TF 8-0)
Round 2
Caleb Shipman (TN) won by tech fall over Stratton Guy (TN) (TF 8-0)
Jaxon Flood (TN) won by tech fall over Keegan Beard (PA) (TF 8-0)
Round 3
Keegan Beard (PA) won by decision over Stratton Guy (TN) (Dec 17-16)
Caleb Shipman (TN) won by tech fall over Chase Congdon (VA) (TF 11-2)
Round 4
Stratton Guy (TN) won by fall over Chase Congdon (VA) (Fall 0:00)
Jaxon Flood (TN) won by tech fall over Caleb Shipman (TN) (TF 8-0)
Round 5
Jaxon Flood (TN) won by tech fall over Stratton Guy (TN) (TF 8-0)
Chase Congdon (VA) won by tech fall over Keegan Beard (PA) (TF 16-7)
78 pounds
1st Place - Thomas Radin of TN
2nd Place - James Strain of TN
3rd Place - Liam Burgett of FL
4th Place - Payton Vaughan of TN
Round 1
Thomas Radin (TN) won by tech fall over James Strain (TN) (TF 12-0)
Liam Burgett (FL) won by fall over Payton Vaughan (TN) (Fall 0:00)
Round 2
James Strain (TN) won by fall over Payton Vaughan (TN) (Fall 0:33)
Thomas Radin (TN) won by fall over Liam Burgett (FL) (Fall 0:00)
Round 3
James Strain (TN) won by tech fall over Liam Burgett (FL) (TF 8-0)
Thomas Radin (TN) won by fall over Payton Vaughan (TN) (Fall 0:00)
82 pounds
1st Place - Javen Russo of GA
2nd Place - Jameson Ritchie of LA
3rd Place - Emmett Williams of NC
Round 1
Jameson Ritchie (LA) won by fall over Emmett Williams (NC) (Fall 0:00)
Round 2
Javen Russo (GA) won by decision over Jameson Ritchie (LA) (Dec 6-2)
Round 3
Javen Russo (GA) won by fall over Emmett Williams (NC) (Fall 0:00)
86 pounds
1st Place - Ethan Halstead of NC
2nd Place - Kalel Winesburgh of TN
3rd Place - Miles Merves of FL
4th Place - Weston Kirkpatrick of TN
Round 1
Miles Merves (FL) won by tech fall over Weston Kirkpatrick (TN) (TF 8-0)
Ethan Halstead (NC) won by tech fall over Kalel Winesburgh (TN) (TF 8-0)
Round 2
Kalel Winesburgh (TN) won by tech fall over Miles Merves (FL) (TF 8-0)
Ethan Halstead (NC) won by fall over Weston Kirkpatrick (TN) (Fall 0:00)
Round 3
Ethan Halstead (NC) won by tech fall over Miles Merves (FL) (TF 8-0)
Kalel Winesburgh (TN) won by fall over Weston Kirkpatrick (TN) (Fall 0:00)
92 pounds
1st Place - Mitchell Chen of VA
2nd Place - Liam Nielsen of GA
3rd Place - Andrew Sonnier of LA
Round 1
Liam Nielsen (GA) won by fall over Andrew Sonnier (LA) (Fall 0:32)
Round 2
Mitchell Chen (VA) won by tech fall over Andrew Sonnier (LA) (TF 8-0)
Round 3
Mitchell Chen (VA) won by tech fall over Liam Nielsen (GA) (TF 10-2)
98 pounds
1st Place - Cooper Mariakis of GA
2nd Place - Ilias Delarosa of GA
3rd Place - Magnus Semenick of FL
4th Place - Gideon Comstock of TN
Round 1
Cooper Mariakis (GA) won by fall over Magnus Semenick (FL) (Fall 0:00)
Ilias Delarosa (GA) won by fall over Gideon Comstock (TN) (Fall 0:17)
Round 2
Cooper Mariakis (GA) won by fall over Gideon Comstock (TN) (Fall 0:00)
Ilias Delarosa (GA) won by fall over Magnus Semenick (FL) (Fall 0:00)
Round 3
Cooper Mariakis (GA) won by tech fall over Ilias Delarosa (GA) (TF 8-0)
Magnus Semenick (FL) won by tech fall over Gideon Comstock (TN) (TF 8-0)
108-117 pounds
1st Place - Ernest Watkins of TN
2nd Place - Kara-Lynn Dover of GA
3rd Place - Makoa Badillo of FL
Round 1
Kara-Lynn Dover (GA) won by fall over Makoa Badillo (FL) (Fall 0:00)
Round 2
Ernest Watkins (TN) won by tech fall over Makoa Badillo (FL) (TF 8-0)
Round 3
Ernest Watkins (TN) won by fall over Kara-Lynn Dover (GA) (Fall 0:00)
12U Boys Folkstyle Results
58-63 pounds
1st Place - Mason Lee of GA
2nd Place - Jett Deville of LA
3rd Place - Caiden Whitmore of VA
4th Place - Peyton Arch of NC
Round 1
Mason Lee (GA) won by fall over Jett Deville (LA) (Fall 0:22)
Caiden Whitmore (VA) won by fall over Peyton Arch (NC) (Fall 0:40)
Round 2
Mason Lee (GA) won by fall over Peyton Arch (NC) (Fall 0:20)
Jett Deville (LA) won by fall over Caiden Whitmore (VA) (Fall 1:23)
Round 3
Mason Lee (GA) won by fall over Caiden Whitmore (VA) (Fall 1:28)
Jett Deville (LA) won by fall over Peyton Arch (NC) (Fall 0:22)
70 pounds
1st Place - Bowen Lefler of NC
2nd Place - Chase Smith of TN
3rd Place - Daniel Wittekind of TN
4th Place - Deklan Koopman of FL
5th Place - Paul Regalbuto of VA
Round 1
Chase Smith (TN) won by fall over Daniel Wittekind (TN) (Fall 1:00)
Deklan Koopman (FL) won by decision over Paul Regalbuto (VA) (Dec 7-6)
Round 2
Bowen Lefler (NC) won by fall over Deklan Koopman (FL) (Fall 0:32)
Chase Smith (TN) won by fall over Paul Regalbuto (VA) (Fall 1:21)
Round 3
Bowen Lefler (NC) won by fall over Paul Regalbuto (VA) (Fall 0:28)
Daniel Wittekind (TN) won by fall over Deklan Koopman (FL) (Fall 0:00)
Round 4
Bowen Lefler (NC) won by fall over Daniel Wittekind (TN) (Fall 1:32)
Chase Smith (TN) won by fall over Deklan Koopman (FL) (Fall 2:18)
Round 5
Bowen Lefler (NC) won by decision over Chase Smith (TN) (Dec 6-3)
Paul Regalbuto (VA) won by decision over Daniel Wittekind (TN) (Dec 4-2)
74 pounds
1st Place - Jaxon Flood of TN
2nd Place - Caleb Shipman of TN
3rd Place - Chase Congdon of VA
4th Place - Keegan Beard of PA
Round 1
Jaxon Flood (TN) won by fall over Caleb Shipman (TN) (Fall 2:52)
Chase Congdon (VA) won by major decision over Keegan Beard (PA) (Maj 15-1)
Round 2
Jaxon Flood (TN) won by fall over Keegan Beard (PA) (Fall 1:30)
Caleb Shipman (TN) won by decision over Chase Congdon (VA) (Dec 7-0)
Round 3
Jaxon Flood (TN) won by fall over Chase Congdon (VA) (Fall 3:51)
Caleb Shipman (TN) won by fall over Keegan Beard (PA) (Fall 3:09)
78 pounds
1st Place - Landon Weir of NC
2nd Place - James Strain of TN
3rd Place - Thomas Radin of TN
4th Place - Liam Burgett of FL
5th Place - Payton Vaughan of TN
Round 1
Liam Burgett (FL) won by fall over Payton Vaughan (TN) (Fall 0:32)
James Strain (TN) won by decision over Thomas Radin (TN) (Dec 6-3)
Round 2
Landon Weir (NC) won by decision over James Strain (TN) (Dec 7-6)
Thomas Radin (TN) won by fall over Payton Vaughan (TN) (Fall 0:47)
Round 3
Landon Weir (NC) won by decision over Thomas Radin (TN) (Dec 8-4)
James Strain (TN) won by fall over Liam Burgett (FL) (Fall 3:02)
Round 4
Landon Weir (NC) won by fall over Liam Burgett (FL) (Fall 1:54)
James Strain (TN) won by fall over Payton Vaughan (TN) (Fall 0:57)
Round 5
Landon Weir (NC) won by fall over Payton Vaughan (TN) (Fall 2:53)
Thomas Radin (TN) won by fall over Liam Burgett (FL) (Fall 1:25)
82 pounds
1st Place - Javen Russo of GA
2nd Place - Jameson Ritchie of LA
3rd Place - Emmett Williams of NC
Round 1
Javen Russo (GA) won by fall over Emmett Williams (NC) (Fall 1:22)
Round 2
Javen Russo (GA) won by decision over Jameson Ritchie (LA) (Dec 3-2)
Round 3
Jameson Ritchie (LA) won by fall over Emmett Williams (NC) (Fall 1:29)
86-92 pounds
1st Place - Miles Merves of FL
2nd Place - Andrew Sonnier of LA
3rd Place - Weston Kirkpatrick of TN
Round 1
Andrew Sonnier (LA) won by fall over Weston Kirkpatrick (TN) (Fall 2:51)
Round 2
Miles Merves (FL) won by fall over Weston Kirkpatrick (TN) (Fall 2:59)
Round 3
Miles Merves (FL) won by fall over Andrew Sonnier (LA) (Fall 2:48)
98 pounds
1st Place - Cooper Mariakis of GA
2nd Place - Ilias Delarosa of GA
3rd Place - Magnus Semenick of FL
4th Place - Gideon Comstock of TN
Round 1
Ilias Delarosa (GA) won by fall over Gideon Comstock (TN) (Fall 0:20)
Cooper Mariakis (GA) won by fall over Magnus Semenick (FL) (Fall 1:57)
Round 2
Ilias Delarosa (GA) won by fall over Magnus Semenick (FL) (Fall 0:26)
Cooper Mariakis (GA) won by forfeit over Gideon Comstock (TN) (FF)
Round 3
Cooper Mariakis (GA) won by decision over Ilias Delarosa (GA) (Dec 6-2)
Magnus Semenick (FL) won by fall over Gideon Comstock (TN) (Fall 2:44)
106-110 pounds
1st Place - Kara-Lynn Dover of GA
2nd Place - Elijah Herron of SC
Round 1
Kara-Lynn Dover (GA) won by fall over Elijah Herron (SC) (Fall 0:40)
Round 2
Kara-Lynn Dover (GA) won by fall over Elijah Herron (SC) (Fall 0:00)
Round 3
117-126 pounds
1st Place - Mason Wheeler of NC
2nd Place - Makoa Badillo of FL
Round 1
Mason Wheeler (NC) won by fall over Makoa Badillo (FL) (Fall 0:47)
Round 2
Mason Wheeler (NC) won by fall over Makoa Badillo (FL) (Fall 1:38)
12U Girls Freestyle Results
80-85 pounds
1st Place - Carly Jox of PA
2nd Place - Amber Stoneman of VA
Round 1
Carly Jox (PA) won by fall over Amber Stoneman (VA) (Fall 0:00)
Round 2
Carly Jox (PA) won by fall over Amber Stoneman (VA) (Fall 0:00)
95-100 pounds
1st Place - Sasha Williams of OK
2nd Place - Paris Turner of TN
3rd Place - Taylor Sharpe of NC
Round 1
Paris Turner (TN) won by tech fall over Taylor Sharpe (NC) (TF 10-0)
Round 2
Sasha Williams (OK) won by fall over Taylor Sharpe (NC) (Fall 0:00)
Round 3
Sasha Williams (OK) won by tech fall over Paris Turner (TN) (TF 10-0)
110 pounds
1st Place - Kara-Lynn Dover of GA
2nd Place - Makaylah Vega of FL
3rd Place - Nova Estrada of SC
Round 1
Kara-Lynn Dover (GA) won by fall over Makaylah Vega (FL) (Fall 0:00)
Round 2
Kara-Lynn Dover (GA) won by fall over Nova Estrada (SC) (Fall 0:00)
Round 3
Makaylah Vega (FL) won by fall over Nova Estrada (SC) (Fall 0:00)
120-124 pounds
1st Place - Skylin Darnell of SC
2nd Place - Gabriella Allred of NC
Round 1
Skylin Darnell (SC) won by tech fall over Gabriella Allred (NC) (TF 10-0)
Round 2
Skylin Darnell (SC) won by fall over Gabriella Allred (NC) (Fall 0:00)
145+ pounds
1st Place - JayceeMae Erwin of North Carolina
2nd Place - Marijane Tafoya of North Carolina
Round 1
JayceeMae Erwin (North Carolina) won by fall over Marijane Tafoya (North Carolina) (Fall 0:00)
Round 2
JayceeMae Erwin (North Carolina) won by fall over Marijane Tafoya (North Carolina) (Fall 0:00)
12U Girls Greco-Roman Results
110 pounds
1st Place - Kara-Lynn Dover of GA
2nd Place - Nova Estrada of SC
3rd Place - Makaylah Vega of FL
Round 1
Nova Estrada (SC) won by tech fall over Makaylah Vega (FL) (TF 12-2)
Round 2
Kara-Lynn Dover (GA) won by fall over Makaylah Vega (FL) (Fall 0:00)
Round 3
Kara-Lynn Dover (GA) won by fall over Nova Estrada (SC) (Fall 0:00)
95-100 pounds
1st Place - Sasha Williams of OK
2nd Place - Paris Turner of TN
Round 1
Sasha Williams (OK) won by fall over Paris Turner (TN) (Fall 0:00)
Round 2
Sasha Williams (OK) won by fall over Paris Turner (TN) (Fall 0:00)
145+ pounds
1st Place - JayceeMae Erwin of North Carolina
2nd Place - Marijane Tafoya of North Carolina
Round 1
JayceeMae Erwin (North Carolina) won by fall over Marijane Tafoya (North Carolina)(Fall 0:00)
Round 2
JayceeMae Erwin (North Carolina) won by tech fall over Marijane Tafoya (North Carolina) (TF 8-0)
10U Boys Freestyle Results
53 pounds
1st Place - Mack Miller of SC
2nd Place - Owen Tannery of SC
3rd Place - Andreas Ramirez of NC
Round 1
Mack Miller (SC) won by fall over Andreas Ramirez (NC) (Fall 0:00)
Round 2
Owen Tannery (SC) won by fall over Andreas Ramirez (NC) (Fall 1:47)
Round 3
Mack Miller (SC) won by fall over Owen Tannery (SC) (Fall 0:43)
56 pounds
1st Place - Jacob Dadiomoff of TN
2nd Place - Bradley Crowe of TN
3rd Place - Cole Lebec of PA
4th Place - Jackson Stott of GA
Round 1
Jacob Dadiomoff (TN) won by tech fall over Cole Lebec (PA) (TF 10-0)
Bradley Crowe (TN) won by tech fall over Jackson Stott (GA) (TF 10-0)
Round 2
Cole Lebec (PA) won by fall over Jackson Stott (GA) (Fall 0:00)
Jacob Dadiomoff (TN) won by tech fall over Bradley Crowe (TN) (TF 10-0)
Round 3
Bradley Crowe (TN) won by fall over Cole Lebec (PA) (Fall 0:00)
Jacob Dadiomoff (TN) won by tech fall over Jackson Stott (GA) (TF 10-0)
59 pounds
1st Place - Alessandro Calderon of SC
2nd Place - Brayden Arch of NC
3rd Place - Talmadge Dawkins of GA
Round 1
Brayden Arch (NC) won by forfeit over Talmadge Dawkins (GA) (FF)
Round 2
Alessandro Calderon (SC) won by tech fall over Brayden Arch (NC) (TF 10-0)
Round 3
Alessandro Calderon (SC) won by forfeit over Talmadge Dawkins (GA) (FF)
67 pounds
1st Place - Chase Gilbert of VA
2nd Place - Kalix Kilpatrick of TN
3rd Place - Bryan Stancill Jr of TN
4th Place - Blakely Garner of GA
5th Place - Savannah Phelan of VA
6th Place - Jayko Erwin of NC
1st Place Match
Chase Gilbert (VA) won by fall over Kalix Kilpatrick (TN) (Fall 2:00)
3rd Place Match
Bryan Stancill Jr (TN) won by tech fall over Blakely Garner (GA) (TF 10-0)
5th Place Match
Savannah Phelan (VA) won by tech fall over Jayko Erwin (NC) (TF 10-0)
71 pounds
1st Place - Alec Alfortish of LA
2nd Place - Tj Markijohn of NC
3rd Place - Colton Reed of GA
4th Place - Blaine Ruth of TN
Round 1
Tj Markijohn (NC) won by fall over Blaine Ruth (TN) (Fall 0:00)
Alec Alfortish (LA) won by tech fall over Colton Reed (GA) (TF 14-2)
Round 2
Colton Reed (GA) won by tech fall over Blaine Ruth (TN) (TF 10-0)
Alec Alfortish (LA) won by decision over Tj Markijohn (NC) (Dec 10-8)
Round 3
Alec Alfortish (LA) won by fall over Blaine Ruth (TN) (Fall 0:00)
Tj Markijohn (NC) won by decision over Colton Reed (GA) (Dec 9-8)
77 pounds
1st Place - Silas Stanley of GA
2nd Place - Dysen Dixon of TN
3rd Place - Arissa Cruz of GA
4th Place - Blaine Wahl of TN
1st Place Match
Silas Stanley (GA) won by fall over Dysen Dixon (TN) (Fall 0:00)
3rd Place Match
Arissa Cruz (GA) won by fall over Blaine Wahl (TN) (Fall 0:00)
86 pounds
1st Place - Colton Kersey of FL
2nd Place - Thaddeus Yacopino of TN
3rd Place - Boaz Wilson of NC
Round 1
Colton Kersey (FL) won by tech fall over Thaddeus Yacopino (TN) (TF 10-0)
Round 2
Thaddeus Yacopino (TN) won by tech fall over Boaz Wilson (NC) (TF 10-0)
Round 3
Colton Kersey (FL) won by tech fall over Boaz Wilson (NC) (TF 10-0)
105 pounds
1st Place - Jaiden Foster of TN
2nd Place - Brendan Etu of VA
3rd Place - Liam Hilburn of NC
Round 1
Jaiden Foster (TN) won by decision over Brendan Etu (VA) (Dec 8-6)
Round 2
Brendan Etu (VA) won by tech fall over Liam Hilburn (NC) (TF 12-1)
Round 3
Jaiden Foster (TN) won by fall over Liam Hilburn (NC) (Fall 1:00)
120 pounds
1st Place - Hez Sledge of TN
2nd Place - Elijah Herron of SC
Round 1
Hez Sledge (TN) won by fall over Elijah Herron (SC) (Fall 0:00)
Round 2
Hez Sledge (TN) won by fall over Elijah Herron (SC) (Fall 0:21)
10U Boys Greco-Roman Results
53 pounds
1st Place - Mack Miller of SC
2nd Place - Owen Tannery of SC
3rd Place - Andreas Ramirez of Pella Wrestling Club
Round 1
Owen Tannery (SC) won by tech fall over Andreas Ramirez (Pella Wrestling Club) (TF13-5)
Round 2
Mack Miller (SC) won by tech fall over Andreas Ramirez (Pella Wrestling Club) (TF 8-0)
Round 3
Mack Miller (SC) won by tech fall over Owen Tannery (SC) (TF 10-2)
56 pounds
1st Place - Jacob Dadiomoff of TN
2nd Place - Bradley Crowe of TN
3rd Place - Cole Lebec of PA
4th Place - Jackson Stott of GA
Round 1
Bradley Crowe (TN) won by tech fall over Jackson Stott (GA) (TF 8-0)
Jacob Dadiomoff (TN) won by fall over Cole Lebec (PA) (Fall 0:00)
Round 2
Cole Lebec (PA) won by tech fall over Jackson Stott (GA) (TF 8-0)
Jacob Dadiomoff (TN) won by tech fall over Bradley Crowe (TN) (TF 8-0)
Round 3
Jacob Dadiomoff (TN) won by tech fall over Jackson Stott (GA) (TF 8-0)
Bradley Crowe (TN) won by fall over Cole Lebec (PA) (Fall 0:00)

59 pounds
1st Place - Talmadge Dawkins of GA
2nd Place - Alessandro Calderon of SC
3rd Place - Brayden Arch of NC
Round 1
Alessandro Calderon (SC) won by forfeit over Brayden Arch (NC) (FF)
Round 2
Talmadge Dawkins (GA) won by forfeit over Brayden Arch (NC) (FF)
Round 3
Talmadge Dawkins (GA) won by tech fall over Alessandro Calderon (SC) (TF 10-0)
63-67 pounds
1st Place - Chase Gilbert of VA
2nd Place - Kalix Kilpatrick of TN
3rd Place - Savannah Phelan of VA
4th Place - Bryan Stancill Jr of TN
1st Place Match
Chase Gilbert (VA) won by tech fall over Kalix Kilpatrick (TN) (TF 9-0)
3rd Place Match
Savannah Phelan (VA) won by decision over Bryan Stancill Jr (TN) (Dec 16-12)
71 pounds
1st Place - Alec Alfortish of LA
2nd Place - Colton Reed of GA
3rd Place - Tj Markijohn of NC
4th Place - Landon Bradford of NC
Round 1
Tj Markijohn (NC) won by fall over Landon Bradford (NC) (Fall 0:00)
Alec Alfortish (LA) won by tech fall over Colton Reed (GA) (TF 14-4)
Round 2
Colton Reed (GA) won by decision over Tj Markijohn (NC) (Dec 10-10)
Alec Alfortish (LA) won by tech fall over Landon Bradford (NC) (TF 8-0)
Round 3
Alec Alfortish (LA) won by tech fall over Tj Markijohn (NC) (TF 10-0)
Colton Reed (GA) won by tech fall over Landon Bradford (NC) (TF 8-0)
77 pounds
1st Place - Dysen Dixon of TN
2nd Place - Arissa Cruz of GA
3rd Place - Kedron Hyatt of NC
4th Place - Will Duncan of SC
1st Place Match
Dysen Dixon (TN) won by tech fall over Arissa Cruz (GA) (TF 8-0)
3rd Place Match
Kedron Hyatt (NC) won by fall over Will Duncan (SC) (Fall 0:00)
86 pounds
1st Place - Colton Kersey of FL
2nd Place - Thaddeus Yacopino of TN
3rd Place - Boaz Wilson of NC
Round 1
Colton Kersey (FL) won by tech fall over Thaddeus Yacopino (TN) (TF 8-0)
Round 2
Thaddeus Yacopino (TN) won by tech fall over Boaz Wilson (NC) (TF 14-5)
Round 3
Colton Kersey (FL) won by tech fall over Boaz Wilson (NC) (TF 9-0)
105-116 pounds
1st Place - Jaiden Foster of TN
2nd Place - Hez Sledge of TN
3rd Place - Brendan Etu of VA
Round 1
Jaiden Foster (TN) won by tech fall over Brendan Etu (VA) (TF 8-0)
Round 2
Hez Sledge (TN) won by tech fall over Brendan Etu (VA) (TF 10-2)
Round 3
Jaiden Foster (TN) won by tech fall over Hez Sledge (TN) (TF 8-0)
10U Boys Folkstyle Results
53 pounds
1st Place - Owen Tannery of SC
2nd Place - Andreas Ramirez of NC
Round 1
Owen Tannery (SC) won by fall over Andreas Ramirez (NC) (Fall 0:13)
Round 2
Owen Tannery (SC) won by fall over Andreas Ramirez (NC) (Fall 0:16)
56 pounds
1st Place - Levi Kaufman of GA
2nd Place - Jacob Dadiomoff of TN
3rd Place - Jackson Stott of GA
4th Place - Cole Lebec of PA
Round 1
Levi Kaufman (GA) won by fall over Jackson Stott (GA) (Fall 0:39)
Jacob Dadiomoff (TN) won by fall over Cole Lebec (PA) (Fall 1:50)
Round 2
Levi Kaufman (GA) won by fall over Cole Lebec (PA) (Fall 0:47)
Jacob Dadiomoff (TN) won by major decision over Jackson Stott (GA) (Maj 8-0)
Round 3
Levi Kaufman (GA) won by major decision over Jacob Dadiomoff (TN) (Maj 8-0)
Jackson Stott (GA) won by fall over Cole Lebec (PA) (Fall 2:14)

63-67 pounds
1st Place - Kalix Kilpatrick of TN
2nd Place - Chase Gilbert of VA
3rd Place - Bryan Stancill Jr of TN
4th Place - Christopher Nemcovic of GA
1st Place Match
Kalix Kilpatrick (TN) won by decision over Chase Gilbert (VA) (Dec 4-3)
3rd Place Match
Bryan Stancill Jr (TN) won by fall over Christopher Nemcovic (GA) (Fall 1:50)
71 pounds
1st Place - Alec Alfortish of LA
2nd Place - Tj Markijohn of NC
3rd Place - Colton Reed of GA
4th Place - Blaine Ruth of TN
Round 1
Colton Reed (GA) won by major decision over Blaine Ruth (TN) (Maj 9-0)
Alec Alfortish (LA) won by decision over Tj Markijohn (NC) (Dec 4-3)
Round 2
Tj Markijohn (NC) won by decision over Colton Reed (GA) (Dec 7-0)
Alec Alfortish (LA) won by major decision over Blaine Ruth (TN) (Maj 13-0)
Round 3
Alec Alfortish (LA) won by decision over Colton Reed (GA) (Dec 5-4)
Tj Markijohn (NC) won by major decision over Blaine Ruth (TN) (Maj 11-0)
77-84 pounds
1st Place - Colton Kersey of FL
2nd Place - Arissa Cruz of GA
3rd Place - Kedron Hyatt of NC
4th Place - Rowan Smith of TN
Round 1
Arissa Cruz (GA) won by fall over Kedron Hyatt (NC) (Fall 0:16)
Colton Kersey (FL) won by fall over Rowan Smith (TN) (Fall 0:28)
Round 2
Colton Kersey (FL) won by fall over Arissa Cruz (GA) (Fall 0:00)
Kedron Hyatt (NC) won by fall over Rowan Smith (TN) (Fall 1:43)
Round 3
Arissa Cruz (GA) won by fall over Rowan Smith (TN) (Fall 0:28)
Colton Kersey (FL) won by fall over Kedron Hyatt (NC) (Fall 2:23)
10U Girls Freestyle Results
60 pounds
1st Place - Jenavieve Sprague of TN
2nd Place - Audio Estrada of SC
Round 1
Audio Estrada (SC) won by tech fall over Jenavieve Sprague (TN) (TF 10-0)
Round 2
Jenavieve Sprague (TN) won by fall over Audio Estrada (SC) (Fall 0:00)
Round 3
Jenavieve Sprague (TN) won by fall over Audio Estrada (SC) (Fall 0:00)
68 pounds
1st Place - Savannah Phelan of VA
2nd Place - Brylie Garner of GA
3rd Place - Blakely Garner of GA
4th Place - Casson Badillo of FL
5th Place - Finley West of NC
Round 1
Blakely Garner (GA) won by tech fall over Casson Badillo (FL) (TF 15-4)
Brylie Garner (GA) won by tech fall over Finley West (NC) (TF 10-0)
Round 2
Savannah Phelan (VA) won by fall over Finley West (NC) (Fall 0:00)
Brylie Garner (GA) won by fall over Blakely Garner (GA) (Fall 0:00)
Round 3
Savannah Phelan (VA) won by tech fall over Brylie Garner (GA) (TF 12-2)
Casson Badillo (FL) won by fall over Finley West (NC) (Fall 0:00)
Round 4
Savannah Phelan (VA) won by tech fall over Casson Badillo (FL) (TF 12-1)
Blakely Garner (GA) won by tech fall over Finley West (NC) (TF 10-0)
Round 5
Savannah Phelan (VA) won by tech fall over Blakely Garner (GA) (TF 10-0)
Brylie Garner (GA) won by injury default over Casson Badillo (FL) (Inj. 0:00)
76 pounds
1st Place - Arissa Cruz of GA
2nd Place - Willow Liles of NC
3rd Place - Amaia Mendez of SC
Round 1
Willow Liles (NC) won by tech fall over Amaia Mendez (SC) (TF 10-0)
Round 2
Arissa Cruz (GA) won by tech fall over Willow Liles (NC) (TF 10-0)
Round 3
Arissa Cruz (GA) won by fall over Amaia Mendez (SC) (Fall 0:00)
10U Girls Greco-Roman Results
60 pounds
1st Place - Jenavieve Sprague of TN
2nd Place - Audio Estrada of SC
Round 1
Jenavieve Sprague (TN) won by fall over Audio Estrada (SC) (Fall 0:00)
Round 2
Jenavieve Sprague (TN) won by fall over Audio Estrada (SC) (Fall 0:00)
65-70 pounds
1st Place - Savannah Phelan of VA
2nd Place - Blakely Garner of GA
3rd Place - Brylie Garner of GA
4th Place - Casson Badillo of FL
Round 1
Blakely Garner (GA) won by tech fall over Casson Badillo (FL) (TF 8-0)
Savannah Phelan (VA) won by tech fall over Brylie Garner (GA) (TF 8-0)
Round 2
Blakely Garner (GA) won by tech fall over Brylie Garner (GA) (TF 9-0)
Savannah Phelan (VA) won by forfeit over Casson Badillo (FL) (FF)
Round 3
Savannah Phelan (VA) won by tech fall over Blakely Garner (GA) (TF 8-0)
Brylie Garner (GA) won by forfeit over Casson Badillo (FL) (FF)
75-80 pounds
1st Place - Arissa Cruz of GA
2nd Place - Willow Liles of NC
Round 1
Arissa Cruz (GA) won by tech fall over Willow Liles (NC) (TF 8-0)
Round 2
Arissa Cruz (GA) won by tech fall over Willow Liles (NC) (TF 11-0)
10U Girls Folkstyle Results
70 pounds
1st Place - Savannah Phelan of VA
2nd Place - Blakely Garner of GA
3rd Place - Brylie Garner of GA
4th Place - Jenavieve Sprague of TN
5th Place - Casson Badillo of FL
Round 1
Brylie Garner (GA) won by major decision over Jenavieve Sprague (TN) (Maj 13-1)
Savannah Phelan (VA) won by forfeit over Casson Badillo (FL) (FF)
Round 2
Savannah Phelan (VA) won by fall over Blakely Garner (GA) (Fall 0:00)
Brylie Garner (GA) won by major decision over Casson Badillo (FL) (Maj 11-0)
Round 3
Blakely Garner (GA) won by major decision over Casson Badillo (FL) (Maj 10-2)
Savannah Phelan (VA) won by fall over Jenavieve Sprague (TN) (Fall 0:00)
Round 4
Blakely Garner (GA) won by major decision over Jenavieve Sprague (TN) (Maj 15-4)
Savannah Phelan (VA) won by fall over Brylie Garner (GA) (Fall 1:32)
Round 5
Blakely Garner (GA) won by tech fall over Brylie Garner (GA) (TF 15-0)
Jenavieve Sprague (TN) won by fall over Casson Badillo (FL) (Fall 2:43)
75-80 pounds
1st Place - Arissa Cruz of GA
2nd Place - Willow Liles of NC
Round 1
Arissa Cruz (GA) won by fall over Willow Liles (NC) (Fall 1:50)
Round 2
Arissa Cruz (GA) won by fall over Willow Liles (NC) (Fall 0:00)
8U Boys Freestyle Results
45 pounds
1st Place - Wesley Stott of GA
2nd Place - Teagan Radin of TN
Round 1
Wesley Stott (GA) won by fall over Teagan Radin (TN) (Fall 0:40)
Round 2
Wesley Stott (GA) won by tech fall over Teagan Radin (TN) (TF 10-0)
49 pounds
1st Place - Nicholas Sosa of FL
2nd Place - Liam Crowe of TN
Round 1
Liam Crowe (TN) won by tech fall over Nicholas Sosa (FL) (TF 14-4)
Round 2
Nicholas Sosa (FL) won by decision over Liam Crowe (TN) (Dec 15-8)
Round 3
Nicholas Sosa (FL) won by tech fall over Liam Crowe (TN) (TF 10-0)
53 pounds
1st Place - Cameron Gilbert of VA
2nd Place - Brayden Ferman of TN
3rd Place - Cooper Brown of GA
4th Place - Deacon Markijohn of NC
5th Place - Obadiah Lawing of TN
Round 1
Deacon Markijohn (NC) won by fall over Obadiah Lawing (TN) (Fall 0:00)
Cameron Gilbert (VA) won by tech fall over Cooper Brown (GA) (TF 10-0)
Round 2
Cameron Gilbert (VA) won by tech fall over Brayden Ferman (TN) (TF 10-0)
Cooper Brown (GA) won by tech fall over Deacon Markijohn (NC) (TF 10-0)
Round 3
Brayden Ferman (TN) won by fall over Cooper Brown (GA) (Fall 1:57)
Cameron Gilbert (VA) won by tech fall over Obadiah Lawing (TN) (TF 10-0)
Round 4
Brayden Ferman (TN) won by tech fall over Obadiah Lawing (TN) (TF 10-0)
Cameron Gilbert (VA) won by injury default over Deacon Markijohn (NC) (Inj. 0:00)
Round 5
Brayden Ferman (TN) won by tech fall over Deacon Markijohn (NC) (TF 12-2)
Cooper Brown (GA) won by fall over Obadiah Lawing (TN) (Fall 0:00)
56 pounds
1st Place - Dominick Huitron of GA
2nd Place - Jase Fisher of GA
Round 1
Jase Fisher (GA) won by decision over Dominick Huitron (GA) (Dec 9-6)
Round 2
Dominick Huitron (GA) won by tech fall over Jase Fisher (GA) (TF 16-5)
Round 3
Dominick Huitron (GA) won by tech fall over Jase Fisher (GA) (TF 14-2)
62 pounds
1st Place - Gage Garner of GA
2nd Place - Kash Harrison of TN
Round 1
Gage Garner (GA) won by tech fall over Kash Harrison (TN) (TF 11-0)
Round 2
Gage Garner (GA) won by tech fall over Kash Harrison (TN) (TF 12-2)
70-85 pounds
1st Place - Brendon Murphy of FL
2nd Place - Luke Odin Vidal of FL
3rd Place - Kayden McCulloch of TN
4th Place - Lawson Edge of NC
Round 1
Luke Odin Vidal (FL) won by fall over Kayden McCulloch (TN) (Fall 2:33)
Brendon Murphy (FL) won by tech fall over Lawson Edge (NC) (TF 10-0)
Round 2
Kayden McCulloch (TN) won by fall over Lawson Edge (NC) (Fall 0:27)
Brendon Murphy (FL) won by tech fall over Luke Odin Vidal (FL) (TF 10-0)
Round 3
Brendon Murphy (FL) won by fall over Kayden McCulloch (TN) (Fall 0:50)
Luke Odin Vidal (FL) won by fall over Lawson Edge (NC) (Fall 0:00)
8U Boys Greco-Roman Results
45-49 pounds
1st Place - Liam Crowe of TN
2nd Place - Nicholas Sosa of Colfax-Mingo YWC
3rd Place - Wesley Stott of GA
4th Place - Teagan Radin of TN
Round 1
Wesley Stott (GA) won by tech fall over Teagan Radin (TN) (TF 8-0)
Liam Crowe (TN) won by decision over Nicholas Sosa (Colfax-Mingo YWC) (Dec 11-4)
Round 2
Nicholas Sosa (Colfax-Mingo YWC) won by fall over Wesley Stott (GA) (Fall 0:00)
Liam Crowe (TN) won by fall over Teagan Radin (TN) (Fall 0:00)
Round 3
Liam Crowe (TN) won by tech fall over Wesley Stott (GA) (TF 10-0)
Nicholas Sosa (Colfax-Mingo YWC) won by tech fall over Teagan Radin (TN) (TF 8-0)
53 pounds
1st Place - Cameron Gilbert of VA
2nd Place - Brayden Ferman of TN
3rd Place - Cooper Brown of GA
4th Place - Deacon Markijohn of NC
Round 1
Cameron Gilbert (VA) won by tech fall over Brayden Ferman (TN) (TF 8-0)
Cooper Brown (GA) won by tech fall over Deacon Markijohn (NC) (TF 14-5)
Round 2
Cameron Gilbert (VA) won by tech fall over Deacon Markijohn (NC) (TF 9-0)
Brayden Ferman (TN) won by fall over Cooper Brown (GA) (Fall 0:00)
Round 3
Cameron Gilbert (VA) won by tech fall over Cooper Brown (GA) (TF 8-0)
Brayden Ferman (TN) won by tech fall over Deacon Markijohn (NC) (TF 10-0)
62-69 pounds
1st Place - Brendon Murphy of FL
2nd Place - Gage Garner of GA
3rd Place - Kash Harrison of TN
4th Place - Mason Loftin of NC
Round 1
Gage Garner (GA) won by tech fall over Mason Loftin (NC) (TF 8-0)
Brendon Murphy (FL) won by tech fall over Kash Harrison (TN) (TF 9-0)
Round 2
Brendon Murphy (FL) won by decision over Gage Garner (GA) (Dec 6-3)
Kash Harrison (TN) won by decision over Mason Loftin (NC) (Dec 8-4)
Round 3
Gage Garner (GA) won by fall over Kash Harrison (TN) (Fall 0:00)
Brendon Murphy (FL) won by tech fall over Mason Loftin (NC) (TF 8-0)
85 pounds
1st Place - Luke Odin Vidal of FL
2nd Place - Kayden McCulloch of TN
3rd Place - Lawson Edge of NC
Round 1
Luke Odin Vidal (FL) won by fall over Lawson Edge (NC) (Fall 0:00)
Round 2
Kayden McCulloch (TN) won by fall over Lawson Edge (NC) (Fall 0:00)
Round 3
Luke Odin Vidal (FL) won by injury default over Kayden McCulloch (TN) (Inj. 0:00)

8U Boys Folkstyle Results
45-49 pounds
1st Place - Nicholas Sosa of FL
2nd Place - Wesley Stott of GA
Round 1
Nicholas Sosa (FL) won by major decision over Wesley Stott (GA) (Maj 11-2)
Round 2
Nicholas Sosa (FL) won by fall over Wesley Stott (GA) (Fall 1:43)
53 pounds
1st Place - Cameron Gilbert of VA
2nd Place - Deacon Markijohn of NC
3rd Place - Cooper Brown of GA
Round 1
Cameron Gilbert (VA) won by fall over Deacon Markijohn (NC) (Fall 0:34)
Round 2
Cameron Gilbert (VA) won by fall over Cooper Brown (GA) (Fall 0:20)
Round 3
Deacon Markijohn (NC) won by decision over Cooper Brown (GA) (Dec 6-4)
62 pounds
1st Place - Gage Garner of GA
2nd Place - Kash Harrison of TN
Round 1
Gage Garner (GA) won by decision over Kash Harrison (TN) (Dec 8-1)
Round 2
Gage Garner (GA) won by fall over Kash Harrison (TN) (Fall 2:29)
70 pounds
1st Place - Brendon Murphy of FL
2nd Place - Greyson Wheeler of NC
Round 1
Brendon Murphy (FL) won by tech fall over Greyson Wheeler (NC) (TF 15-0)
Round 2
Brendon Murphy (FL) won by tech fall over Greyson Wheeler (NC) (TF 18-2)
85 pounds
1st Place - Luke Odin Vidal of FL
2nd Place - Kayden McCulloch of TN
3rd Place - Paul Cody of NC
Round 1
Luke Odin Vidal (FL) won in sudden victory - 1 over Paul Cody (NC) (SV-1 10-8)
Round 2
Luke Odin Vidal (FL) won by decision over Kayden McCulloch (TN) (Dec 11-7)
Round 3
Kayden McCulloch (TN) won by decision over Paul Cody (NC) (Dec 5-4)
8U Girls Freestyle Results
45 pounds
1st Place - Ataliah McCue of IN
60 pounds
1st Place - Vayda Knight of WV
2nd Place - Brooklyn Stauffer of IN
Round 1
Vayda Knight (WV) won by tech fall over Brooklyn Stauffer (IN) (TF 10-0)
Round 2
Vayda Knight (WV) won by tech fall over Brooklyn Stauffer (IN) (TF 10-0)
70 pounds
1st Place - Kendall Benoit of IN
2nd Place - Cecilia Michael of OH
Round 1
Kendall Benoit (IN) won by fall over Cecilia Michael (OH) (Fall 1:12)
Round 2
Kendall Benoit (IN) won by decision over Cecilia Michael (OH) (Dec 9-4)
8U Girls Greco-Roman Results
52-57 pounds
1st Place - Dixie Beasley of TN
2nd Place - Aleysha Mendez of SC
3rd Place - Elizabeth Amatore of IL
4th Place - Belle Powell of NC
Round 1
Aleysha Mendez (SC) won by fall over Belle Powell (NC) (Fall 0:00)
Dixie Beasley (TN) won by forfeit over Elizabeth Amatore (IL) (FF)
Round 2
Elizabeth Amatore (IL) won by tech fall over Belle Powell (NC) (TF 10-0)
Dixie Beasley (TN) won by tech fall over Aleysha Mendez (SC) (TF 10-0)
Round 3
Dixie Beasley (TN) won by fall over Belle Powell (NC) (Fall 0:00)
Aleysha Mendez (SC) won by decision over Elizabeth Amatore (IL) (Dec 10-3)
8U Girls Folkstyle Results
Madison
1st Place - Teagan Radin of TN