News
USA Wrestling
High School & Youth
USAW
14U National Duals set for Oaks, Pa., June 8-11 with New Jersey the defending champions in both Greco-Roman and freestyle
by Gary Abbott, USA Wrestling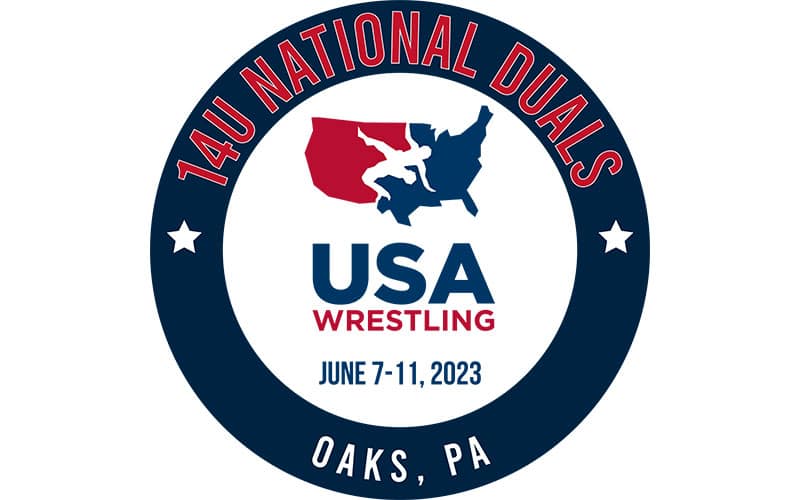 USA Wrestling has entered its annual National Dual Meet Championships season, where USA Wrestling state association age-group teams loaded with talented athletes compete for national dual meet titles in the Olympic styles of wrestling, Greco-Roman and freestyle.
The
14U National Duals
will be hosted at a new location this year, the
Greater Philadelphia Expo Center at Oaks in Oaks, Pa.
, June 8-11. The Greco-Roman competition is set for Thursday and Friday this week, followed by the freestyle competition on Saturday and Sunday. This event features boys who turn 13 and 14 years old this calendar year.
New Jersey
is the defending team champion in both freestyle and Greco-Roman, after sweeping the team titles last year when the event was held in Indianapolis, Ind.
In Greco-Roman, New Jersey secured a dominant 50-32 victory over Indiana Gold to become the 2022 14U National Duals champions. Illinois claimed third place with a 48-30 victory over Team Utah in the third-place dual meet. Fifth place in Greco-Roman went to Iowa, which defeated Washington, 50-35. Pennsylvania Blue won the seventh-place match with a 50-30 win over California.
New Jersey was also strong in winning the 14U National Duals freestyle title last year, stopping Iowa 49-26 in the championship dual meet. Indiana Gold secured the third-place trophy with a 45-32 win over Illinois. In the fifth-place dual meet in freestyle, Ohio defeated Pennsylvania Blue, 48-26. Claiming seventh was the Minnesota Storm, which stopped Oklahoma Red, 43-38.
The first day of each style will feature the pool competition, where teams will compete against a number of teams in preliminary pools. Based upon the results of the day one preliminary pool competition, the top teams from each pool will advance to the Gold/Silver pool on day two, which determines the top eight teams in the tournament. There will be three other placement pools which determine the final team placements in the tournament: Bronze/Copper, Red/Blue and Green/Yellow).
An All-Tournament Team, featuring athletes who go undefeated in their individual matches in a specific style, will be announced after each tournament.
This event will feature numerous talented athletes, who will be expected to battle for national titles and All-American honors in the 14U division at the USA Wrestling Kids Nationals in Farmington, Utah in late June.
Heading into the tournament, there were 34 state association teams registered in freestyle and 29 in Greco-Roman. USA Wrestling will publish the seeding rankings of the teams the day prior to the start of competition in each style.
All of the action will be broadcast live once again by
FloWrestling
.
14U NATIONAL DUALS

at Oaks, Pa.
Thursday, June 8
8:00 a.m. - 2:00 p.m. - Session 1 – Greco-Roman (Preliminary Pool Rounds 1-2-3)
3:00 p.m. - 10:00 p.m - Session 2 – Greco-Roman (Preliminary Pool Rounds 4-5-6)
Friday, June 9
8:00 a.m. -2:00 p.m. - Session 3 – Greco-Roman Gold/Silver, Bronze/Copper, Red/Blue, Green/Yellow (3 Rounds)
2:30 p.m. - 4:30 p.m. – Session 4 - Greco-Roman Finals
Saturday, June 10
8:00 a.m. - 2:00 p.m. - Session 1 – Freestyle (Preliminary Pool Rounds 1-2-3)
3:00 p.m. - 9:00 p.m. - Session 2 – Freestyle (Preliminary Pool Rounds 4-5-6)
Sunday, June 11
8:00 a.m. - 2:00 p.m. - Session 3 – Freestyle Gold/Silver, Bronze/Copper, Red/Blue, Green/Yellow (3 Rounds)
2:30 p.m. – 4:30 p.m. – Session 4 – Freestyle Finals