Plott, Matthews and Cardenas aim to repeat at U23 Freestyle Nationals
by Savannah Asmann, USA Wrestling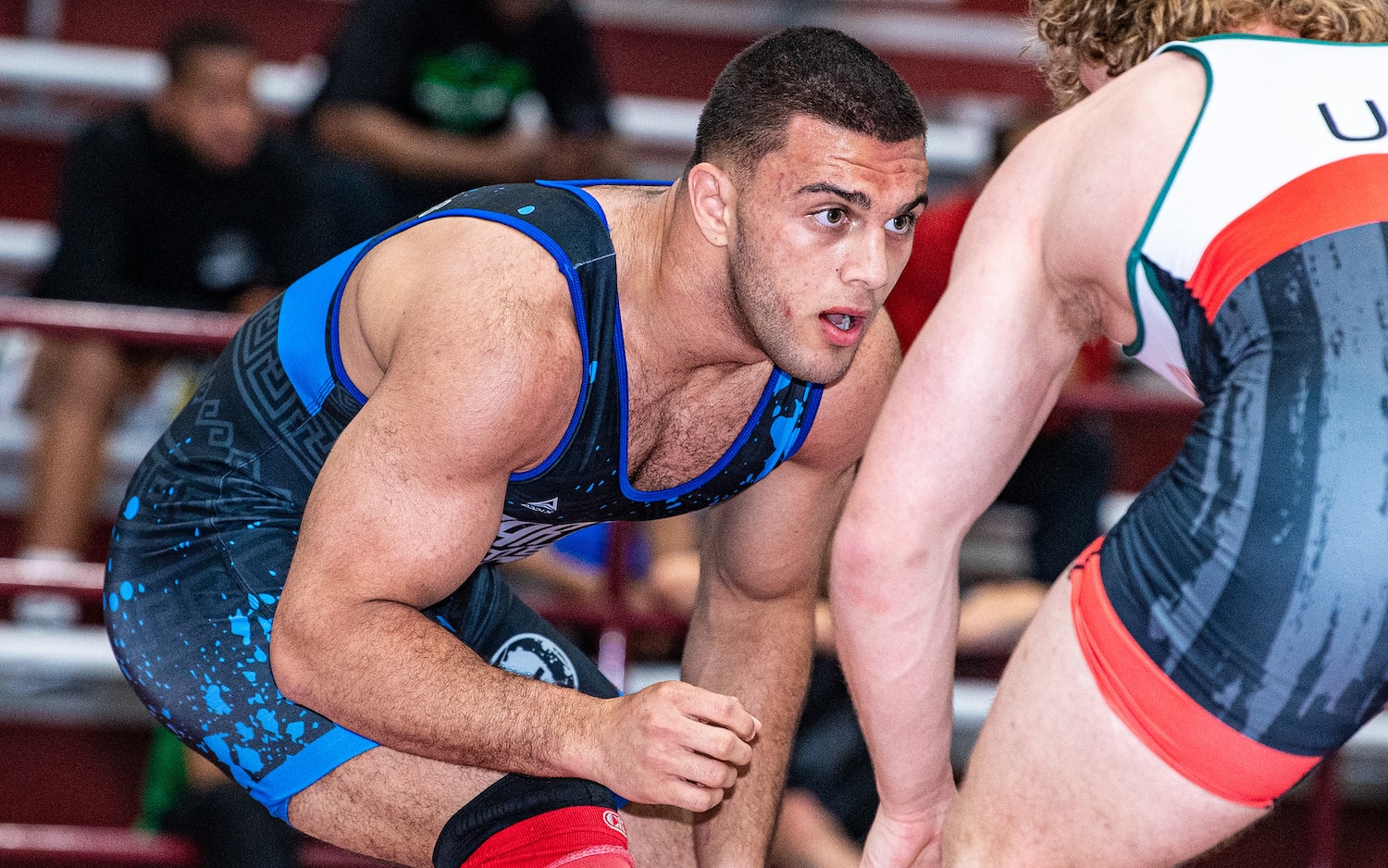 Jacob Cardenas at the 2022 U23 World Team Trials. Photo by Sam Janicki.
There are three returning champions that are looking to repeat at the U23 Men's Freestyle Nationals on Sunday at Spire Academy in Geneva, Ohio. Dustin Plott, Cole Matthews and Jacob Cardenas make up the trio that will wrestle in the quarterfinals in hopes of repeating their success in 2023.

Top seed at 79 kg Plott is a standout at Oklahoma State and two-time DI NCAA All-American. No. 1 seed at 65 kg Matthews is an NCAA All-American at Pitt. Rounding out the trio is second seed Cardenas at 92 kg, an NCAA DI All-American at Cornell.

There is only one weight class that does not feature the top seed in the quarterfinals. At 74 kg, returning finalist Peyton Hall of West Virginia pulled off a big win over No. 1 Vincent Zerban, an NCAA qualifier at Northern Colorado, to find a path to the quarterfinals. The weight also features two-time NCAA qualifier No. 4 Julian Ramirez of Cornell.

At 57 kg, No. 1 seed Cooper Flynn cruised into the quarterfinals with two technical falls. Flynn, a three-time placer at Fargo, draws ninth-seeded Logan Graf at the start of session three. No. 3 Stevo Poulin of Colorado challenges No. 11 Evan Tallmadge in the quarterfinals. Poulin wrestles for Northern Colorado and placed fifth at the Cadet Freestyle World Championships in 2019.

Cullen Schriever is the No. 1 seed at 61 kg. Schriever is a two-time UWW Cadet All-American and Fargo Cadet Freestyle champion in 2016.

At 65 kg, Cornell's Joshua Saunders is a two-time age-group World Team member and will face off against No. 6 Kyle Rowan of Ohio in the quarterfinals. No. 2 Brock Hardy will matchup against No. 7 Jesse Vasquez in session three. Hardy wrestles at Nebraska and earned DI All-American honors in the 2023 season.

Ohio State's Carson Kharchla is the second seed at 79 kg. Kharchla is a two-time NCAA qualifier and earned DI NCAA All-America honors in 2022.

Dylan Fishback highlights the group of eight at 86 kg. Fishback, a prominent wrestler at NC State, is a 2021 Fargo national champion in freestyle and placed third in freestyle at the 2019 UWW Cadet Nationals. He will face No. 8 Nathan Haas in the quarterfinals.

At 92 kg, No. 1 Luke Surber will challenge No. 9 Christian Knop. Surber is a two-time NCAA qualifier at Oklahoma State. The group also features fourth-seeded Silas Allred, a 2023 NCAA qualifier and Big Ten champion at Nebraska.

No. 1 Wyatt Hendrickson faces ninth seed Owen Trephan in the quarterfinals at 125 kg. Hendrickson placed third at the NCAA Championships in 2023 at Air Force was a member of the 2021 Junior World Team.
The weekend of wrestling in Ohio concludes tomorrow with the remaining men's freestyle rounds of the U23 Nationals. The tournament is slated to begin with the quarterfinals at 10 a.m. (ET) and will run through to completion.
All the action from Geneva, Ohio, can be viewed live on FloWrestling.com with a subscription. Brackets and complete results are available on FloArena.
2023 U23 Men's Freestyle Nationals

At Spire Academy, Geneva, Ohio, June 2-4


Quarterfinal Matchups
57 kg

No. 1 Cooper Flynn (Southeast RTC, Inc) vs No. 9 Logan Graf (Jackrabbit Wrestling Club)

No. 5 Blake West (Northern Illinois RTC) vs No. 4 Sheldon Seymour (Lehigh Valley WC)

No. 3 Stevo Poulin (Northern Colorado WC) vs No. 11 Evan Tallmadge (New Jersey)

No. 7 Richard Castro-Sandoval (Central Valley RTC) vs. No. 18 Brett Ungar (Spartan Combat RTC)

61 kg

No. 1 Cullan Schriever (Iowa) vs. No. 8 Julian Farber (Panther WC RTC)

No. 5 Derrick Cardinal (Jackrabbit WC) vs. No. 13 Julian Chlebove (Sunkist Kids WC)

No. 14 Ethan Oakley (Boone RTC) vs. No. 6 Kyle Burwick (Hettinger WC)

No. 7 Alex Almeyda (Pennsylvania RTC) vs. No. 2 Dominick Serrano (Colorado)

65 kg

No. 1 Cole Matthews (Pittsburgh WC) vs. No. 8 Connor Thorpe (Panther WC RTC)

No. 21 Caleb Gross (Jackrabbit WC) vs. No. 13 Ryan Jack (Wolfpack WC)

No. 3 Joshua Saunders (Titan Mercury WC) vs. No. 6 Kyle Rowan (Ohio)

No. 7 Jesse Vasquez (Titan Mercury WC) vs. No. 2 Brock Hardy (Nebraska WTC)

70 kg

No. 1 Caleb Rathjen (Hawkeye WC) vs. No. 24 Jared Hill (Oklahoma RTC)

No. 5 Edward Scott (Wolfpack WC) vs. No. 4 Daniel Manibog (Cowboy RTC)

No. 14 Hunter Gandy (Pennsylvania RTC) vs. No. 59 Rudy Lopez (Northern Colorado WC)

Hayden Brown (Big Dawg Wrestling) vs. No. 2 Doug Zapf (Pennsylvania RTC)

74 kg

Peyton Hall (West Virginia) vs. No. 25 Anthony White (Skwc-rtc)

No. 12 Lucas Revano (Pennylvania RTC) vs. No. 4 Julian Ramirez (Spartan Combat RTC)

No. 14 Terrell Barraclough (Nittany Lion WC) vs. No. 6 Cael Swensen (Jackrabbit WC)

No. 10 Matt Lee (Maurer Coughlin WC) vs. No. 50 Carter Baer (New York)

79 kg

No. 1 Dustin Plott (Cowboy RTC) vs. No. 8 Nick Incontrera (Pennsylvania RTC)

Hayden Pummel (Northern Illinois RTC) vs. No. 29 Marcus Murabito (Bay Area Dragons WC)

No. 3 Danny Braunagel (Illinois RTC/Illini WC) vs. No. 6 Brody Baumann (Boilermaker RTC)

No. 10 Samuel Skillings (Gopher WC-RTC) vs. No. 2 Carson Kharchla (Ohio)

86 kg

No. 1 Dylan Fishback (Wolfpack WC) vs. No. 8 Nathan Haas (West Coast RTC)

No. 5 Caden Rodgers (Lehigh Valley WC) vs. No. 4 Cael Valencia (Sunkist Kids WC)

No. 3 Donnell Washington (Indiana RTC) vs. No. 6 Mason Reiniche (Beaver Dam Wrestling RTC)

No. 10 Neil Antrassian (Cavalier WC) vs. No. 2 Samuel Fisher (Southeast RTC, Inc)


92 kg

No. 1 Luke Surber (Cowboy RTC) vs. No. 9 Christian Knop (Wolfpack WC)

No. 5 Evan Bockman (Brunson UVRTC) vs. No. 4 Silas Allred (Nebraska WTC)

Massoma Endene (Burg Training Center) vs. No. 11 Martin Cosgrove (Pennsylvania RTC)

Bryson Buhk (Dekalb WC) vs. No. 2 Jacob Cardenas (Spartan Combat RTC)

97 kg

No. 1 Samuel Mitchell (Bulls WC) vs. No. 9 Tereus Henry (Tiger Den WC)

No. 5 Thomas Godbee (West Point WC) vs. Geoffrey Magin (Pittsburgh WC)

Jack Trautman (Wisconsin) vs. Blake Schaffer (Golden Pride WC)

No. 10 Spencer Mooberry (Caveman Wrestling) vs. No. 2 Nick Stemmet (Illinois)

125 kg

No. 1 Wyatt Hendrickson (Air Force RTC) vs. No. 9 Owen Trephan (Wolfpack WC)

No. 12 Josiah Hill (Arkansas RTC) vs. No. 13 Tyrie Houghton (Wolfpack WC)

No. 3 Joshua Heindselman (Oklahoma RTC) vs. No. 6 Matthew Cover (Princeton WC)

No. 6 Aydin Guttridge (Tar Heel WC) vs. No. 2 Luke Luffman (Illinois RTC/Illini WC)