Mesenbrink, Berge, Bouzakis earn return trips to U20 Worlds in men's freestyle
by Richard Immel, USA Wrestling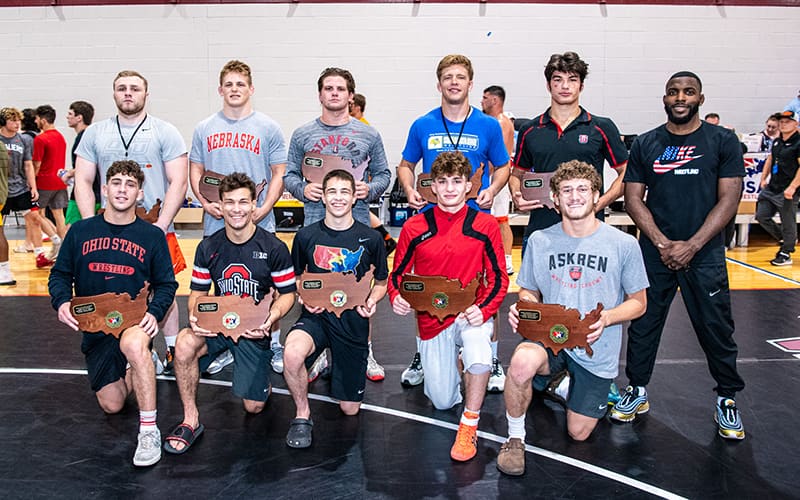 Photo: The 2023 U20 U.S. Men's Freestyle World Team at the conclusion of today's U20 World Team Trials. (Sam Janicki/sjanickiphoto.com)

🎥
U20 World Team Trials Freestyle Champion Interviews
GENEVA, Ohio – The U20 U.S. World Team in men's freestyle has been determined following a thrilling day of competition at Spire Academy just outside of Cleveland, Ohio, with three members of last year's squad earning another crack at Worlds.
Returning U20 World silver medalists
Mitchell Mesenbrink
of Askren Wrestling Academy and
Bennett Berge
of Jackrabbit WC, plus two-time U20 World Team member
Nic Bouzakis
of X-Calibur Athletics WC, return to lead Team USA at the
U20 World Championships
in Warsaw, Poland, this August.
All three impressed in the best-of-three championship finals on Saturday evening. Mesenbrink tossed up a whopping 27 points across two lopsided wins in the 74 kg championship series against Iowa's
Hunter Garvin
. Berge gave up the first takedown before reeling off 16-straight points to breeze past
Brayden Thompson
of Cowboy RTC in two bouts at 86 kg. Bouzakis looked the best of the bunch posting two 10-0 technical falls over four-time Oklahoma state champion
Cael Hughes
at 61 kg.
A pair of past U17 World champions,
Meyer Shapiro
of Spartan Combat RTC and
Luke Lilledahl
of X-Calibur Athletics WC, have moved up in class and have their sights set on another World gold.
It's evident the Cornell training room is treating Shapiro well, as the 2021 U17 World champ cruised to a series sweep at 70 kg against
Antrell Taylor
of MWC Wrestling Academy. He didn't surrender a point to Taylor in either match.
Down at 57 kg, Lilledahl had to grind out a pair of wins against Cowboy RTC's
Troy Spratley
, who finished in second place at this event for the second-straight year. Both matches came down to the wire and both times Lilledahl found the answer he needed, winning by scores of 9-4 and 4-2. Lilledahl is a two-time U17 World medalist, finishing with silver in 2021 before topping the podium last year.
Perhaps the most anticipated championship series of the day came at 65 kg with 2022 U17 World silver medalist and U20 Nationals champion
Tyler Kasak
of M2 Training Center taking on two-time age-group World Team member
Jesse Mendez
of Titan Mercury WC. The first bout was decided by a single point, while the second was more concrete, both results favoring Mendez.
Bouzakis and Mendez are teammates at Ohio State University under head coach
Tom Ryan
. Mendez snagged the starting spot at 133 last year for the Buckeyes, earning NCAA All-America honors as a true freshman.
A pair of 2022 U20 World Team members on the Greco-Roman side did battle for the 125 kg U20 freestyle spot. Cowboy RTC's
Christian Carroll
continued right where he left off at the U20 Nationals in Las Vegas, blitzing 2022 U20 World bronze medalist
Aden Attao
of Suples WC, 10-0 and 10-0. Attao made the U20 Greco-Roman World Team at 130 kg yesterday.
Additional champions include
Matthew Singleton
of Wolfpack WC at 79 kg,
Jack Darrah
of Missouri at 92 kg and
Camden McDanel
of Ohio at 97 kg. Singleton and Darrah were forced to go three matches in their fight to make the U20 World Team. McDanel won his series in straight matches.
The weekend of wrestling in Ohio concludes tomorrow with the remaining men's freestyle rounds of the U23 Nationals. The tournament is slated to begin with the quarterfinals at 10 a.m. (ET) and will run through to completion.
All the action from Geneva, Ohio, can be viewed live on
FloWrestling.com
with a subscription. Brackets and complete results are available on
FloArena
.
2023 U20 World Team Trials

At Spire Academy, Geneva, Ohio, June 2-3

U20 Freestyle Finals Results

57 kg

Best-of-three championship series
Luke Lilledahl (X-Calibur Athletics WC) defeats Troy Spratley (Cowboy RTC), two matches to none
Bout 1 – Lilledahl dec. Spratley, 9-4
Bout 2 – Lilledahl dec. Spratley, 4-2
61 kg

Best-of-three championship series
Nic Bouzakis (X-Calibur Athletics WC) defeats Cael Hughes (Cowboy RTC), two matches to none
Bout 1 – Bouzakis tech. fall Hughes, 10-0
Bout 2 – Bouzakis tech. fall Hughes, 10-0
65 kg

Best-of-three championship series
Jesse Mendez (Titan Mercury WC) defeats Tyler Kasak (M2 Training Center), two matches to none
Bout 1 – Mendez dec. Kasak, 4-3
Bout 2 – Mendez dec. Kasak, 9-1
70 kg

Best-of-three championship series
Meyer Shapiro (Spartan Combat RTC) defeats Antrell Taylor (MWC Wrestling Academy), two matches to none
Bout 1 – Shapiro dec. Taylor, 8-0
Bout 2 – Shapiro tech. fall Taylor, 11-0
74 kg

Best-of-three championship series
Mitchell Mesenbrink (Askren Wrestling Academy) defeats Hunter Garvin (Iowa), two matches to none
Bout 1 – Mesenbrink dec. Garvin, 17-8
Bout 2 – Mesenbrink tech. fall Garvin, 10-0
79 kg

Best-of-three championship series
Matthew Singleton (Wolfpack WC) defeats Gabriel Arnold (Sebolt Wrestling Academy), two matches to one
Bout 1 – Singleton dec. Arnold, 6-1
Bout 2 – Arnold dec. Singleton, 2-2
Bout 3 – Singleton dec. Arnold, 5-4
86 kg

Best-of-three championship series
Bennett Berge (Jackrabbit WC) defeats Brayden Thompson (Cowboy RTC), two matches to none
Bout 1 – Berge dec. Thompson, 6-2
Bout 2 – Berge tech. fall Thompson, 10-0
92 kg

Best-of-three championship series
Jack Darrah (Missouri) defeats Stephen Little (Arkansas RTC), two matches to one
Bout 1 – Little dec. Darrah, 5-3
Bout 2 – Darrah dec. Little, 2-1
Bout 3 – Darrah dec. Little, 4-4
97 kg

Best-of-three championship series
Camden McDanel (Ohio) defeats Steven Burrell Jr (New York), two matches to none
Bout 1 – McDanel dec. Burrell, 11-6
Bout 2 – McDanel dec. Burrell, 8-2
125 kg

Best-of-three championship series
Christian Carroll (Cowboy RTC) defeats Aden Attao (Suples WC), two matches to none
Bout 1 – Carroll tech. fall Attao, 10-0
Bout 2 – Carroll tech. fall Attao, 10-0