Moomey, Jacobson Repeat at U23 Greco-Roman Nationals
by Savannah Asmann, USA Wrestling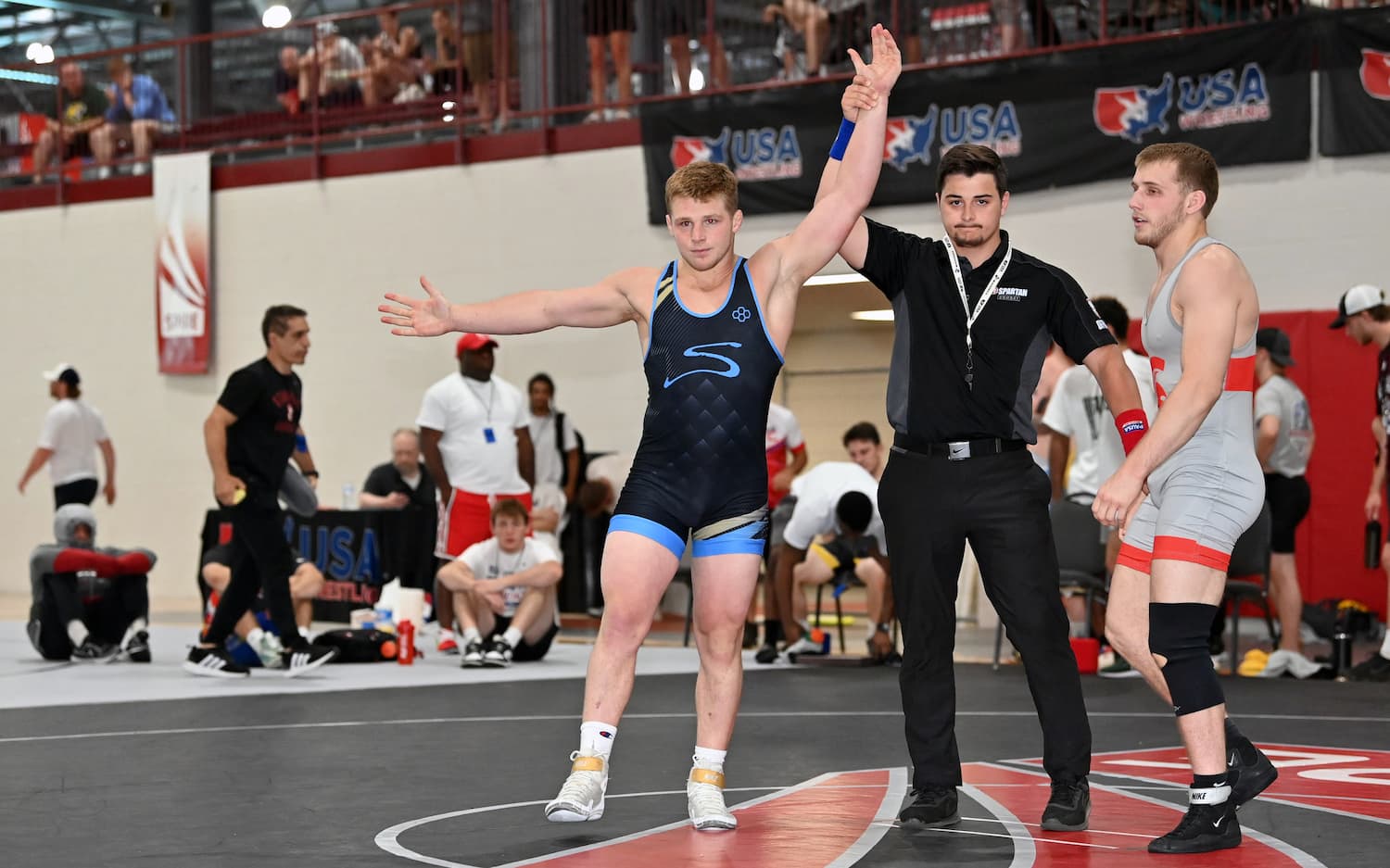 Payton Jacobson wins U23 Greco-Roman Nationals at 77 kg. Photo by Sam Janicki.

🎥 U23 Nationals Greco-Roman Champion Interviews

GENEVA, Ohio—The U23 Greco-Roman Nationals concluded on Friday evening at Spire Academy with two wrestlers claiming their second-straight victory at the event, Phillip Moomey at 60 kg and Payton Jacobson at 77 kg.

Moomey faced U20 U.S. World Team member Jonathan Gurule in the finals and swept his way to a spot on the U23 World Team for the second-straight year, capturing a 7-2 win in bout one and a close 3-1 win in bout two. Moomey was also a bronze medalist at the 2021 Junior Pan American Games.

Jacobson completed a two-match sweep over Caleb Fish, who is an NCAA qualifier for Michigan State. He didn't allow a point in the best-of-three series with a 10-0 technical fall in the first match and an 8-0 technical fall in the second match. Jacobson placed second at World Team Trials Challenge Tournament and will wrestle for a Senior National Team spot at next weekend Final X and has guaranteed himself a spot on the U23 Greco-Roman World Team as a result.

At 63 kg, it was Jordan Hamdan that was victorious in two matches, taking a 6-5 decision and claiming an 11-0 technical fall. Hamdan claims a spot on the U23 U.S. World Team with the win.

At 82 kg, Tyler Eischens battled his way through bout one, coming out on top in an 11-9 decision. Eischens was strong in bout two, stopping Tyler Dow in a 10-2 technical fall to earn a spot on the U23 Greco-Roman World Team.

The champions in the remaining six weight classes are not guaranteed a U23 World Team spot because there is a Senior National Team member with U23 eligibility in their weight class. The Senior National Team member has priority over the U23 national champion in this scenario.

At 87 kg, Michael Altomer swept his series in two matches against Keenan Wyatt of Alabama. The first match was a 9-4 decision, and the second match was tighter, with Altomer emerging with an 5-4 decision. Altomer competed in both the U20 World Team Trials and the U23 Nationals, earning a spot on the U20 U.S. World Team with his victory.

Two championship series needed all three matches to determine a winner. After losing the first match, Yusief Lillie stormed back to defeat Davian Guanajuato in a 2-1 series victory at 55 kg. Additionally, 97 kg saw Tereus Henry of Kansas pull out the win in three matches over Thomas Godbee.

Additional champions include 2021 U.S. World Team member David Stepanian (67 kg), 2018 Cadet World Team member Hunter Lewis (72 kg) and 2022 U.S. Senior Open All-American Kaleb Reeves (130 kg).
The U23 U.S. Greco-Roman World Team will compete at the U23 World Championships in Tampere, Finland, this October.

The U23 Nationals will continue tomorrow with the men's freestyle portion of the event. The tournament is slated to begin at 9:30 a.m. (CT) and is expected to run through the round of 16 on the championship side.

All the action from Geneva, Ohio, can be viewed live on FloWrestling.com with a subscription. Brackets and complete results are available on FloArena.

2023 U23 Nationals
At Spire Academy, Geneva, Ohio, June 2-4

U23 Greco-Roman Nationals Final Results
55 kg
Best-of-three championship series
Yusief Lillie (Brunson UVRTC) defeats Davian Guanajuato (Southern Illinois RTC), two matches to one
Bout 1 – Guanajuato dec. Lillie, 4-1
Bout 2 – Lillie dec. Guanajuato, 5-1
Bout 3 – Lillie dec. Guanajuato, 5-2

3rd place - Kade Orr (Golden Pride Wrestling Club) tech. fall Christian Decatur-Luker (Freco), 11-0
5th place - Adrian Samano (Iron Wrestling Club) tech. fall Alexander Logsdon (Cougar Wrestling Club), 8-0
7th place - David Bragg (Tiger Wrestling Club) tech. fall Joshua Jasionowicz (Pennsylvania), 12-1

60 kg
Best-of-three championship series
Phillip Moomey (Spartan Combat RTC) defeats Jonathan Gurule (NMU-National Training Center), two matches to none
Bout 1 – Moomey dec. Gurule, 7-2
Bout 2 – Moomey dec. Gurule, 3-1

3rd place - Paxton Creese (Minnesota Storm) dec. Joseph Couch (West Point WC), 12-9
5th place - Dyson Kunz (Northern Colorado WC) fall Jayden Carson (Arkansas RTC), 4:22
7th place - David Medina (Tennessee) dec. Jesse Gaytan (California), 11-6

63 kg
Best-of-three championship series
Jordan Hamdan (Michigan WC) defeats Kyle Rowan (Ohio), two matches to none
Bout 1 – Hamdan dec. Rowan, 6-5
Bout 2 – Hamdan tech. fall Rowan, 11-0

3rd place - King Sandoval (Dmv Rtc) tech. fall Jeremy Bockert (Interior Grappling Academy), 8-0
5th place - William Edelblute (Utah) tech. fall Bobby Robinson (O Town WC), 10-1
7th place - Phillip Kue (Oregon) tech. fall Matthew Englehardt (Pennsylvania), 9-0

67 kg
Best-of-three championship series
David Stepanian (New York Athletic Club) defeats Max Schierl (NMU-NTC), two matches to none
Bout 1 – Stepanian tech. fall Schierl, 11-0
Bout 2 – Stepanian tech. fall Schierl, 11-0

3rd place - James Dalrymple (RTC South) dec. Samuel Edelblute (Brunson UVRTC), 13-7
5th place - Jakob Murillo (Brunson UVRTC) tech. fall Zach Keal (West Point WC), 8-0
7th place - Cole Rhemrev (Indiana RTC) tech. fall Diego Romero (NMU-NTC) 8-0

72 kg
Best-of-three championship series
Hunter Lewis (Wolfpack WC) defeats Jack Ervien, Jr. (Viking Wrestling Club (IA)), two matches to none
Bout 1 – Lewis dec. Ervien, Jr., 16-11
Bout 2 – Lewis fall Ervien, Jr., 0:43

3rd place - Ashton Miess (Combat W.C. School of Wrestling) tech. fall Kellyn March (Bison WC), 8-0
5th place - Clay Radenz (Gorilla WC, Inc) tech. fall Noah Roulo (Cougar WC), 12-2
7th place - Jalen Spuhler WI (Ranger WC) fall Wyatt Higgins (Grizzly WC), 1:55

77 kg
Best-of-three championship series
Payton Jacobson (Sunkist Kids WC) defeats Caleb Fish (Michigan WC), two matches to none
Bout 1 – Jacobson tech. fall Fish, 10-0
Bout 2 – Jacobson tech. fall Fish, 8-0

3rd place - Sean Coughlin (George Mason) tech. fall Julian Beltran (NMU-NTC) 8-0
5th place - Loranzo Rajaonarivelo (George Mason) tech. fall Christian Komitas (DeKalb WC), 10-0
7th place - Magnus Kuokkanen (Indiana RTC) dec. Cody Hicks (Oklahoma), 8-1

82 kg
Best-of-three championship series
Tyler Eischens (California RTC (CA RTC)) defeats Tyler Dow (Minnesota Storm), two matches to none
Bout 1 – Eischens dec. Dow, 11-9
Bout 2 – Eischens tech. fall Dow, 10-2

3rd place - Danny Braunagel (Illinois RTC/Illini WC) inj. def. Edmond Ruth (Pennsylvania)
5th place - Tyler Hannah (Combat W.C. School of Wrestling) no contest James Foy (Minnesota Storm)
7th place - Dylan Kohn (Virginia) tech. fall Kennedy Wyatt (Knights RTC), 9-1

87 kg
Best-of-three championship series
Michael Altomer (Curby 3 Style Wrestling Club) defeats Keenan Wyatt (Knights RTC), two matches to none
Bout 1 – Altomer dec. Wyatt, 9-4
Bout 2 – Altomer dec. Wyatt, 5-4

3rd place - Daniel Lawrence (West Point WC) tech. fall Brett Bober (Wildcat Elite), 8-0
5th place - Connor Collins (Blugold WC) tech. fall Jesse Perez (O Town WC), 14-6
7th place - Jared Voss (Delaware County WC) tech. fall Daryus Webb (Missouri), 11-1

97 kg
Best-of-three championship series
Tereus Henry (Tiger Den Wrestling Club) defeats Thomas Godbee (West Point WC), two matches to one
Bout 1 – Henry fall Godbee, 4:05
Bout 2 – Godbee dec. Henry, 6-4
Bout 3 – Henry fall Godbee, 4:49

3rd place - Eli Pannell (Illinois) forfeit Sione Halo (10 Year Active Athlete List)
5th place - Chase Mccleish (Jackrabbit WC) tech. fall Brennon Braud (Ohio), 11-2
7th place - Kaleb Gelter (Cincinnati RTC) dec. Matthew Richardson (Pennsylvania), 7-5

130 kg
Best-of-three championship series
Kaleb Reeves (Iowa) defeats Spencer Trenary (Jackrabbit WC), two matches to none
Bout 1 – Reeves fall Trenary, 1:16
Bout 2 – Reeves fall Trenary, 0:59

3rd place - Nick West (Michigan WC) dec. Joshua Terrill (Michigan WC), 6-4
5th place - Max Balow (Viking RTC) dec. Mason Cover (Cleveland RTC), 4-1
7th place - Tony Caldwell (Valley Center WC) fall Max Diaz (NMU-NTC), 0:42