Distinguished Member — Rich Bender
by National Wrestling Hall of Fame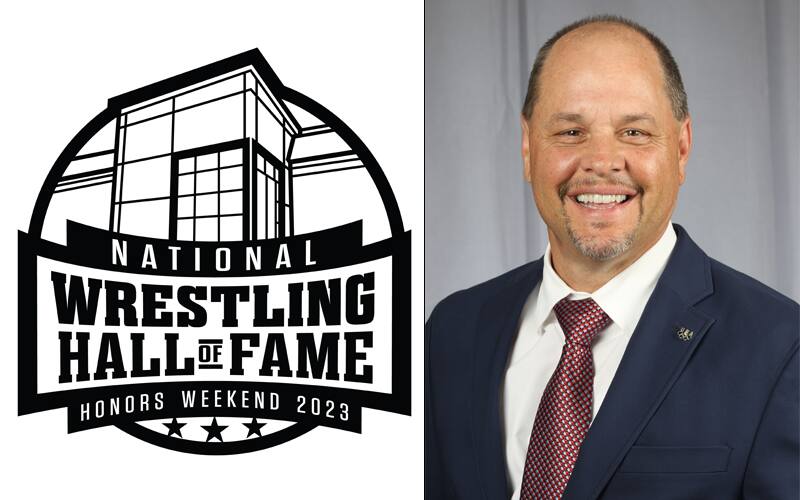 Rich Bender has led one of the most successful periods in USA Wrestling history, both on and off the mat, since being named acting executive director of USA Wrestling in November 2000

and permanent director in February 2001. He is the longest-serving Executive Director in organization history.
Under his leadership the United States has won 26 Olympic medals with nine gold, five silver and 12 bronze, and 100 World Championship medals with 27 gold, 26 silver and 47 bronze. USA Wrestling had its first women's Olympic wrestling champion in 2016 and U.S. women's wrestling performance has improved with a gold, a silver and two bronze medals at the 2020 Olympics and a record-tying seven medals at the Women's World Championships in 2021 and 2022. The U.S. won the overall World Championships medal count in all styles for the first time in 2022 while setting records for Most Gold Medals by a U.S. World Team, all disciplines, with seven and most men's team world finalists with eight. USA Wrestling won its first Greco-Roman World team title in 2007 and added World freestyle titles in 2017 and 2022.
USA Wrestling set all-time membership records in 2018-2019 with a combined membership of more than 252,500. The organization quickly rebounded from the challenges of the pandemic and has recovered fully in terms of membership and programming. During his tenure, USA Wrestling has enhanced its strong financial position, becoming debt-free with $10 million in investments and cash reserves. Under Bender's leadership, the support of and opportunities for wrestlers has grown with increased pay, the athlete appearance program, Olympic and World medal performance bonuses, athlete representation and participation on committees and the board of directors, all while expanding education of coaches. USA Wrestling currently celebrates its most diverse board in the history of the organization.
In 2019, Bender was elected as a member of the United States Olympic & Paralympic Committee Board of Directors to represent the National Governing Bodies (NGB). From 2010-2016, he was elected chairman of U.S. Olympic Committee's National Governing Body Council, representing over 13,000,000 members from all of the NGBs affiliated with the U.S. Olympic movement. In 2013, he formed the Committee for the Preservation of Olympic Wrestling, a U.S.-led group of wrestling and business leaders who spearheaded the American efforts to retain wrestling on the Olympic program. This successful effort reversed a recommendation from the International Olympic Committee to remove wrestling from the Olympics, starting with the 2020 Games.
Bender oversaw the creation of the U.S. Olympic Training Center Resident Program for women, hired a national women's coach and staff and expanded competition opportunities for girls and
women. USA Wrestling was instrumental in developing the proposal to the IOC that led to the addition of women's wrestling to the Olympic program at the 2004 Olympic Games. USA
Wrestling has also been a leader in building wrestling for girls and women on the youth, high school and college levels, making it one of the fastest growing sports in the nation. Bender serves on the Technical Commission for United World Wrestling, which has been credited with making some of the most substantial rule improvements and referee accountability measures in the history of the sport.
USA Wrestling has hosted numerous major international events, including the 2015 World Championships in Las Vegas and the 2003 Freestyle World Championships in Madison Square Garden, regarded as two of the best World Championships ever. USA Wrestling hosted the Freestyle World Cup in Los Angeles from 2014-16 and a record-setting Freestyle World Cup in Iowa City, Iowa, in 2018 where the U.S. won the team title. During his tenure, U.S. Olympic Team Trials for Wrestling have grown into sold-out events, setting attendance records in 2012 and 2016, while also seeing media coverage increase. It is now one of the most valuable Olympic Trials properties in the entire Olympic movement. Today, USA Wrestling's properties are widely consumed digitally by fans around the world.
Bender began his career at USA Wrestling as a U.S. Olympic Committee intern in 1988 and became a full-time employee in 1989 as events assistant. Bender was named National Events Director in 1989, managing regional, national and international events, including the 1995 World Freestyle Championships, numerous age-group World Championships, the U.S. Olympic Team Trials, and the World Cup. He directed the combined USA Wrestling Junior and Cadet National Championships, the world's largest wrestling competition. He served as Competition Manager at the 1996 Olympic Games, organizing a staff which presented one of the best Olympic wrestling competitions in history. He was promoted to Associate Executive Director of Programs, overseeing events, national teams and developmental programs until being named Executive Director.
Knowing the value of volunteer-based non-profit organizations, Bender gives back to Olympic City USA by voluntarily serving on the City's Regional Leadership Forum, the Pikes Peak or Bust Rodeo Foundation, and U.S. Olympic Endowment board. He also serves on the boards of FCA Wrestling and the National Wrestling Coaches Association. He was inducted into the Wisconsin Wrestling Coaches Association George Martin Hall of Fame in 2015 and received the International Wrestling Federation Gold Star in 1996 for orchestrating the best Olympic wrestling competition of that time. He received his sports management degree with a minor in business from the University of Wisconsin-La Crosse and graduated from the Olympic Sports Leadership certification program at Northwestern University's Kellogg School of Management.
Bender was born and raised in the rural community of Boscobel, Wisconsin where he attended high school and was a three-sport athlete, lettering in football, wrestling, and baseball.