Dave Schultz High School Excellence — Cael Hughes
by National Wrestling Hall of Fame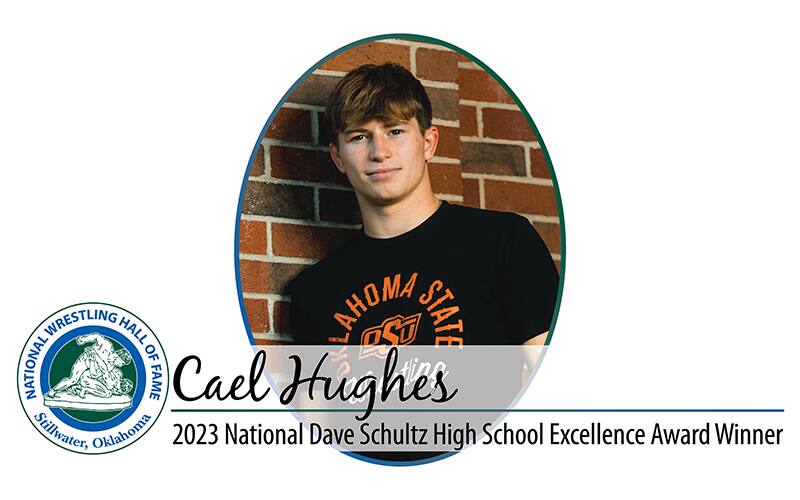 Cael Hughes was an undefeated four-time Oklahoma state champion for Stillwater High School.
The son of Jeremy and Lisa Hughes, he will continue his wrestling career at Oklahoma State University.
Hughes became Oklahoma's 45th four-time state wrestling champion, and the fifth Oklahoma wrestler to finish his high school career undefeated and untied, compiling a 140-0 career record. He also helped Stillwater win three straight Oklahoma team titles and back-to-back Oklahoma dual team titles.
He won and was named the Outstanding Wrestler at the 2023 Pittsburgh Classic and was also the 2022 Walsh Ironman tournament champion. Win Magazine named him the 2023 recipient of the Junior Hodge Trophy, presented annually by Resilite to the nation's most dominant wrestler. He was also announced as the Jim Thorpe High School Player of the Year for wrestling by the Oklahoma Sports Hall of Fame.
He volunteered with Stillwater Medical Center, delivering meals to homebound people, and with Stillwater Makes A Changer, a student-led philanthropic project at Stillwater High School. Hughes also volunteered with Special Olympics and with Unified Peers, one-on-one mentoring with special needs students.
Valedictorian of his class and a member of the National Honor Society, Hughes was an Academic State Championship team member in 2021.
He becomes the third national winner from Oklahoma, joining Teyon Ware in 2002 and Daton Fix in 2017.