News
International
High School & Youth
USAW
Raney beats World champion to reach semifinals at U17 Greco-Roman Worlds, two other USA wrestlers fall in quarterfinals
by Gary Abbott, USA Wrestling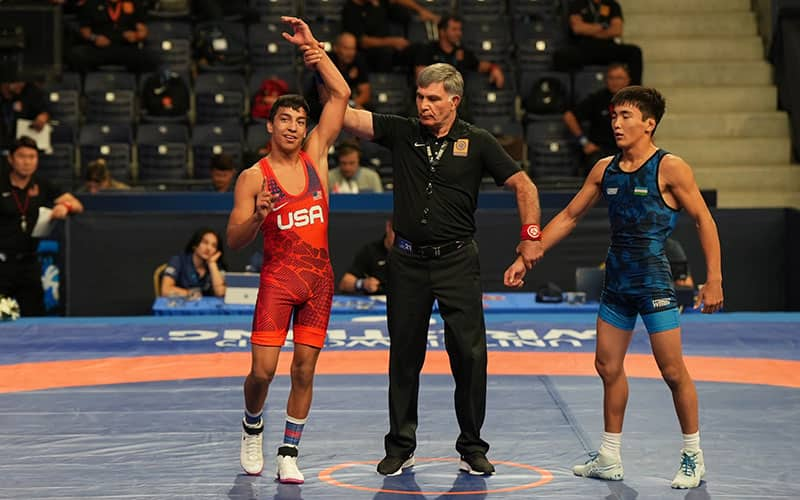 Jordyn Raney has arm raised in victory after beating U17 World champion Aytjan Khalmakhanov of Uzbekistan in the U17 World quarterfinals. Gary Abbott photo
.
ISTANBUL, Turkey – If there was ever any doubt that
Jordyn Raney
has World-class abilities, it was put to rest with an amazing run in the first session of the
U17 World Championships
in Greco-Roman on Monday.
Raney won three matches and defeated a 2022 U17 World champion in the quarterfinals to advance to the 55 kg semifinals on Monday night.
Raney got the first win for the USA for week when he secured an 8-0 technical fall over U17 and U20 African champion Ahmed Shaban of Egypt in his opening bout. Raney scored a takedown and turn in the first period for a 4-0 lead. He blocked a throw in the second period for two points, then got another turn to close out the win.
Raney had little trouble in his second match against Shu Wei Chung of Taipei, who was eighth in the 2023 U17 Asian Championships. Raney got the first takedown, then ran off three gut wrenches for a first-period 8-0 technical fall.
In a quarterfinal match with many ebbs and flows, Raney took the early lead and went on to defeat 2022 U17 World champion Aytjan Khalmakhanov of Uzbekistan, 9-7. When Khalmakhanov came back with scores, Raney always answered with his own score to keep the edge throughout the match.
Raney has drawn 2021 U17 World silver medalist Mohammadreza Gholamreza Gholami of Iran in the semifinals in the evening session, which begins at 6:00 p.m. local time. Istanbul is seven hours ahead of U.S. Eastern time zone.
The USA had a strong first day, with three of the five wrestlers reaching the quarterfinals.
Adam Waters
(80 kg) and
Nicholas Sahakian
(110 kg) also reached the quarterfinals, where they were defeated.
Waters started strong, who stopping Pan American rival Miguel Angel Vega Salazar of Colombia, 6-1. Waters led 3-1 at the break, and extended his lead with a passivity point and a takedown,
Waters next dispatched Aman of India, a 2023 Asian U17 silver medalist, in a 9-0 technical fall victory. Aman was hit with a passivity, putting Waters up 1-0, then Waters scored four turns for a first-period technical fall.
In the semifinals, Eleftherios Pappas of Greece scored first and controlled the action, defeating Waters, 8-1.
Sahakian opened up with a nice 3-1 victory over Daniel Szilagyi of Hungary. Each athlete sconed on a passivity call, but it was Sahakian who secured a turn from par terre to win the match.
In the quarterfinals, Sahakian went down 4-0 and was defeated by Ronak of India.
Waters will be pulled into repechage if Pappas wins in the semifinals. Likewise, Sahakian can wrestle in repechage if Ronak wins his semifinal match.
Two other U.S. wrestlers were defeated in their first matches of the day. None of the five U.S. entries have been eliminated from the tournament after the first session.
In the first match of the day on Mat A, 2022 U15 European champion Yusif Ahmadli of Azerbaijan took down
Billy Greenwood
, then added three turns for an 8-0 technical fall at 65 kg. Ahmadli is in the semifinals, so Greenwood can become eligible for repechage if Ahmadli wins in the semifinals.
Ezekiel Witt
was beaten in his opener at 48 kg by Edgar Petrosyan of Armenia, 8-0. Petrosyan scored the first takedown then added three gut wrench turns for the victory in the first period. Petrosyan has reached the semifinals, so Witt can be pulled back in if Petrosyan makes the finals.
Currently, the UWW brackets are not updated. This article will be updated to reflect additional information when available.
A live stream of the event is available to the U.S. audience through FloWrestling.com. Brackets and real-time results are available through UWW Arena.
2023 U17 Greco-Roman World Championships

At Istanbul, Turkey, July 31, 2023


U.S. Greco-Roman performances
48 kg – Ezekiel Witt (Junction City, Kansas/Manhattan Wrestling)
LOSS Edgar Petrosyan (Armenia), tech fall 8-0
55 kg – Jordyn Raney (Sturgis, Kentucky/Union County High School)
WIN Ahmed Shaban (Egypt), tech fall 8-0
WIN Shu Wei Chung (Taipei), tech fall 8-0
WIN Aytjan Khalmakhanov (Uzbekistan), 9-7
Semifinals – Mohammadreza Gholamreza Gholami (Iran)
65 kg – William Greenwood (Livermore, Colo./GRIT Athletics WC)
LOSS Yusif Ahmadli (Azerbaijan), tech fall 8-0
80 kg – Adam Waters (Stowe, Pennsylvania/Steller Trained Wrestling)
WIN Miguel Angel Vega Salazar (Colombia), 6-1
WIN Aman (India), tech fall 9-0
LOSS Eleftherios Pappas (Greece), 8-1
110 kg – Nicholas Sahakian (Sherman Oaks, California/St. John Bosco High School)
WIN Daniel Szilagyi (Hungary), 3-1
LOSS Ronak (India), 6-0