News
USA Wrestling
High School & Youth
USAW
Tuesday's USMC Junior Nationals quarterfinals knock out numerous past champions; Wisconsin leads with seven in semifinals
by Jason Bryant, Special to TheMat.com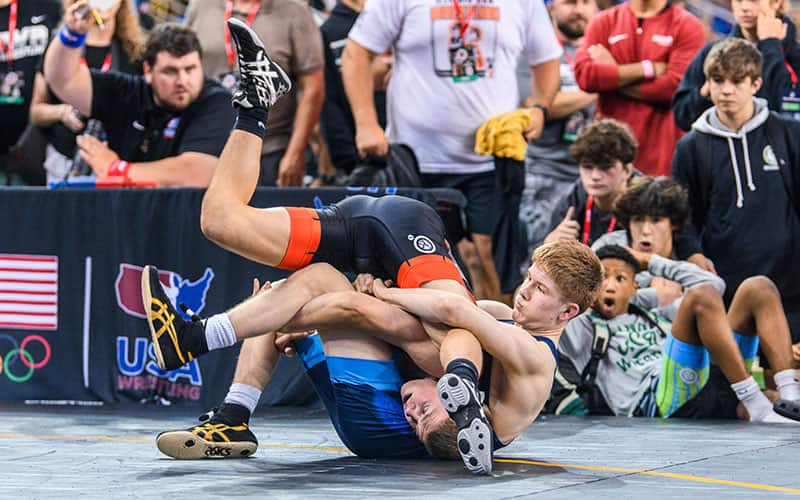 Iowa's Jake Knight (blue) hits the match-winning exposure in his 7-5 semifinal win over Idaho's Mack Mauger at the 2023 USMC Junior Men's Freestyle National Championships on Tuesday at the Fargodome in Fargo, North Dakota. Photo by Tony Rotundo, Wrestlers Are Warriors
.
Fargo, North Dakota – Wrestling giveth and wrestling taketh away.
Previous success can often be a predictor of future success, but it doesn't make it a sure thing. Several past champions found this out first-hand on Tuesday evening at the
2023 USMC Junior Men's Freestyle National Championships
on the campus of North Dakota State University in Fargo, North Dakota.
Once the 30 whistles blew to kick off the round, it didn't take long for champs to start going down.
Wisconsin
leads all states with seven semifinalists and 49 points, followed by Iowa, New Jersey, Oklahoma and Pennsylvania with six semifinalists and 42 points each.
Oklahoma's
Ayden Thomas
broke open the 106-pound bracket, beating returning champion Tyler Garvin of Maryland 9-2. Thomas built a 7-0 lead after the first period. Thomas will face
Haakon Peterson
of Wisconsin in the semifinals. Peterson, a three-time champion in Fargo on the 16U level, pinned Missouri's Erik Egstad late in the second period to reach the podium in the Fargodome for the fifth time overall. The bottom bracket features 2022 16U runner-up
Nathan Rioux
of Indiana and Iowa's returning All-American
Tyler Harper.
Rioux bested Arizona All-American Damian Moreno 7-6 while Harper scored the last four points in the second period to earn a 10-10 criteria win over Ohio's Ayden Dodd in a battle of returning All-Americans.
At 113 pounds, four-time 16U champion
Mack Mauger
was picked off in the quarterfinals by Iowa's Jake Knight 7-5. After a 1-1 first period, Knight went up 2-1 on a stepout before the pair traded 2-pointers to keep Knight ahead 4-3. Mauger took a 5-4 lead with 33 seconds remaining, finishing a double-leg attack on the edge. Knight went desperation headlock, but in the ensuing scramble, he countered a Mauger go-behind and picked up two exposure points with eight seconds remaining. The call on the mat was upheld after a review, giving Knight the final point.
Knight will face Oklahoma's
Christopher Kiser
, who beat Ohio's Johnny Green 9-2. On the bottom half of the bracket, Iowa's Dru Ayala will take on Pennsylvania's Aaron Seidel.
California's
Isaiah Cortez
continued the trend of beating past champions, picking off Illinois' Seth Mendoza, a 2021 16U freestyle titlist, 6-4 in the quarterfinals at 120 pounds. Cortez will face Oklahoma's
Beric Jordan
, who pinned North Carolina's Cameron Stinson Jr. in the first period.
Leo DeLuca
, the 113-pound 16U champion in 2021, did push through, teching South Carolina's J.J. Peace quickly. DeLuca will face All-American
Ethan Rivera
in the semifinals.
Pennsylvania's
Vince Bouzakis
was the next wrestler to pick off a past champion as Bouzakis edged 2021 16U double champion Zach Hanson of Minnesota 3-1 at 152 pounds.
Bouzakis
will face another past champion –
Kody Routledge
of Oklahoma – in the semifinals. Routledge was a 16U champion last year.
Three past champions fill out the draw at 285 pounds, though. Returning double champion
Aden Attao
of Idaho joins 2021 16U double champions
Navarro Schunke
of South Dakota and
Koy Hopke
of Wisconsin in the semifinals. Schunke will face Hopke in one semifinal, while Attao will take on New Jersey's
Rocco Dellagatta.
Hopke is also still in the mix for a Junior Triple Crown.
Virginia's
Caden Smith
will reach the podium once again after an 18-6 win over
Alexander Diaz
of Pennsylvania at 100 pounds. Smith will face Alabama's
Kiyan Simon
of Alabama, who defeated All-American William Jakeway of South Carolina 13-2. Smith was the only returning All-American to reach the semifinals unscathed as Pennsylvania's Kole Davidheiser fell to Illinois' Rocco Hayes 12-1.
At 126 pounds, 2021 16U freestyle champion
Adrian Meza
of Arizona pushed past Oklahoma's Gage Walker 3-2 to reach the semifinals. Meza will face another Oklahoman,
J.J. McComas-Rogers
, in the semifinals. McComas-Rogers beat Indiana's Gavin Jendreas 12-2. In the top bracket, Pennsylvania's
Jax Forrest
will face Missour's
Brady Roark
. Forrest topped All-American Dillon Campbell of Ohio 13-4, while Roark continued his hot tournament, beating All-American Moses Mendoza of California 14-1. One round earlier, Roark knocked off returning finalist Kolter Burton of Idaho.
The only past champion at 132 pounds, 2022 16U champ
Kyler Larkin
of Arizona, got past New Jersey's Matthew Lopes 4-3. Larkin will face fellow Arizonan
Sergio Vega
in the semifinals. Vega beat Tennessee's Cooper Hilton 5-0. Up top,
Iowa's Kale Petersen
will face Pennsylvania's
Dalton Perry
.
Returning champion
Ryder Block
of Iowa registered his fourth straight technical fall at 138 pounds, beating California's
Paul Kelly
13-2 to reach the semifinals. Block will face Minnesota's
Landon Robideau
. Robideau beat teammate Tyson Charmoli 4-1. All-Americans
Omar Ayoub
of Ohio and Daniel Zepdeda of California will meet in the other semifinal.
Illinois'
Kannon Webster
edged Indiana's Chris Coates 4-2 to reach the semifinals at 145 pounds. Webster, last year's runner-up and Greco-Roman Junior champion, will face Ohio's
Jaxon Joy
in the semifinals.
New Jersey's
William Henckel,
a 2021 16U champion, moved into the semifinals with a 12-1 win over Michigan's
Philip Lamka
. Henckel will face All-American
Charlie Millard
of Wisconsin in the semifinals. Wisconsin is also represented by
Braeden Scoles
in the semifinals. Scoles topped Michigan's Cory Thomas and will face Ohio's
Ethan Birden
Wednesday morning.
Wisconsin's
Connor Mirasola'
s run of domination continued with his fifth technical fall en route to the semifinals. Mirasola beat Arizona's Aidan Ysaguirre 10-0 and he's outscored his opponents 51-0 thus far. Mirasola will take on Minnesota's
Joey Novak
, who was an 11-0 winner over Pennsylvania's Tucker Hogan.
California's
Cody Merrill
is two wins away from repeating after an 11-0 quarterfinal win at 220 pounds over Illinois' Nick Nosler. Merrill hasn't yielded a point all tournament, outscoing opponents 46-0 in four bouts. Wisconsin's
Cole Mirasola
joined his brother in the semifinals, but in the process, he kept Merrill's brother Coby from joining his. Cole Mirasola beat Coby Merrill 8-4 and will take on 2022 16U champion
Jay Henderson
of Utah Wednesday morning. Henderson teched Alabama's Cole Carter in just over a minute.
Top 10 Teams going into Wednesday's Semifinals
(Number of wrestlers in semifinals noted)
1. Wisconsin 49 (7)
2. Iowa 42 (6)
2. New Jersey 42 (6)
2. Oklahoma 42 (6)
2. Pennsylvania 42 (6)
6. California 28 (4)
7. Arizona 21 (3)
7. Illinois 21 (3)
7. Indiana 21 (3)
7. Ohio 21 (3)
Full results from the quarterfinals and semifinal pairings below.
SEMIFINAL PAIRINGS
100 pounds
Caden Smith (Virginia) vs. Kiyan Simon (Alabama)
Brady Byrd (Indiana) vs. Rocco Hayes (Illinois)
106 pounds
Aydan Thomas (Oklahoma) vs. Haakon Peterson (Wisconsin)
Nathan Rioux (Indiana) vs. Tyler Harper (Iowa)
113 pounds
Jake Knight (Iowa) vs. Christopher Kiser (Oklahoma)
Dru Ayala (Iowa) vs. Aaron Seidel (Pennsylvania)
120 pounds
Beric Jordan (Oklahoma) vs. Isaiah Cortez (California)
Leo Deluca (New Jersey) vs. Ethan Rivera (Florida)
126 pounds
Brady Roark (Missouri) vs. Jax Forrest (Pennsylvania)
Adrian Meza (Arizona) vs. JJ Mccomas-rogers (Oklahoma)
132 pounds
Kale Petersen (Iowa) vs. Dalton Perry (Pennsylvania)
Sergio Vega (Arizona) vs. Kyler Larkin (Arizona)
138 pounds
Ryder Block (Iowa) vs. Landon Robideau (Minnesota)
Omar Ayoub (Ohio) vs. Daniel Zepeda (California)
145 pounds
Kannon Webster (Illinois) vs. Jaxon Joy (Ohio)
Logan Paradice (Georgia) vs. Cross Wasilewski (New Jersey)
152 pounds
Vince Bouzakis (Pennsylvania) vs. Kody Routledge (Oklahoma)
Collin Gaj (Pennsylvania) vs. Grigor Cholakyan (California)
160 pounds
Braeden Scoles (Wisconsin) vs. Ethan Birden (Ohio)
Charlie Millard (Wisconsin) vs. William Henckel (New Jersey)
170 pounds
Ryan Burton (New Jersey) vs. Noah Mulvaney (Wisconsin)
Holden Garcia (Pennsylvania) vs. Chris Moore (Illinois)
182 pounds
Tate Naaktgeboren (Iowa) vs. Hoke Poe (Georgia)
Justin Rademacher (Oregon) vs. Orlando Cruz (Indiana)
195 pounds
Connor Mirasola (Wisconsin) vs. Joey Novak (Minnesota)
Jersey Robb (Oklahoma) vs. Karson Tompkins (Texas)
220 pounds
Cody Merrill (California) vs. Aidan Schlett (New Jersey)
Cole Mirasola (Wisconsin) vs. Jay Henderson (Utah)
285 pounds
Aden Attao (Idaho) vs. Rocco Dellagatta (New Jersey)
Navarro Schunke (South Dakota) vs. Koy Hopke (Wisconsin)
QUARTERFINAL RESULTS
100 pounds
Caden Smith (Virginia) tech fall Alexander Diaz (Pennsylvania) 18-6 3:29
Kiyan Simon (Alabama) tech fall William Jakeway (South Carolina) 13-2 3:00
Brady Byrd (Indiana) dec. Gabriel Rosales (Idaho) 11-7
Rocco Hayes (Illinois) tech fall Kole Davidheiser (Pennsylvania) 12-1 3:25
106 pounds
Aydan Thomas (Oklahoma) dec. Tyler Garvin (Maryland) 9-2
Haakon Peterson (Wisconsin) pin Erik Egstad (Missouri) 3:58
Nathan Rioux (Indiana) dec. Damian Moreno (Arizona) 7-6
Tyler Harper (Iowa) dec. Ayden Dodd (Ohio) 10-10
113 pounds
Jake Knight (Iowa) dec. Mack Mauger (Idaho) 7-5
Christopher Kiser (Oklahoma) dec. Johnny Green (Ohio) 9-2
Dru Ayala (Iowa) dec. Davis Motyka (Pennsylvania) 9-7
Aaron Seidel (Pennsylvania) dec. Cadell Lee (Virginia) 9-0
120 pounds
Beric Jordan (Oklahoma) pin Cameron Stinson jr. (North Carolina) 1:21
Isaiah Cortez (California) dec. Seth Mendoza (Illinois) 6-4
Leo Deluca (New Jersey) tech fall Jermaine Peace (South Carolina) 10-0 0:31
Ethan Rivera (Florida) pin Edwin Sierra (California) 4:02
126 pounds
Brady Roark (Missouri) tech fall Moses Mendoza (California) 14-1 4:39
Jax Forrest (Pennsylvania) dec. Dillon Campbell (Ohio) 13-4
Adrian Meza (Arizona) dec. Gage Walker (Oklahoma) 3-2
JJ Mccomas-rogers (Oklahoma) tech fall Gavin Jendreas (Indiana) 12-2 5:44
132 pounds
Kale Petersen (Iowa) dec. Matthew Botello (Massachusetts) 9-6
Dalton Perry (Pennsylvania) tech fall Giosue Hickman (Arizona) 11-0 2:30
Sergio Vega (Arizona) dec. Cooper Hilton (Tennessee) 5-0
Kyler Larkin (Arizona) dec. Matthew Lopes (New Jersey) 4-3
138 pounds
Ryder Block (Iowa) tech fall Paul Kelly (California) 13-2 5:32
Landon Robideau (Minnesota) dec. Tyson Charmoli (Minnesota) 4-1
Omar Ayoub (Ohio) dec. Kane Naaktgeboren (Iowa) 15-11
Daniel Zepeda (California) tech fall Elvis Solis (Florida) 10-0 1:16
145 pounds
Kannon Webster (Illinois) dec. Christopher Coates (Indiana) 4-2
Jaxon Joy (Ohio) tech fall Layton Schneider (Oklahoma) 10-0 4:36
Logan Paradice (Georgia) tech fall Casper Stewart (New York) 15-5 5:12
Cross Wasilewski (New Jersey) tech fall Gavin Linsman (Missouri) 10-0 3:14
152 pounds
Vince Bouzakis (Pennsylvania) dec. Zach Hanson (Minnesota) 3-1
Kody Routledge (Oklahoma) dec. Laird Root (California) 10-7
Collin Gaj (Pennsylvania) tech fall Paul Ognissanti (Maryland) 14-4 5:20
Grigor Cholakyan (California) tech fall Claudio Torres (Florida) 13-0 5:54
160 pounds
Braeden Scoles (Wisconsin) tech fall Cory Thomas (Michigan) 10-0 0:47
Ethan Birden (Ohio) tech fall Michael Myers (Nebraska) 10-0 1:37
Charlie Millard (Wisconsin) tech fall Thor Michaelson (Washington) 17-7 5:26
William Henckel (New Jersey) tech fall Philip Lamka (Michigan) 12-1 3:26
170 pounds
Ryan Burton (New Jersey) tech fall Angelo Posada (California) 11-0 2:44
Noah Mulvaney (Wisconsin) dec. Adam Waters (Pennsylvania) 10-4
Holden Garcia (Pennsylvania) tech fall Talon Mccollom (Oklahoma) 10-0 3:26
Chris Moore (Illinois) dec. Jasiah Queen (New Jersey) 3-2
182 pounds
Tate Naaktgeboren (Iowa) pin Peyton Westpfahl (Missouri) 4:23
Hoke Poe (Georgia) dec. Marco Christiansen (Minnesota) 10-2
Justin Rademacher (Oregon) tech fall Cole Han-lindemyer (Minnesota) 17-7 4:45
Orlando Cruz (Indiana) tech fall Savoy New (North Carolina) 10-0 0:50
195 pounds
Connor Mirasola (Wisconsin) tech fall Aidan Ysaguirre (Arizona) 10-0 3:35
Joey Novak (Minnesota) tech fall Tucker Hogan (Pennsylvania) 11-0 1:13
Jersey Robb (Oklahoma) tech fall Dillon Bechtold (Pennsylvania) 11-0 2:31
Karson Tompkins (Texas) tech fall Kingsley Menifee (Virginia) 10-0 1:40
220 pounds
Cody Merrill (California) tech fall Nick Nosler (Illinois) 11-0 4:20
Jay Henderson (Utah) tech fall Cole Carter (Alabama) 11-0 1:09
285 pounds
Aden Attao (Idaho) tech fall Nicholas Pavlechko (Pennsylvania) 14-4 2:23
Rocco Dellagatta (New Jersey) tech fall Marko Ivanisevic (Illinois) 13-1 2:07