Record-high entries highlight day one of 16U men's freestyle national championships
by Savannah Asmann, USA Wrestling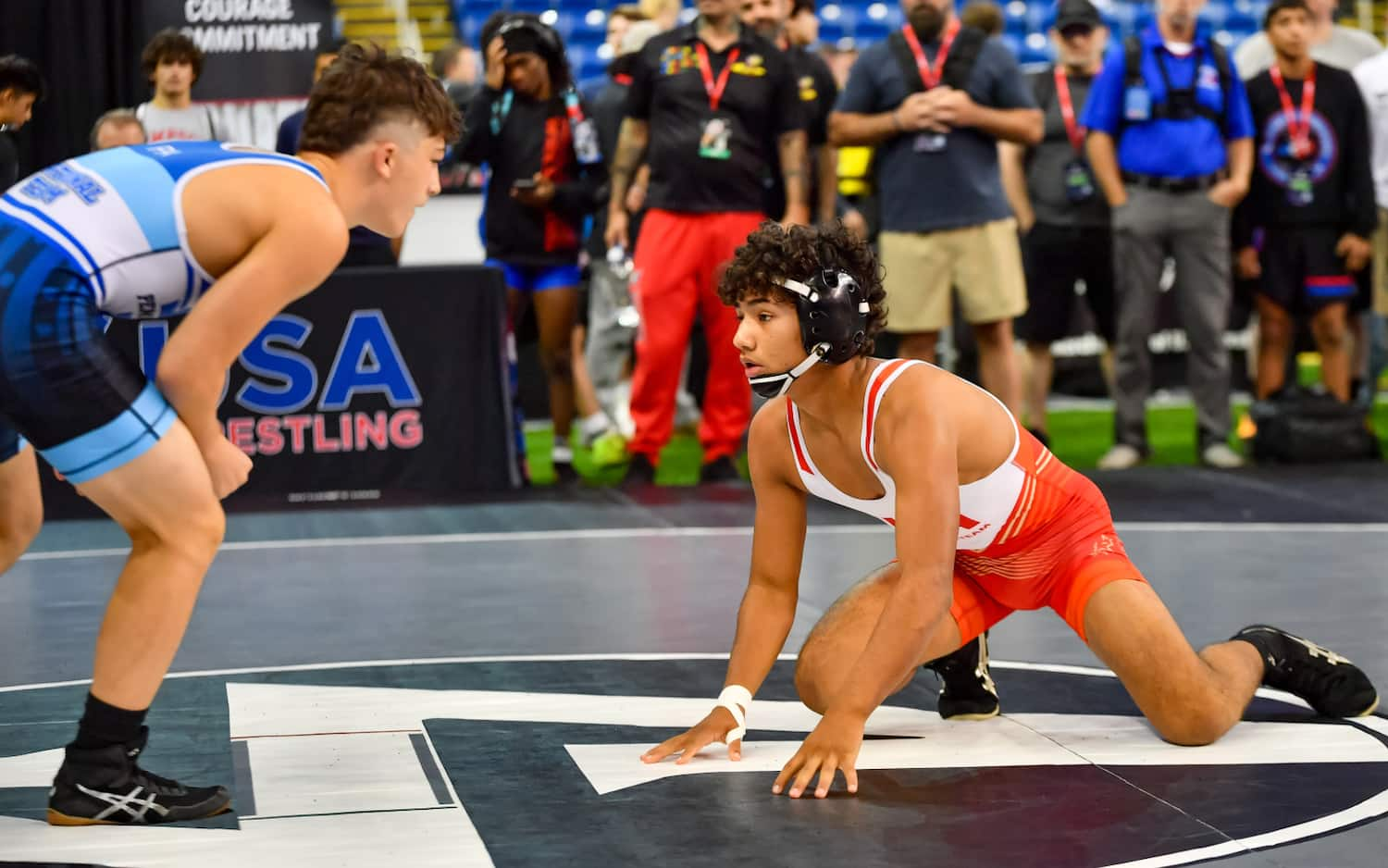 Photo: Washington's Justyce Zuniga (120) went 2-0 through the first two rounds of the 16U National Championships. (Ty Lundquist, MatFocus.com)
FARGO, N.D. – The 2023 USMC 16U Nationals in men's freestyle boasted an impressive start with a record-high number of athletes competing in the Fargodome on Monday.

Three returning champions in the 16U men's freestyle division were unbeaten in the first sessions: Mac Crosson of Iowa (88, now at 100), Michael Romero of California (100, now at 120) and Jayden Rainey of Kentucky (106, now at 120). Due to the size of the bracket at 195 pounds, returning champion Dreshaun Ross of Iowa did not wrestle in the first two sessions of men's freestyle.

Along with three returning champions, two runners up were unbeaten through their first matches of the tournament. Caleb Noble of Wisconsin (88, now at 100) and Jacob Levy of Georgia (185). A third runner up in 2022, Keanu Dillard of Pennsylvania (100, now at 120), fell to Justyce Zuniga of Washington in a close 5-5 decision match during the round of 128.

The 16U Men's Freestyle Nationals featured 1,595 entries and included athletes from 45 states and one U.S. territory. In total, 3,191 men competed across 30 mats in the Fargodome on the first day of men's freestyle competition.

Thirteen athletes that competed in the first session remain eligible to win the Triple Crown award in Kellen Downing of Montana (88), Kaison Schreier of Missouri (94), Caleb Noble of Illinois (100), Alex Rozas of Louisiana (now at 113), Isaiah Jones of Oklahoma (now at 126), Dean Anderson of Arizona (132), Tyler Traves of Virginia (138), Bradley Rodriguez-Little of Minnesota (160), Kyler Knaack of Iowa (now at 152), Broedy Collins Hendricks of Iowa (170), Max Matthias of Wisconsin (182) and Milan Colvin of Kansas (285). Of the sixteen athletes that entered the tournament and were eligible for the award, Ross of Iowa (195) did not compete in the first sessions and three lost early in the tournament.

Entering the first sessions of men's freestyle, there were 14 athletes that made the move up to the 16U division after winning at the 14U National Championships last year. Thirteen of the 14 athletes remain in the tournament following the first day of competition as Liam Collins of Minnesota (100) fell to Jackson Shipley of Texas in an 11-8 decision during the round of 128.

There are 22 states that have at least 10 athletes remaining in the championship brackets at their respective weight classes. The states are Pennsylvania (42), Ohio (41), Illinois (40), Iowa (38), New Jersey (29), Minnesota (25), California (22), Missouri (22), Wisconsin (22), Indiana (20), Michigan (19), Oklahoma (19), Colorado (14), Utah (13), Arizona (12), Washington (12), Florida (11), Georgia (10), Kansas (10), Oregon (10), Tennessee (10) and Virginia (10).

The second day of competition will begin with the round of 32 beyond the 88-pound weight class. Action is set to begin at 9 a.m. central time.

Enjoy all of the action live on FloWrestling.