News
USA Wrestling
High School & Youth
USAW
Day 4 preview: Men's freestyle all day – capped off by quarterfinals, many people's favorite round of action
by Gary Abbott, USA Wrestling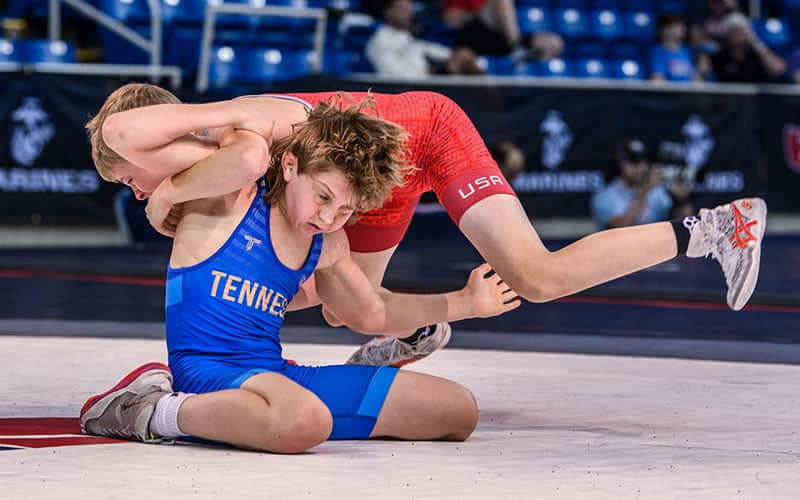 Hudson Chittum of Tennessee, a 2022 14U national freestyle champion, is testing himself at the U16 Nationals this year. Photo by Tony Rotundo, Wrestlers Are Warriors
.
What happens when you have over 3,000 athletes competing in two tournaments over three days on 30 mats in a crowded indoor football stadium? You have #Fargo2023 men's freestyle, which is bigger and better than ever.
While the first day of action on Monday did very little to thin out the field, as only a couple of rounds were held and few athletes can get eliminated with two losses. It will be day two on Tuesday where the field thins out and the quality of competition on the championship side ratchets up considerably. The three rounds of competition on the winner's side in each weight class, starting with the round of 32, will be increasingly intense.
It will all be capped off on Tuesday night with the quarterfinal round in both the Junior and 16U men's freestyle brackets. For many, this is their favorite round. You can focus on watching just the quarterfinal mats, and there is a ton at stake. Anybody who wins in the quarterfinals and reaches Wednesday morning's semifinals has already clinched All-American status. And by doing this, they have already begun to earn team points for their state. Also very important are those athletes in the consolations on the back side. Keeping them alive increases chances for additional points for the team.
Team Race preview – Who has the most wrestlers still in tournament?
After the first day, it is logical that the states with the most entries will have the most wrestlers still competing on day two. In fact, once the last whistle was blown on Monday, here are the states with the most wrestlers still in the tournament.
Junior teams (total wrestlers still competing)
1. Illinois, 66 (32 championship, 34 consolation)
2. Pennsylvania, 61 (37 championship, 24 consolation)
3. Wisconsin, 50 (28 championship, 22 consolation)
4. Iowa, 49 (32 championship, 17 consolation)
5. California, 48 (27 championship, 21 consolation)
6. Ohio, 44 (23 championship, 21 consolation)
7. Minnesota, 40 (26 championship, 14 consolation)
8. Indiana, 36 (17 championship, 19 consolation)
16U teams (total wrestlers still competing)
1. Pennsylvania, 71 (42 championship, 29 consolation)
2. Illinois, 70 (40 championship, 30 consolation)
3. Ohio, 68 (41 championship, 27 consolation)
4. Iowa, 61 (38 championship, 23 consolation)
5. California, 54 (22 championship, 32 consolation)
6. Minnesota, 50 (25 championship, 25 consolation)
7. Wisconsin, 50 (22 championship, 28 consolation)
8. New Jersey, 43 (29 championship, 14 consolation)
Triple Crown quest – to be updated daily
In 2022, there were two Junior Triple Crown winners and no 16U Triple Crown winners. After day one, these are the folks who are still in the hunt for the Triple Crown in each division. Three Junior Triple Crown contenders lost today, as well as three 16U Triple Crown contenders. Here are those who are still eligible going into day two:
Still eligible for Junior Triple Crown
: Saxton Scott of Idaho (106), Ezekiel Witt of Kansas (106), Mack Mauger of Idaho (113), Leandro Araujo of North Dakota (152), Thor Michaelson of Washington (160), Wyatt Ingham of Wisconsin (182), Karson Tompkins of Texas (195) and Koy Hopke of Wisconsin (285)
Still eligible for 16U Triple Crown
: Kellen Downing of Montana (88) , Kaison Schreier of Missouri (94), Caleb Noble of Illinois (100), Alex Rozas of Louisiana (now at 113) , Isaiah Jones of Oklahoma (now at 126), Dean Anderson of Arizona (132), Tyler Traves of Virginia (138)
Bradley Rodriguez-Little of Minnesota (160), Kyler Knaack of Iowa (now at 152), Broedy Collins Hendricks of Iowa (170) , Max Matthias of Wisconsin (182), Dreshaun Ross of Iowa (195) and Milan Colvin of Kansas (285)
Stepping up a level – gunning for more gold in a new division
Every year, athletes move up into new age divisions, which can be a bit rough for many wrestlers who have to face older athletes during that first year. In Fargo, there are two kind of jumps. In the U16 division, first-year athletes were in the 14U division last year. Many of the new entries in the Junior Nationals have chosen to compete at the U16 level until they age out. In either case, the "newbies" experience a level change that can be difficult.
Every year, there are new athletes moving in who do very well. And in certain situations, some top talents are able to win national titles at their new age-level. We are tracking those 2022 freestyle national champions who have taken the step up. A number of the 14U national champions from last year who moved to 16U have already lost at least one match. However there are 10 who are undefeated after the first day. At the Junior level, four 2022 16U freestyle champions remain unbeaten.
2022 16U National champions moving up into Juniors still unbeaten
: Haakon Peterson of Wisconsin (106), Kody Routledge of Oklahoma (152), Jarrel Miller Jr of Ohio (182) and Jay Henderson of Utah (220).
2022 14U National champions moving up into 16U Nationals still unbeaten
: Hudson Chittum of Tennessee (88) , Kavin Muyleart of Pennsylvania (100) , Zaiyahn Ornelas of Nebraska (106), Will Detar of Pennsylvania (113), Dawson Youngblut of Iowa (113), Travis Cardenas of Arizona (126) , Noah Bull of Utah (138), Yandro Soto-Rivera of Florida (132), Aaron Stewart of Illinois (160) and Denarii Mickel of Pennsylvania (250).
Tuesday. July 18th schedule
9:00 AM to 1:00 PM - Session VIII
16U Men/JR Men Freestyle: Championship (1 round) and Consolation (1 or 2 rounds)
3:00 PM to 8:00 PM - Session IX
16U Men/JR Men Freestyle: Championship & Quarterfinals (2 rounds) and Consolation (3 rounds)