News
USA Wrestling
High School & Youth
Women
USAW
Girls High School Roundup: First New York Invitational held, Iowa & Nevada host state qualifiers
by Gary Abbott, USA Wrestling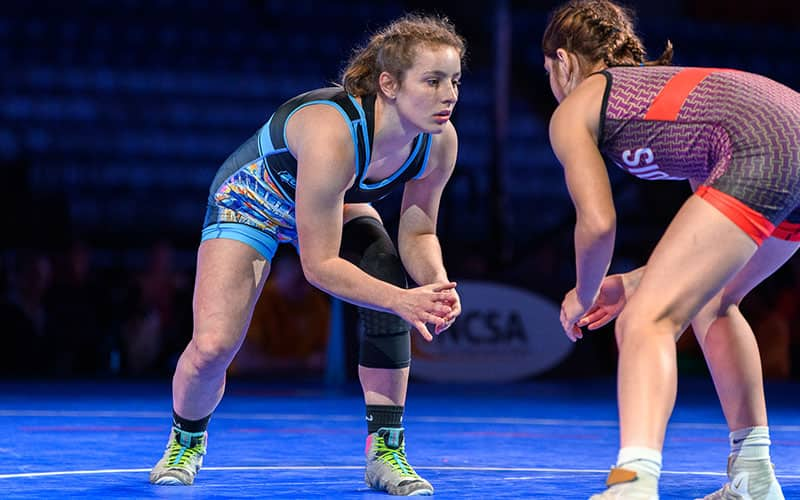 Emily Sindoni of Tioga High School, shown competing in Fargo in 2022, won the New York State Girls Invitational this week. Photo by Tony Rotundo, Wrestlers Are Warriors
Throughout the rest of the scholastic season, we will review some of the biggest events and activities in the high school girls wrestling season across the nation. Hopefully, as more information is shared, we will help promote and grow girls high school wrestling.
All 13 champions in New York State Invitational are from different schools, No. 1 Sindoni wins loaded 132
The first New York State Girls Invitational, held in Syracuse, N.Y. on January 27, was a huge step forward. To show the depth in the event, all 13 of the individual champions came from different high schools. Nationally ranked champions included No. 1 Emily Sindoni of Tioga (132), No. 13 Zoey Lints of Duanesburg-Schoharie (138), No. 6 Madison Westerberg of Waterloo (145) and No. 10 Sophie Pollack of Canandaigua Academy (185). Sindoni won a weight class with three nationally ranked stars. In the finals, Sindoni beat No. 13 Zoe Griffith of Gouvernour, by pin in 2:44. Placing third at 132 was No. 19 Ragan Retell of Tamarac, who lost to Griffith in the semifinals by pin. At 114 pounds, Yianna Foufas of Mepham defeated No. 10 Teegan Sibble of Bolivar-Richburg, 2-0. (Foufas also had a win over Sibble at the Eastern States Classic a few weeks ago). There were nine falls in the championship finals. No team scores were kept. Other champions were Zoey Jewett of General Brown (94), Gabriella Barone of Niagara Wheatfield (100), Sara Pauls of Minisink Valley (107), Ashley Diaz of Seaford (120), Alexandra Viera of Rocky Point (126), Isabella Gretzinger of Shenendehowa (152), Renne Kinikin of Mexico (165) and Makenzie Laforest of Waverly (235).
Iowa Regionals set field for states, No. 24 Lewis Central and HM Waverly-Shell Rock among region winners
The IGHSAU, which oversees girls athletics in Iowa, held eight regional qualifiers in four cities this weekend, setting the field for the first officials girls state tournament next weekend in Coralville. Both of Iowa's nationally ranked teams were regional champions: No. 24 Lewis Central won Regional 1 with eight qualifiers and Honorable Mention Waverly-Shell Rock claimed Regional 6 with nine qualifiers. Other regional champions were Ridge View (Region 2), Cedar Falls (Region 3), Southeast Polk (Region 4), Bettendorf (Region 5), Decorah (Region 7) and Osage (Region 8). Decorah qualified an athlete in all 10 weight classes. Iowa features 19 nationally ranked wrestlers, and going into the states, nine are currently undefeated: No. 5 Lilly Luft of Charles City (35-0 at 130), No. 4 Skylar Slade of Southeast Polk (44-0 at 150), No. 7 Naomi Simon of Decorah (32-0 at 170), No. 12 Molly Allen of Riverside-Oakdale (26-0 at 115), No. 12 Emma Peach of Iowa Valley, Marengo (34-0 at 145), No. 15 Olivia Huckfelt of Spencer (40-0 at 235), No. 20 Jasmine Luedtke of Ottumwa (28-0 at 110), No. 24 Jillian Worthen of Union LaPorte City (23-0 at 105) and No. 30 Jaylyn Goodale of Osage (30-0 at 110). Girls not in the national ranking with unbeaten records going into state are Nicole Olson of Missouri Valley (30-0 at 155), Mackenzie Childers of Cedar Rapids Prairie (44-0 at 125), Katie Biscoglia of Racoon River Northwest (41-0 at 100), Colbie Tenborg of Saydel (21-0 at 130), Kiara Djoumessi of Waverly-Shell Rock (43-0 at 140) and Avery Whitcop of West Marshall (27-0 at 170).
Searcy beats HM Sylvan Hills, 63-15 in Arkansas 5A Girls Dual States
In a dual meet that was not even close, last year's state tournament champion Searcy dominated national honorable Mention Sylvan Hills, 63-15 in the Arkansas 5A Girls Dual States in Sherwood. Searcy won 11 matches in the finals dual meet, including nine by fall. On the way to the finals, Searcy beat Maumelle, 78-6 and Van Buren, 66-15, while Sylan Hills stopped Greenwood, 66-18 and Mountain Home, 54-28.
No. 8 SLAM Academy wins Nevada South Regional and HM Reed takes Nevada North Regional
The field for the Nevada girls state meet was set in pair of regional qualifiers this weekend. No. 8 SLAM Academy won the South Regional in Henderson with 182 points, ahead of runner-up Centennial with 138 points. Champions for SLAM were national No. 7 Emma Albanese (114) and national No. 25 Billie Bonwell (165). Also claiming a South Regional title was national No. 10 Juliana Alejandro of Centennial (107). In the North Regional in Reno, national Honorable Mention Reed won by 82 points over runner-up McQueen. Reed champions were Meredith Nash (126), Aneka Mathews (132), Ainsley Gordon (138) and Maria Aiono (185). National No. 30 Katie Ward of McQueen (120) was a North Regional champion.
Finals set for CIF Southern Section Girls Duals – Northview vs. Corona and Ventura vs. Laguna Hills
The CIF Southern Section of California began its Girls Duals this weekend, and the finals have been set in both Div. 1 and Div. 2. The Div. I finals (set for February 1) will feature national No. 12 Northview against Corona. Northview beat Orange Vista, 22-12, Centennial 68-9 and Walnut, 54-30 to make the finals. Walnut had a 42-39 victory in the quarterfinals over nationally No. 5 Marina, 42-39. In the Div. 2 bracket, the finals will feature Ventura against Laguna Hills. Ventura beat La Canada in the semifinals, 48-33, while Laguna Hills won over Montclair, 42-42 by criteria.
Notes on other events
No. 3 Lebanon (Mo.) dominated the Ozark Conference Championships, scoring 241 points, well ahead of runner-up Rolla with 158 points. Lebanon had 10 individual champions, looking to peak for the post-season.
Sunnyside High School (Ariz.) upset No. 4 Liberty (Ariz.) in a dual meet on January 26, by a 42-21 margin. Liberty gave up three forfeits in the match, including one at 107 to Sunnyside's national No. 1 Audrey Jimenez. Liberty won four of the contested bouts, with Sunnyside winning five of the contested bouts.