News
USA Wrestling
College
USAW
NCAA Wrestling Awards update: Hendrickson leads DI in pins, Leiphart in tech falls, DII & DIII leaders also posted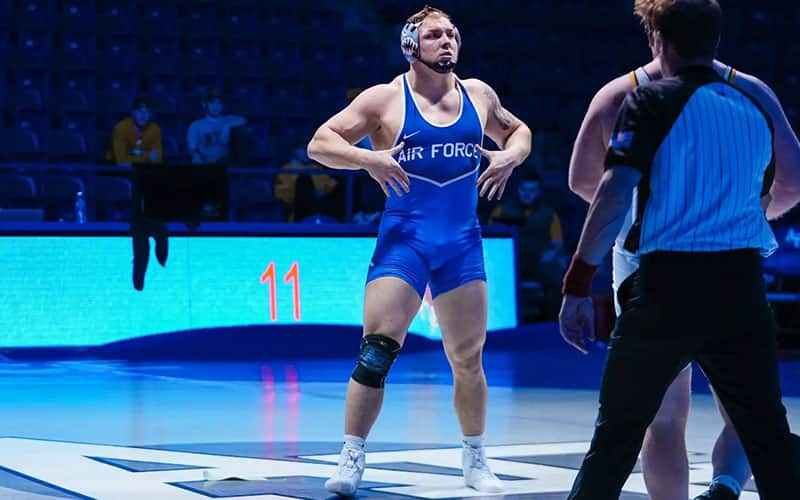 Wyatt Hendrickson (U.S. Air Force Academy). Photo by Mary Ginsbach, courtesy of Air Force Athletics
.
INDIANAPOLIS — The NCAA has released updated standings for the
2023 NCAA Wrestling Awards
that will be awarded in March at the respective Division I, II and III Wrestling Championships.
The inaugural NCAA Wrestling Awards were presented at the 2012 wrestling championships. The three awards, given in each division, honor the Most Dominant Wrestler as well as the student-athletes that have accumulated the most falls and the most technical falls throughout the course of the regular and postseasons.
For falls and tech falls to be counted for the awards they must come against opponents in the same division (i.e. Division II vs. Division II). Ties in the two categories are broken based on the aggregate time.
After a five-way tie atop Division I falls last week,
Wyatt Hendrickson
pulled away after recording his 11th fall of the season, doing so in 24:28.
Christian Small
leads Division II for the third straight week with nine falls in 25:57. He has three wrestlers on his tail with eight falls, led by UIndy's 157-pounder Logan Bailey.
In Division III, Springfield's
Myles Leonard
tallied two falls on the week to reach 17 on the season in 38:03.
Click or tap here to view the full falls leaderboard in each division
In Division I tech falls,
Mason Leiphart
of Franklin & Marshall maintained his lead with eight tech falls in 31:26.
Cole Houser
leads Division II for the third straight week with 10 tech falls in 34:14. Nebraska-Kearney's Austin Eldredge trailed by four last week, but cut the deficit to two this week. The 174-pounder has eight falls in 24:46.
Three wrestlers in Division III have nine tech falls on the season led by
Tyler Shilson
of Augsburg in 13:33. He is joined by Jared Kuhns of York (Pennsylvania) and Tyler Fleetwood of Wisconsin-Eau Claire.
Click or tap here to view the full tech falls leaderboard in each division
The initial Most Dominant Wrestler standings will be released later this season to allow wrestlers to achieve the minimum number of matches required to be eligible for the standings.