News
USA Wrestling
College
USAW
Princeton wins seven matches to defeat No. 8 Arizona State in Tempe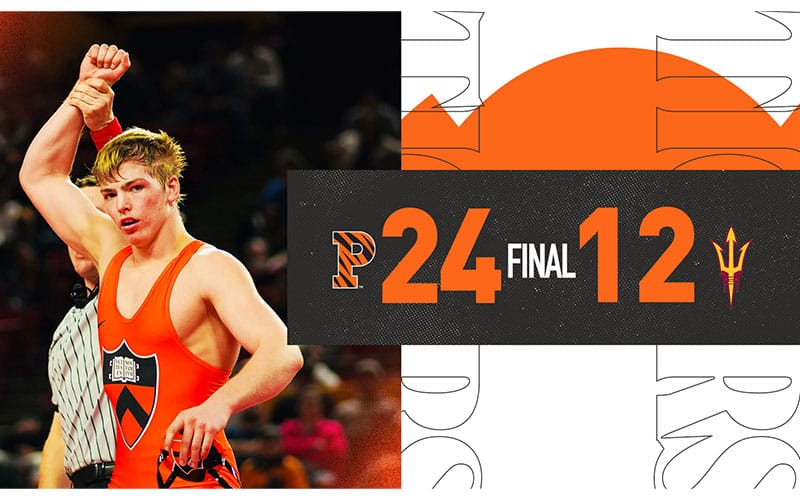 Sweeping the home-and-home dual-match series, the
Princeton
wrestling team won seven matches to defeat No. 8-ranked Arizona State 24-12 on Sunday afternoon in Tempe, Ariz.
With the match starting at 165, No. 4-ranked Quincy Monday started a six-match win streak for Princeton that built a 21-0 lead, and though ASU ended the run with wins at 133 and 141, Princeton had the win clinched with two matches left before Ty Whalen won the finale at 157.
Princeton won the front half of the series 20-18 last season in Jadwin Gym, when ASU was ranked No. 6 in the nation.
Monday, who improved to 7-0 at his new weight class, needed less than a minute to pin Rene Fragoso at 165, delivering six points for Princeton in just 54 seconds.
Kole Mulhauser followed with an 8-3 win at 174, responding to an early takedown from Cael Valencia with an escape and a two-point near-fall before, scoring eight of the match's last nine points while adding two takedowns and an escape over the final two periods.
At 184, Nate Dugan kept the run going with what became the day's only win for an InterMat-unranked wrestler over a ranked opponent, as Dugan had a first-period takedown and limited No. 21-ranked Anthony Montalvo to just two points, both on escapes, in a 3-2 win.
Princeton's No. 20-ranked Luke Stout pushed the Tiger lead to 15-0 with an 8-3 win over Jonathon Fagen, getting a takedown in each period and limiting Fagen to an escape in each period as Princeton extended the match-opening streak to four wins.
At heavyweight, Travis Stefanik kept ASU's David Palosika off the board until a third-period escape that tied the bout and matched Stefanik's own second-period escape before the riding-time point was the difference in delivering the win to Princeton and growing the Tiger lead to 18-0.
The day's lone matchup of InterMat-ranked wrestlers was also a top-10 battle, with Princeton's No. 2 Patrick Glory getting two takedowns and a reversal on the way to an 8-3 win over No. 6 Brandon Courtney as the Princeton lead became 21-0. Glory moved to 8-0 on the season with the win.
Princeton's streak ended at six wins, but with the outcome of the next two matches, at 133 and 141, Princeton's lead stood at 21-9, and with six wins, Princeton had already clinched a victory if the match had come down to criteria on a 21-21 tie.
At 133, ASU's No. 4-ranked Michael McGee had a tech-fall win over Sean Pierson, 20-3, and at 141, the Sun Devils' No. 22-ranked Jesse Vasquez had a major-decision win over Danny Coles, 11-3. McGee took control with a takedown and a four-point near-fall to lead 7-2 after a period, and Vasquez had three first-period takedowns to lead 7-2 as well after a period. ASU's win streak extended to a third match with No. 6-ranked Kyle Parco getting a 12-5 win over Marshall Keller at 149, growing the lead as the match went on with a reversal and a takedown to lead 6-2 after two and adding two takedowns in the third.
At 157, Whalen closed out the win by rallying to defeat Max Wilner 7-3, getting a takedown in each of the final two periods after Wilner had one in the first to lead 2-1 after a period.
Princeton will open the Ivy League season Friday at Columbia before returning home to Jadwin Gym to host Rider Saturday at 6 p.m. Tickets are available here.
Princeton 24, #8 Arizona State 12
165: #4 Quincy Monday (P) wins by fall over Rene Fragoso (AS), 0:54; Princeton leads 6-0
174: Kole Mulhauser (P) wins by decision over Cael Valencia (AS), 8-3; Princeton leads 9-0
184: Nate Dugan (P) wins by decision over #21 Anthony Montalvo (AS), 3-2: Princeton leads 12-0
197: #20 Luke Stout (P) wins by decision over Jonathon Fagen (AS), 8-3: Princeton leads 15-0
285: Travis Stefanik (P) wins by decision over David Palosik (AS), 2-1; Princeton leads 18-0
125: #2 Patrick Glory (P) wins by decision over #6 Brandon Courtney (AS), 8-3: Princeton leads 21-0
133: #4 Michael McGee (AS) wins by technical fall over Sean Pierson (P), 20-3, 4:10; Princeton leads 21-5
141: #22 Jesse Vasquez (AS) wins by major decision over Danny Coles (P), 11-3; Princeton leads 21-9
149: #6 Kyle Parco (AS) wins by decision over Marshall Keller (P), 12-5; Princeton leads 21-12
157: Ty Whalen (P) wins by decision over Max Wilner (AS), 7-3; Princeton wins 24-12
Extra match: Richard Figueroa (AS) won by decision over Nick Kayal (P), 9-5