News
USA Wrestling
College
USAW
Diakomihalis wins 100th, bonus points push No. 6 Cornell past #20 Lehigh, 18-15
by Cornell Athletics, Steve Lomangino, Lehigh Athletics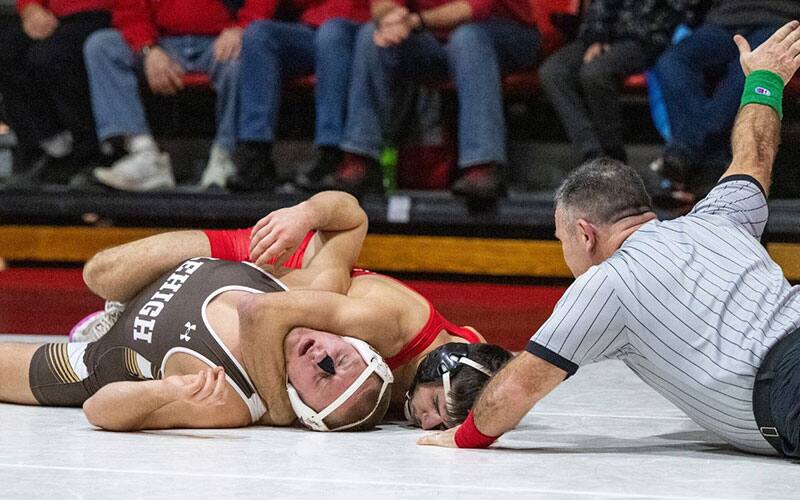 Yianni Diakomihalis (Cornell) gets backpoints. Photo by Eldon Lindsay, Cornell Athletics
ITHACA, N.Y. -- Cornell senior
Yianni Diakomihalis
won his 100th career match and bonus points allowed the sixth-ranked Big Red to top No. 20 Lehigh 18-15 on Saturday evening at a sold-out Friedman Wrestling Center. The Big Red improved to 5-2 on the season, while the Mountain Hawks slipped to 4-6.
Diakomihalis dominated from the start against Drew Munch, with his escape seconds into the third period ending the match after securing three takedowns, two full sets of back points and an escape over the first two periods to build a 15-1 lead. The victory makes him the 26th wrestler in school history to reach that milestone, and his 100-2 record (.980) is just short of Dave Auble's mark (51-1, .981). His two bonus points allowed Cornell some breathing room as it won four of the first five matches to take a 15-3 edge into intermission.
While neither team had a full lineup, Cornell did not wrestle four starters.
Two key wins for the Big Red came by way of Cole Handlovic at 157, knocking off 25th-ranked 149-pounder Max Brignola by a 2-0 margin, and 125-pounder Brett Ungar's overtime victory over Jaret Lane. Those two wins ultimately allowed Cornell to snap its three-game skid against its EIWA rival.
Cornell also earned wins from a pair of top 10 wrestlers, with seventh-ranked Julian Ramirez earning a major decision victory at 165, and fourth-ranked Chris Foca knocking off Jake Logan 9-5 at 174.
The dual win was the fourth of the year over a ranked foe and was the last lead-in to Ivy competition. The Big Red will hit the road to face Brown (12 p.m.) and Harvard (6 p.m.) on Saturday, Jan. 21. The contests will be broadcast live on ESPN+.
#6 Cornell 18, #20 Lehigh 15
141: Malyke Hines (Lehigh) won by decision over #13 Vince Cornella (Cornell), 4-2
149: #1 Yianni Diakomihalis (Cornell) won by technical fall over Drew Munch (Lehigh), 16-1 (5:03)
157: Cole Handlovic (Cornell) won by decision over #25 (149) Max Brignola (Lehigh), 2-0
165: #7 Julian Ramirez (Cornell) won by major decision over Luca Frinzi (Lehigh), 13-2
174: #4 Chris Foca (Cornell) won by decision over Jake Logan (Lehigh), 9-5
184: #20 Tate Samuelson (Lehigh) won by decision over Ethan Hatcher (Cornell), 6-1
197: #3 Michael Beard (Lehigh) won by decision over #17 Jacob Cardenas (Cornell), 6-2
285: Nathan Taylor (Lehigh) won by decision over Brendan Furman (Cornell), 9-3
125: #18 Brett Ungar (Cornell) won by decision over Jaret Lane (Lehigh), 3-1 (sv1)
133: #7 Connor McGonagle (Lehigh) won by decision over Ethan Fernandez (Cornell), 4-0


Bonus Points Help No. 6 Cornell Claim 100th Meeting With No. 20 Lehigh, 18-15

by Steve Lomangino, Lehigh Wrestling

ITHACA, N.Y. – The 100th meeting of meeting between Lehigh and Cornell was another tightly-contested battle. The 20th-ranked Mountain Hawks won four of the final five bouts to claw back from a 15-3 deficit and earn a 5-5 split, but ultimately bonus points helped No. 6 Cornell prevail 18-15 Saturday night at the Friedman Wrestling Center.
The Big Red (5-2) picked up a technical fall from top-ranked Yianni Diakomihalis at 149, his 100th career victory, and a major decision from Julian Ramirez at 165 to establish the final three point margin.
Lehigh (4-6) enjoyed a fast start thanks to sophomore Malyke Hines, who opened the dual with a 4-2 decision over 13th-ranked Vince Cornella at 141. Hines gave up a reversal to open the second period and trailed 2-1 after two, but escaped early in the third. Late in the final period, Hines took a double-leg shot and was able to put Cornella in danger, with the referee initiating the count and then awarding Hines the winning takedown in the final seconds.
Cornell took the next four bouts to go up 15-3 at intermission. With senior Josh Humphreys not available Saturday, Lehigh wrestled sophomore Drew Munch at 149 and moved sophomore Max Brignola up to 157. Munch dropped a 16-1 technical fall to Diakomihalis, while Brignola fell 2-0 to Cole Handlovic on a third period escape plus riding time advantage.
Ramirez won a 13-2 major decision over sophomore Luca Frinzi at 165 and Chris Foca followed with a 9-5 win over sophomore Jake Logan at 174. Logan and Foca both had two takedowns in the bout, but Foca prevailed by way of three escapes, a stalling point and riding time.
The Mountain Hawks picked things up in the second half of the dual. At 184, graduate student Tate Samuelson won 6-1 over Ethan Hatcher on the strength of a first period takedown, an escape, two stalling points and riding time.
Third-ranked sophomore Michael Beard defeated No. 17 Jacob Cardenas 6-2 at 197 for Lehigh's second straight win. Beard conceded the first takedown but answered late in the first period to lead 3-2 after one and never looked back.
First-year heavyweight Nathan Taylor made it three straight wins and brought Lehigh within 15-12 with two bouts remaining, racking up three takedowns in a 9-3 decision over Brendan Furman.
The dual ultimately came down to 125, with senior Jaret Lane battling Brett Ungar. The bout was tied 1-1 after seven minutes, with Lane escaping early in the second and Ungar early in the third. In sudden victory it was Ungar scoring the winning takedown midway through the overtime period to claim the 3-1 decision.
Ungar's decision allowed Cornell to not wrestle third-ranked Vito Arujau at 133, but needing a pin to send the dual to criteria, sophomore Connor McGonagle could only muster a dominant 4-0 decision over Ethan Fernandez.
Lehigh now leads the all-time series 63-34-3 as Cornell snapped a three-dual winning streak for the Mountain Hawks in the series.
In addition to Humphreys being out for Lehigh and Arujau not wrestling for Cornell, the Big Red were without ranked wrestlers Jonathan Loew (184) and Lewis Fernandes (285).
The Mountain Hawks are back on the mat on Sunday when they visit Binghamton for a 1 p.m. dual with streaming coverage on ESPN+.