News
USA Wrestling
College
USAW
No. 17 Indiana downs No. 16 Rutgers, 24-16, in Bloomington
by Jackson Blair Yeary, Indiana University Athletics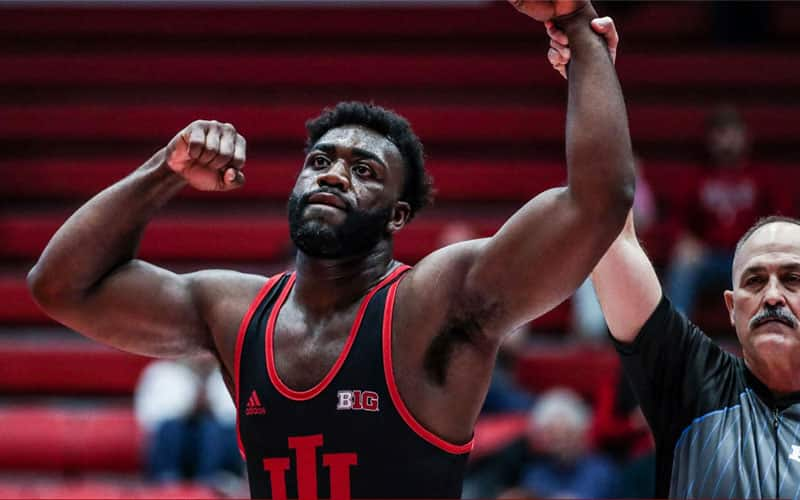 Photo courtesy of Indiana Athletics
BLOOMINGTON, Ind. ––––
Indiana
Wrestling continued its winning ways on Friday night, defeating No. 16 Rutgers, 24-16, in the dual meet at Wilkinson Hall.
The No. 17-ranked Hoosiers have won two matches in a row and improved to 6-1 on the season and 2-1 in the Big Ten with the win.
This was Indiana's third ranked victory of the season and their first win over Rutgers since Nov. 29, 2008.
KEY MOMENTS
• Indiana suffered three consecutive defeats in the opening bouts and trailed 10-0 as a result.
• From there, the Hoosiers picked up wins in three straight matches in the 149, 157 and 165 lbs. weight classes to take a 12-10 lead.
• At 157 lbs., Indiana's No. 18-ranked Derek Gilcher was able to secure a chance in Sudden Victory against No. 23 Andrew Clark via his riding time point to make it 3-3 entering overtime. In Sudden Victory, Gilcher earned a takedown and a 5-3 win.
• Redshirt junior Nick South (165) flipped the momentum of the dual after trailing Robert Kanniard the entire time, stunning him with a pin in the third period to put Indiana in front.
• No. 18 DJ Washington (174) dominated his way to a 14-5, major decision victory over Jackson Turley and put IU in front, 16-10.
• After Rutgers tied the match at 16 from a pin at 184, Nick Willham (197) picked up a 2-1 decisive victory by way of his riding time point.
• Jacob Bullock put the exclamation point dual win, winning by tech fall, 15-0, over John O'Donnell.
NOTABLES
• The 6-1 start is the best start to the season in the Angel Escobedo era at Indiana.
• No. 18 Derek Gilcher has won three bouts in a row over ranked opponents. His win over No. 23 Clark was the second time that Gilcher has beaten Clark this season, winning the first time at Midlands in December.
• Washington's win was also a rematch, he previously lost to Turley in the 2021 NCAA Championships.
• With Bullock's win tonight, he improves to 14-2 on the season.
No. 17 INDIANA 24, No. 16 RUTGERS 16
125: No. 13 Dean Peterson (RU) def. Jacob Moran (IU) |Dec. 8-4
133: No. 14 Joe Heilmann (RU) def. No. 31 Henry Porter (IU) |Dec. 6-1
141: No. 29 Joe Olivieri (RU) def. Cayden Rooks (IU) | MD, 15-2
149: No. 33 Graham Rooks (IU) def. Anthony White (RU) |Dec. 7-1
157: No. 18 Derek Gilcher (IU) def. No. 23 Andrew Clark (RU) |SV-1, 5-3
165: Nick South (IU) def. Robert Kanniard (RU) |Fall (5:42)
174: No. 18 DJ Washington (IU) def. Jackson Turley (RU) |MD, 14-5
184: No. 14 Brian Soldano (RU) def. Clayton Fielden (IU) |Fall (2:45)
197: Nick Willham (IU) def. Billy Janzer (RU) |Dec. 2-1
285: No. 17 Jacob Bullock (IU) def. John O'Donnell (RU) |TF, 15-0 (5:22)
EXHIBITION MATCH
184: Drayton Harris (IU) def. Michael Toranzo (RUT) | Dec. 2-1