News
USA Wrestling
International
Women
USAW
Large U.S. contingent, featuring all disciplines, to compete at Henri Deglane Challenge in France, January 20-22
by Gary Abbott, USA Wrestling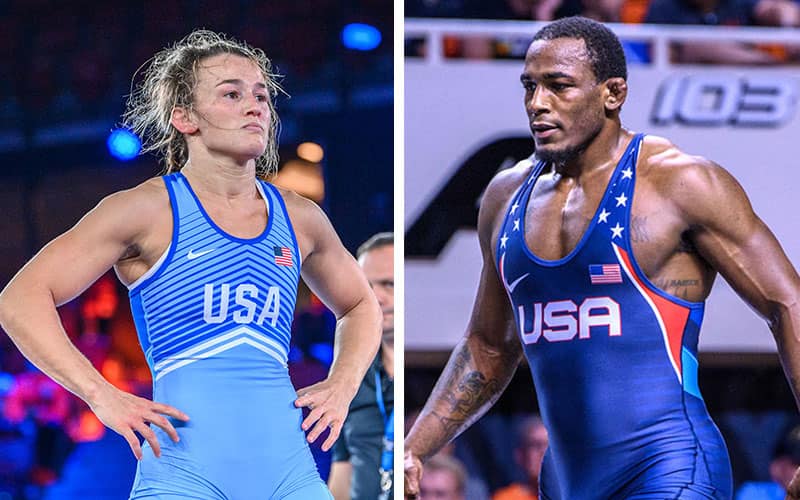 Competition portraits of Forrest Molinari and J'den Cox. Photos by Tony Rotundo, Wrestlers Are Warriors

A large contingent of U.S. wrestlers, representing their clubs and/or Regional Training Centers, will compete in the
Henri Deglane Challenge
in Nice, France, January 20-22.
The 32-athlete delegation from the United States includes 25 men's freestyle athletes, six women's freestyle athletes and one Greco-Roman athlete. Women's freestyle will compete on Friday, January 20. Men's freestyle will be contested on Saturday, January 21. Greco-Roman will be held on Sunday, January 22.
Among the men's freestyle entries are two-time World champion and Olympic bronze medalist
J'den Cox
at 97 kg. Current Men's Freestyle Senior National Team members who are entered include
Evan Henderson
at 65 kg and
Alec Pantaleo
at 70 kg.
Past NCAA Div. I champions on the freestyle roster include Cox, plus
Nick Suriano
at 57 kg,
Nahshon Garrett
at 61 kg,
Anthony Ashnault
at 65 kg and
Vincenzo Joseph
at 74 kg.
The U.S. women's contingent is led by 2021 World bronze medalist
Forrest Molinari
at 68 kg. Others competing include multiple age-group World champion
Emily Shilson
at 50 kg and 2020 U.S. Olympic Team Trials runner-up
Kennedy Blades
at 76 kg.
The lone U.S. Greco-Roman entry is
Duncan Nelson
at 72 kg.
HENRI DEGLANE CHALLENGE

At Nice, France, January 20-22


U.S. Men's Freestyle entries
57 kg: Nick Suriano (Sunkist Kids)
57 kg: Akhil Vega (NYRTC)
61 kg: Shelton Mack (NJRTC/TMWC)
61 kg: Nahshon Garrett (Lehigh Valley WC/TMWC)
61 kg: Austin DeSanto (Hawkeye WC/TMWC)
65 kg: Matthew Kolodzik (NJRTC/NYAC)
65 kg: Evan Henderson (Lehigh Valley WC/TMWC)
65 kg: Anthony Ashnault (NYCRTC/TMWC)
65 kg: Pat Lugo (Hawkeye WC/TMWC)
70 kg: Ridge Lovett (Nebraska WTC)
70 kg: Lucas Chittum (Hawkeye WC/TMWC)
70 kg: Alec Pantaleo (Cliff KeenWC/TMWC)
74 kg: Joey Lavallee (Lehigh RTC/TMWC)
74 kg: Collin Purinton (Nebraska WTC)
74 kg: Vincenzo Joseph (Sunkist Kids)
74 kg: Joshua Shields (Sunkist Kids)
79 kg: Evan Wick (SoCal RTC/TMWC)
79 kg: Alex Marinelli (Hawkeye WC/TMWC)
79 kg: Taylor Lujan (Panther WC WTC)
86 kg: Owen Webster (Gopher WC RTC)
92 kg: Eric Schultz (Nebraska WTC)
92 kg: Jay Aiello (Cavalier WC/TMWC)
97 kg: J'den Cox (Cliff Keen WC/TMWC)
97 kg: Morgan Smith (Lehigh Valley WC)
125 kg: Christian Lance (Nebraska RTC)
Coach: Reece Humphrey (NJRTC)
Coach: Tervel Dlagnev (Nebraska WTC)
Coach: Dan Dennis (Hawkeye WC)
Coach: Sergey Beloglazov (Cliff Keen WC)
Coach: Kerry McCoy (LVWC)
Coach: John Azevedo (TMWC)
Coach: Troy Steiner (Gopher WC RTC)
Greco-Roman
72 kg: Duncan Nelson (Illinois)
Women's Freestyle
50 kg: Emily Shilson (TMWC)
50 kg: Audrey Jimenez (Sunkist Kids)
57 kg: Savannah Cosme (Sunkist Kids)
68 kg: Forrest Molinari (Sunkist Kids)
76 kg: Kennedy Blades (Sunkist Kids)
Coach: Mark Perry (Sunkist Kids)
Coach: Israel Martinez (Sunkist Kids)
Event Schedule

Local time in Nice (six hours ahead of U.S. Eastern time zone)
Friday, January 20
Women's Freestyle: 50 kg, 53 kg, 57 kg, 62 kg, 65 kg, 68 kg, 72 kg, 76 kg
10:30 a.m. – conclusion – Women's Freestyle Qualification rounds and finals
Saturday, January 21
Men's Freestyle: 57 kg, 61 kg, 65 kg, 70 kg, 74 kg, 79 kg, 86 kg, 92 kg, 97 kg, 125 kg
10:30 a.m. – conclusion – Women's Freestyle Qualification rounds and finals
Sunday, January 22
Greco-Roman: 55 kg, 60 kg, 63 kg, 67 kg, 72 kg, 77 kg, 82 kg, 87 kg, 97 kg, 130 kg
10:30 a.m. – conclusion – Women's Freestyle Qualification rounds and finals