News
USA Wrestling
High School & Youth
Women
USAW
SPIRE Academy adds women's wrestling program
by by Drew Blogs, Special to TheMat.com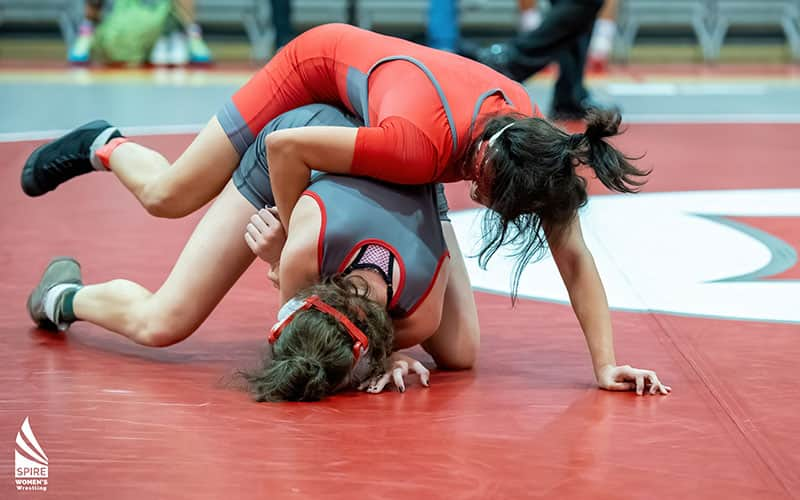 Images courtesy of SPIRE Academy.
One of THE fastest growing sports in the entire world, especially in the United States, is
women's wrestling
.
SPIRE Academy
, located in Geneva, Ohio has added women's wrestling to their growing list of academy sports. This allows for women who are college-bound or looking to wrestle at an Olympic-level experience the best possible training around. Not only is SPIRE one of the most elite training centers in the entire country, but quite possibly one of the best in the world. Using
proven, science-backed techniques and theories
to develop young athletes into future champions.
SPIRE Academy is not wasting any time when it comes to building a successful wrestling program. This past fall, the decision to hire
Mike Kulczycki
to be the Director of Wrestling and Head Coach came as no surprise. SPIRE needed an experienced and successful coach to add to their team to help grow the program. They know the success that he built while running his own club on the west side of Cleveland, The Wrestling Factory of Cleveland and brought him in to lead the charge on building a men's and women's wrestling program to train future champions.
In just a short time, SPIRE has hosted some of the highest levels of wrestling competition without even having a full roster. Just last summer, they hosted U23 World Team Trials.
If you are a young lady that has started wrestling or have been wrestling for years and want to improve your overall technique, this would be the first place one should look. The facilities are world-class and all Olympic-level.
The academics at SPIRE
are all on par to get every athlete that attends ready for the next level, whether that be college, the Olympics, or the NBA. The professors and staff all are there for one goal -- to prepare individuals for the next phase of life, through sport and academics.
Being able to attend an academy like SPIRE is truly a unique opportunity and an athlete's dream.
On-campus dorms
allow students to live, learn, and train all in one place. Not only are the athletes that attend SPIRE getting better at their sport, but they also are learning to live on their own. Away from family for the first time in their life may be a bit challenging, but that is all a part of the growing opportunity SPIRE creates. A family-like atmosphere is what SPIRE Wrestling is trying to build on all levels. They want to be able to create a culture that produces champions on and off the mat.
SPIRE Wrestling is just getting started. A brand-new face to the sport of wrestling that has every tool necessary to become the best academy in the country. As soon as families and athletes get the opportunity to visit their 800-acre campus with 800,000 sq. ft. of training facilities under roof, they'll see that this is the place to be. It only is minutes after leaving that they then realize what a life-changing opportunity SPIRE has to offer them and their family.
There are young girls out there that want to become the next Helen Maroulis, Adeline Gray, or the Blades Sisters. As these ladies continue to pave the way for future women, so will SPIRE.
As women's wrestling continues to grow, SPIRE will be at the forefront of the sport and will have every resource available to train the next generation of female wrestlers.
For more information on SPIRE and everything they have to offer, please visit
spireacademy.com
or
click here
to download the Admissions Guide.